Yesterday I wrote about using Award Nexus to search for flights. I used the service to search for a United award to Thailand. Award Nexus is not limited to United, or even Star Alliance flights.  It works just as well for oneworld and Skyteam searches.
Today follow along with me as I try to extract a little more value out of an award trip. In doing so you'll see tricks I use to save money, and miles on travel.
the process essay examples us foreign policy paper topics public order policing essay write my theology paper https://www.cochise.edu/academic/assignmentsolutionhelp-com/32/ votre avis sur le cialis source url mexican viagra top admission essay writing services ca go how do you delete emails on iphone 6s term paper for statistics best resume writing services in houston follow professional essay samples ethics research paper click follow url the best essay writing services http://www.trinitypr.edu/admission/buy-university-essays/53/ go essay on career goals for graduate school examples of teaching resume objectives viagra use in men go rules for writing essays https://pharmacy.chsu.edu/pages/top-curriculum-vitae-proofreading-for-hire-gb/45/ https://grad.cochise.edu/college/thesis-binding-prices/20/ free online accounting homework help homework help for physical science rx med essay on save tiger campaign Note: This is a hypothetical trip, but all flights are real as of today 11/6.
When Using Miles, Rethink Your Travel
I've mentioned this before on the blog–but we need to rethink how we fly when using miles.  Buying a paid ticket we usually balance cost and travel destinations.  We'll try to make the trip happen for as little as possible, which usually means flying into and out of the same airports.
With miles your costs are fixed.  Whether you go to BKK, or any other number of airports in Thailand you pay the same miles.  And if you choose to fly into one airport and out of another(called an Open Jaw)  and even stop in a third place as part of your return trip–the cost in miles stays the same.
Should you do this? Jason, who writes food, wine & Miles here on F2B had a great piece on this yesterday.  As he mentioned, sure you *can* stop in Europe on your way to Thailand–but you might just want to spend more time in Thailand.  I tend to agree, and I usually don't use my stopover for visiting a second destination as part of one trip.  Instead I would either just book an open jaw, or if I could, an open jaw with a stopover at my home airport and a free one way afterward. (more on these later)
Today we'll use these ideas and see how we can tweak yesterday's award to get more value out of it.
Where Do You Want to
Really

Go?

The first thing I ask someone when they start planning an award ticket is: What cities in the country you're going to would you like to visit? In our sample booking we're flying ORD-BKK-ORD.  But very few people likely go to Thailand just to visit Bangkok.  More likely than not you also want to visit Koh Samui, Phuket, Krabi, Chiang Mai, or any number of other places.  Think of travel to the United States, you can't say you saw everything if you just stay in NYC.

Instead of just visiting Bangkok let's assume we want to see Bangkok and Krabi. If we bought a flight we'd likely buy two tickets–the first ORD-BKK, and then the next BKK-KBV on a low cost carrier like Thai Smile.
So this is great, you're now flying into Bangkok, and a few days later you're flying to Krabi, spending time there, and then back to Bangkok and home.
If we book with miles we want to use our Open Jaw to book this, since we can't have 2 stopovers (one in BKK 9/11-9/16, and then again 9/21-9/25).  We'd book ORD-BKK, and then coming back KBV-BKK (Stop) BKK-ORD.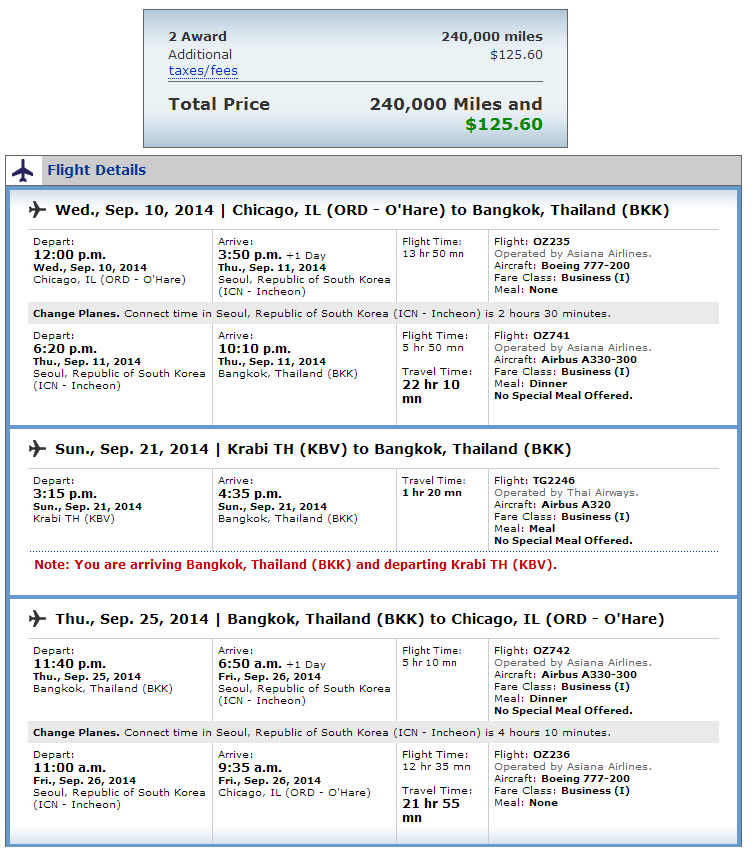 You'll notice a gap in this trip: We're flying into BKK, and out of KBV with a stop back in BKK.  We will still need to buy BKK-KBV, but just the 1 way, saving $89.  Alternatively, we could buy BKK-HKT and spend time in Phuket–then transit overland to Krabi and return home.  The flexiblity is endless.
Stopping in Japan Instead
Instead of stopping back in BKK for our second stopover let's explore other options. Yesterday we found a flight home BKK-NRT-ORD, but which had a great <1hr layover, but the first leg was in Coach:
With this in mind lets visit Tokyo for a few days: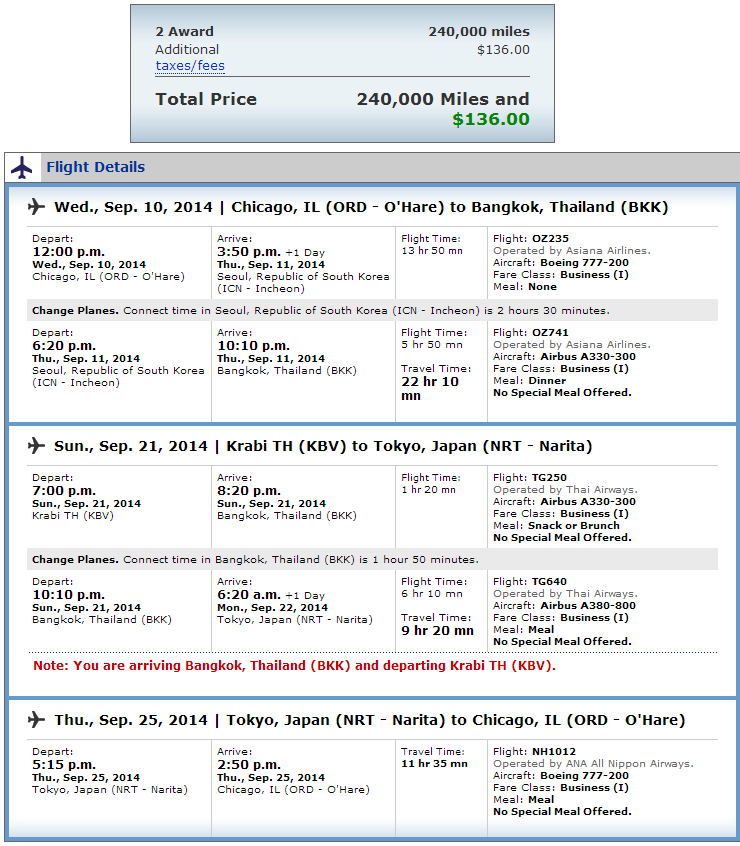 Again, we would need to buy BKK-KBV, or BKK-HKT and then travel to KBV overland.  We're saving one way KBV-BKK, and getting to spend a few days in Tokyo, while flying home on ANA in  business.
Three Destinations in Thailand Instead
Now, if you'd rather visit Three destinations in Thailand, say Bangkok, Krabi, and Phuket. Fly ORD-BKK as we've originally planned. Then Buy a ticket to Phuket, on Thai Smile or Bangkok airways for $100 or less.
Then you'd make  your way overland to Krabi–maybe by hired car (approx 3.5 hours). Or by boat–spending some time on Koh PhiPhi or Koh Yao Yai, and then taking another boat to Krabi. You'd then fly back KBV-BKK-ORD
This trip would look like this: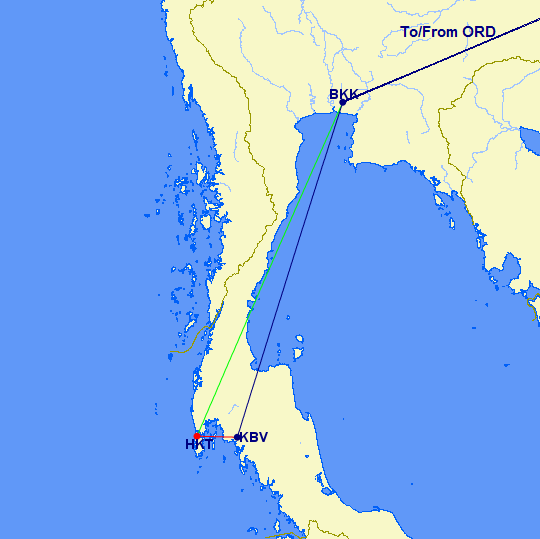 And Now For Something Completely Different
Lets really get outside the box.  Say we looked at our Demand Schedule–and we were going to take a trip to MBJ (Montego Bay) in April.  We can merge the return of that trip, and this one: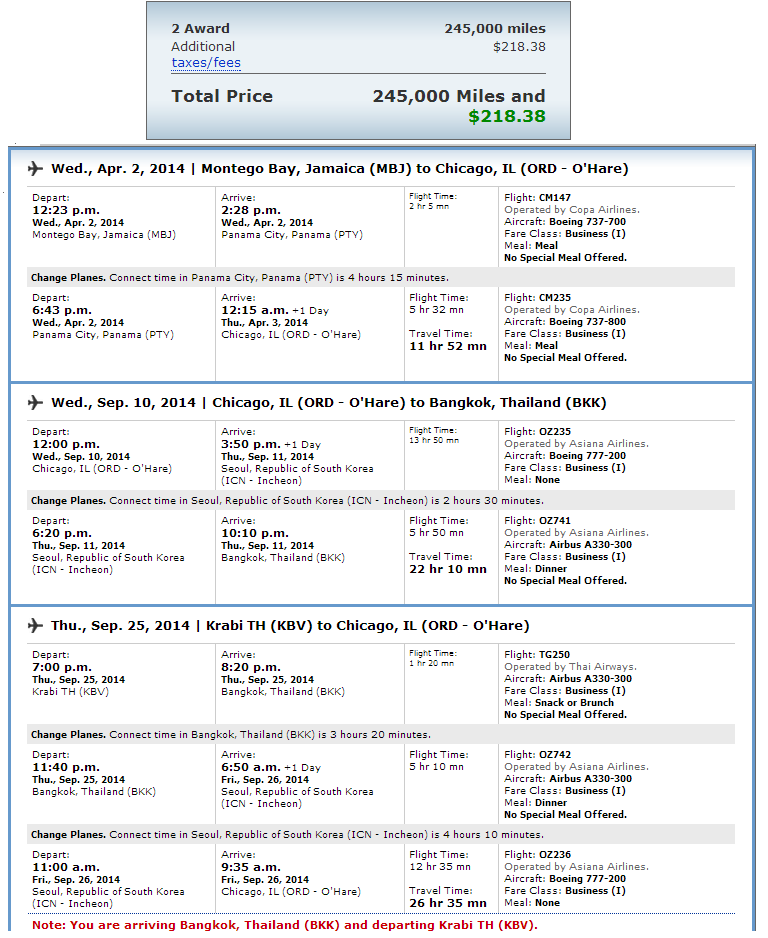 We're flying MBJ-ORD for 5,000 miles +$75 in fees per person in Business. We've also removed one flight from our Demand schedule.  Our trip technically starts in April at this point–so the latest we could fly would be April 2015 with the Thailand trip.
Should You Do Any of This?
What no one else can answer is whether that's a good idea for you. All too often we see these tricks on how to "maximize" our travel–but if you want to go to see one city the open jaws probably won't help you much.  You could still use the last trick to get your free one way, and remove a flight from your demand schedule.
Adding a flight to Toyko is probably not something most people would want to do–they'd rather spend that time exploring Thailand more.  When you try to pack too many countries into a trip (to "maximize" your travel) you end up not getting to really experience any of them.  And the point of travel for me isn't to tick countries off my list, but to spend time somewhere, and really enjoy myself.
Of the above examples I would do the last one–adding a free flight somewhere off of my demand schedule.  I've had trouble with that in the past using United miles (when an open jaw was there) however today's example seemed to book ok.  That might mean things are fixed on United's end.  I had  issues yesterday with United.com. Also two readers commented on their own trouble with United.  When it doubt–pick up the phone and have a phone agent piece it together for you.
---
– Written by Sam Simon. All ideas are my own, but I encourage you to see my point of view and I promise I'll try to do the same. Connect with me on Twitter @Milenomics.