I was saying a couple of weeks ago how I did some research on booking Etihad Apartments with AA miles and found that I was unable to do so.
See: What I Learned: Booking An Award For Travel On Etihad
But after some more exploring, along with guidance from experts, I found that I was able to book the award. I'll go into that in more detail in this post…
The Trick
They say the "trick" to finding Etihad Apartment space out of JFK that you can book with AA miles is to:
Perform a round-trip search on etihadguest.com originating from Abu Dhabi (AUH)
If you see "Guest Seat" space on the JFK-AUH leg you should be able to book it with AA miles…
…if you call the right AA award booking center and get lucky
Here's what you're looking for. "Guest First" seats: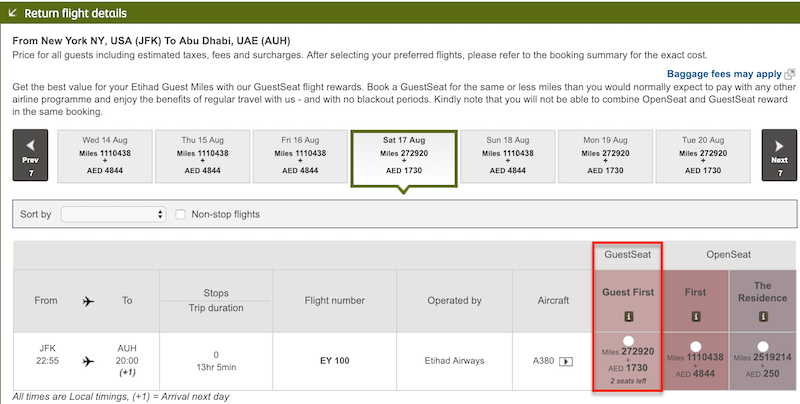 Notice that when you search for the flight as a one-way departing from JFK, the space was not shown as available: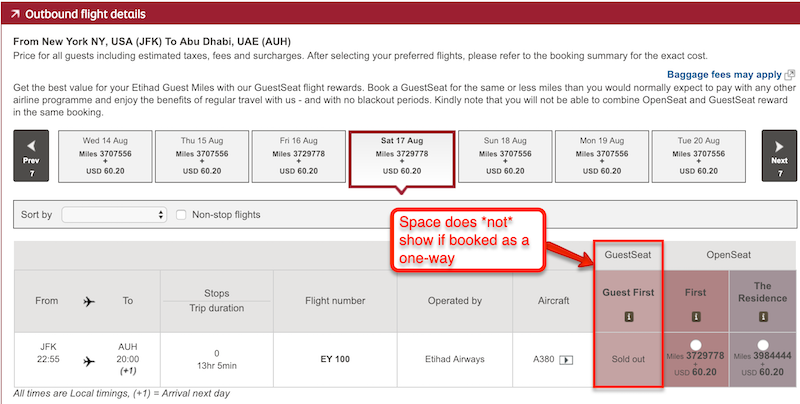 The Trick to make The Trick Work
In Frequent Miler's post mentioning Juicy Miles, he called out this maneuver as being something Juicy Miles was working on:
Etihad Award Availability Trick: American Airlines miles are great for booking Etihad flights, but you need to know the trick to find one-way availability from the US: search round trip from Abu Dhabi and look for award space on the return leg.  Juicy Miles intends to embed this trick so that it will work automatically.
When I read this, I reached out to Juicy Miles and said "I don't think this is still a thing" based on my findings described in this post.
I saw the space. I called Etihad. They couldn't book it. I called AA in Australia. They couldn't book it. I didn't think the ability to book the award was a real thing.
But Adam from Juicy Miles suggested it was still a thing.
A recent update to Juicy Miles now displays this award availability. Adam suggested that I call AA's New Zealand center to book the award.
Book Etihad Apartment AA Miles
I was skeptical, but to humor Adam I called AA's center in New Zealand (contact numbers here). Just as Becky suggested in this comment. I used my trusty Google Fi phone to make the call for $0.01/minute.
And wouldn't you know it? The AA New Zealand agent confirmed the availability! First try. I put the award on a 5-day hold to think about it.
It's pretty tremendous that Juicy Miles now surfaces up this award availability. You can only find the existence of it via an obscure roundtrip award search on Etihad's site. You can't book it as a one-way using Etihad miles. But you can book it by calling a certain AA center. That's pretty crazy.
Juicy Miles has institutionalized this knowledge, and that's impressive to me.
Dog Catches Car
After booking the award I took stock of the AA miles I had on hand. I didn't have enough.
AA prices out awards to Asia through the middle east as a single ticket. But it prices as two awards. So JFK-AUH First goes for 115,000 AA. And AUH-HKT goes for 40,000 AA. That's a total of 155,000 miles per person one-way in a combination of First (Apartments) and Business.
That's a lot of miles, especially on the heels of booking Business Class from Phuket back to JFK on the return through Abu Dhabi for 110,000 miles per person one-way. I didn't have enough miles.
My wife's account was 40,000 miles short.
I entertained the idea of buying miles (it would cost around $900 to buy 40,000 AA miles).
Or transferring them from my Marriott account to her Marriott account then transferring them to her AA account.
Although point transfers from Marriott to AA seem to be processing in just a couple of days, Marriott caps spousal transfers at 50,000 miles transfers at 100,000 Marriott points per year (HT Scott). You might be able to finagle more with some HUCA – but it really gave me pause to check my head and see whether this was worth it.
As intriguing as it might be to fly the Apartments, the connection through Abu Dhabi on the outbound requires an overnight layover when continuing on to Phuket. And it gets into Phuket later in the day than I wanted. All things considered I chose to go in a different direction…
A Different Option
The better way to get from JFK to Phuket, time-wise and mile-wise, is on Cathay Pacific metal using AA miles.
AA charges just 70,000 miles pp one-way in Business and 110,000 in First. Of course this depends on partner award availability, but the nice thing is that if you route through Asia (rather than the middle east) the total award price remains the same whether you stop in Hong Kong or continue to a destination served by a OneWorld carrier. Like Cathay Dragon to Phuket.
Domestic AA call centers can typically see Cathay Pacific space.
And Juicy Miles will surface up this availability, which is nice as well because you wouldn't see it if searching on AA.com. You'd only know about this availability if you searched on a OneWorld carrier like British Airways or Qantas. And then you'd have to call AA to book it.
Juicy Miles makes this clear.
There's not award availability for two for my desired travel dates, but if I search close-in I can see the space on Juicy Miles: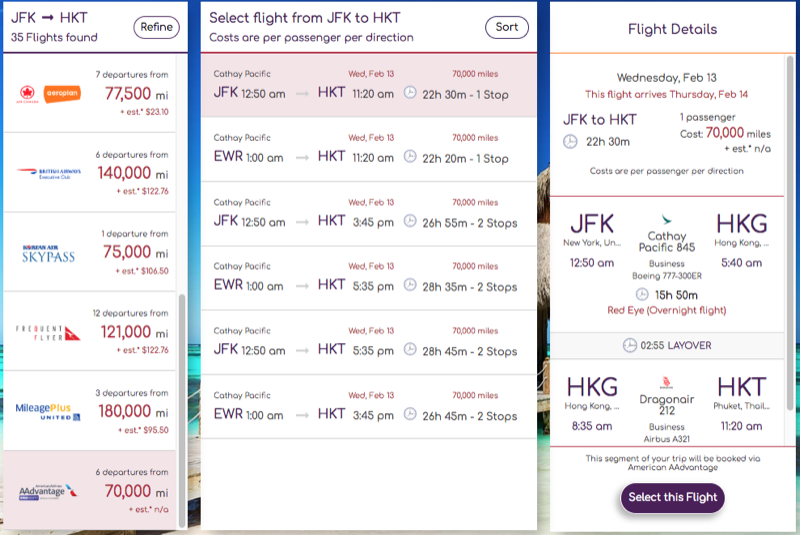 A Supplemental Option
Cathay Pacific partner space has been downright wonky lately.
Some suspect that's due to mistake fares they release earlier this year. That may be true but I'm looking at a lot of empty Business Class cabins and they're still not releasing award space…to partners. But they are releasing it to those using their proprietary Asia Miles to book the flights. And Asia Miles is a 1:1 transfer partner of Amex and Citi.
Juicy Miles doesn't yet surface up Cathay Pacific space using Asia Miles, but if you search on asiamiles.com you can see this award space.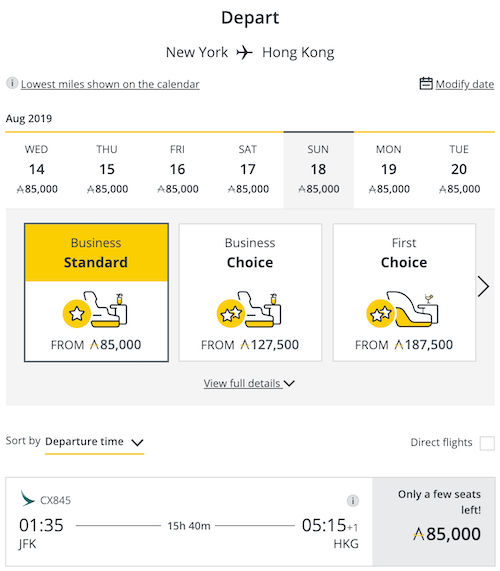 A downside of booking with Asia Miles is that each segment is priced separately. So to get from JFK-HKG-HKT it would price out as 85,000 + 57,000 Asia Miles (plus taxes + fees) because the HKG-HKT doesn't price out at the lowest level for these travel dates: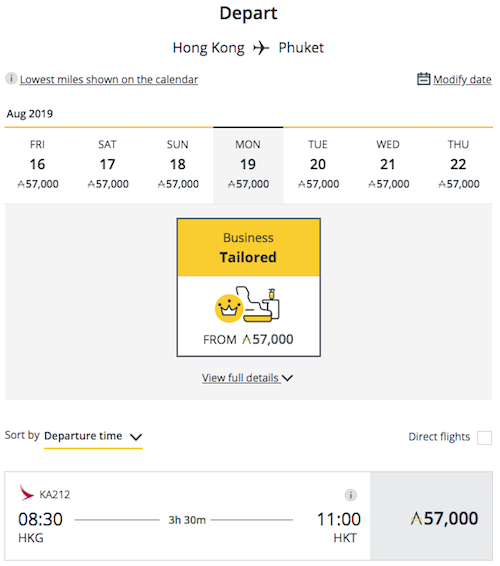 Juicy Miles can help with this second leg, and I think it's another good example of how it can be useful.
Hong Kong to Phuket direct is best served by Cathay Dragon, a OneWorld Carrier. So you can book it with British Airways miles, AA miles, or Qantas miles (but not Alaska miles, since they're not a OneWorld partner). From this I can see that I can book it with 20,000 British Airways miles or 22,500 AA miles: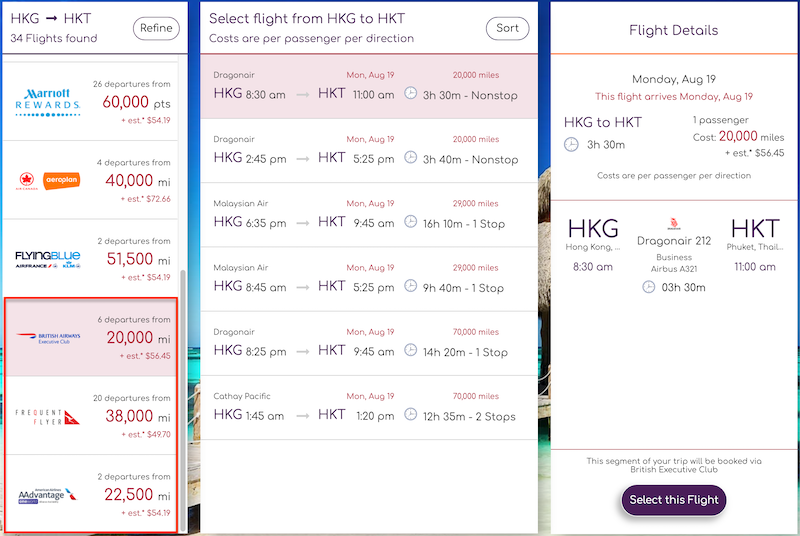 So putting it all together:
I booked one ticket BOS-HKG-HKT with 70,000 AA miles
I'll keep an eye out for a second partner seat to open up to book with AA miles
If not, I'll book a second ticket on the same flights with 85,000 Asia Miles (transferred from Amex or Citi) + 20,000 British Airways Avios (plus ~$100 in fees total)
Bottom Line
The redemption side of this game can be even more complicated than the earning side.
I learned that is sometimes possible to book Etihad Apartments one-way out of JFK with the right combination of availability and AA call center. This is pretty wild because this space can't even be booked with Etihad miles.
I learned that Asia Miles sometimes shows better award availability on Cathay flights than for partners (I saw this on the JFK-HKG leg). And ironically it was better to book the HKG-HKT leg with partner miles than Asia Miles.
Juicy Miles can be a valuable resources in surfacing up award booking angles you might not have considered. It's not perfect, but it gets a lot of things right and is improving rapidly.
I feel like I now understand some of the wackier techniques that make this routing bookable, but if I switched to a different routing – or even came back to this routing a year from now – things will have changed and it would be helpful to have a resource like Juicy Miles to efficiently help point me to the best ways to book the award.
If you're working on a complicated award booking I'd recommend giving Juicy Miles a try. It's a pretty fascinating tool.
We talked about Juicy Miles briefly in Episode 15 of the No Annual Fee version of the podcast.
We went into more detail in Episode 15 of the Paid version of the podcast.