Regardless of how you feel about the news from last week regarding United–we still have plenty of time to use our United Miles under the current system.  As I mentioned in my blog post there's 3 months until the changes go into effect–and as long as we ticket before then we're going to be fine.  This means we've got 364 days from Feb 1 on to fly with our miles under the current structure.
Today I'll discuss a tool I like to use for my personal award searches, Award Nexus. Award Nexus has useful  tools for finding available routes, and a very powerful award search that can help find seats on flights you didn't know were even options.
Today we'll be looking for 2 seats–business class ORD-BKK in September 2014.  This is a fictional trip, but the searches are real as of today (11/5).
Route Research With Award Nexus
By Far the most important thing to do before an award booking it so search out routes.  We write about Routes a lot on Milenomics. I mostly do this manually– using the airline route mapper software that I love so much.  However Award Nexus has an incredibly powerful route search feature which I do often use as well.
Access to this is found under the tools menu–"Route Explorer." From there you need to input your starting and ending destinations, as well as the program you'll be booking the miles with.  You have the option to include partner airlines, so if you're searching for a flight with AA miles you could add partner airlines like AS, or if you're looking for DL flights you could add VS (Virgin Atlantic) and TN (Air Tahiti Nui).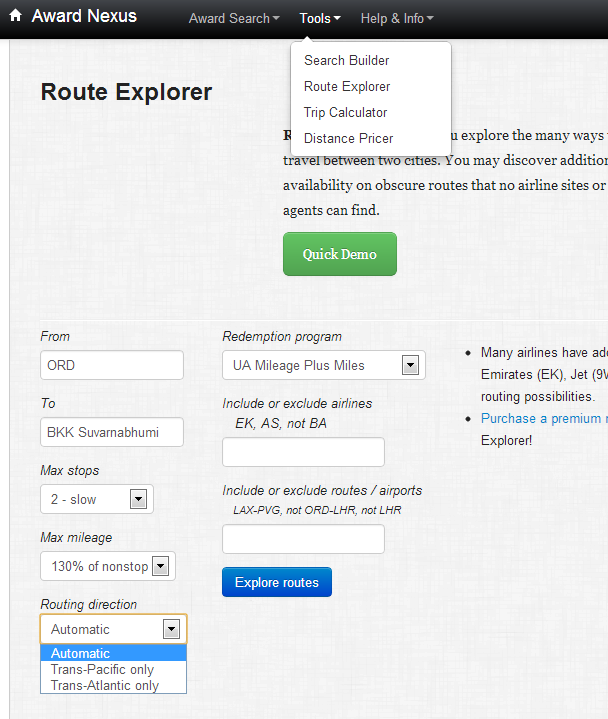 Today we're looking for flights with our UA miles–so we'll select that, and add 2 stops.  Even if you don't like to fly 2 stops include them in your searches–sometimes an option you didn't think of comes up and you'll find that you prefer it over a 1 stop itinerary. Clicking on search returns a screen full of flights: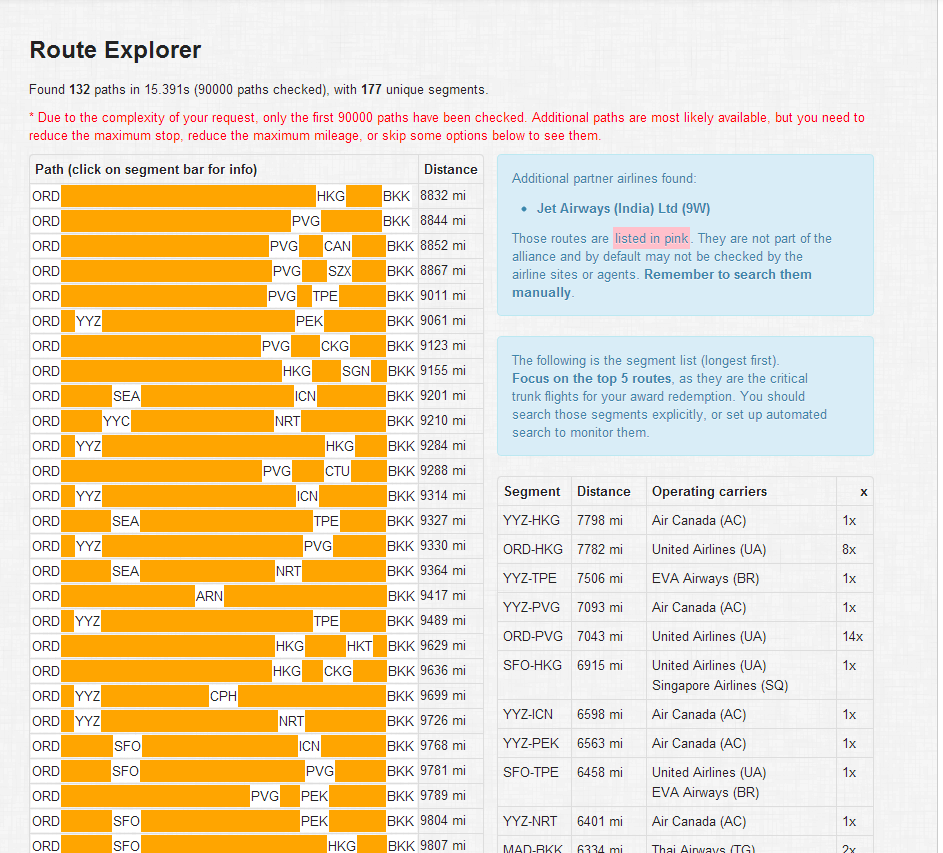 What can we learn from this list of routes?  Well we can use it to focus our searches segment by segment.  We can also use it to see where we can stopover to visit a second destination as part of one trip.  And when we're stuck without any award seats on our preferred 1 stop route we can refer to this to see other options, like flying ORD-SFO, ORD-SEA or ORD-YYZ and searching from there.
Award Nexus Does the Heavy Lifting for Award Searches
The underlying software that Award Nexus uses is some of the most powerful out there for finding award seats.  There have been times I've been stumped–and an Award Nexus search pieced together flights I didn't even think of. The power of Award Nexus searches comes from the route searching that AN does so well. Award Nexus also has a flexible date searches which allow you to see, up to 7 days in a row, what flight options exist.
As award searches go Award Nexus also has one of the cleanest search interfaces.  All the options you need to search for Oneworld, Skyteam and Star Alliance flights are there in one handy screen.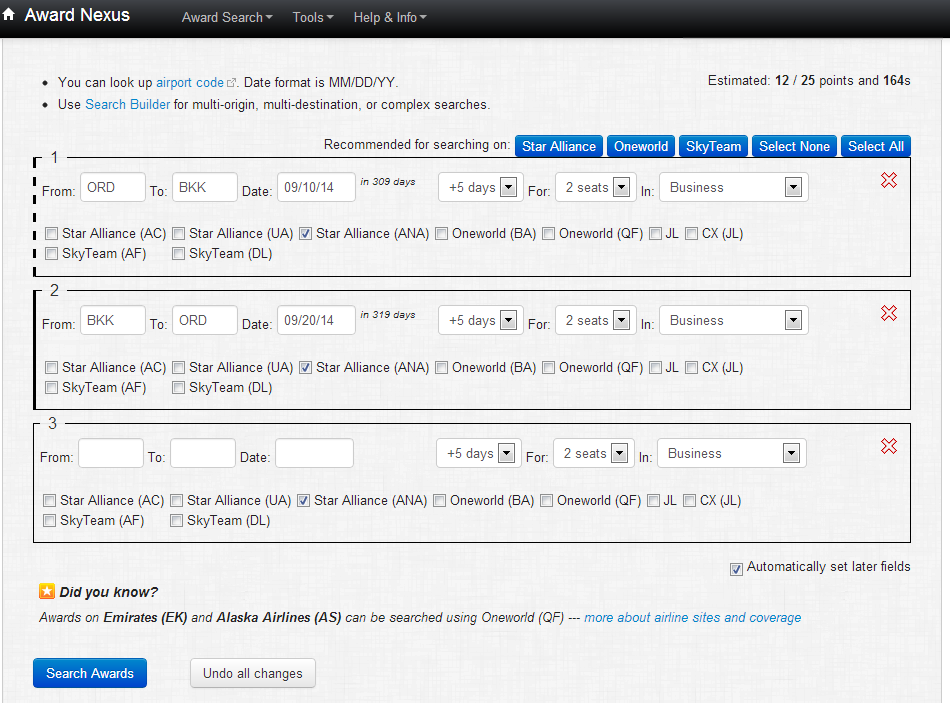 Input your starting and ending city pairs, and select which search engine you'd like to use.  I usually use ANA for Star Alliance, BA for Oneworld, and DL for Skyteam when using Award Nexus.  You can try each and see which is your favorite. You can even mix & match–searching Star Alliance on the outbound and Oneworld for the return, or both in both directions, all on one screen.
A Word about search Dates: Award nexus doesn't employ a "+/-" style date search. For example, while other searches (EF) Allow you to pick a date and do +/-3days with Award Nexus input the earliest date you want to leave and select +6 days.  It is a little counterintuitive but the results are the same.
After you input your outbound and return flights click search.  A calendar will appear with a percentage bar up top.  A search can take 1-3 minutes with Award Nexus.  So if you don't see results pop up instantly, be patient.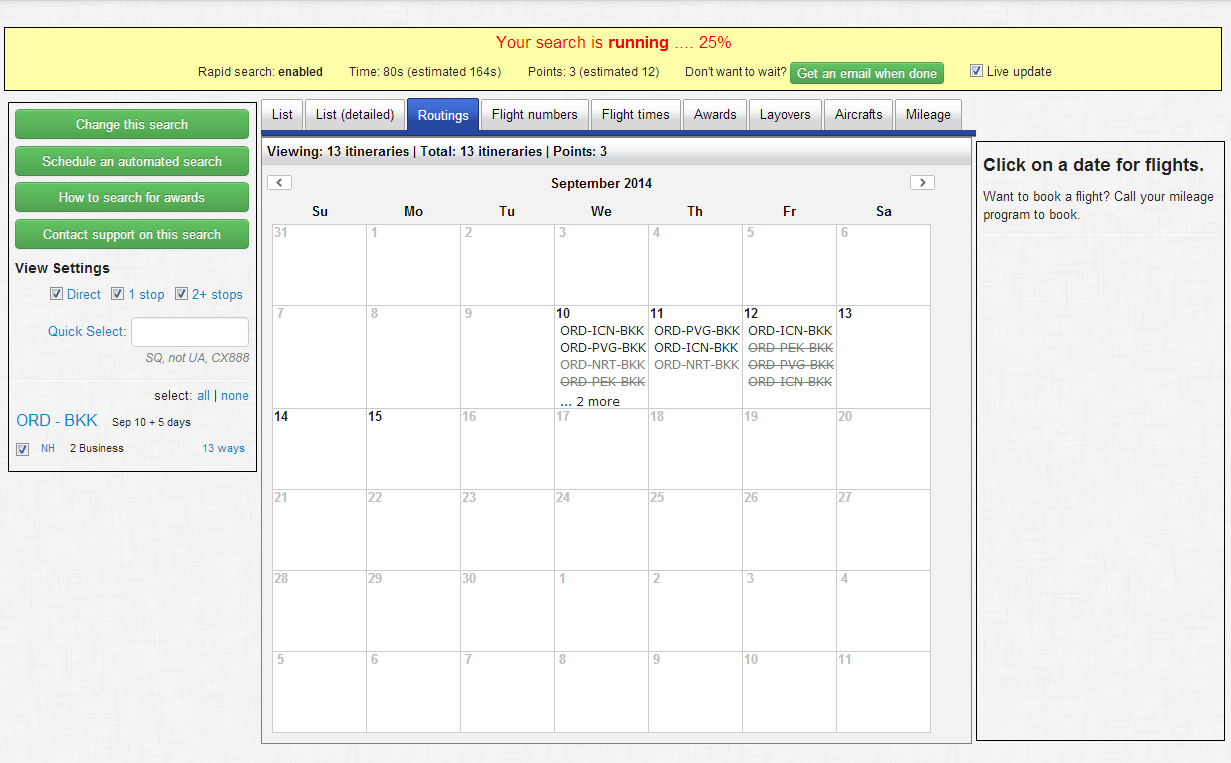 Once the search is done you can hover over each option on the right frame, and see flight dates, classes, layovers, and airlines.  Black results match your cabin preference 100%, grey results mean over 50% of the flight time is in your preferred cabin, and Gray with a strike mean less than 50% of time spent in your preferred cabin.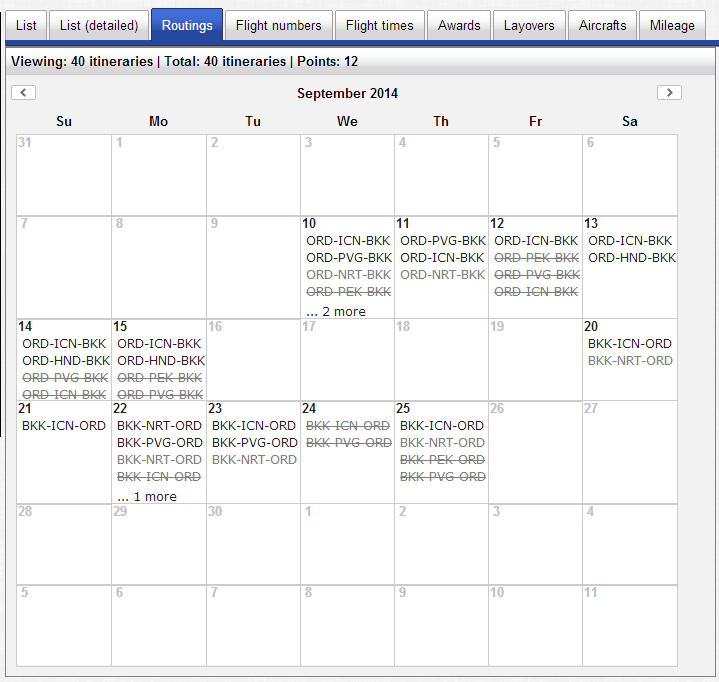 For our outbound legs we have the 10th-15th all showing flights.  And for returns we have options every day except the 24th.
Just Because There are options Doesn't Mean They're Good Options
Digging deeper I like to look at each option and decide which maximizes my comfort but also minimizes my travel time.  I want to be in BKK, not in an airplane circling the globe, no matter how comfortable that plane is.
Lets compare the two outbound flights on 9/10: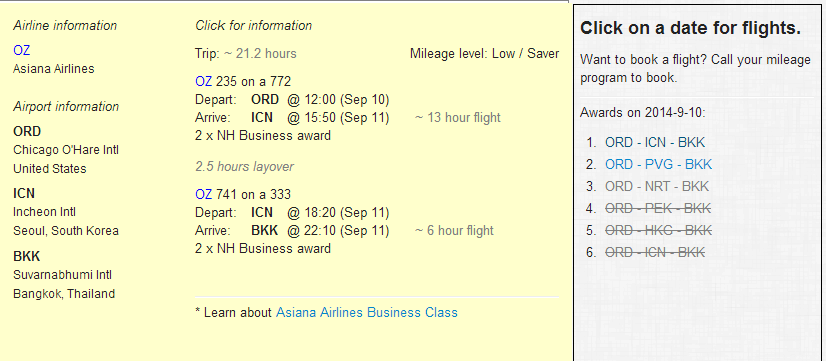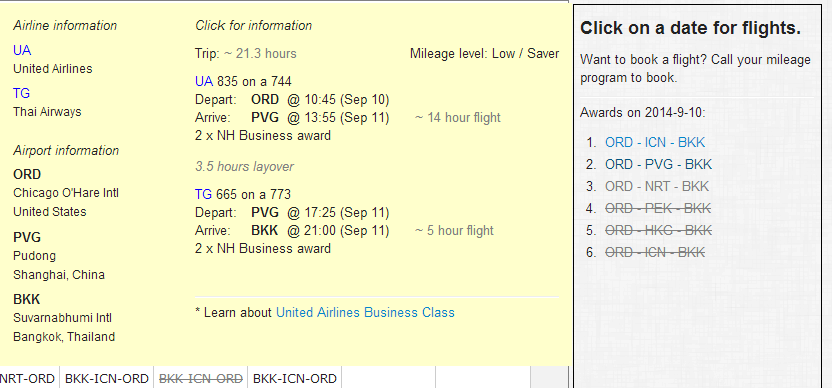 Both leave at a decent time–and arrive late at night into BKK.  The shorter layover (Option 1) is also an OZ-OZ flight (Asiana Airlines) as opposed to UA-TG on for Option 2.  They're both pretty comparable flights time wise. I'd recommend option 1 (OZ-OZ) not only for the 1 hour less layover but because I've flown and enjoyed OZ very much.
A good trip report of this exact flight can be read here. There's also a very good chance the flight will be on Asiana's new business class seats. I would personally still take this flight over the United flight with the old, angled flat Asiana Business seats.
Returning on the 25th we have two options to look at as well: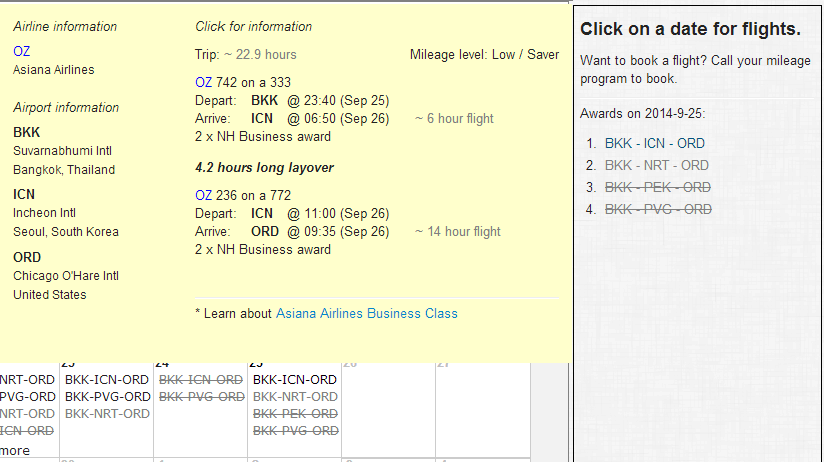 Option 1 is an OZ-OZ connecting in ICN. Option 2 is an ANA Economy flight BKK-NRT and then Business from NRT-ORD with ANA.   Why look at option 2? What if you found a business class flight into NRT a few days earlier, and used your stopover there? You could then continue on with the flight NRT-ORD.  Or if you don't want to have a 4 hour layover, you might prefer this option as is–even with the first leg in coach. We don't want to discredit these flights, we might end up using them.
I've taken the OZ flight above–it leaves very late, but they still serve you a full (delicious) dinner, which means you don't sleep much during the flight.  If it was up to me I'd look for something else, as no sleep all night and then a 4 hour layover would be asking for trouble. I would personally break the option 2 return up and spend 2 days in Japan, flying home on the excellent ANA 777 flight.
Booking These Flights
Booking of flights has to be done on the United.com webpage. Searching round trip I had trouble finding the flights, so I always recommend  the "Multiple Destinations" search when you know your exact flights and want to piece them together and ticket online.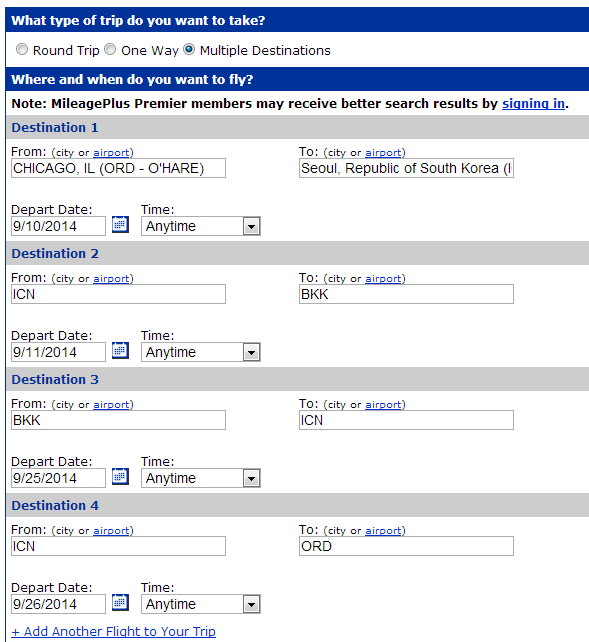 It is important you search Segment by Segment using multiple destination search.  If you're looking to book a more complicated flight, take down the days of each flight, and add them segment by segment into a multiple destination search.  Watch out for date changes with connecting flights, and make sure you have the right date for each segment.
Clicking search brings up our flights, with our nonstops showing right at the top:
Note: You could choose any of the other options that would still work, I've kept it the same as our Award Nexus Search, but you might want to take a TG flight BKK-ICN so you have access to BKK ground services.
After we've pieced it together we can verify it prices right, And pay for it right on United.com: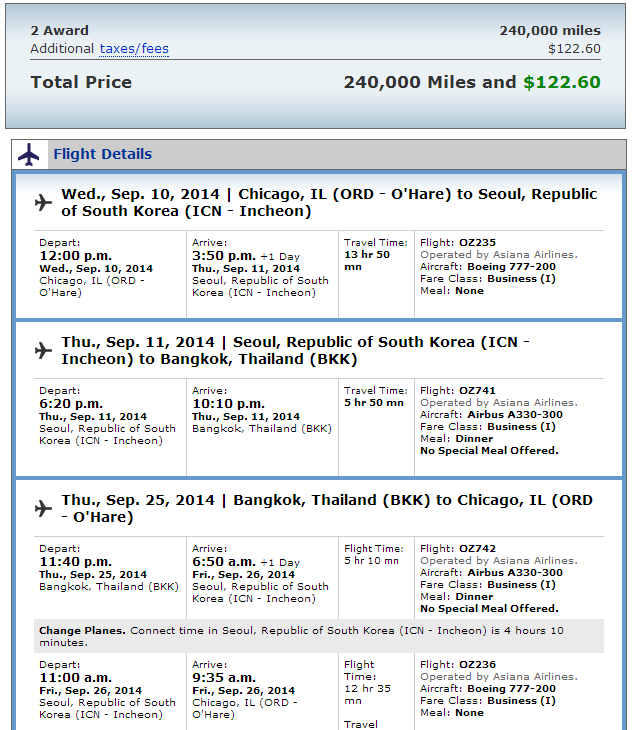 Note: booking this after 2/1/2014 will cost you 320,000 miles for 2 people. This represents an increase in mileage of 33%.
Award Nexus Pricing Can't Be Beat
Award Nexus uses a point based currency to "pay" for searches. Each search costs one point per day searced.  The above search cost me 12 points (6 on the outbound, 6 on the return). If you're a flyertalk member you can receive 200 points for free, and then every 90 days you can request a free top-up to 100 points.
For personal use, this effectively makes the service free. 100 points every 90 days will be plenty for someone taking 2-3 international trips per year. Since your searches are archived, when you go back to them you don't use any extra points.  In searching for awards I use all my other sources first, and then go to Award Nexus to fine tune things. I like to think of all the other search engines as great tools, but Award Nexus as the last stop on the way to a successful award search.  Sometimes it doesn't find anything I haven't already seen–but when it does it saves the day.
I've only scratched the surface of what Award Nexus can do. Give it a try for your next complicated booking.  If you love it let me know on twitter @Milenomics.
---