Today I'll be putting up two posts–the first using US Airways miles on AA flights, and a companion post, using AA Miles on US Airways flights
There's a brief, but excellent write-up from Bonnie over at the Frugal Travel Lawyer blog about today being the first day of reciprocal benefits between  US and AA.  This means earning and using AA and US miles on each other's flights, and a whole host of other benefits related to elite status and lounges.
We'll only be discussing Mileage aspects of this combined program today.  A good primer for today's post would be the December post, "Start Using AA and US miles on each other Starting January 7th." Now is the time to start using your combined AA and US route maps in Airline Route Mapper software: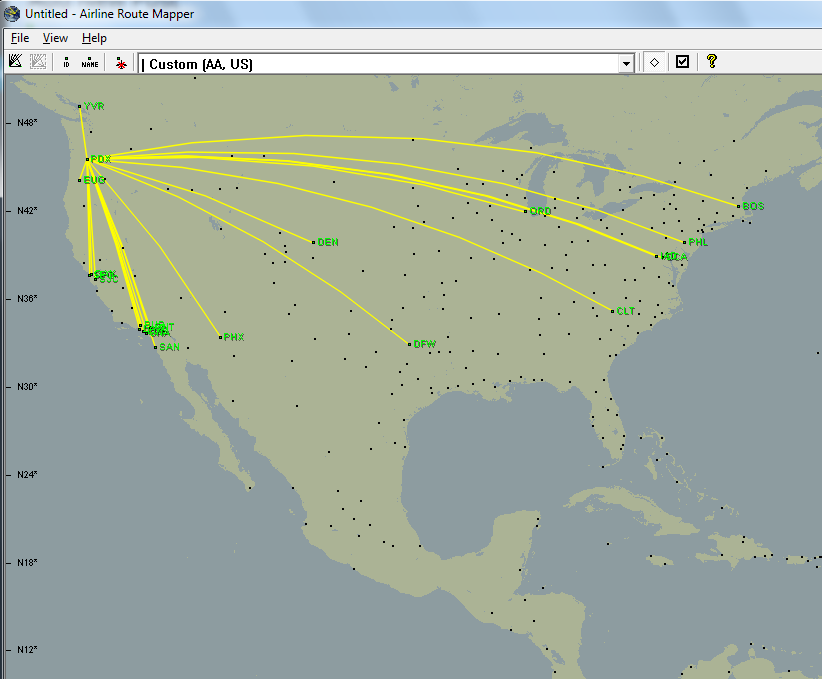 Getting Started with AA Flights
Starting today some new options are available on the USairways.com site. From the main search screen there is now an option to restrict to "US Flights only" leaving AA flights out of your search results:

Once logged in and in the "Use Miles->Book Award Travel" search screen a similar option exists, but this time it is labeled slightly different: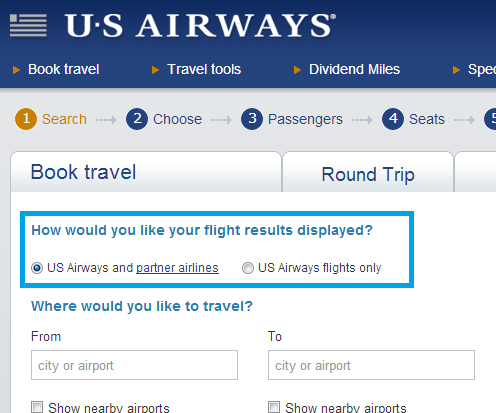 Now you might be asking "Why would you ever want to restrict searches to US Airways only flights?" We'll go over that when we get to the search results section–but the basic reason I can think of is for US Airways Credit card holders you'll only receive your 5k discount on US Airways metal–so removing AA flights will ensure you're saving those miles.
Searching Is the Same, But Different
The basics of the US Airways search engine have not changed much. There are still no one-way flights (and probably never will be), you can't book multi-city, and you still have to pay the ridiculous $25/$35 award processing scam fee. This is the fee which landed USDM on Milenomics' 2013 Naughty List.
What is new is that the search engine now incorporates AA flights into the award results at the low level. For a quick search I chose Buffalo, NY and San Francisco, CA.  I like using Buffalo because it is not exactly easy to get to–with no nonstops from the west coast.
The award engine seems to be having some "growing pains," giving errors and kicking me back to the main page.  That could just be heavy search load for this first day–or could be trouble with integration. Either way  searches work pretty nearly the same as t hey always have.
The biggest difference for searches with AA and without AA Awards are that you now have more options.  In sample searches one nice feature is that USAirways' booking engine is smart enough to now show low level First class awards even on coach searches. Instead of defaulting to the US Airways "high" level 30,000 each way Coach tickets the engine shows you 25,000 mile First class tickets on AA metal as well.  And example can be seen here: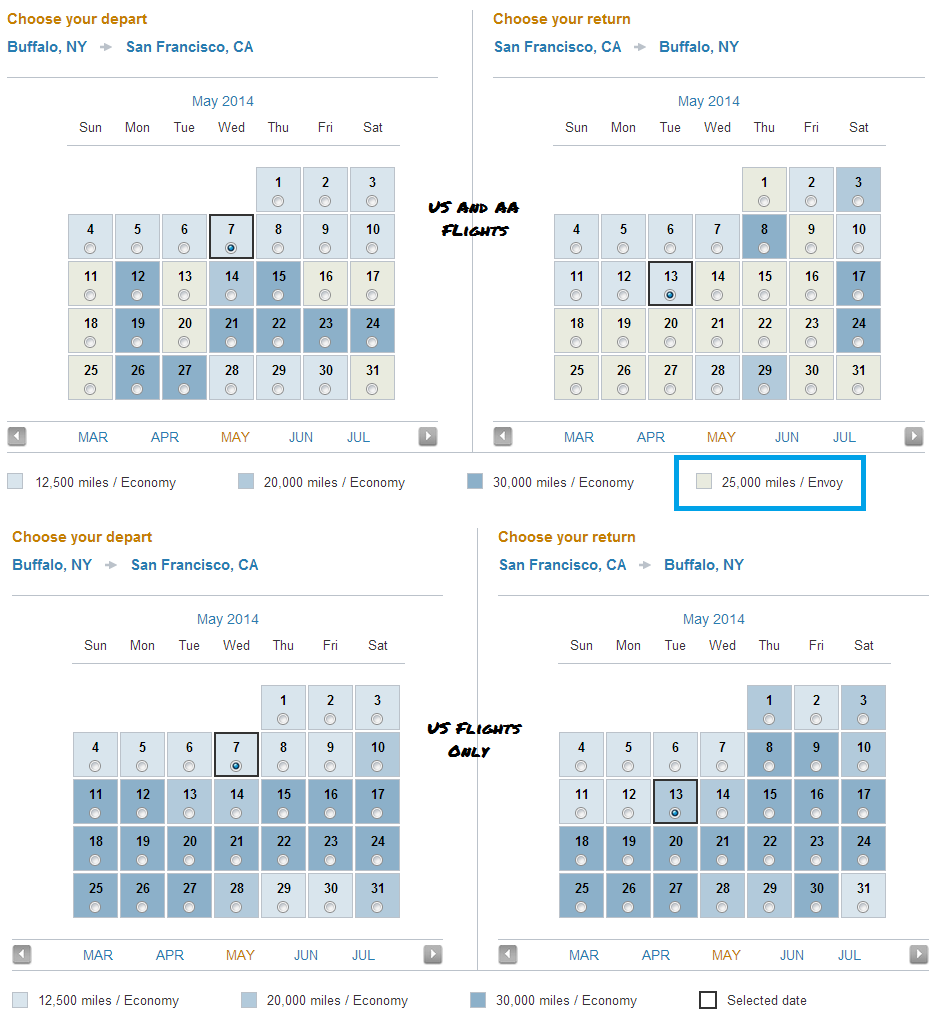 Smart Enough to Save you a Phone Booking Fee
The engine is smarter than I thought it would be.  I didn't see AA putting much into upgrading the USAirways experience, since the brand would be retiring soon, but I was pleasantly surprised with the job that IT has done. Other airlines have spent years working to fix their award site *cough* Delta *cough* (there's that pesky cold I have been fighting) and haven't come out with as good a site as the integrated AA/US site. 

An example of the robustness of the site can be seen in the following search result:
The engine returned plenty of results at the Low and Medium Coach level, and even some all-AA Low level First flights, but I chose this to showcase how the engine is putting US and AA flights together into an award.  Would I book this? No–I'd rather take a single stop all AA first class flight option for the same 25,000 miles each way or even an all US low level coach for 20k r/t. But if you're stuck, and this is the best option at least you can book it online.
What Do We Lose Booking AA with US Miles?
Note the warning above "If you book this flight, Your Dividend Miles Select Benefits Will not Apply." Dividend Miles Select benefits are the benefits USDM credit card holders receive including a reduction of 5,000 miles per person on round trip flights.  Booking any AA segments mean this 5,000 Miles is lost, similar to when you would add a United Flight to US airways flights prior to the merger.
I don't think this is terrible–if the choice exists between an all US metal booking and one with US and AA metal I'd almost always book the all US and take the 5k discount–but if a search returned either medium all US coach  options (20k each way, 35k round trip after 5k discount), or AA First class options at 50k Round trip I'd have to think harder. Is a 15k upgrade per person worth it? I'd argue that most people would take that, especially on longer flights like these.
For Now  UA + AA Bookings Are Possible, For a Price
One of the nice loopholes is that, for as long as US is still in Star Alliance (probably until March 30) you'll be able to book a US Airways award with United and AA flights.  I won't be doing the following–but an AA first class award on the new LAX-JFK service with a return in United P.S. would be a great little award if you could somehow find flights with award space.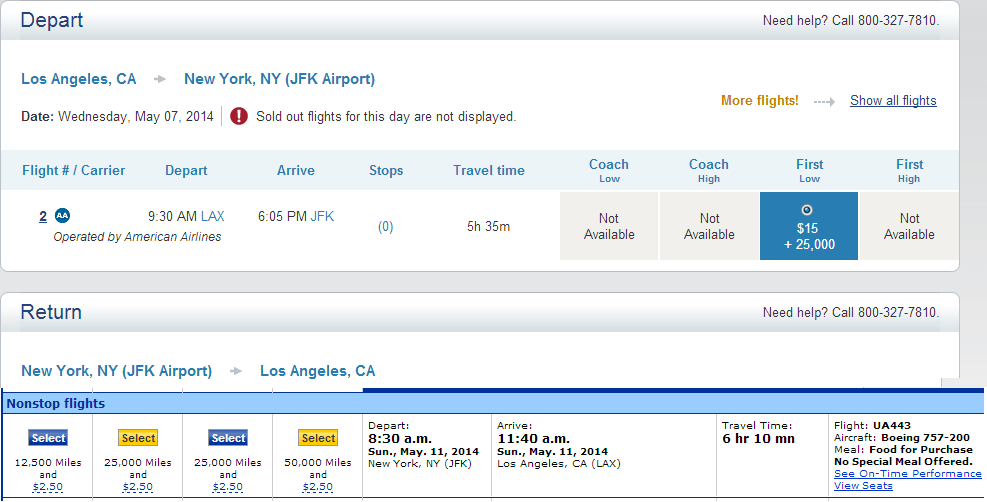 The negative of this is you'll have to call US Airways and pay the ridiculous phone booking fee of $30 on top of the $25 "award processing fee." To avoid these fees you could book a pure AA first LAX-JFK on the new a321 as Points Miles and Martinis wrote about today. In that post PM&M outlines how you can save miles by booking the AA 321 service with US Miles rather than AA miles, a must read for US and AA flyers.
The Best Search Engine for AA Flights
You've read it here before–but I'll mention it for US Airways readers today as well.  I believe the best search engine for finding AA low level awards is the Alaska Airlines website.  You can search on www.alaskaair.com and any AA flights that pop up should also show on USairways.com as of today.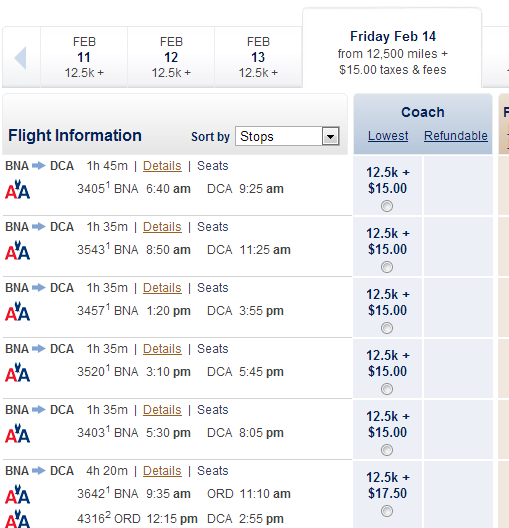 Using Alaska's site cuts through all the US Airways medium level awards and gets straight to the AA low Level flights.  When you're stuck, and can't seem to find a US Airways flight home, hop over to Alaska's site and do some AA searches, return to USairways.com and enter the dates you found, selecting the same flights for the final booking.
What's Not Changing
The above AA & UA booking cannot be done with AA miles–because AA is not a member of star alliance, even though US and AA are partners. We'll get more into this in the AA version of this post to follow this afternoon.  Oneworld flights with US miles aren't possible right now either, because US is not a member of the alliance yet.  For now AA flights are all we've got.
Booking AS flights with US miles–also cannot be done.  AS and AA are partners–and for now the only partnership is between US and AA.  There have been announcements that US may peruse more alliances–but for now nothing more than adding AA flights has changed with respect to US Airways bookings.
For US Airways flyers and holders of Miles today is a pretty good day–at least while the award seats are still available.  Take a look at your demand schedule and see if today's AA flight options can help you with any of your future travel. If so, get out there and Use Those Miles.
---
Everything below this line is automatically inserted into this post and is not necessarily endorsed by Milenomics: