We're just back from a week in Thailand that started off with two nights in Bangkok. In this Park Hyatt Bangkok review we'll go over the stay overall, and explore whether the hotel is a good value. The property opened in 2017 and has 222 rooms. It is situated on top of the ambitiously upscale Central Embassy shopping mall.
I remember running the numbers on the property while looking for sweet spots in the Hyatt award chart. The hotel actually fares poorly on a cent-per-point basis as an award when cash rates dip below $300 USD/nt. Still I think it's appropriately categorized as Hyatt Category 5 out of 7 and is 20,000 points/nt.
See: The Most Seasonally Miscategorized Hyatts
Entry level rooms were $307/nt when we visited. With taxes the stay worked out to 1.8 cents per point of value when booked as an award. Although Bangkok is one of the most visited cities in the world, luxury hotels can be surprisingly affordable. So run the numbers on whether a cash or bank point booking here or elsewhere might make sense. If a cash stay makes sense, consider booking through a Hyatt Prive travel agent for a $100 per stay property credit, complimentary breakfast for 2 and potential one-level upgrade at the time of booking.
Booking channel aside, I thought the hotel was outstanding. While not technically a resort, it is an urban oasis that functions well for a long weekend or a couple-night stop on the way to other destinations in Southeast Asia.
Arrival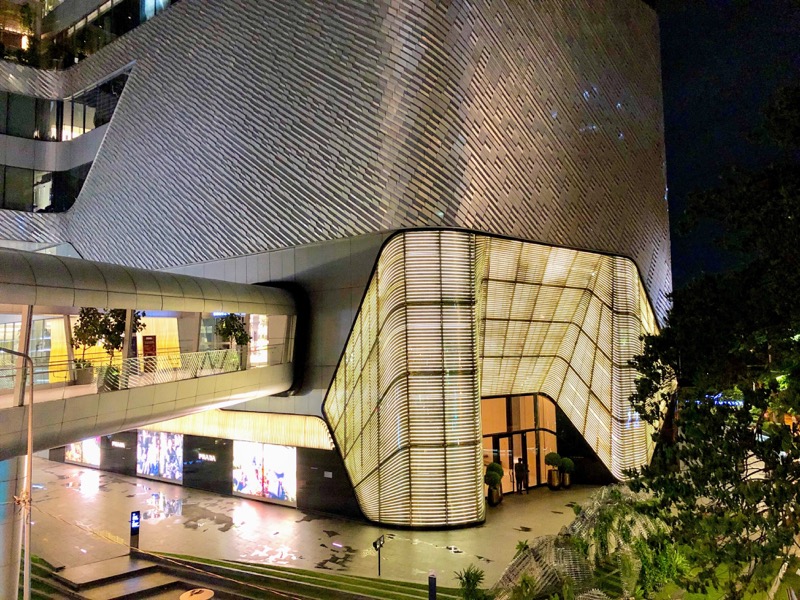 Uber isn't an option in Bangkok, and I heard mixed reports on whether Grab was viable for airport pickups. So I booked a ride from the BKK airport through the Chase Ultimate Rewards portal.
See: Redeem Chase Ultimate Rewards For Airport Transfers: Deal Or Not A Deal?
While we were on our way I checked on the likelihood of a complimentary Globalist suite upgrade by checking room availability for the duration of our stay. Although their standard Park Suite wasn't available for both nights of our stay, premium suites were available.
We were greeted on the first floor and escorted up to the 10th floor lobby to check in. They assigned us a Deluxe King room, so I asked whether they might have any suites available. I have Hyatt Globalist status which includes upgrades to standard suites. They said they only had a Park Suite available for the 2nd night of my stay and I could have it if I was willing to move the 2nd night.
Park Hyatt Bangkok Review: Room
I considered moving to the Park Suite the second night, but after seeing how nice the Deluxe King room is I decided to stay where we were. It was just the two of us and the 55 square meter room (592 square foot) provided plenty of space. Plus the Park Suite wouldn't have as nice of a view.
Check-in was completed in the room with the same front desk agent that greeted us. I like that way of doing things more than the American standard of giving a guest their room keys and pointing them towards the elevator. It seems like a small thing but when a room key fails, you encounter a housekeeping issue, or you just plain don't like the room – it's nice to be able to resolve it on the spot.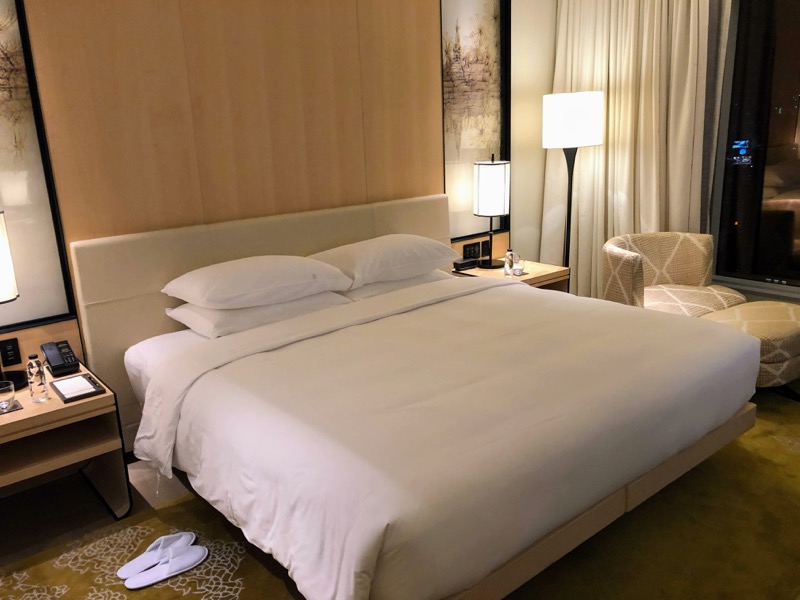 It was really cool to arrive in a place like Bangkok to a room with sweeping views. It provided a sense of the scale of the city and how it was laid out.
The design of these newer Park Hyatts is impressive. It's somehow consistent in quality and style across each property in the portfolio while giving each location its own feel.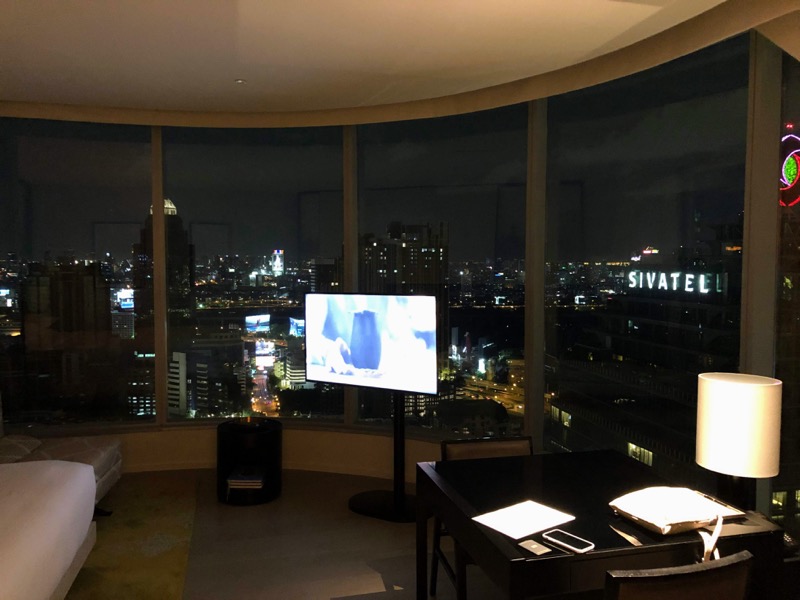 Globalist Leverage
I didn't get a premium suite upgrade even though they were available. Some Hyatts go beyond the program T&Cs and provide upgrades to even premium suites when available.
See: Terrace Suite Upgrade At The Park Hyatt New York
This property seems to limit upgrades to standard suites.
On the bright side, the hotel offers a 1-hour Champagne/wine "Tasting Evening" at The Living Room each night for Globalists between 5-8p. We arrived at 7:50p but the agent that checked us in informed the Living Room wait staff that we'd be over for our "tasting" in a few.
They say they offer this evening wine tasting because they don't have a club lounge. Hardly any Park Hyatts have lounges so it's nice to see them include this benefit for Globalists. It provides the best of both worlds: Drinks in the evening, and a generous complimentary breakfast in the morning.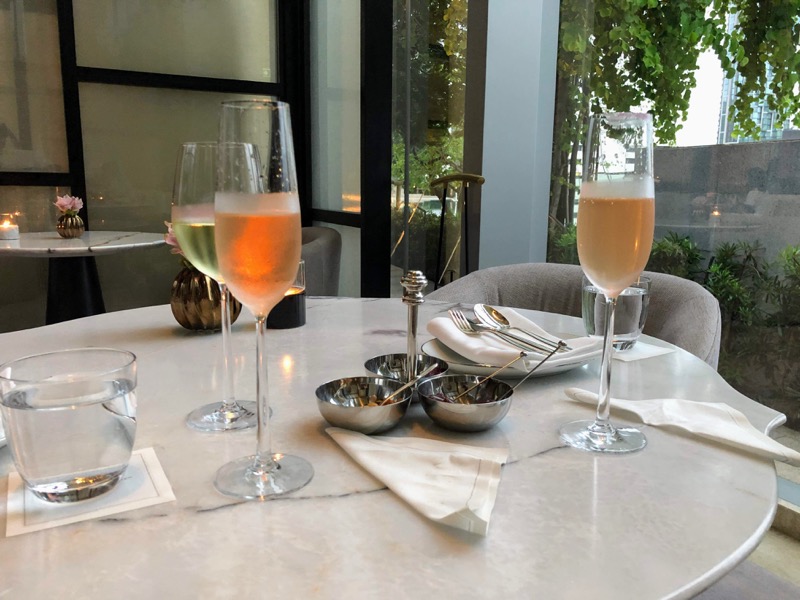 Food & Drink
It there's one area Park Hyatts excel it's in their food & beverage programs. Their breakfasts are famously generous and high quality, and that standard continues throughout the day.
See: How was the Park Hyatt St. Kitts?
At the Park Hyatt Bangkok, breakfast is served in the Embassy Room on the 9th floor, and includes a la carte Western and Asian selections in addition to a variety of buffet stations.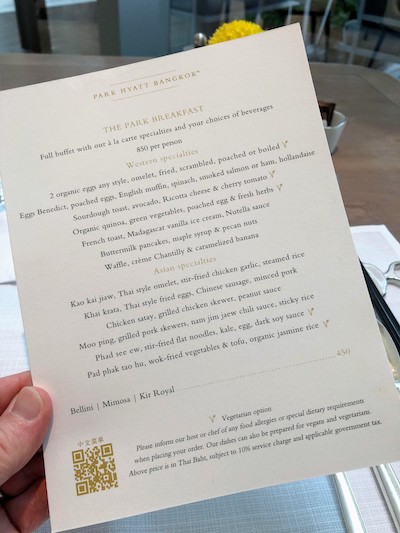 I enjoyed being able to sample Asian entrees in addition to fresh fruit and other selections from the buffet.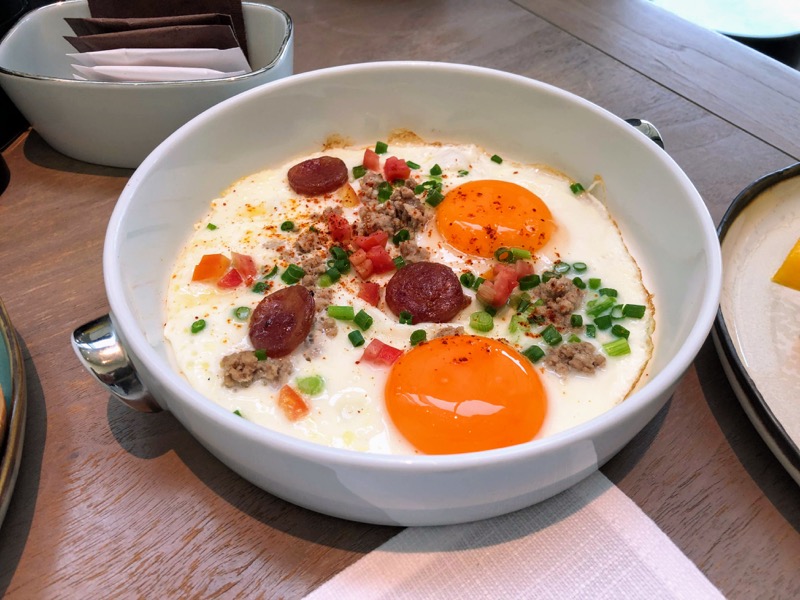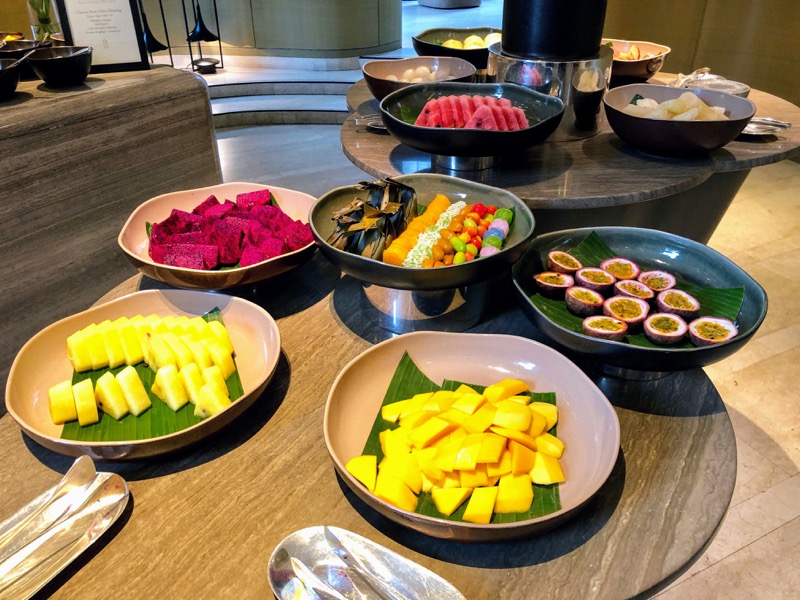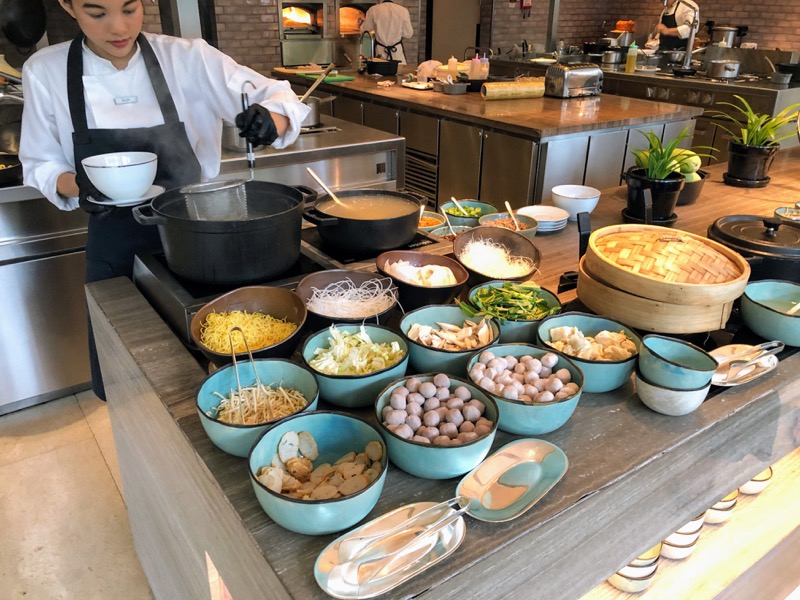 During Tasting Evenings at The Living Room, dishes were available to order. Globalists get 10% off food and non-alcoholic drinks at hotel restaurants.
The Pad Thai went for a reasonable 360 THB ($11.83 USD) before 10% Globalist discount. You can certainly get food for less elsewhere in Bangkok, but you're also paying for the atomosphere, service, and quality at the Park Hyatt. In that context I'd say the Park Hyatt is hard to beat from a value perspective.
I thought the Pad Thai was outstanding. Full of flavor, perfectly prepared, and well balanced by fresh accompaniments.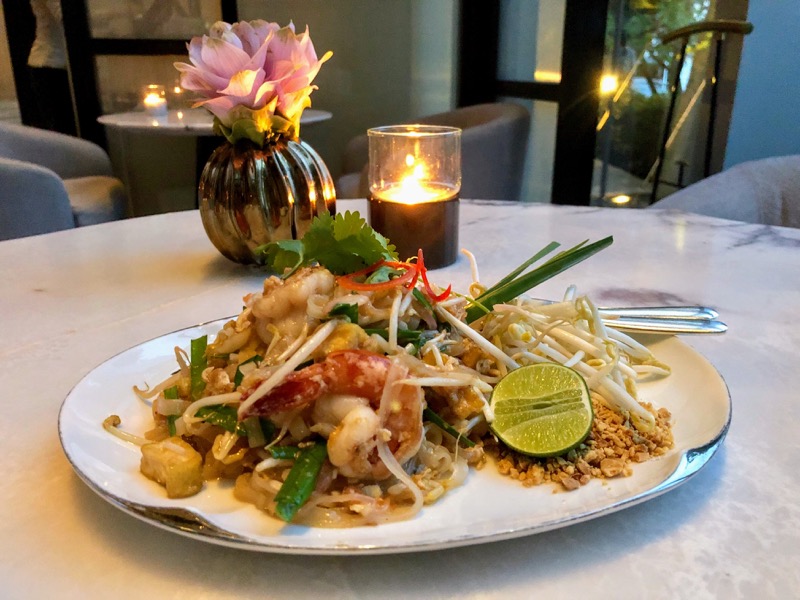 The top floors of the hotel house a creative assortment of dining and drinking venues. A high-end steakhouse, a cocktail lounge, and an open air bar. They're worth checking out for the views alone, but the drinks and dining options are very strong as well.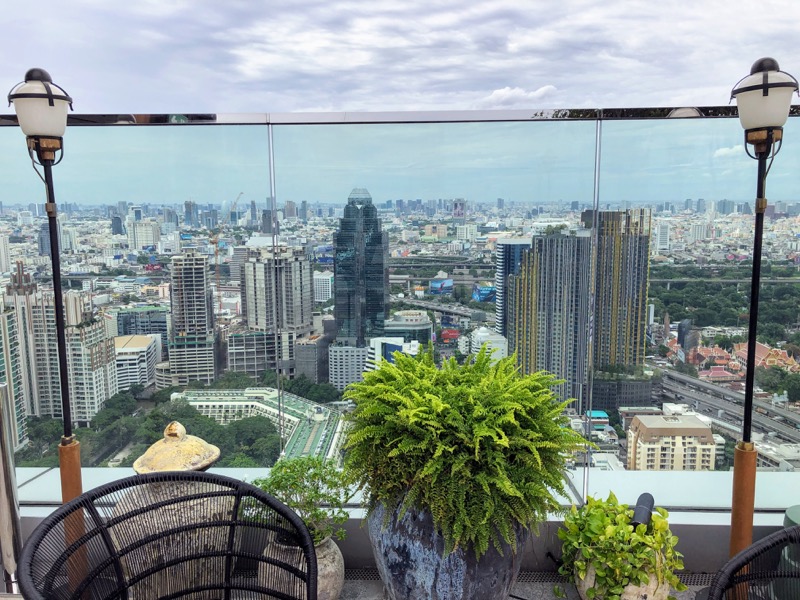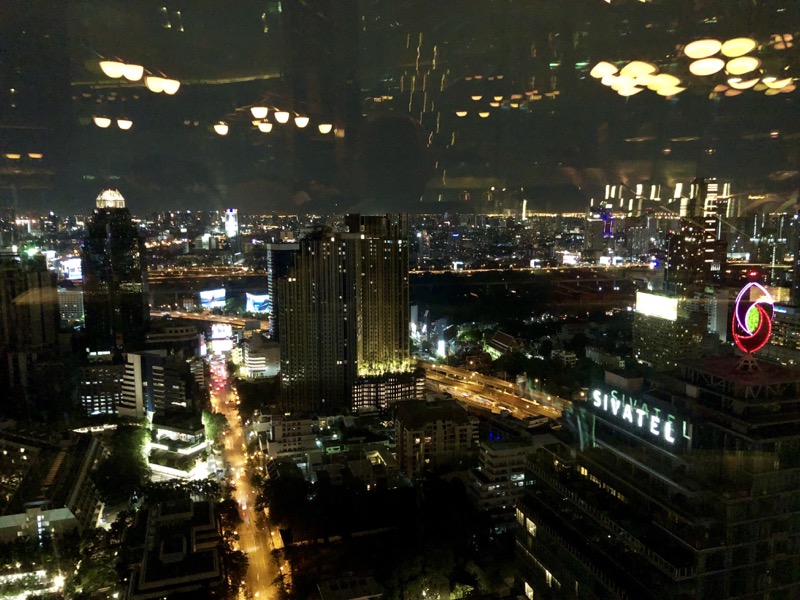 Pool
Open air rooftop pools are common in high end hotels in Bangkok, and the Park Hyatt is no exception.
The pool isn't huge but it is nice to look at and includes lounge chairs with service nearby.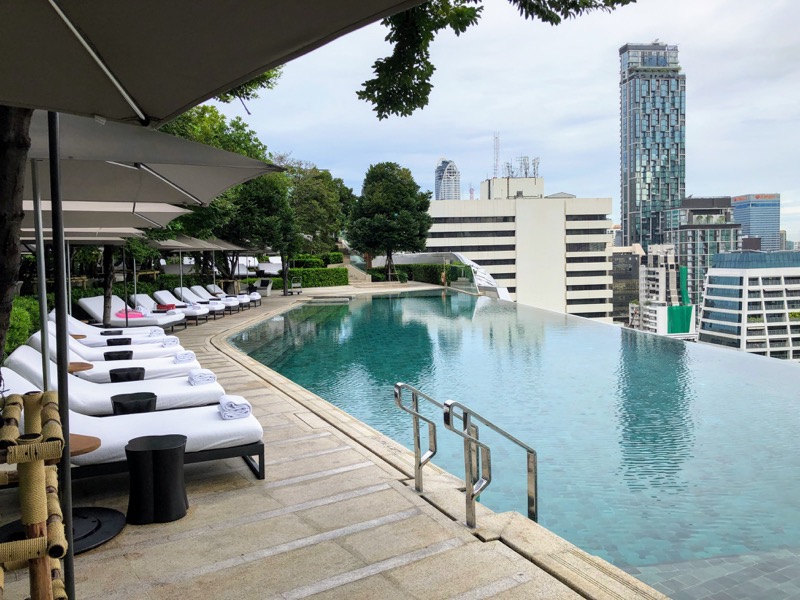 Central Embassy Shopping Mall
I wouldn't necessarily make the trip Bangkok just for the mall attached to the Park Hyatt. But if you go I'd definitely budget some time for it.
In the bottom floor of the mall is an "Eathai" which appeared to me to be a clone of Eataly but with Thai food instead of course. If you're not feeling adventurous or don't have time to get out and try Bangkok street food this can be a compelling option.
There's also an Ippudo Ramen location in the mall. They've got these in New York City, but it's interesting and nice to see them in Thailand as well.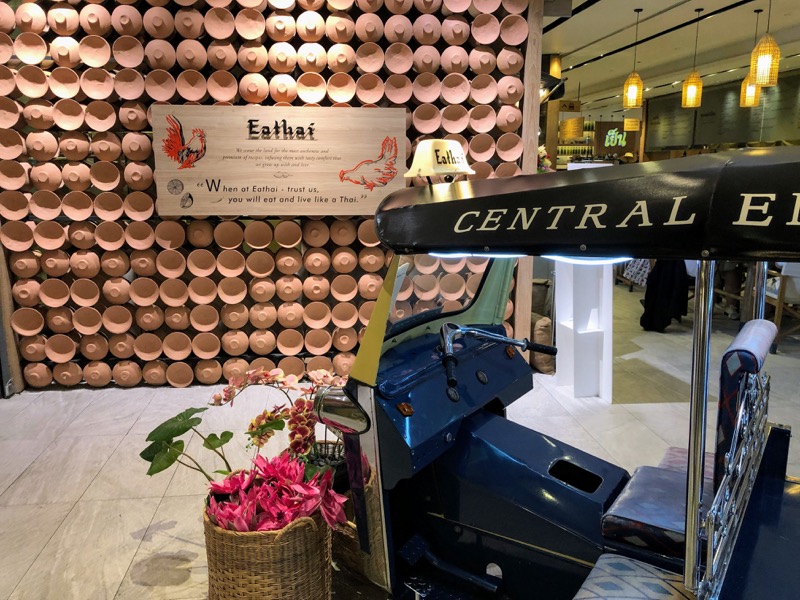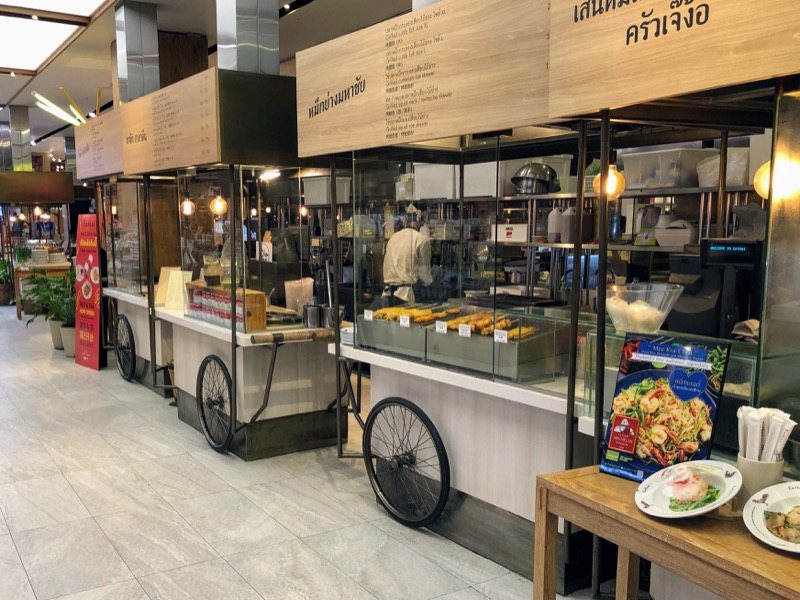 Bottom Line
I'd rate the Park Hyatt Bangkok 95/100 points. We had a great stay and if we return to Bangkok I'd be hard pressed to consider other options.
Park Hyatts in general, and the newer ones I've visted lately (New York, Mallorca, St. Kitts, and now Bangkok) are really impressing me.
Park Hyatt has gone in my mind from being a great points hotel brand to a being great hotel brand period. See this list of the Top 10 Luxury Hotels in Bangkok. It's great to be able to use points and leverage status benefits while staying at one of the top hotels in a given market, and that's what we're getting with the Park Hyatt Bangkok.
The Hyatt food & beverage program is consistently fantastic, and the level of refinement of their rooms and public places is impressive.
Definitely give the Park Hyatt Bangkok a look if you find your way to Bangkok, even if for only a short visit. If you're like me you'll be glad you did.
What are some of your favorite hotels in Bangkok?