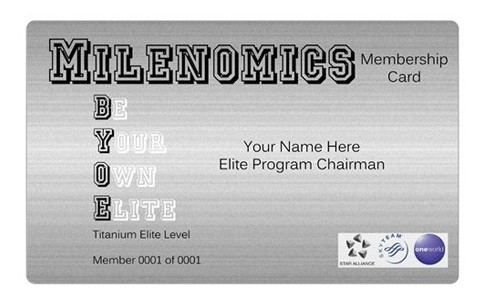 I've mentioned how I love reading search terms that lead people to Milenomics, but another feature of wordpress I enjoy is the ability to see how popular different posts are. My most popular post to date is this one, comparing the Chase Freedom and Chase Sapphire Preferred.
However to me, my most important posts are the Be Your Own Elite series of posts. For those of you not yet familiar with the BYOE concept, allow me to introduce it.  One of the cornerstones of Milenomics is that we're loyal to ourselves, and our wallets, before anything else.  This means valuing our time, and making choices for flights based on that valuation.  It might mean picking a flight with an airline we have no status with to save hours and money, at the expense of EQM/PQM's.
The Flipside of this personal loyalty is the Milenomics Be Your Own Elite Program.  We've worked it a few times here on the blog–but the basics are that we attempt to create as many elite benefits as possible without worrying about the Airline's elite levels.  To Milenomics BYOE, you literally are the most important member in the program. I won't promise you "unlimited complementary upgrades," or a dedicated Customer service "experience." But I can offer you money savings, less time spent on unnecessary trips, and a general improvement in your flight experience.
Even for those of you who are already members of the BYOE program today's post is important.  I would like to go over how much has changed in the few short months since BYOE was introduced.
Note: Today's post is really for #101, #201, and #301 Milenomics.  #401's are flying on someone else's dime, and can probably reach elite status without much out of pocket. For #401 travelers I'd recommend Jason's excellent piece, "Airline Elite Strategies for Business Travelers."
Upgrades–No longer Unlimited or Complementary
When we began the BYOE discussion I mentioned that the most popular reason for elite status was the idea of upgrades on flights.  In fact, using BYOE I upgraded a friend on his flight home for Christmas for just $75.  After the flight I asked him how much would he pay for that upgrade and he said "Maybe $50, Maaaybe."  While he enjoyed the experience he didn't think it significantly changed the process of flying in a way that made it worth much more than the cost of drinks + food on the flight he was on.
I like to talk value here on Milenomics, and this is a good time to discuss that.  Many of us still seem to be familiar with the idea that First class seats cost Thousands of Dollars. And some do, especially international first class. On many flights, especially those under 4 hours the cost of a First class seat is not always that much more than a coach seat.  Why is this? I'll argue it is because US Carriers do not have a true First Class product.  In fact I've compared it to a free cup of coffee–passable, so long as you don't have to pay for it.
Things have changed a bit recently.  Jetblue has announced Mint, their premium experience on JFK-LAX and JFK-SFO routes. AA has officially started their Transcon A321 service, with 3 cabins. While I followed the launch day trip reports, as best I can tell the biggest difference between first and business on those AA flights are that you have direct aisle access, glasses made of real glass, and can eat whenever you'd like.
Elite Benefits have changed as well.  With Delta's announcement in December  that they would stop giving all elite members complimentary upgrades on some routes the final US carrier to be giving "unlimited" upgrades for all levels of their elites finally has stopped doing so.  AA does not give unlimited upgrades except to top tier, and UA forces you to use upgrade instruments on p.s. service.
This is good. "How is this possibly good?" you might ask. What we have going on is a competition based on service and seat for these select routes.  We're getting a better flying experience, because we're not going to be able to pay for the worst seat and get the best seat on the plane.
BYOE-How to Upgrade in 2014
There are two ways a BYOE would upgrade, through miles or through money. I'll step through upgrade possibilities with each mainline carrier here, and can be of assistance in the comments of this post as always.
AA:  Thinking of taking an AA premium route and booking a coach seat for 25,000 miles? Want to move from the back to business?  That would cost you 25,000 AA miles more to go from coach to Business.  What if you want to go from coach to first? That's another 12,500 AA Miles to go from Business to First.  Right now, until the two airlines fully merge, US Allows booking into AA First in three cabin planes for the same 50,000.  An instant upgrade from business to First, for the same 50,000 miles.
Or: Pay for a coach fare and use an AA SWU you trade/receive as a gift.  These can be used to upgrade coach to business, or business to first.  More on AA SWU's can be found here.  The negatives of this strategy are that you must buy a paid ticket–but the positives are that for 15,000-20,000 miles (my estimate) you could likely trade for a SWU and snag an upgrade.
United: A great tip to remember for United is that holders of the Chase United MP Visa Have access to expanded award seats, just like Elites do.  This could help you snag a low-level award seat that a non-BYOE doesn't have access to.  You'll also have access to last seat availabilty at the standard level–which can help when you have to fly somewhere in an emergency last minute type situation and the only alternative is paying big money for a revenue seat.
Additionally: GPUs and RPUs can be traded. I get a lot of personal messages asking me where and how these can be bought and sold.  I don't sell these, so I can't be of assistance there.  I've recommended the flyertalk trading forum before, and will continue to do so.  Access to the forum is restricted, so if you can't see it you'll need to spend more time on flyetalk 😉 In addition Here's one of my favorite BYOE tricks for United flights:
Search for a flight, and see what the cost difference is from coach to first, for example, a flight from BUF to SEA on March 12th: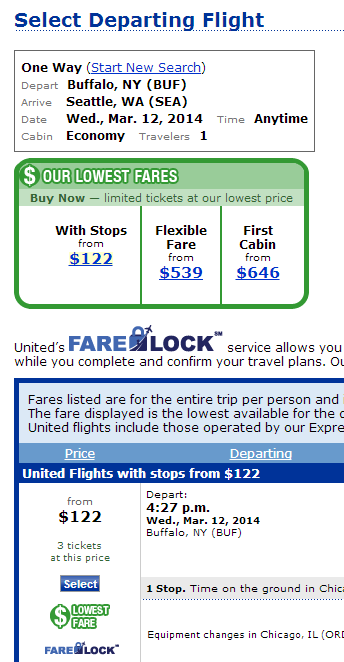 Go ahead and buy the flight. Remember from the post on 24 hour cancellations, as long as you cancel within 24 hours you can receive a full refund. After you've selected seats and paid an option to "buy up" to First may appear.  This could be the magical "Tens of Dollars" upgrade we've discussed on Milenomics before.  In most cases it will actually be more expensive than buying the first class seat, an earlier flight I tried this with was $233 in coach, $1300 in First, and I was presented with the "deal" of upgrading for $2042 after I paid for my coach seat.
The point is that you've got a free 24 hour cancellation–so why not use it to see if a cheap/reasonably priced upgrade is available.  For my above SEA-BUF flight I was not allowed to buy up after booking, but I was allowed to use miles to do so: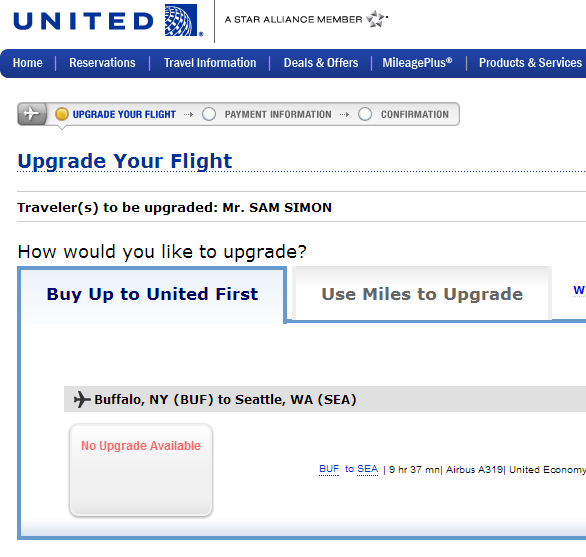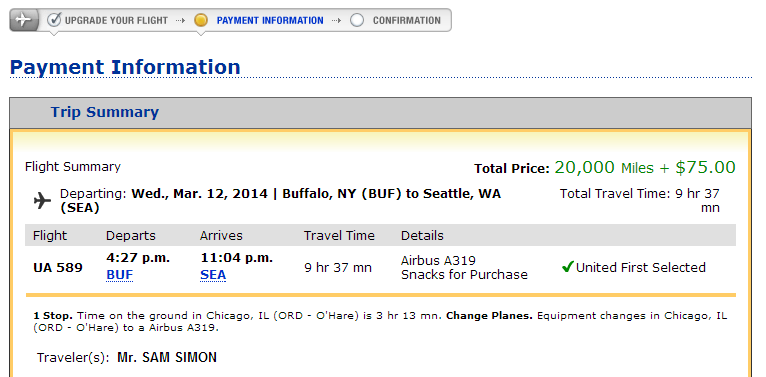 Would I pay 20,000 and $75 for this upgrade? No, I wouldn't.  But someone might. And since we're within our 24 hour window it doesn't hurt to check it out.
Not to worry:After I took the above screenshots I called United and Cancelled the flight, with a full refund going back to my card. Still EQM-Zero, for now.
Delta: I have a Love/Hate relationship with Delta. I'll be on a flight of their's in just a few hours–so I can't say I don't enjoy using their planes for my travel. But they've really pushed their elite members the hardest this year.  Some of you may have even written them a Dear John Letter last year.  For cheap upgrades, however, Delta really is #1 in my book.  Take a look at the same BUF-SEA flight, same day as the above United flight: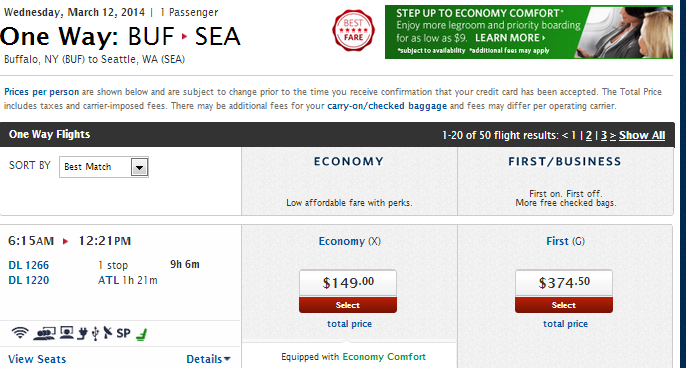 We explored the options to Upgrade with United using our 24 hour window above, and we didn't do any better than this $374.50 for worstFirst class.  We could also book with Skymiles, flights are available at the low level in first the same day: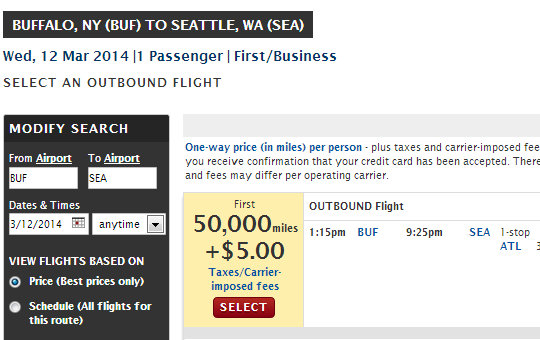 Additionally, as we discussed in earlier BYOE Posts you can still trade for Delta Gold Medallion status, enjoying complimentary upgrades occasionally.  For me I'd rather just book an award into First, since Delta miles are so cheap and easy to come by, and by carefully booking flights off my demand schedule I could try to get a free one way (in first) out of the booking.
Lounge Access
The area of Milenomics BYOE which has changed the most has been Lounge Access.  While Lounge access is not a benefit of US Elite programs, I've included it in the Milenomics BYOE program because Lounges are enjoyed by many of us.
The biggest news in this space has been the loss of AA and US Lounges for American Express Platinum cardholders. Making matters worse, Just today, Delta announced that Amex Platinum Cardholders are limited to just themselves entering Delta Skyclubs, all guests must pay $29.  This is while Delta is raising the price of a club membership with guest access to nearly $700.  An excellent write up on all the Delta Lounge changes can be found on the Seth's Blog here. For Delta's new pricing, click here.
The biggest news coming from these changes is that I really can't recommend the Amex Platinum card as a keeper–the value is just too low at this point.
BYOE: Just purchase one set of lounge passes on ebay.  Keep those passes in your carry-on bag for a rainy day. You'll find that you'll re-think visiting the club during short connections, and instead will rely on the passes when you have hours and hours to kill.  For the shorter connections enjoy a meal and a drink at an airport restaurant–the drink will be better, and the food will be too.  If you use the passes, replenish them when you get home.  Delta passes are good all day so you only need one for all your connections.
For me the only time I really "need" to hit a lounge is for a shower on a long international flight.  Nothing refreshes more than a shower and a change into fresh clothes. For that type of situation when I know I'll want to use a club I'd buy nearly expiring passes. Passes on Ebay run as little as $10 each for nearly expiring ones, and $20 for those with expiration dates further out.  You could even keep a set of AA, UA and DL with you at all times so whoever you're flying you can access the lounge in case of a misconnect or weather delay.
Free Baggage Allowance
The more your travel the less you'll be checking bags–so this one isn't a huge deal. But for a family of 3 or 4 you may really have no choice but to check bags.  Both Citi (AA) and Chase (UA) have been aggressive in waiving annual fees for their co-branded cards.  If you haven't yet applied for these, and you fly a lot with either airline, look to include them in your next CCC applications.
For the next year or two I don't think it will be a problem to keep your Citi and Chase co-branded cards and get the Annual Fee waived.
Southwest, the Wildcard
Maybe 2014 can become the year you give Southwest a try. No Change fees, free checked bags (for now) an robust route map, and easy to earn Points make Southwest a great fit.  And if you can earn a companion pass early in 2014 Southwest will cover you and your companion's flights for the rest of this year and all of next year as well.  In My book Nothing is more Elite than a free flight, every time you fly.
There are some significant challenges to flying Southwest–no assigned seats can be hard for a family traveling together.  If you're in a similar situation you may find that paying the $12.50 for early-bird check in is worth it to help your family sit together, and up front.
And remember, Southwest factors into my award tool belt for avoiding fees. Avoiding fees is very BYOE, and very Pro-Wallet as well. 😉
Wrap-Up
Today's not really a redux post–because the BYOE program is an ongoing theme of Milenomics.  The program has changed in the past few months–but name one such program which hasn't changed? The best part about Milenomics BYOE is that when one program has a significant change (say United's devaluation, for example) you're not locked into sticking with them.
Go where you want, when you want spending as little as possible to do so. That means using our miles, instead of holding them and buying revenue tickets.  It means booking the direct flights, even if we have to fly a different carrier. We might miss out on Elite "benefits," we might not gain all our possible EQMs, and that's ok.
Don't just travel to make travel more enjoyable, travel to enjoy your destinations.That's Milenomics.
As always share your BYOE tips in this post–or tweet them to me @Milenomics.
---
Everything below this line is Automatically inserted into this post and is not necessarily endorsed by Milenomics: