Whenever I talk to someone who holds elite status I'm sure you can guess what they always claim is  best part of the program: Upgrades to First Class. Throw a Silver an upgrade and you're on your way to making him try to become a Gold. (See the the diagram, the Elite Status Trap). Once a Gold, deny the same passenger an upgrade and you'll not upset him–rather you'll make him want to be Platinum, Diamond, Titanium, or Iridium (I made those last two levels up, don't go rushing out for Mileage Runs).
An Upgrade to First Class is the Free Coffee of The Airline Industry
First class travel Domestically is in a rut because of this.  Airlines can't spend too much to improve the product, since they give it out.  Putting in brand new seats across their entire fleet, retrofitting jets, all of that is expensive.  What you see instead is new planes coming into service with less and less First Class seats. And, you only see a true first class product on the routes where demand (and dollars) support it: LAX-JFK, SFO-JFK and  LAX-MIA.
Saturday I wrote a rather long post–and buried in that post was a discussion about McDonald's new "loyalty program" and Elite status .  I mentioned that McDonald's used to have a Golden Arches Club (Card pictured below). And that the card entitled you to a free small coffee with purchase.
This type of program is effective when it brings customers back more often than they would come otherwise. While the customer sees this as a good way to get their morning sandwich and  a free coffee, the issue becomes a problem when you're no longer selling any coffee, and people who used to come and buy coffee are now getting it for free.

In this situation you either stop the program, and get everyone to go back to paying for the coffee, or, when you're giving something away that otherwise can't be sold, you make it as cheaply as possible.  One needs to just go to a baseball game on giveaway night and see that while yes, you get a hat with your ticket to the game, the giveaway item is usually significantly worse quality than if you were paying for the hat yourself.
Airlines are moving to a Dual Economy for First Class
Without an elite program that gave away upgrades I'd wager that most aircraft would be configured into a Southwest type configuration–or there might only be 4-8 (AA's a319 has only 8) of the current style first Class seats and they would be sold for a $300-$100 upgrade from Coach, with the price going down closer to departure. United is close on that front, and I'm sure others will follow.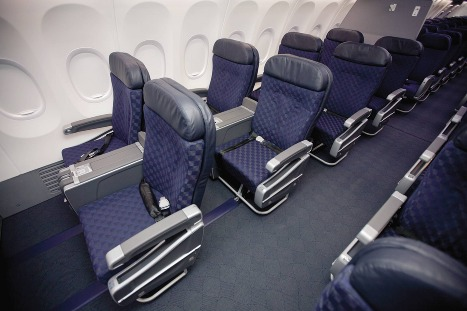 This would be the standard First class you experience on most airlines today.  The seats are larger than normal, padded, and you receive a somewhat edible meal. Do I like these seats? Sure, would I go out of my way at all to fly on them? No.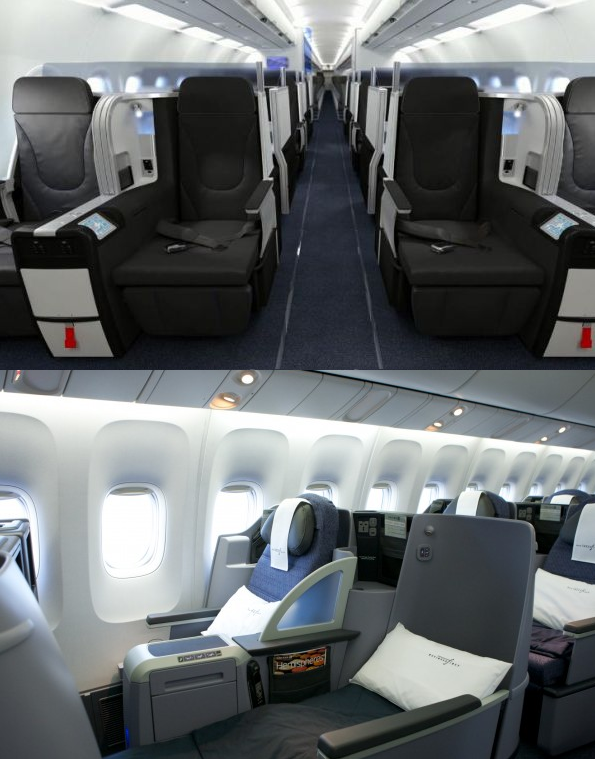 However, to remain competitive with the LAX-JFK type premium routes you're seeing and arms race of sorts, where Jetblue, and others are launching premium cabins to compete against mainline carriers who are able to charge for LAX-JFK in Business/First. With people paying actual money to fly these seats there is real incentive to innovate, and compete.  Want to see what the airline industry would look like if everyone paid for flights based on service and comfort? Look at these premium routes.
Deregulation As a Double-Edged Sword
There was another time when customers did pay for comfort and service. Let's go way back, to the late 1970's. Airline ticket prices used to be regulated by the government.  What this meant was that airlines competed to offer you the most for your fixed ticket price.  This did mean a high level of luxury, but also high ticket prices. After deregulation airlines had to compete on price, something they had before not had to do.  The race to the bottom was on.
Not surprisingly services were steadily cut. Low cost carriers bear a lot of the blame for this, as they consistently undercut the big airlines.  Mergers followed (I'm speeding up 30+ years of airline history, and am not an airline Historian), and those mergers further shook things up.  What we have now is arguably the most efficient airline industry we've ever had–and customers who are more able than ever before to travel across the country. There is a first class cabin still in most planes, but it pales in comparison to the heydays of Air Travel.
Note: The entire United States has changed so much since the 1960's-1970's I don't think it is very fair to "pine for the good old days." I'd much rather have gogo internet and television than tray served roast beef, but maybe that's just me. 
The Hamburger Dilemma:First Class Phonies
What does it take to make a Hamburger? Most of us would agree; a bun, a burger patty, some condiments, and other flavorful items like onions, maybe pickles. You're basically describing a McDonald's hamburger, right?  I think you'd begrudgingly agree that yes–a small McDonald's hamburger is technically a hamburger, but it is not the type of most people would imagine when they picture a burger.
Domestic First, on non-premium routes, is similar to this  hamburger.  Technically better than coach–but nowhere near where you want it to be. The reason is simple, if we go back to our free coffee analogy; the airlines are giving away the First Class product to customers who overwhelmingly won't pay for it.  Airlines don't want to fly a plane with empty seats–if they can they'll upgrade you for free, and give someone else your seat.  Worst case for them they give you a meal (that you would never buy outside of an airplane), and a little larger seat.  They keep you happy–and sell an additional seat (your old coach one).
Keep an eye on the upgrade list when you fly–not to see your name, but to count how many people are on it. 40-50 passengers is not uncommon to see on busy Elite heavy routes.  Maybe the first 12 will have a shot at an upgrade. Unless of course the airline decides those Elite flyers are not as valuable as the revenue from someone like me, who is EQM-Zero.  Instead they sell me your First Class seat for $109 when I go to check in. I decide (which I almost never would) that the meal and larger seat are worth the $109 to me, and another Elite is stuck in E+ licking your wounds.
Make no mistake–there's a fine line, sell too many of these types of upgrades and your elite flyers get upset (see the above FT thread on United's same day buy-ups for examples of this upset).  I'd be mad too–you as an Airline Elite traveler are the most loyal to the brand.  And you can't put a price on loyalty? Oh wait…United says you can–and it can be as low as $29 for someone to take your seat.
Bypass All of This
If you've never flown domestic Business/First Fly 4 segments on domestic first–I think that will be a fair enough sampling.  Make sure 2 are 3+ hours, and the other two any length.  Book a seat on any flight with your miles that you can. Just go somewhere.  You'll learn if you care for First Class at all.  Sure it looks great when you're sitting in Coach, but when you've been up there a few too many times, with really bad meals, or just a snack basket, you'll see why we're pushing to BYOE here at Milenomics.  For those flights where I really want the bigger seat–say an overnight cross country flight, I'll use miles to book first class, or Milenomics upgrade tricks to upgrade without being elite.
Perhaps the best benefit of booking First when you want to fly First is that you know where you'll (likely) be sitting. When you're not sure you'll be sitting in First until rather close to boarding you're unable to count on the meal you will be served on-board as your breakfast/lunch/dinner.  Have you faced the dilemma: buying and bringing your own food on board, or waiting to see if your upgrade clears, but not leaving you enough time to buy any food once that happens?
Wrapping it all up.
Don't mistake your loyalty and the program's benefits for anything other than an attempt to extract the most possible money from you. The airlines have  a mediocre product that they give away to make you more loyal to them. There's a reason SFO-JFK and LAX-JFK have the best domestic First class products–because people pay for them.
If you don't believe me that the whole point of status is to get you to spend more money with programs, how do you explain Delta and United now counting dollars spent towards status? The curtain has dropped–they're outright telling you it's all about the money. The barriers to entry are spending, not flying with airlines.  In United and Delta's case they're rewarding their highest spenders, rather than their most loyal customers.
---