For those of you following the March Mile Madness Tournament Yesterday was the first day of competition.  Others have filed their Day 1 reports already, and I wanted to do the same.  Most of my updates from here will be on Twitter–so make sure you're following @Milenomics for all the details of my shopping sprees.  I also may do a weekly post on the subject, but I haven't decided on that yet.
Day 1: Not So Fun
The idea of the Tournament seemed fun–I'm already spending money every month on Miles and Cashback, so this couldn't be too much different than that. Let's just say I might have underestimated things a bit.  My goal yesterday was to spend and cash out as close to $5,000 as possible.  I fell short of that spending goal by $1078.15.
Part of the problem was that I almost never cash out my purchases the same day–I'm always buying at night and cashing out in the morning. This is most efficient for me because of my eye on Cost Tracking. For this tournament if I delay and cash out my purchases the next day I'm in essence tying up my $5k bankroll for 2 days, cutting my ability to earn in half.
Another part of the problem is that I rarely like to make special trips for Milenomics Mileage Runs. However, this contest is all about special trips.  I had to be at my office yesterday for a few hours, and decided to do most of my spending on the way there, and on the way home. I had hoped this would limit my time (at my T-Rate) spent as well as miles driven.
Distance Covered-25+ Miles
I used the trip to my office as the basis of my shopping for the day.  I've outlined the shortest distance  from home to work, and also the route I ended up driving: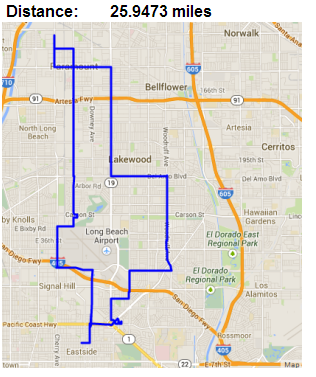 I called it a day after just shy of $4,000 in spending because it was becoming a terrible waste of my time as well as my driving costs.  I estimated that I spent 1.75 hours of time, which is $43.75 at my T-Rate of $25.  Add in the pouring rain and all I wanted to do was get home to some soup and a warm change of clothes.
The Cash-Out Dilemma
At this point I was holding $2,000 in prepaid cards which still needed to be cashed out.  I decided to make a trip on my way home to Wal-Mart and unload this $2000.  Unfortunately I didn't unload any of it at Wal-Mart.  I foolishly forgot that it was March 1. The first of the month is a super busy day for check cashing at Wal-Mart Money centers, and today was no different, the line was spilling out of the Money-Center.  Needless to say I walked into Wal-Mart and turned right back around and left.
This is where the tournament really came into play–with my normal spending pattern whenever there is a long line I won't bother with Wal-Mart. I also usually go at 8am so I don't hit any such lines. With the $5k bankroll I can't just hold $2000 overnight, because if I do I'm stuck with $2000 less to spend the next day.  Some quick thinking and a Rite-Aid within walking distance to my house helped to get rid of $1k, and free up precious spending room for Day 2.  I'm still only able to spend $4,063.05 today (day 2) because of some items still not settled, but that's $1,000 better than only being able to spend $3,063.05 today.
Lessons Learned
This game has already challenged me in ways I hadn't expected.  I foolishly forgot about the negatives of holding any prepaid cards overnight, and just assumed my usual "purchase at night, cash out in the morning" routine would work well. I'm having to re-work my strategy on the fly now, as I try to spend my full $4k today and cash it along with yesterday's $1k out to allow myself a full $5k bankroll tomorrow.
Today (Day 2) will see an earlier visit to Wal-Mart, and my purchases will hopefully be of items which can all be cashed out today.  I really need the whole bankroll to be free tomorrow.  I may attempt an Office Max run, but my store manager has been known to pull the $200 cards during promotions, forcing purchases of $100 cards.
Increasing Marginal Cost
My standard focus is to churn about $2k a day, which takes me about 15 minutes and means driving just a few miles outside my normal pattern.  Yesterday I did this first $2k churn successfully in about 25 minutes due to longer lines.  The next $2k are where things really ground to a halt for me. I've covered this before when we discussed "Removing Inefficiencs in your Churn and MMR."
The Lack of day to day float is also hurting my Cost Per Mile. If the tournament rules didn't apply I could hold Saturday & Sunday's purchases and cash them out on Monday, when I drive right by a Wal-Mart on my way to work.  Instead I'll have to make a special trips on Saturdays and Sundays to do this now.  I haven't yet figured the best way to remove these costly obstacles from my churn, but I'm going to continue to try!
This contest is already reminding me of a month last year when I needed to earn 80k miles in one program in order to make a booking happen.  That month's churn felt like a full time job–and I'm expecting this one to feel the same way. I need to refocus my efforts as I strive to win the tournament, but I also need to keep a close eye on my time, travel and fees spent.
So Far I've spent $3,921.85, of which $9.90 were fees (I hate fees!).  I've earned 3,863 miles and $79.74. However I'm still holding about $1,000 from yesterday which I need to cash out today. That could increase my fees by another $.70 overall.