This deal was graciously shared with me by www.mileageupdate.com, if you'd like to sign up for the service consider signing up using his link to support him. I waited to publish this post until he posted about it, out of respect to him.
Week one of #milemadness is over, and today I'll discuss one angle which earned me some extra points in the contest, and we'll go over how it can work for you. The Basics you'll need are:
A Mastercard which earns you miles/points

A Shell station (to use the rewards)

A grocery store which 

sells to you on Credit.

 
Fuel Rewards Network
For a quick intro into how Fuel rewards network works, here's a quick (and loud) youtube video about the process:
https://www.youtube.com/watch?v=GSvWXBd0HqQ
If you've used any of the Airline Dining programs FRN works similar to those. You register your credit card number and any purchases in the current promotional categories, such as dining, or grocery count towards your fuel rewards.
Grocery Rewards Structure
The ongoing FRN offer is $.03 back when you link your grocery store loyalty from one of the 8 participating stores. These stores have a small footprint, and most of you won't be able to use this $.03 offer.
The good news for those of us not living near these 8 chains is there's a promotion until 3/31 which awards $.05 off per gallon for each $100 you spend at almost any grocery store. A $500 gift card would earn $.25 off up to 20 gallons, or a maximum of $5 in gas. You can stack these, to earn up to $.08 a gallon if you're lucky enough to live in the footprint of the participating $.03 grocery stores.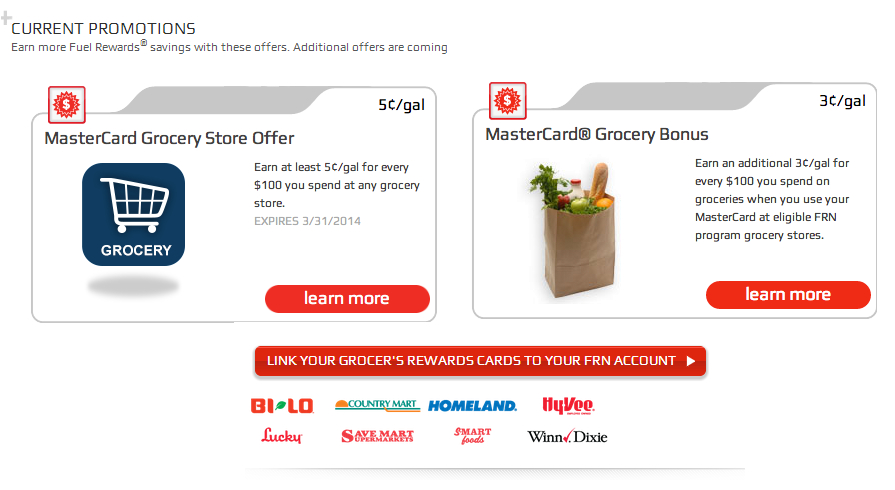 There is a list of stores participating in the Mastercard $.05 offer. Even if your store shows on this list it is always good to test if your store is participating by making a small test purchase. It takes a few days for purchases to be credited to your FRN account, but once you know your store is participating.
Double Dipping
If you can find cards which charge you less than $5 per $500 in card value, like these, and this, you could turn this into a money maker.
The Fuel Rewards will continue to accumulate in your FRN account, and when you go to use them at the pump you'll see the savings off of your per gallon price.  Some stations allow you to take the price all the way down to $.01 per gallon, others stop you at $.11 per gallon.
Triple Dipping
For the #milemadness tournament I was triple dipping. I bought a few gift cards which earn my store's gas points and I bought them with my US Airways Mastercard. For a $500 purchase, with a $4.95 fee I was earning 505 USDM, $2 x 25 gallons from my grocery store, and another $.25×20 gallons off at Shell via the Fuel Rewards Network.
These purchases bring up the question, was I buying miles and getting gas discounts for free? or buying gas discounts and getting miles for free? The haul for a $500 card ends up being $55 in gas discounts for $4.95, plus my time and travel. Whenever possible I try to double or triple dip like this. As you can see, the value of the miles is dwarfed by the value of the gas.
Ending Soon
I know the current $.05 per $100 promotion is ending in a few weeks, but if you can use it those few weeks could be enough to earn significant free gas. If FRN continues the promotion, or comes up with something else just as good I'll update you all, possibly via the Milenomics online forum we're in the process of discussing.
Update 3/11: Milenomics Reader Melissa shared in the comments of this post that even without any spending you receive a 3cent per gallong discount at Shell.  Not an amazing savings, but every little bit helps. More on this discount here: https://www.fuelrewards.com/3cent (Thanks Melissa!)