Yesterday we used a real world example of my flight to Seattle in a few weeks to show how we trade time for miles.  Today we'll continue with an example of using the hybrid system to extract as much value from Delta Skymiles as we can.
It really is important to retrain your brain for Milenomics.  So often we look close in, to the next flight we're taking, and try our hardest to redeem it for the least miles.  We really need to look at the larger picture, and try to solve for multiple trips at once. Today we'll do just that.
What is the Hybrid System?
The Milenomics glossary of terms defines the Hybrid System as:
"Hybrid System-Technique whereby a one way flight and a round trip, with stopover flight are put together into 2 trips.  The first leg (one-way) is usually flown on either: Southwest, AS/AA (With Avios), Virgin America, or Jetblue.  Could even purchase the first leg with cash if the flight is low cost enough.  The second part of the trip is flown on Delta/AS with a stopover allowed in Delta hubs.  Works best when you live in a Delta Hub"
The Basics are that if you live in a Delta Hub you can use your skymiles to complete the return portion of a trip, stop at home and then continue on to another city in days/weeks/months.  In practice this should be used with a demand schedule, where you look at what flights you have coming up and try to consolidate them as best as you can.
The hardest part of using this system is finding two flights you need that overlap.  My demand schedule (if there's interest I'll post a copy of it) has this trip to SEA in November, Home for the holidays, and then in early January I need to be in Florida for 3-4 days.  Fortunately SEA-LAX-MCO is an easy DL stopover route.
Example Search: SEA-LAX Nov 12, LAX-MCO-LAX JAN 10/14
We'll start the searching for flights with Delta Miles on www.alaskaair.com.  Milenomics likes to use free search engines whenever possible–and for using avios as well as delta miles Alaska always returns low level availabilty on AA and DL: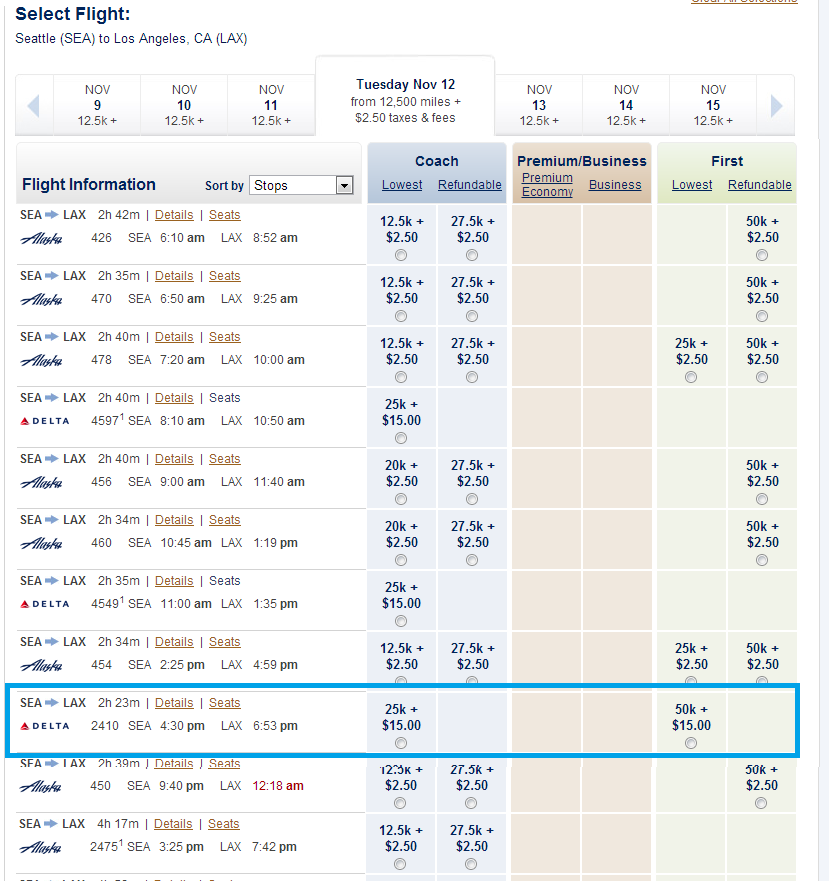 Searching for the SEA-LAX flight is easy, the results give us many different options.  While I could book any of the Alaska flights that show up as "12.5k" I chose the Delta 2410 since it leaves at a more convenient time for my wife and I to spend the day and then fly home.
LAX-MCO-LAX
Next up I wanted to look for Flights to Orlando somewhere around a weekend.  The first step I like to use is the Alaska Award Calendar.  Unfortunately this is a bit of a shot in the dark because the calendar will show you low level days, but won't let you exclude AA awards, so you'll often times find low days but no delta flights.  Here's January's calendar: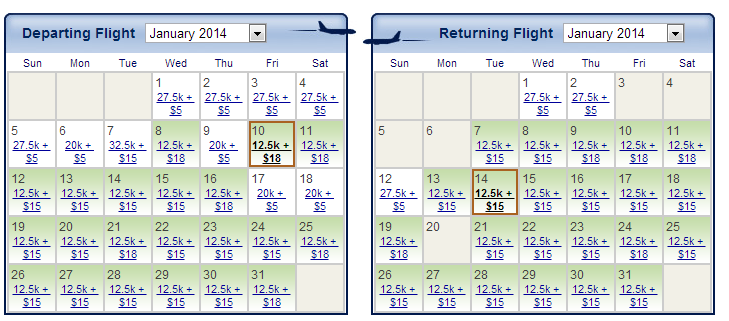 To Help I like to cross-reference it with Delta's own award calendar.  Delta's calendar is notoriously buggy–and often times shows days when there are no low level seats as having them, and days with low level seats as not having any.  But the calendars together give me a place to start looking, and help me somewhat limit the AA flights that get in the way: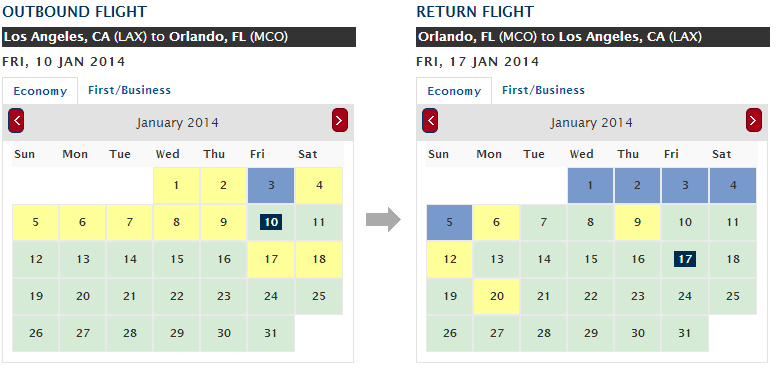 In this instance they look nearly identical. Unfortunately this doesn't always mean easy picking flights.  As I said I want to leave on a Friday–the 3rd and 17th are out, the 10th, and 24th are both doable.  The 31st is too late in the month for me, I have other travel plans already set.   I'd prefer the 10th, and will start my search there:

I spent some time picking my return day, but ultimately settled on the 14th, partly because such a good nonstop option was available.:

Booking on Delta.com, a Lesson in Patience
I originally wanted to book this as a first class trip, but the dates didn't align well for it. Remember the flexiblity levels we need to use miles: Dates, Location, or Class of travel.  I passed on booking into first because the dates and flights — leave midday Jan 10 – come home at night Jan 14 are just too perfect for me.
To book this we want to select Multi-City and include each flight, segment by segment: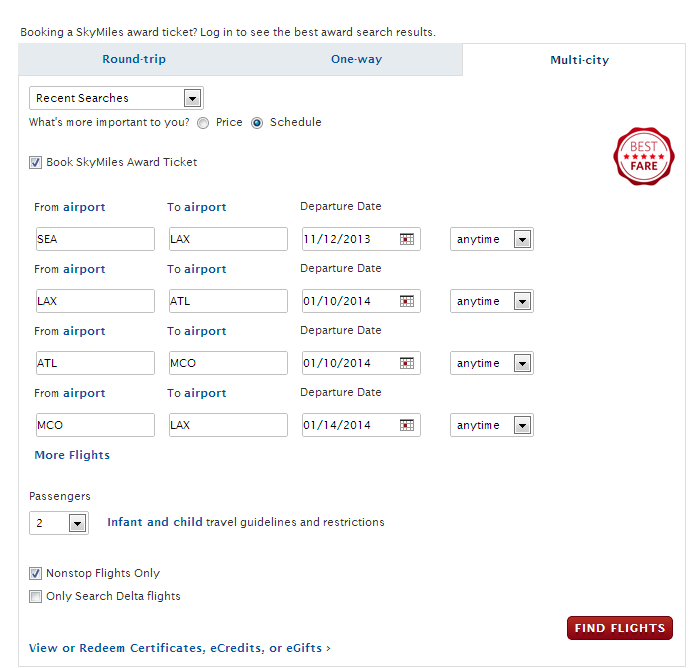 The first 3 times I did this search it was pricing out incorrectly.  I knew it should price at 25,000 miles per person, but it was varying wildly between 57,500 and 105,000 per person! I started to search segment by segment  as one way flights, and each was still pricing wrong.  There's no better way to say this: Delta.com just plain doesn't work. 
To solve this problem I ended up trying an incognito browser window–and was able to get it to price accordingly: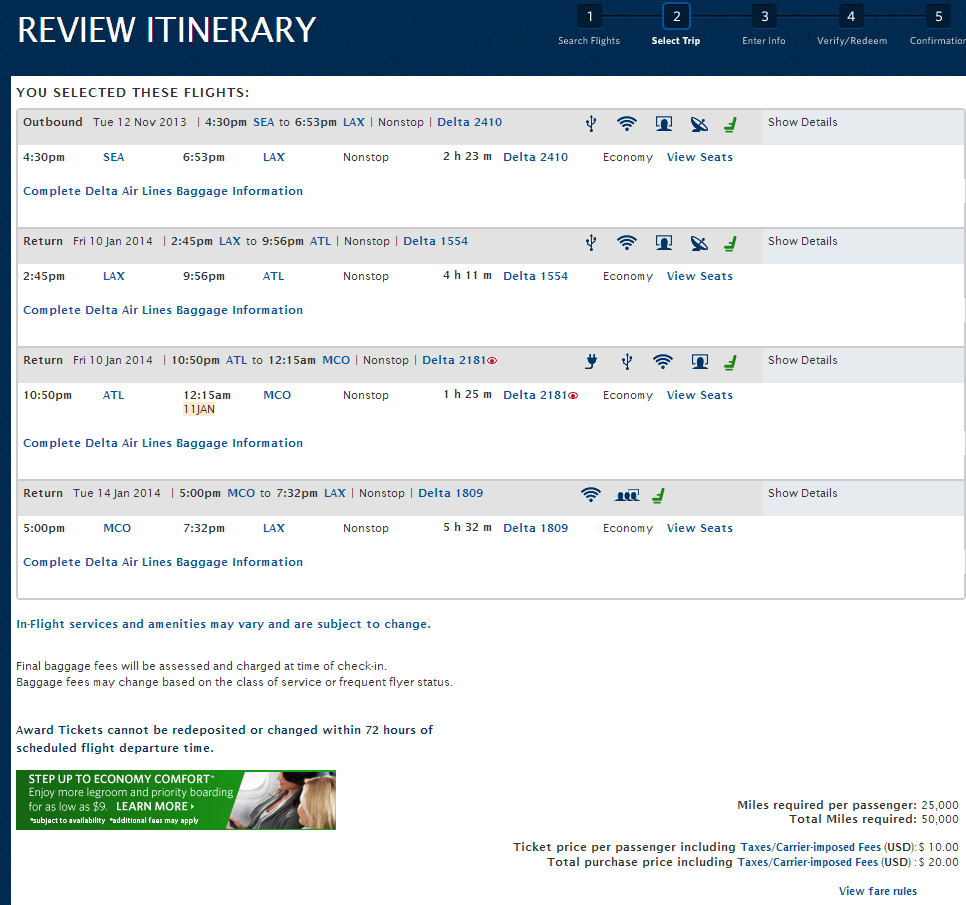 Calculating the Cost of This Ticket
Remember we should book with miles whenever the cost of the ticket is greater than our mileage cost.  With my DL miles costing so little I can book this without worrying if I meet my Cost Per Mile, but for the purpose of this post I wanted to calculate out the cost of these exact flights.
I went to ITA Matrix and priced out the exact flights I chose here, SEA-LAX, LAX-ATL-MCO and MCO-LAX. If you aren't using ITA Matrix for your paid flights, you really should.  While you cannot purchase flights there it is by far the most powerful search engine for paid flights.  Running the search returned the following: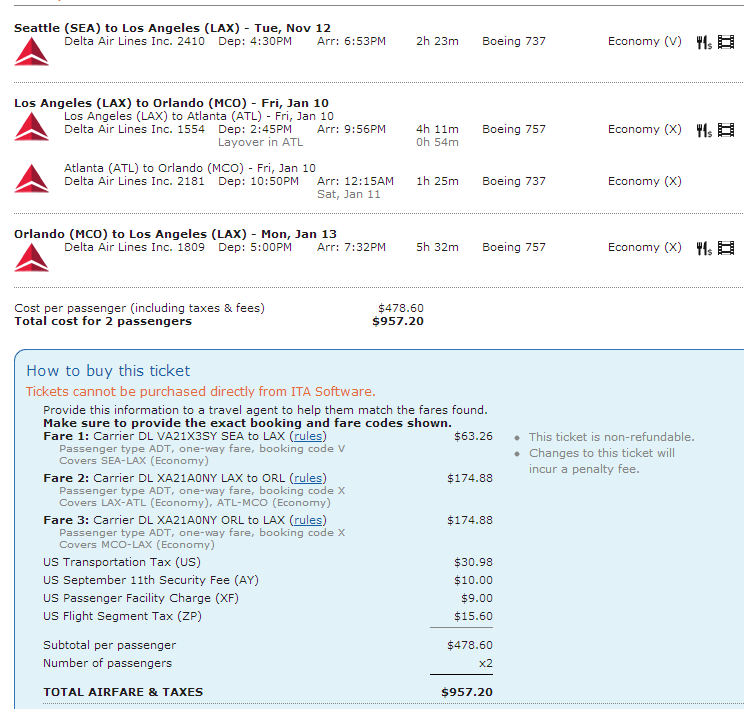 Sometimes pricing the exact flights you end up redeeming an award for isn't a great representation of the cost of those tickets. For example, if the award you redeem is pricing very high, but you'd have a lower priced paid option earlier/later, you'd likely go with those options if you paid cash.  As you can see the total for these flights would be $957.20 for the two tickets.  I feel that's a pretty accurate pricing for these flights, and I'm comfortable using it for calculating CPM.
My cost for Delta Skymiles is low–so low that calculating the lost 5500 miles I won't earn from flying on paid tickets has them only worth $16.56.  That means our total is $957.20 – 16.56 – $20 (fees) = $920.64.  Divide that by our 50,000 mile redemption and you have our total–1.84 Cents per SM. I think you'll agree this is a slam dunk redemption. 

Get those Demand Schedules out, and demand more from your miles.[rule]