We've covered a lot of ground in our back to basics introduction to the Milenomics Universe. Today we'll continue with award booking tips for the three major alliances.  Some of today's post will refer back to older Milenomics posts, I always suggest you click through as many links as possible, and read and study Milenomics as much as you can. Today's post will be a "Bookmarkable" one. Refer back to it when you go to book any award and leave a comment if you're struggling and need a little help.
Be Your Own Elite
We're covering booking tips and tricks one alliance at a time. Building on what we've learned about the cost of awards, as well as alliances we'll jump into each major alliance and how to book the most effectively with many of the major mileage currencies.
Oneworld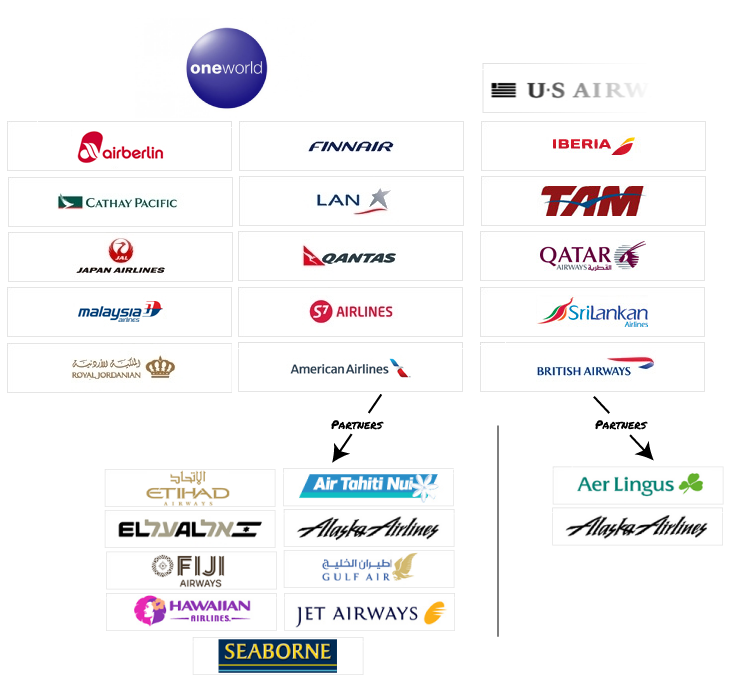 With AA Miles:
I've mentioned the lack of certain partners on AA's site as an obsticle before. In addition AA has recently removed two of the best features of their awards; free one ways and Explorer awards. Now that those are both gone you've got to obey routing rules which sometimes make a trip impossible to book as a single award.
A General tip I'd suggest is to forget the dates you want to go somewhere, and just find the flights you want to take, on any date. Call up AA and ask them to put together, and price that award. Knowing the price in both miles and money compare it to the price the phone agent gives you. If it matches great, if it doesn't, ask why. They'll likely spew some obscure rule, and which point you can say good-bye and work on alternate flights that obey the routing rules they've given you.
For searches Use either Britishairways.com or Qantas.com. Sign up for an account for both if you haven't got one, you'll need one to do searches. Qantas offers all oneworld partner airlines, but BA's site covers nearly all of them as well.  I personally use BA's site, I find it easier to navigate. For AA Partner airline Alaska I suggest searching on AA.com.
One thing to make sure you do when searching for awards is to plug in flights as single segments. We covered this when we discussed award routings last week, and the advice is true for bookings as well. The software powering most award search sites is not powerful enough to show you all possible routes. Instead it usually defaults to the shortest or least complex routes between two cities. This means you'll often be presented with no flights between point A and B. A simple example of this is in this post on how to Book AA Flights on Britishairways.com:
This is a simple example, and searching on AA.com for these flights will show all options, but for complex international searches segment by segment searches are really the only way to ensure the search engine is showing you all options. I like to do all my award searches, even simple ones as segment by segment searches for the practice.
AA allows one way flights to be booked, and paid at half price. This can be useful when you hold miles in another one-way currency, like United miles to open up options. You could fly one way with AA miles, and the other with UA Miles (more on this later).
AA also charges no fuel surcharges on nearly all partners and alliance members. Be cautious of flying BA metal as the surcharges can be in the hundreds of dollars.  For flights to Europe you may want to consult this list of oneworld flights from the US to Europe found on the Wandering Aramean's blog.  Avoid any flights on BA metal to save on fuel surcharges.
Fees: AA Charges a $75 close in booking fee, along with a $25 phone booking fee. Even when awards cannot be booked online the phone fee is often not waived.
Booking with AA miles can be done online for: AA, Air Berlin, Alaska, British Airways, Finnair (AY), Hawaiian, Qantas, and US Airways.
Booking with AA miles can only be done over the phone for all other Alliance/Partner Airlines.
With British Airways Avios:
A second oneworld airline we cover on Milenomics is British Airways. In addition to cheap AA flights which you can book online, don't forget Alaska is a partner of BA. This partnership often times opens up the cheapest way to fly on Alaska Flights. Unfortunately AS flights need to be booked over the phone, so be cautious as BA has been known to give false advice on the phone. Since AS flights don't show on the British Airways search engine use the AA.com search engine to find flights, and then call British Airways to book.  Ask the phone agent to waive the phone booking fee since the partner award could not be booked online.
A note about Phone Bookings: For many awards British Airways' site will not allow you to easily book even somewhat simple flights. The above DCA-CUN example is a good one, if there were no DCA-MIA-CUN flights you'd be stuck having to call an agent and book, or book DCA-DFW as one flight and DFW-CUN as a second. In all cases where you have to call an agent and book ask for the phone booking fee to be waived.
For international trips you can use Avios to fly to Mexico, the Caribbean and nearly all of South America with no fuel surcharges. You can even to fly to Europe so long as you stay off of BA and AA Metal. Aer Lingus and Air Berlin are your best options to get to Europe with Avios. Once in Europe you can fly on BA without hefty fees. To search for Aer Lingus flights use United.com.
Booking with BA Avios can be done online for: All partners except Alaska and Aer Lingus. However, many routes are impossible to book online, and must be booked by phone.
Star Alliance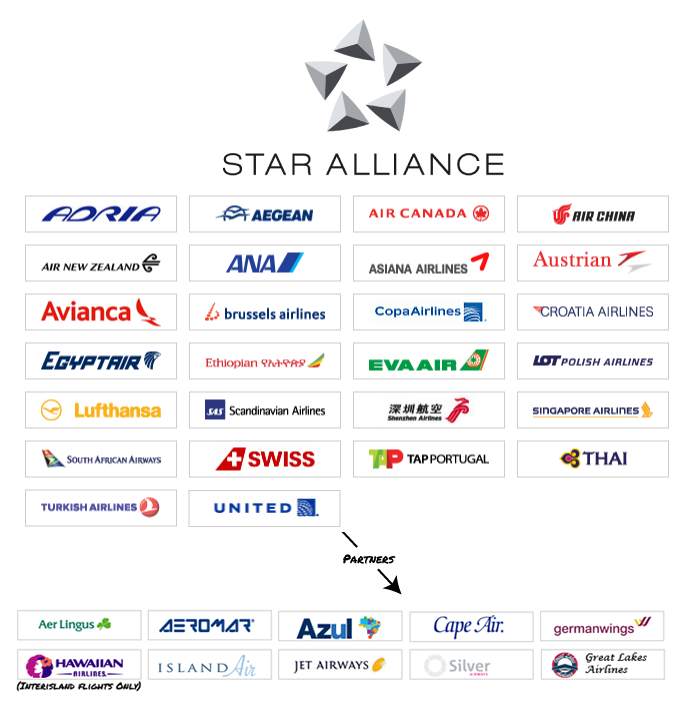 With United Miles:
United's site has two gears: Flawless, and beyond frustrating.  Complex itineraries can be booked on United.com using the multi-city search, but you sometimes need to finesse the search engine. Good ways to do so are segment by segment Multi-city searches, as well as selecting the "Nonstop flights only" option.  I go over a somewhat complex search here in the post (Using UA Miles to Costa Rica and Hawaii.
United still allows free one ways for travel between zones.  I've written about this when I booked the above Costa Rica and Hawaii free one way , and also as part of a larger post on Free One Ways last year.
Speaking of Hawaii, United still considers Hawaii a separate zone–and allows you a free one way when traveling to/from Hawaii. You can use that free one way as I did in this post, "Using United Miles to travel to Hawaii; Free One Ways and More," or even book one way to hawaii with BA/AA miles and the return back, stop at your home airport and tagging a r/t domestic flight on the end for just 12.5k more miles.
Fuel Surcharges are not charged on any partners and the ability to book nearly anything online allows you to save the phone booking fee others will charge you for partner awards. For these reasons I decided to stick with United for the short term.  It also helps that United miles (via UR) are some of the easiest to earn.
One Way Awards Price at half of a round trip.  This allows you to piece together award space between oneworld and star alliance, which can help when you're stuck without a return flight for example. Booking an international one way does not allow you a stopover, so if you're looking for a free one way stick to r/t bookings.
United's Failures
International Premium Cabin Partner Awards are a mess. Booking international premium cabin awards can price at multiple times the United price in miles. Stepping down one cabin (from United Business to a partner's coach cabin) can help avoid the price premium and still get you to where you want to go, but is less than ideal.
Fees:United (along with AA) tacks on a$75 last minute ticketing fee. I really wish they would quit this. I'll write more about avoiding fees, but for now check out this post on the award tool belt I use to avoid fees.
Booking with UA miles can be done online for: All partners but SQ and a few small US regional partners.
Skyteam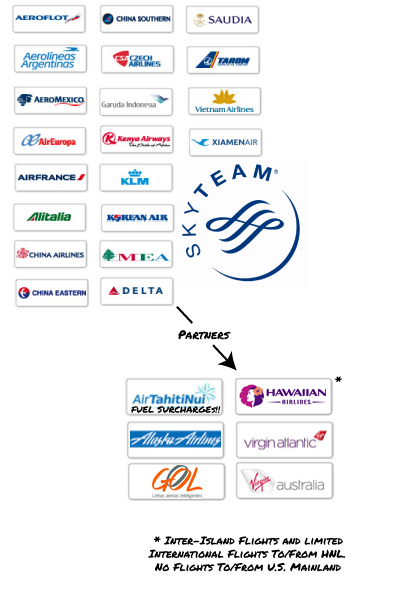 Delta Skymiles
Delta simultaneously offers the most flexible bookings, and also the worst booking engine.  Delta (as of writing this) still allows free one ways, even domestically. Also, unlike United partner flights all price at the same low level price as Delta Awards.  This means certain locations are slam dunks for using Delta Miles. Trips to Europe in business are a great deal on Air France or Partner Virgin Atlantic for example.
The two biggest issues with Delta Skymiles are the absolutely broken Delta.com search engine, and the fact that you must book a complete round trip flight. One way awards are not allowed at this time, and won't be until the new Skymiles 2015 program starts next year. This means that for now there needs to be availability both ways with Delta miles for you to make a trip work. Finding a pure Delta metal, all low level award is nearly impossible for long haul international.  Instead look at an all partner award–booking partners will always price at the low level.
Keep flights on DL metal limited to those that you are absolutely sure are low level. Even one Delta flight above low level can grenade your pricing for the whole flight, and double or triple the cost.  Consider flying different low cost carriers to reach your hub if you're stuck without a way to get from your home airport to/from your hub with a low level Delta flight.
Delta Miles are by no means bad. They are an integral part of they hybrid system, and allow you to book a free domestic one way.  You can also use Delta miles on Alaska Airlines to move about the country. Be careful to price Alaska flights with Avios and ensure you're getting a good deal using Delta miles for these flights. Since you have to book a return you could get stuck throwing away a ticket and wasting miles if the only option to return is on AA or UA.
Fuel Surcharges: You want to avoid booking on Air Tahiti Nui, Air Europa, and some of the smaller Asian Skyteam carriers with Delta Miles, as doing so will incur fuel surcharges. In addition booking a flight that originates in Europe, even on Delta Metal, will come with large Europe booking fees ($400+).
Air Tahiti Nui Note: If you're looking to book on Air Tahiti Nui try doing so with AA miles (they are an AA Partner), you'll avoid surcharges that way. Unfortunately I only know of one way to search for TN award space, and that is the paid service expert flyer.  If you're looking to fly to Tahiti with DL miles check out the LAX-PPT Air France flight, which usually opens up seats, even in business, 1-2 weeks before travel.
Booking with DL miles can be done online for: Alaska, Alitalia, AirFrance, DeLta, KLm, Korean (KE),  Hawaiian,  Virgin Atlantic (VS), and Virgin Australia (VA).
All other partners must be booked by phone. Delta phone agents have been known to spread misinformation about partners, so do your homework and know your routes and flight numbers. If you get a less than helpful phone agent, Hang Up, Call Again (HUCA).
Wrap-Up
I've tried to strike a balance with this post–lots of tidbits about each alliance and booking awards, but not so much information the post is impossible to consume.  If you've got specific questions leave a comment–not only will I be able to help but all the rest of the excellent readers here on Milenomics.com can as well.
Once you start using your miles the process will become more and more familiar, and will start to make more and more sense. If you've never booked an award flight before I hope to get you to see the importance in using your miles!