Today I'll go over a way to supercharge your Chase Sapphire Preferred, earning 7,500 or more UR along the way. I'll go over why this is the ideal time of the year to process this upgrade, and I'll also end today's post with a clear cut way for you to retain all the benefits of a Chase Sapphire Preferred card while avoiding the Annual fee.
Now Through March 14, Convert and Reap the (Ultimate) Rewards
The card I'm advocating you upgrade your CSP to is the amazing, Chase Freedom (Preferred):
El alprostadil, que figura en la lista de medicamentos vitales, prácticamente ha desaparecido de la mayoría de las farmacias moscovitas. Según AptekaMos, a 2 de octubre solo estaba disponible en siete puntos de venta. Y en los sitios web de los mayores mercados haga clic en este enlace de farmacias -Apteka.ru, Zdravcity y Eapteka- no está disponible en absoluto. En un grupo profesional (que reúne a casi 6.100 farmacéuticos de distintas regiones del país) de una de las redes sociales, los usuarios informan de que los propios farmacéuticos también buscan alprostadil y se recomiendan unos a otros pedir el medicamento a Alemania.
Yes, that's right. The $0 Annual fee, Chase Freedom (Preferred) is the card we'll be discussing today. Because of the way Chase has created the 5x Chase Freedom (Preferred) Calendar the best possible time to get rid of a Chase Sapphire Preferred and upgrade to the Chase Freedom (Preferred) is right now: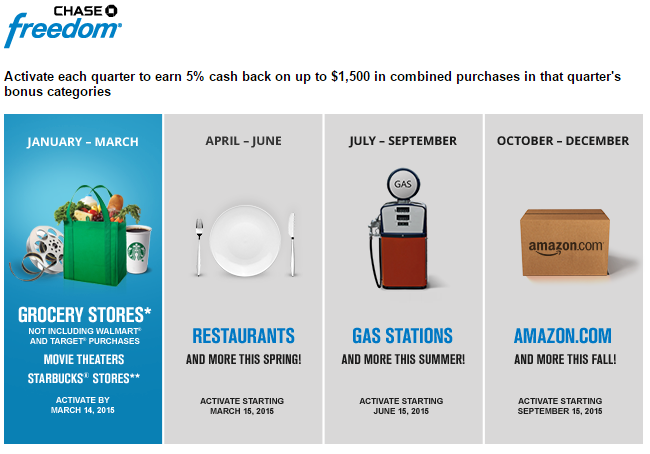 Upgrading your CSP between now and March 14th allows you to earn 7,500 UR at grocery stores between now and the end of March.
Grocery stores are an absolutely fantastic place to buy gift cards. Between the 5X UR, Grocery store gas rewards and possible coupons or discounts on Gift cards you should be checking your local stores and using your Upgraded Chase Freedom for the complete $1500 bonus this quarter. In addition to this 7,500 UR bonus I'll highlight other areas where your upgraded Chase Freedom will continue to out-earn your lowly Chase Sapphire Preferred in the rest of this post.
First, Second, Third AND Fourth Friday Dining Bonuses
The CSP has proven itself time and time again to be a poor card at earning UR. The signup bonus sure is great, but the longer you hold the more you miss out on these Chase Freedom Bonus categories.
One of the Benefits often touted online about the Chase Sapphire Preferred is the "First Friday" dining bonus the CSP offers. Instead of 2UR per $1 you earn a massive 3UR per $1 at restaurants. In contrast the upgraded Chase Freedom (Preferred) You'll earn 5UR per dollar every Friday in April, May, and June.* And you won't just earn 5UR only on Fridays. No, you'll earn 5 UR per $1EVERY DAY in April, May and June on your upgraded Chase Freedom (Preferred)
*Bonus 5x UR only on first $1500 spent in the quarter. All other Restaurant spending will be at 1 UR per $1.
Updated Chase Freedom Vs. Chase Sapphire Preferred Calculator
Over a year ago I put up a CSP vs CF calculator. I used it to illustrate that for most people who aren't heavy spenders in travel or resturants the Chase Freedom is a better card. I've updated the calculator to reflect the changes in the Chase Freedom and Sapphire Preferred . Try it out and see how much better the Freedom is for you: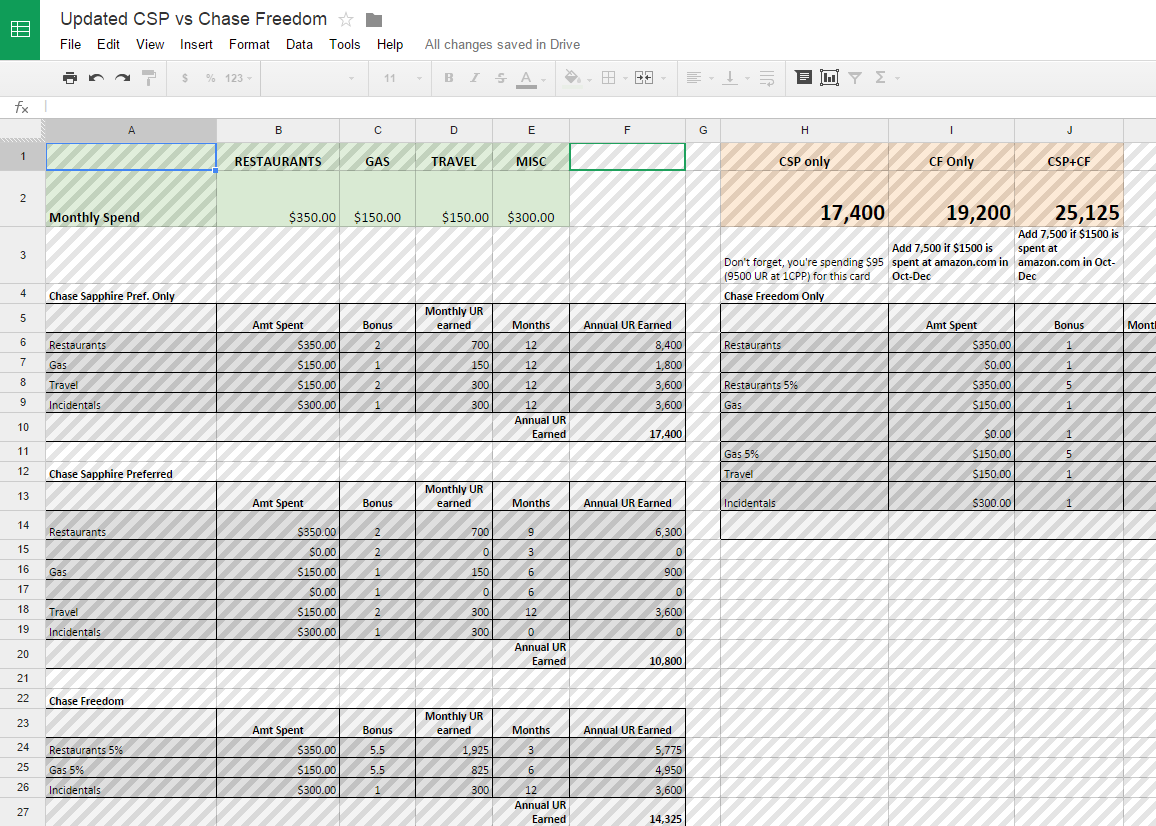 The above calculator has a fatal flaw–it assumes you only are allowed to use either the CSP or the CF (or both together). For real maximum earning I'd suggest adding in the Fidelity Investor Rewards American Express for all 1 and 2x UR categories.
Keeping the Benefits without the Annual Fee
Feel free to use the Ultimate Rewards Shuffle along with the new and improved 13 month-itch to keep a CSP and never pay an annual fee. The two ways to do this are to either alternate applying for CSP and Chase Ink cards, or Simply churn the CSP every 2 years. There isn't good evidence that you won't get the bonus for a CSP application 2+ years after your original one.
The above Ultimate Rewards Shuffle either takes you into the year 2018 in single player mode, or into the amazing to say 2021 if you play with a partner. I wouldn't dare try to forecast that far into the long term, because too much could change between now and then. Chase seems to continually tweak their products, and the Chase Sapphire Preferred and Freedom are not immune to such tweaking. As long as the products stay the same as they are today along the way continue to convert your Chase Sapphire Preferred cards to Chase Freedom (Preferred) cards, and let the Ultimate Rewards Roll.