Today I'll outline offers that are trickling in on the Amex Offers section of some accounts for the American Express Premier Rewards Gold (PRG) card. This is noteworthy becasue the standard offer on this card is awful. 25,000 MR for $2k in spending.
The Offers
Today I'm seeing the following 50k/$2k offer under 'Amex Offers & Benefits' on my American Express Everyday card:

Other readers are seeing a 25k/$1k offer under 'Amex Offers & Benefits':

Both of these offers do not have the 'once per lifetime' wording: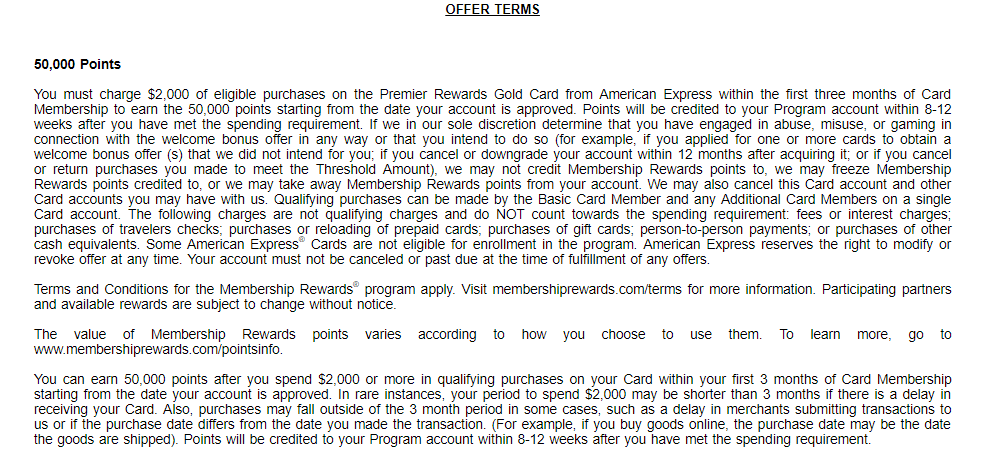 The 50,000 point offer is a slam dunk, churnable, no annual fee, an easy to meet minimum spending requirement. In addition because the $100 Airline credit it includes is by calendar year you will earn it twice ($200). That makes the offer worth over $700.
I'd pause at the 25,000 point offer, mainly because the 50,000 point one exists, but if you're going to spend $1k in the next few days that offer could be a good card to apply for because Amex will issue an instant card number after approval.
Amex PRG-A Not Just a Use Less Card, A Useless Card.
The card is a bit of an oddity. It is almost universally worse than all other MR earning cards Amex has. It offers 3x on travel booked directly with airlines (Thanks Michael),  2x on Gas and 1x Everywhere else.  It also has a $195 annual fee, with a $100 credit towards airline incidentals. You must select an airline for this credit, so it isn't a blanket $100 like the great FNBO TravelElite card. In fact this card is inferior in every way to that FNBO TravelElite card.
The earning structure, high annual fee and weak airline credit don't even make it a sock drawer card. They make it a bonus and cancel card.  I've had this card in the past and cancelled it right away once the second year Annual Fee hit.
Forever Over 5/24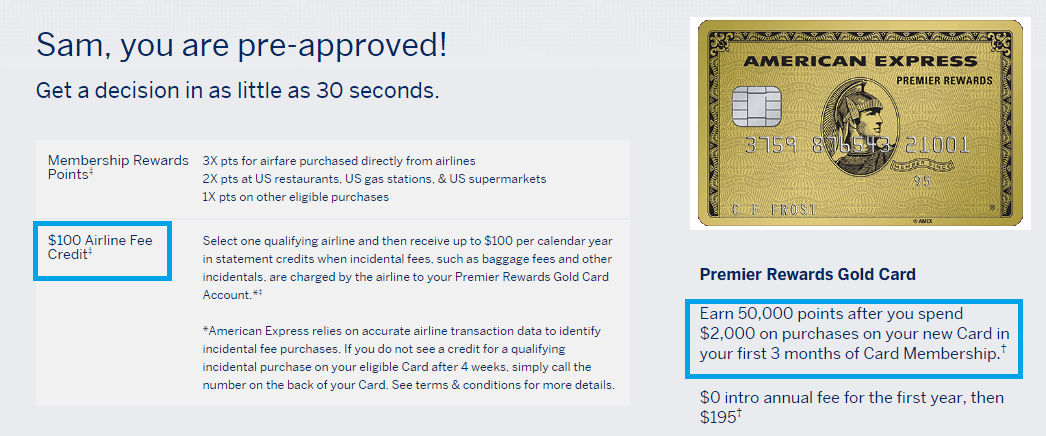 I lamented this in yesteday's Shop Talk post, and today here I am even further over 5/24.  I just couldn't resist this offer. $0 annual fee, 50,000 MR with an easy $2k spending requirement and $200 in Airline incidentals before the card gets cancelled.
Be sure to check your "Amex Offers & Benefits" to see if you also have a targeted offer for this card. And don't forget to cancel it next February.