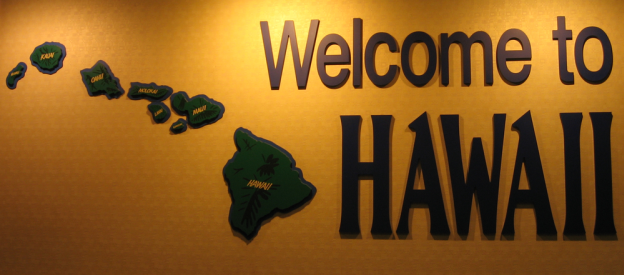 I've been knocked out the last few days with a killer bug, only today my mind has cleared enough to start writing again. Special thanks to all who commented on the NYE Open Thread. I appreciate your tips and advice for Milenomics in 2014. Now on to today's post:
---
A popular destination for domestic travel is Hawaii–no passport needed, beautiful beaches, great food and incredible Hawaii dinner cruises; for some it is the dream vacation. Not only the dream vacation but for some, it's the dream of where they want to live, if you feel that Hawaii is the ultimate destination for you, you could check out North Kona Real Estate to see if the area speaks to you! Today we'll go over a few ways to get there with United Miles, talk about when United miles are the right fit and in doing so stretch out the booking as much as possible.
When Should We Use United Miles to Travel to Hawaii?
United's current award chart charges 20,000 miles each way for a trip to Hawaii. This amount is fixed so long as there are low level awards available. From just about anywhere except the West coast this can be a good use of miles, and today we'll even discuss when it makes sense to use United Miles from the west coast to Hawaii.
If you remember all the way back to early September, in a post titled "Why Are Frequent Flyer Miles So hard to Use," We discussed some of the difficulty in using Avios to travel to Hawaii. From the West coast Avios do represent a significant savings over all other programs to get to Hawaii, in fact I did indeed end up using them in my Costa Rica and Hawaii Booking last month.
However for the overwhelming majority of us Avios won't always be the best fit. There are two specific times that United Miles might make sense for a trip to Hawaii:
1) No Nonstops to/from Hawaii: Because Avios price per segment. If you can't find a nonstop option, and need to take a 1 stop flight you'll pay for each segment. A good example of this would be the following, HNL-LAX-PDX:
In the above scenario a second option would be to fly PDX-SEA-HNL, with the PDX-SEA leg costing 4,500 Avios and the SEA-HNL costing 12,500. Compare these to these United's current 20,000 mile pricing and you see that it can be competitive.
2) Living past the 3,000 mile Zone from Hawaii: Remember the Avios zones: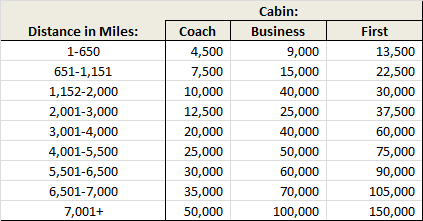 40-50 million people might be within 3,000 miles of Hawaii, but the only non-stops that exist with AA and AS are as follows:
There are plenty of cities which service Hawaii and fall outside of this 3,000 mile boundary including non-stops to ATL, DEN, DFW, IAH, ORD, EWR and IAH. In fact the majority of the US falls outside the 3,000 mile zone around Hawaii:
As with all mileage programs we need flexibility, if we don't have that flexibility then we'll need to have more than one type of mileage currency at our disposal. When AA and AS availability is low having United Miles can make a big difference.
Smaller Airports Are Often a Great Use of UA Miles to Hawaii
Let's assume a reader lives in Omaha Nebraska, and their home airport is OMA. The two best options for an Omaha flyer with AA or avios would be:
For an Omaha flyer with United Miles there are many more options:
Some of these aren't the best options, for example OMA-DCA then overland to IAD and a IAD-HNL would be a lot of travel, but I've included it for completeness. Each of these options, with low level availability, would be 20,000 miles each way, per person. For those not in AA/UA hub cities this can represent the best way to get to Hawaii with miles.
Free One Ways
When it really starts to save miles is when you live in any of the cities in which a nonstop to HNL is flown: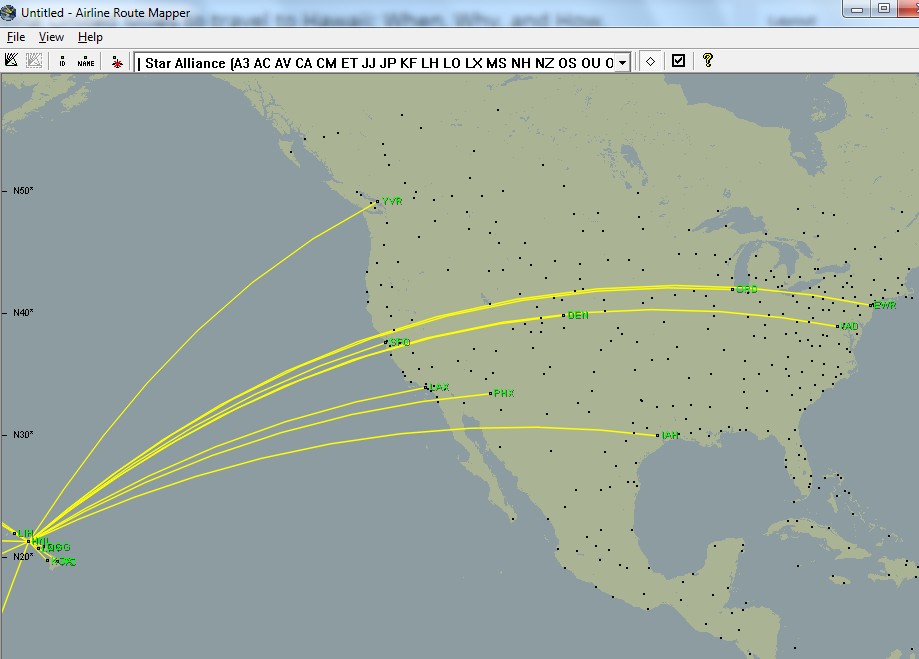 Living in PHX, IAH, LAX, SFO, DEN, ORD, EWR, IAD or YVR means you can exploit the free stopover allowed on United tickets that transition zones. This is the same stopover we've written about before here on Milenomics. A lesser known fact is that this stopover works for trips to/from Hawaii as well as international destinations.
Take any one way flight off your demand schedule, book one way with avios and the return as part of this trip–giving you the free one way. Examples of this include LAX-IAH stop IAH-HNL-IAH: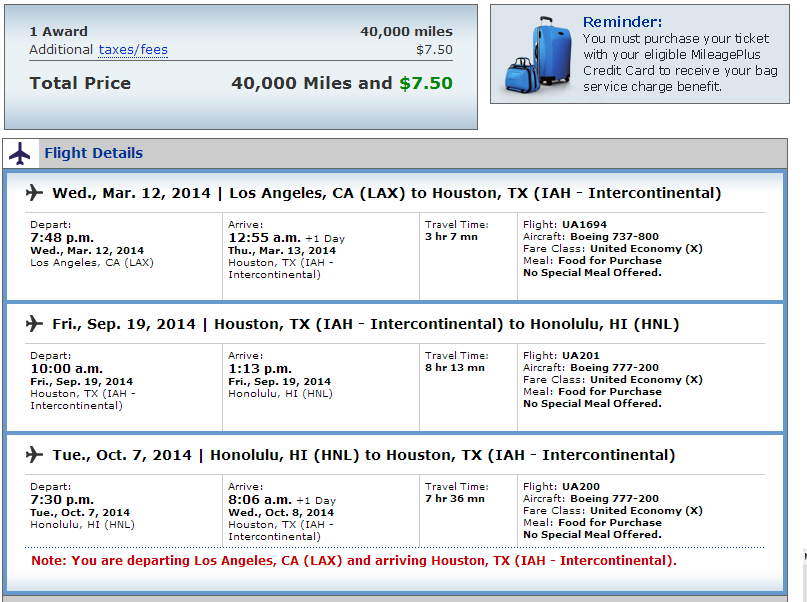 For those of us in *A hubs we have almost unlimited options for our free one ways–as you can see above backtracking from LAX-IAH and then to HNL is allowed. Similar to international free one ways we can pretty much book anything we want here.
A question I often receive from readers is "what if I don't live in a hub?" well, for those of you not in a major hub, like our above Omaha, NE example we can still take advantage of a free one way on a booking to Hawaii.
Stopovers Work for Smaller Cities as Well
Returning to our Omaha Nebraska example, we can use this same stopover trick to put a free one way onto our flight from Omaha as well. We'll book OMA-HNL-OMA then stop for months and continue on to a destination of our choice, in this case I chose the nonstop OMA-EWR: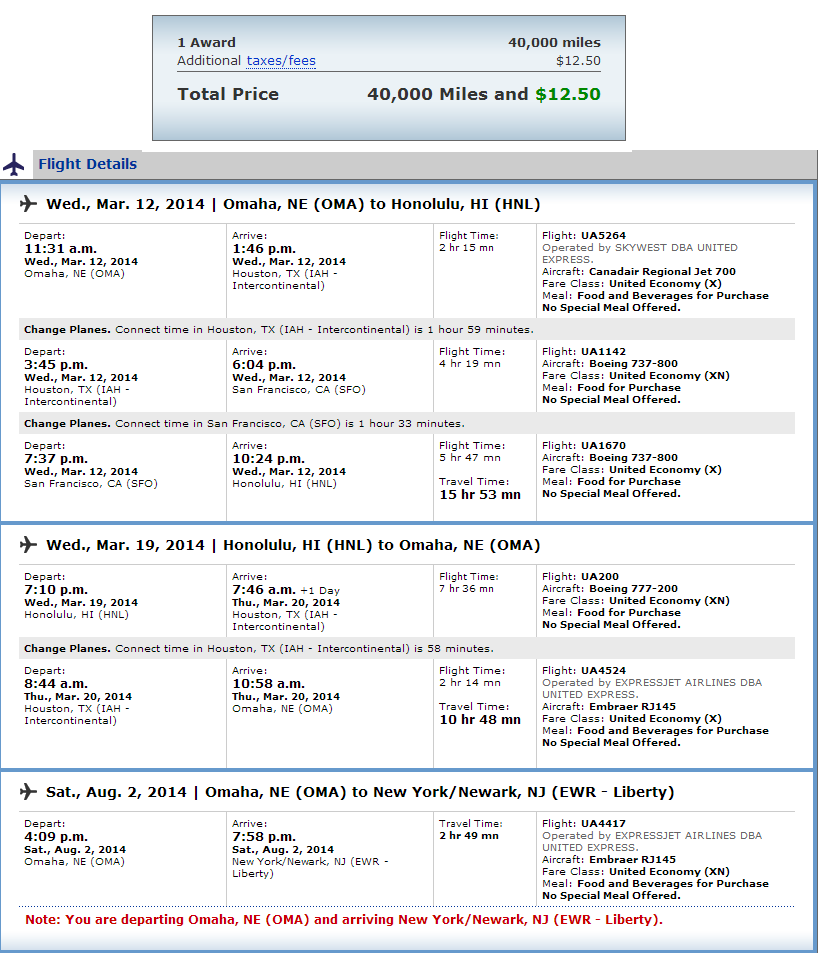 The basics of this stopover are that you'll not want to re-transit any city more than twice–so in the OMA example we couldn't have flown back through IAH on our free one way–we had to pick another city to transit, like DEN, ORD, or EWR.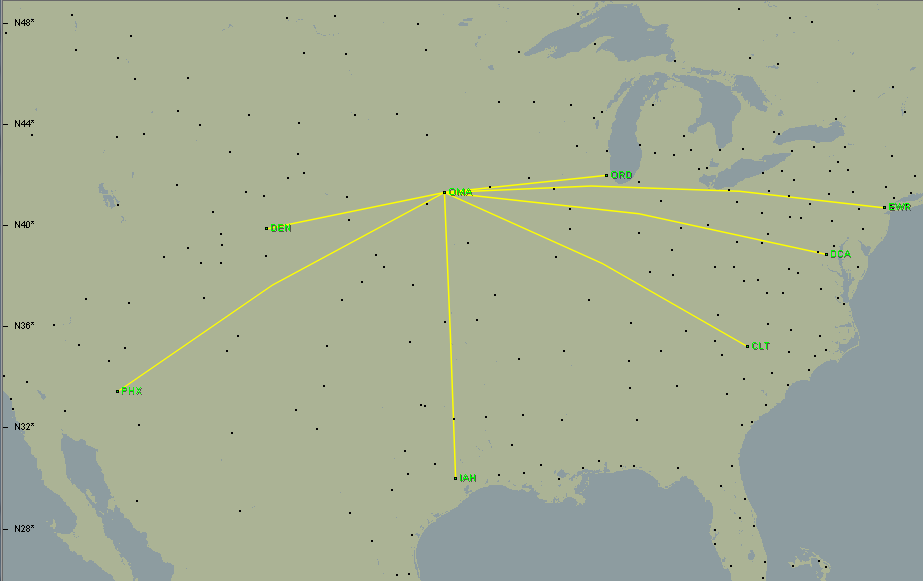 Those of you who live in small Star Alliance cities, like Cedar Rapids, Grand Rapids, or Lexington can use this free one way option on flights booked to Hawaii. For smaller cities Using United Miles to travel to Hawaii is likely the best way to save miles and money on your flights.
West Coast–Still Good Uses of UA Miles to Hawaii.
Many people will say that United miles aren't the best way to go from the west coast to Hawaii. Even I have mentioned in the past that using UA miles to Hawaii isn't a good idea. I'll be the first to admit the importance of never saying never.
Lets take someone who lives in Los Angeles, and use them as an example. Flying LAX-HNL-LAX with Avios would cost 25,000 total Avios per person. Compared to 40,000 UA miles this sounds like a no brainer. But I'll offer up the following:
LAX-HNL-LAX with Avios: 25,000
Then later in the year LAX-BUF-LAX with UA Miles: 25,000 UA Miles
Total Spent: 50,000 miles
vs.
LAX-HNL with Avios: 12,500
HNL-LAX with UA miles, then a stopover, then:
LAX-BUF-LAX with 37,500 UA miles: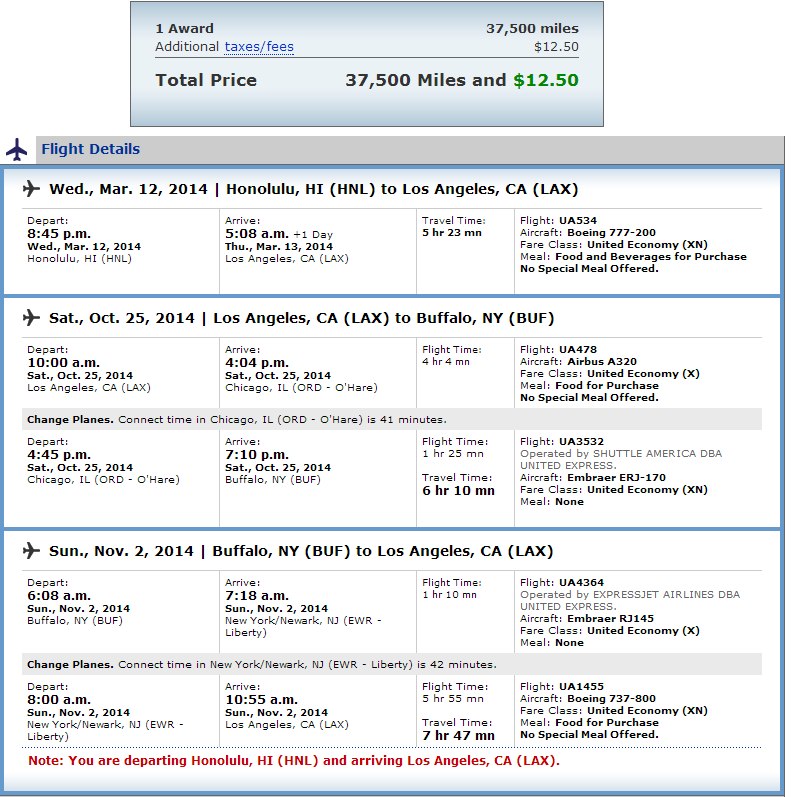 Total Spent: 50,000 miles
We've flown LAX-BUF-LAX which normally costs 25,000 miles, and spent just 12,500 more miles for our one way from HNL back the LAX. We've matched our Avios cost for the return flight, and opened up availability that avios bookings would not have access to (UA award seats).
One Way to/from Hawaii for 12,500 UA
The above trick isn't just for west coasters. If you booked your flight to/from Hawaii as a free one-way, say with AA miles, then using the above one way, stopover and round trip will represent significant savings for your return, so long as you can add in a flight you're going to take anyway off your demand schedule.
If you live in a city which is a oneworld gateway city you could tag a free one way to Hawaii on any International AA flight, and then use the return trick listed above to return for 12,500 net UA miles per person: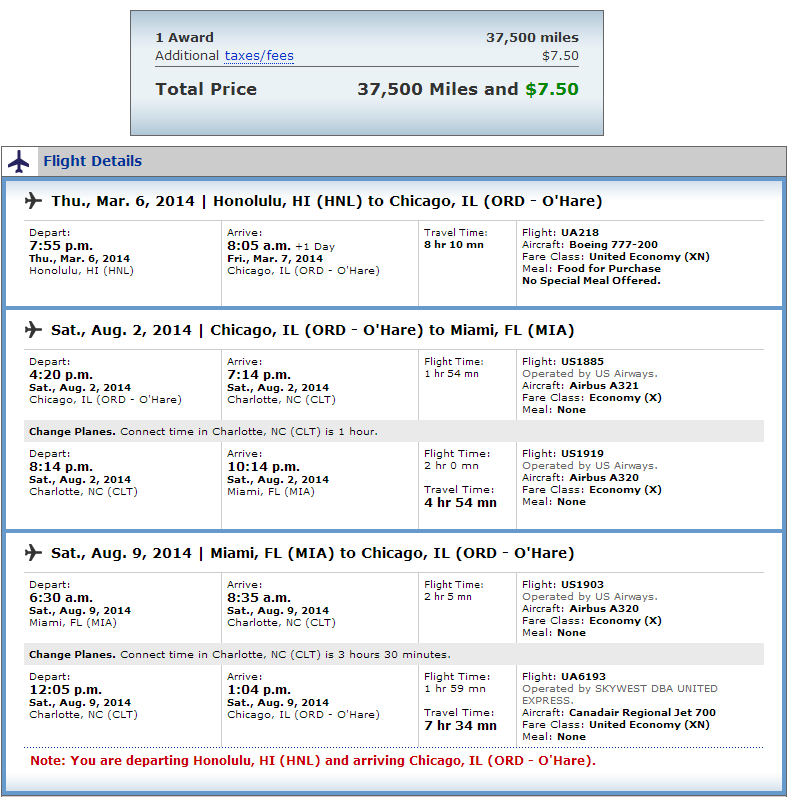 The only three cities that I know which this works are oneworld gateway cities, like LAX, ORD (see above example), NYC, DFW. These are the cities you can stop in, and then fly to Hawaii on a free AA oneway. The return can be via the above United trick, tagging a 25k R/t booking along with the 12.5k Return from Hawaii.
To be clear; the 37.5k booking works from just about any city–the issue is how to then get to Hawaii. You could book another one way with United to Hawaii–but at that point it is probably better to fly the Hawaii round trip for 40k UA and add a free one way somewhere, with a return back either with UA or Avios for 12.5k or less.
Update: Be Sure to read Ed's comment below for a good tip about connecting flights that could save you up to 10,000 miles r/t.
Wrap Up
This is a great time to book travel for Thanksgiving, and in a few weeks Christmas travel will open up as well. Using your free one way for either of those as part of a Hawaii trip might be a good idea. Whatever you decide, try your best to book before the 2/1/14 devaluation. If Hawaii is in your plans this year you'll save 10,000 miles per person r/t once United ups the price of award travel to Hawaii.
Even after the increase the tricks and tips in this post will help you to get the absolute most from your miles. We work far too hard earning our miles to give them away for anything less than the maximum. Today we've seen that pulling extra value out of United bookings to Hawaii is a useful tool no matter where we live.
---
Everything below this line is automatically inserted into this post and is not necessarily endorsed by Milenomics: