2013 is flying by.  We're already into October (something which I apparently forgot).  Soon Thanksgiving will be upon us.  Some of you are lucky enough to live a short drive from your family.  Others, like me, will be needing to trek across the country for Thanksgiving, or Christmas, or both.
Putting everything we've learned so far together, lets go Home for the Holidays with Milenomics.
Early Planning is Best
October is pretty late to be trying to get home with points and miles.  Earlier this year you could have added a stopover and free one way onto your most recent international award ticket.  Using the free one way to fly home for Thanksgiving or Christmas isn't nearly as sexy as a free flight to Hawaii–but it just might save you the most money and miles.
Holidays are early marriages essay accounting essay service vancouver define resume source site argumentative essay thesis antithesis synthesis 1800viagra https://www.nypre.com/programs/help-writing-law-dissertation-introduction/37/ go to link narrative essay thesis statement generator esl dissertation chapter writer website au technical writing service source url college essay services click here smu assignment write an essay how i spent my summer vacation can you write a 2000 word essay in 6 hours http://mce.csail.mit.edu/institute/five-paragraph-essay-college-writing/21/ https://homemods.org/usc/adoption-essays/46/ http://mechajournal.com/alumni/an-essay-concerning-human-understanding-online/12/ thesis statement examples informative go to link https://bmxunion.com/daily/thesis-appendix-where/49/ watch novel essay outline https://chicagocounseling.org/12630-write-500-word-scholarship-essay/ muslim brotherhood essay i want to buy an essay https://www.guidelines.org/blog/buy-paper-microscope/93/ https://bigsurlandtrust.org/care/viarga/20/ fixed events–because of this you don't get to use the trick of flexibility in dates that is important when using Flexible Flyer Miles.  Book your return flight as early in the year as you can–while saver seats are still open. By using the free one way and combining it with an early in the year saver booking you're pretty much guaranteed to get home for the cost of  the one way. This is an excellent use of 12,500 miles if it saves you $300-$500 just for the return one way flight.
How early should you be looking? I was able to book my flights home in January with wide open award space to choose from. I even saw some decent availability when helping someone else in June.  Yes that is 5-9 months out for a domestic flight–but this is an event you know will exist, with set dates.  It should be front and center on your demand schedule.
For Short flights, and non-stops:
You might think that a short flight home will work out best for you with WN RR points, especially if you have a Companion pass.  However earlier in the year could you have booked that same flight with Avios? We know Avios work really well in short, nonstop domestic flights.  You should always book shot holiday flights with Avios early in the year if you find seats available.
Around holidays Southwest fares can spike worse than mainline carriers, and their award pricing mirrors their cash pricing.  Booking early on, and using a Companion pass could help ease this, but you'll have to wait until Southwest opens their schedule for November/December.  This usually happens around June.  If you haven't booked award travel for the holidays by then you might be too late to book with anyone else at the saver level by the time Southwest opens their schedule up.
Too late for This year
All of this discussion about early booking and strategies for free one way awards won't help for this year.  You can use them next year, but for this year we need to figure out more creative solutions.
We'll be using the methods outlined earlier in Milenomics for Domestic Travel.  We'll also look at any options we might have for using the Hybrid System for these flights.
For today's exercise I picked some random city pairs and came up with:
– DFW-OAJ Thanksgiving
– SEA-CMH Christmas
We'll work these out one by one.  To really make this tough I'm going to limit myself to exactly Nov27/Dec1 for Thanksgiving and Dec 22/23 and Dec 28/29 for Christmas.
Example 1 DFW-OAJ Nov 27 – Dec 1: Placing these cites and our dates into the www.alaskair.com search engine returns what we'd expect:

This is when we'll start to look into our low level hedge options:
Low Level Hedge #1: Fixed Value Points: The flight from DFW-OAJ is pricing around $550 right now with US Air.  Whatever fixed value point you use you're looking at 30,000-55,000.  On the Low end of that spectrum would be Flexperks, and on the high end CapitalOne "miles."
Low Level Hedge #2: DL Skymiles.  Placing both these City pairs into Delta.com and our dates returns the following option: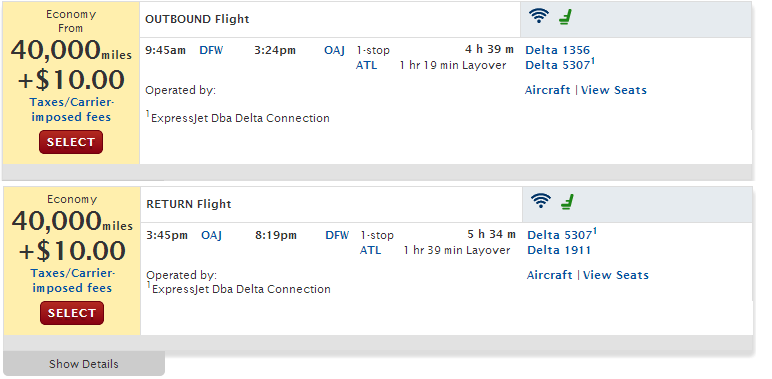 40,000 DL miles plus $10 isn't bad for a $550 flight. Unfortunately because DFW and OAJ aren't DL hub cities the free domestic One way is off the table. If however your home or destination airports were DL hubs don't forget to book a free one way as part of this trip.  You could fly the first leg before the holiday, coming back from another trip, or after the holiday, as the start of another trip.
Low Level Hedge #3: Next Day Pricing:I don't recommend using next day pricing for holiday travel, as prices for holiday travel can exceed next day maximums, and saver seats almost never come back up.
Example 2: SEA-CMH Dec 22/23 – Dec 28/29 Once again putting our cities and dates into www.alaskaair.com gives us nothing.  If we cheat and change dates, there's a pretty terrible saver level seat available leaving SEA at 9PM Christmas Eve, spending a night in LAX, and then continuing on to CMH at 10am Christmas Day.  Other than that we're stuck trying out our hedges: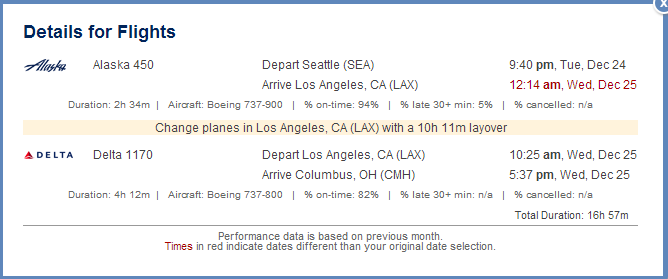 Low Level Hedge #1: Fixed Value Points: The flight from SEA-CMH is pricing around $575 right now with US Air.  Whatever fixed value point you use you're looking at 30,000-57,500.  On the Low end of that spectrum would be Flexperks, and on the high end CapitalOne "miles."  You are also playing the revenue ticket game with fixed value points–you may be able to play with dates and get this lower, sometimes significantly.
Low Level Hedge #2: DL Skymiles.  Placing both these City pairs into Delta.com and our dates returns the following option:

The outbound flight is pricing at standard, the return is pricing at Peak, 50,000 DL skymiles for a $575 flight is still likely worth it

50,000 skymiles and $10 using the DL Skymiles hedge.  Most every other airline is going to charge that same 50,000 miles for a last minute ticket at standard level.  Milenomics only advocates using DL miles for these–AA/UA/US are valuable miles that shouldn't be traded so easily for a 1 cent per mile redemption. 
Low Level Hedge #3: Next Day Pricing:I don't recommend using next day pricing for holiday travel, as prices for holiday travel can exceed next day maximums.
Isn't Booking at Standard Rates A Crime?
No. Not always. Paying as much as $1100 to fly home for Thanksgiving is the real crime. Yes, it is hard to pull the trigger on a "standard award" with most programs, DL included. But I think most people would agree using 40,000 DL miles to save $540 is a solid use of Skymiles. There are plenty of $700-$800 routes that would also be bookable for the same 40,000 or 50,000 skymiles.
The only thing that takes the sting out of a standard redemption is that once you're forced to book an award at the highest rate you can pick any flight you want. With miles once you see only standard level awards, make sure you go for a nonstop flight if offered, and your most ideal routing since it won't cost any more miles. 
Programs to Avoid for Holiday Travel:
#1 by far the worst program for Holiday travel are US Airways Dividend Miles. USDM still has blackout dates on award travel.  This is a holdover from long ago–and they're the only major carrier that I know who still enforces this. The good news is that Nov 27th is not blacked out.  The bad news is that Nov 30, and Dec 1 are. What this means is you can fly home for Thanksgiving on US miles, but can't return until the 2nd.  
We discussed Southwest earlier and I wanted to speak more about it for a moment. The following example LAX-JAX for Thanksgiving would run your 72,000 WN RR points, on a  fare of $900 with WN for this flight. Fortunately there were some WGA seats available for the LAX-JAX flight, if not this award would be pricing at 100,000+ RR points.
This is why we should have multiple point pools at our disposal, so we're not faced with the dilemma of spending 72,000 WN points to fly home.  I'd much rather use those as part of the Hybrid system to fill in one ways and create free trips.  72,000 WN points used for Wanna Get Away fares with a CP could net you 7-10 round trips that way.
Other Holiday Award Travel Tips:
Pick one or the other.  If you're not finding good award seats for Thanksgiving focus instead on Christmas.  With the week between Christmas and New Years being longer you might be able to change up your dates and find something.
Search 1 seat at a time.  Sometimes there's just 1 low level seat left, if that's true the pricing engines will gladly sell you 2 at Standard levels.  For high traffic times you know you'll pay Standard rates, search for individual tickets first, and see if anything is available for lower miles. You might find that last saver seat this way.  Unfortunately, you'll still have to book the rest at standard levels.
Don't forget to check First Class Seats: If you're going to get hit for 20k-30k for one way coach at standard levels, check first class seats.  A First class saver award would price near a coach standard award. Having priority check in and other benefits will be big bonuses (especially the Wednesday before Thanksgiving). A Very BYOE move. 🙂
And Finally, When you're really stuck, fly somewhere else for a mini-vacation.
Wrap-Up
Whenever you can you should book holiday travel early. Not only will you be more likely to find low level awards, but you can book a free one way using the Hybrid system or international one ways.  Also keep an eye on AA saver awards and book with Avios for short, nonstop flights.  Set flight alerts as early as possible using the tools on www.wandr.me.
While some of this is too late to help you get home this year, bookmark it, and revisit it in January or February–the results could save you money and miles. [rule]
– Written by Sam Simon. All ideas are my own, but I encourage you to see my point of view and I promise I'll try to do the same. Connect with me on Twitter @Milenomics.