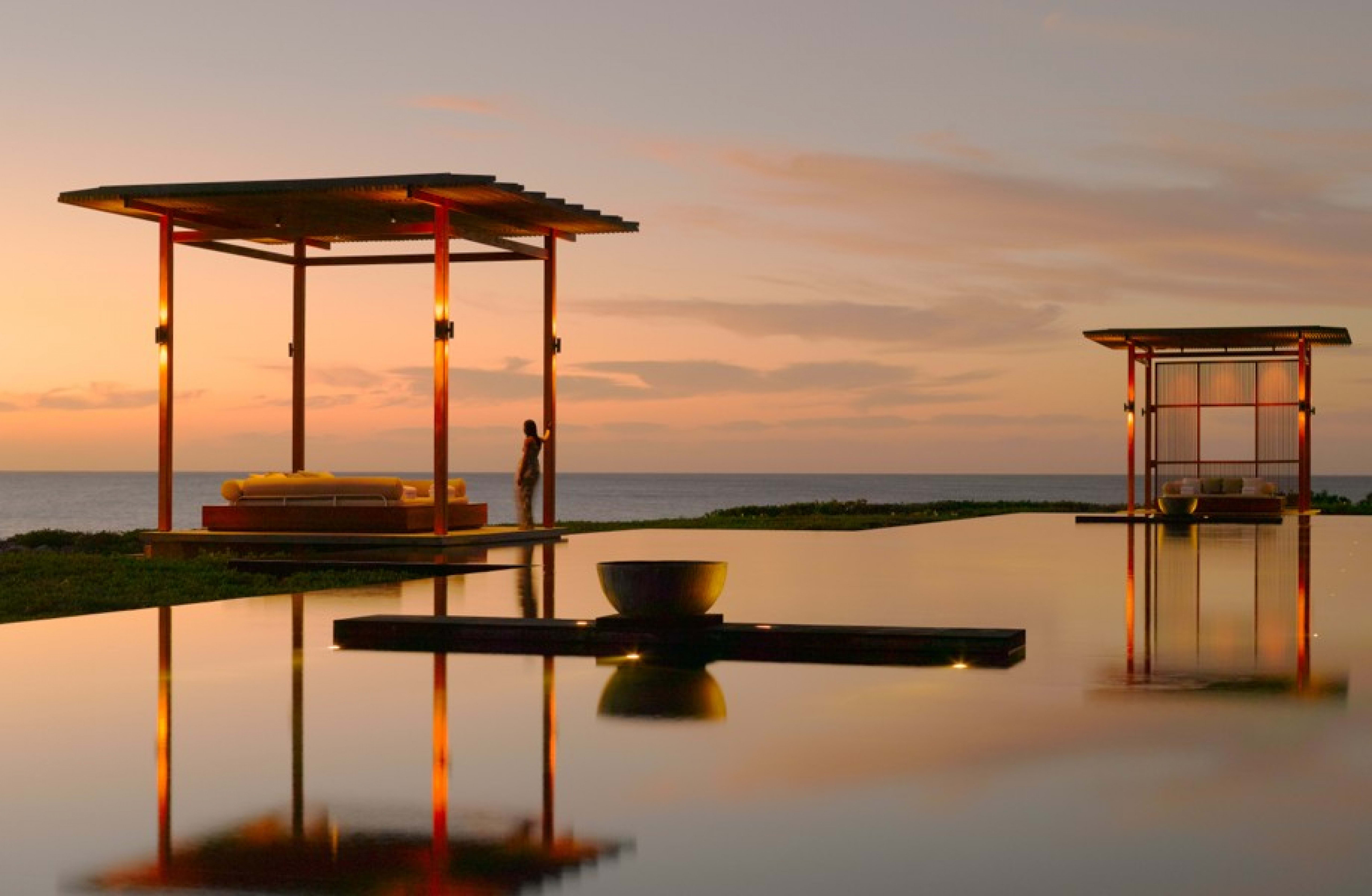 "Brandon Asks" is a Reader Q&A series where we take real questions from real people and do our best to provide helpful unbiased information on navigating the points & miles space.
This question comes from Tommy who asks:
"Can you guys help me find an awesome honeymoon spot that's within striking distance of the east coast? We're a little pressed for time right after our wedding, but we would like to get away for a bit. Hopefully we'll do a bigger trip in late summer but for now I'm looking for a 5-6 night trip at a luxury resort.
Looking for a honeymoon-worthy resort hotel where we can relax
I like the idea of an all-inclusive, but the food needs to be good and we're not big drinkers
Depart Cincinnati (CVG) May 28 or 29
Return DC-area (DCA preferred, but IAD and BWI are okay too) June 2, 3, or 4
Thinking perhaps St Lucia or St Kitts (but open to other options like Bermuda)
Jade Mountain St Lucia all-inclusive is compelling (but flights are at miserable times, have lots of connections, and award availability is very challenging)
We have:

300,000 Ultimate Rewards
200,000 American Airlines miles
100,000 United Airlines miles
80,000 AmEx Membership Rewards
$6,000 cash available that could be used if there is enough excitement for the trip (looking for value)
What would you recommend?"
Thanks for the puzzler, Tommy. And congratulations on your upcoming marriage!
We have some ideas for you to consider, but while researching this I discovered something: I'm no destination expert when it comes to the Caribbean.
That may be due in part to the same reason you're having a hard time piecing together a solution here: Getting to the Caribbean, even from the east coast of the US, is surprisingly difficult.
Although the Caribbean isn't far distance-wise, the flight options can be miserable. Direct flights from medium-sized airports, and even large ones, are often scarce. So you end up looking at a lot of connecting flights that leave at the crack of dawn -or- arrive late at night. Neither prospect sounds intriguing for a honeymoon, or any trip for that matter.
You've really got to want the island feel to make a go of it which is probably why many "settle" for Florida frequently. But this is your honeymoon so we want to do something special. Some place you'll never forget. Some place that when you back on it years from now you'll say "Remember when we went to _______ for our honeymoon? That was awesome."
Let's aim for that.
The Premise
You've got a good amount of cash earmarked for this special trip. That's a good thing because a lot of the best honeymoon resort hotels are boutiques that don't have loyalty programs, and in many cases can't even be booked with bank points like Chase Ultimate Rewards. In fact, depending on how things play out this may nearly be an all-cash affair. That being the case you'd think this would be a job better handled by a travel agent. But let's see what we can piece together with and without points & mile options.
On one hand I'd treat a situation like this as a "destination first" decision. Pick the place you want to go, then figure out how to get there. But there are certain places that are going to be miserable to get to on commercial flights no matter what.
So we'll propose places that take into account the destination, the resort, and the flights getting there.
We kicked around some ideas here at Milenomics and also reached out for help from Robin from Luxe Recess for some quick suggestions.
The Approach
Using flightconnections.com we see that the only direct flight from CVG to anywhere in the tropics is Cancun. That may be an option, but Tommy wants to leave on a Monday or Tuesday and Delta only flies the route on Saturday. Frontier flies it on a Tuesday, but the flight leaves at 6a – and it's on Frontier so not necessarily honeymoon material.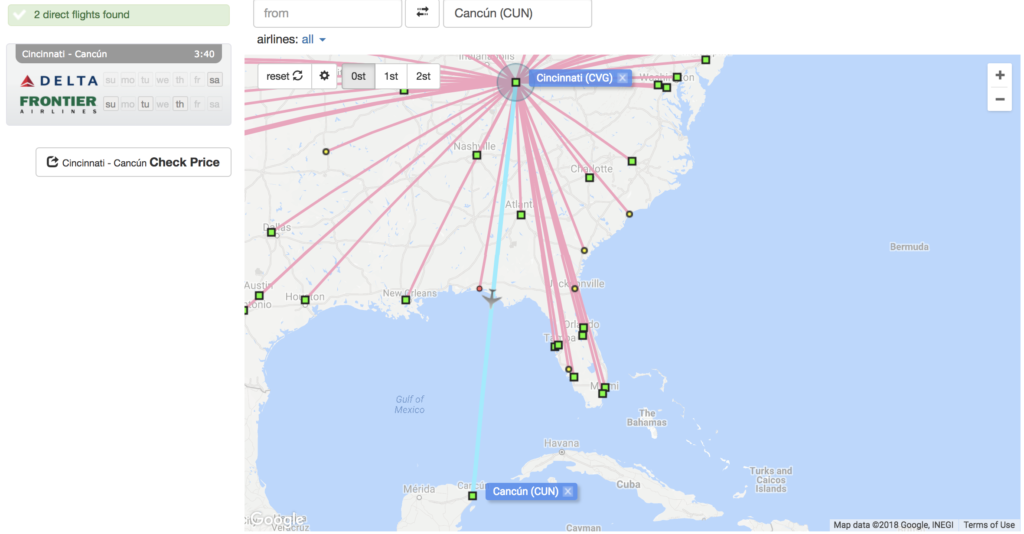 Another tool I like to use for situations like this is Google Flights. I think it really shines in this situation for its ability to filter and show a number of options on a map. The red dots on the destinations show where you can fly with the following criteria:
From CVG
On Tuesday May 29th
With no more than 1 stop
Departing no earlier than 7a
Arriving no later than 5p
With a duration no more than 12 hours (to avoid displaying flights where you have an overnight stop)
The image below shows us that:
It's not possible to reach St Lucia and St Kitts without compromises
The following could be viable options: Cancun (where you fly into for Mayakoba and Riviera Maya resorts), Grand Cayman, and Providenciales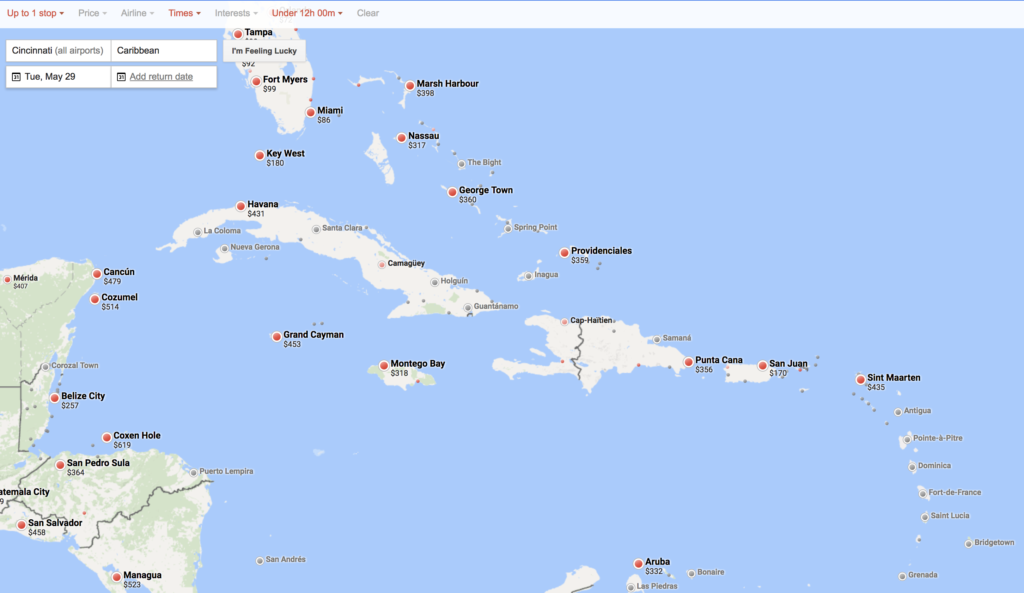 Let's narrow it down and discuss these options further.
Five Ideas
Mayakoba/Riviera Maya (CUN)
Bermuda (BDA)
Grand Cayman (GCM)
Providenciales Turks & Caicos (PLS)
Saint Lucia (UVF)
Mayakoba/Riviera Maya
The Mayakoba/Riviera Maya area is about a 40 minute drive from the Cancun airport.
Resort options:
Banyan Tree Mayakoba (Oyster link)
From $607/night, bookable with Chase URs.
Rosewood Mayakoba (Oyster link)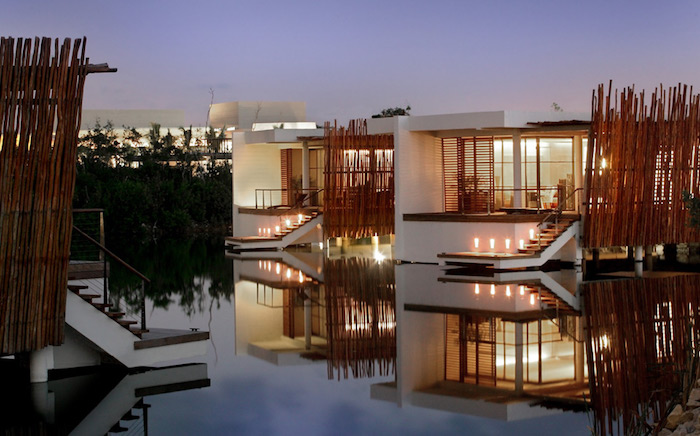 From $881/night, bookable with Chase URs.
Viceroy Playa del Carmen (Oyster link)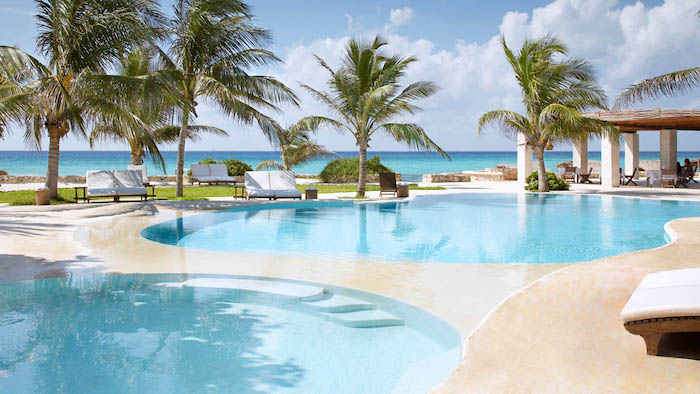 From $434/night, bookable with Chase URs including as an all-inclusive option from $604/nt.
Getting there:
CVG-ATL-CUN
Depart: 11:25a
Arrive: 3:37p
37,500 Delta miles per person one-way in First (transferred from AmEx)
Getting back:
CUN-IAD (direct)
Depart: 3:50p
Arrive: 8:10p
$500 per person one-way in First (use URs with 1.5 cpp uplift booked through Chase portal with Sapphire Reserve)
Bermuda
Resort options:
Fairmont Southampton (Oyster link)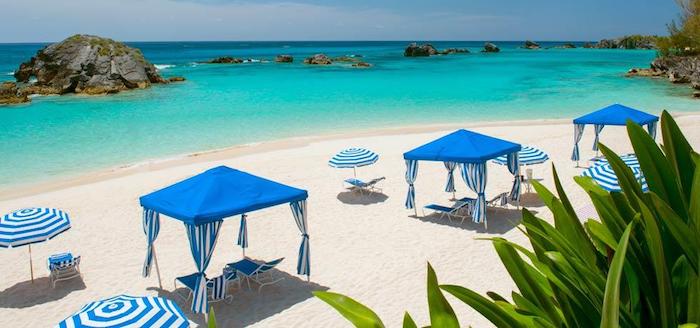 From $869/nt, bookable with Chase URs.
Rosewood Bermuda (Oyster link)
From $1,395/night, bookable with Chase URs.
Getting there:
CVG-PHL-BDA
Depart: 8:02a
Arrive: 2:01p
$677 per person in First (use URs at 1.5 cpp) or 60,000 AA miles
Getting back:
Direct flights don't start until June 7th
BDA-JFK-DCA
Depart 3:03p
Arrive: 7:00p
$473 per person in First (use URs at 1.5 cpp)
Grand Cayman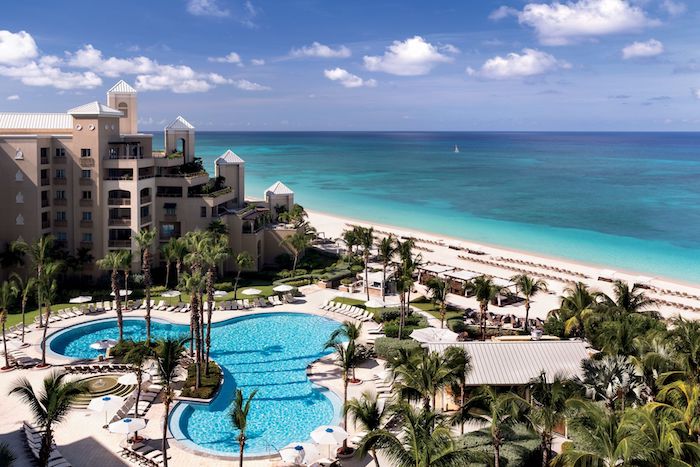 Rooms from $550/night, bookable with Chase URs.
You can stay in a standard room at the Ritz-Carlton Grand Cayman for 70,000 Marriott points per night (and Marriott is a Chase Ultimate Reward transfer partner). But since room rates this time of year start at just over $550/nt it's a poor redemption, you might be interested in finding a villa similar to these grand cayman villas. Use cash and/or URs at 1.5 cpp uplift instead.
Getting there:
CVG – – GCM on all 3 legacy carriers
Depart: Between 7-9a
Arrive: Between 12:30-3:30p
~$650 per person one-way in First (use URs with 1.5 cpp uplift)
Getting back:
GCM – – DCA
Depart: Afternoon
Arrive: Evening
~$500 per person one-way in First (use URs with 1.5 cpp uplift)
Providenciales Turks & Caicos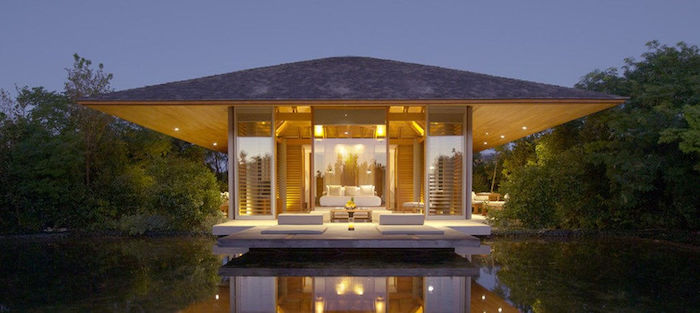 Note: Keep this trip short because rooms start at $1,800/nt, not bookable with Chase URs. Quality not quantity?
Getting there:
CVG-CLT-PLS
Depart: 9:15a
Arrive: 2:26p
$518 per person one-way in First (use URs with 1.5 cpp uplift)
Getting back:
PLS-MIA-DCA
Depart 8:00a
Arrive: 4:41p
25,000 AA per person one-way in First
St Lucia
Jade Mountain (Oyster link)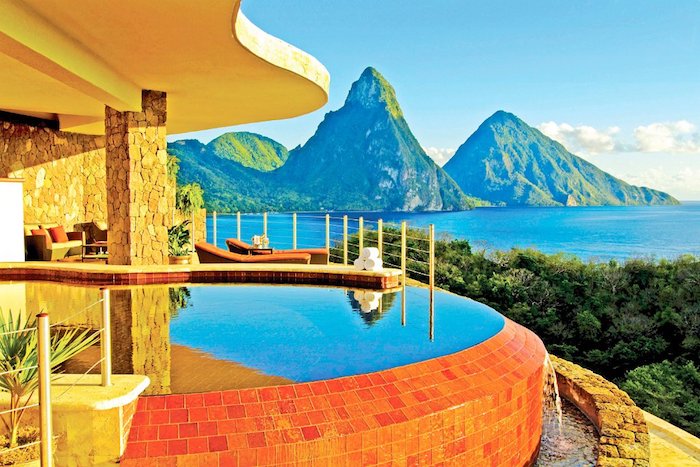 From $954/nt, bookable with Chase URs seemingly at a discount vs what's posted on their site.
Getting there:
CVG-ATL-UVF
Depart: 7:10a
Return: 2:26p
$794 per person one-way on Delta (use URs with 1.5 cpp uplift) or 75,000 Delta miles (transferred from AmEx)
Getting back:
UVF-MIA-DCA
Depart: 3:44p
Return: 12:13a (late!)
50,000 per person one-way in First using AA miles
Conclusion
I'm left thinking a luxury honeymoon in the Caribbean is one of the worst places in the world to use traditional points & miles. Saver level award availability for flights is almost completely non-existent and the flight times are challenging enough as it is even when paying cash.
That said, we certainly did discover some gorgeous options for Tommy and his bride to consider. Many of them can be booked with Chase Ultimate Rewards. Tommy has 300,000 URs and a Chase Sapphire Reserve so that's $4,500 towards lodging which could conserve a lot of cash for other endeavors. I think this is a testament to the rise of bank points – even in the context of lodging.
I'm intrigued by Mayakoba in particular myself. It looks gorgeous and uniquely exotic especially for Mexico.
That said I can't help think of Zika concerns across this entire region, with Bermuda as the lone exception. This could be a consideration for young honeymooners for sure.
Another consideration is all-inclusive vs a la carte. I'd encourage Tommy to step back and decide which locale and resort they really want to visit. Then decide on which room to book. Then decide whether to go for an all-inclusive option or not. All-inclusives can be relaxing knowing you paid up front, but they're rarely a bargain for what you get.
If this did come down to a cash booking (ie, non-point based) I'd take a hard look at what kind of perks and/or discounts I could establish in exchange for the booking. I'd probably book it through a Virtuoso travel agent who can get perks like free breakfast, 4th night free and such just for booking through them, similar to AmEx Fine Hotels & Resorts. More on that in a future post.
Ultimately this is a personal decision based on the style of vacation a couple is looking for. I wish Tommy and his future wife all the best and I'll look to follow-up with a post on what they end up doing.
What do you think? What destinations/resorts did we miss? Any tools you use that would have been helpful in situations like these? Join the conversation by leaving a comment below. And drop us an email or hit us up on Twitter @Milenomics if you'd got a puzzler we can tackle.