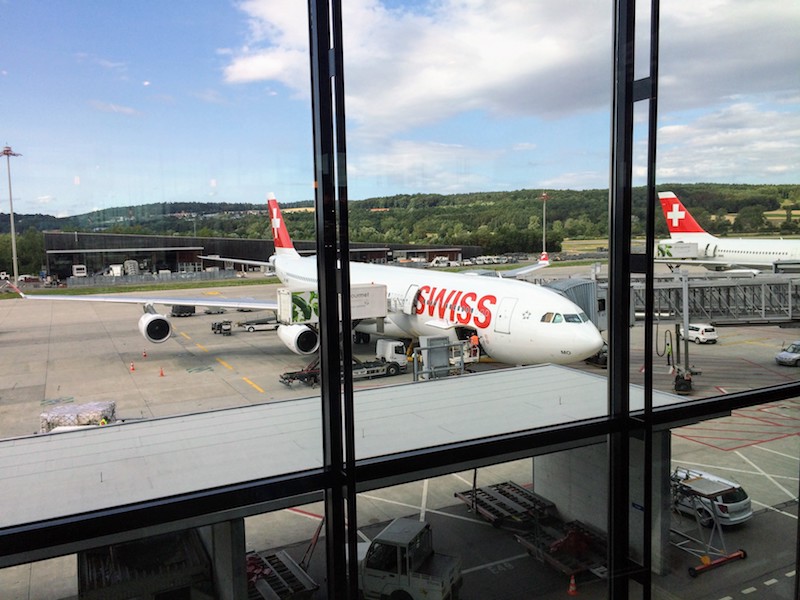 Booked SWISS First
One day back in November 2017 SWISS released partner award space in their First Class cabin.
This was noteworthy because SWISS generally only allows those with elite status in their loyalty program to book awards in First. So I jumped at the opportunity and booked 4 one-way tickets from Boston to Zurich using Aeroplan miles.
Aeroplan charges 70,000 miles for a partner First award from the US to Europe so I transferred 130,000 AmEx Membership Rewards over to Aeroplan to top off my Aeroplan account, booked the awards online, and even selected my seats. I was looking forward to my family occupying half of the First Class cabin for a summer trip to Europe.

Booking Disappears
A couple days went by and the booking disappeared from my Aeroplan account. I read reports of other people in a similar situation so I waited it out for a while. I eventually called Aeroplan and told them I expected them to honor the ticket. They told me they would not/could not honor the SWISS First booking, but they could reaccommodate me on another carrier or in another class of service if we could find partner level award space available.
Lufthansa First with a connection would have been an acceptable option. But Lufthansa doesn't release award space to partners further than 2 weeks in advance (at least that seems to be the pattern the last few years) so there were no other viable First Class options.
Let it Simmer
Aeroplan couldn't/wouldn't force award space so I left the award ticket alone for a few months.
I could have cancelled the tickets and had the miles redeposited into my account without a fee. And I even heard they were willing to reverse Membership Rewards transfers which occurred to make these bookings, which is rare. Usually once you transfer flexible points to an airline there's no turning back.
I didn't have an immediate need for the Aeroplan miles nor the Membership Rewards so I thought I'd try to see if award space would open up in Lufthansa Business Class. Or possibly Lufthansa First Class if I waited until 2 weeks before the travel date.
The reason this would be compelling to me is that Aeroplan charges high fuel surcharges when booking Lufthansa awards. When booking SWISS awards, they do not. It's puzzling why this is the case when Lufthansa and SWISS have a tight partnership but it makes a huge difference: Aeroplan miles are great for booking SWISS awards but not so great for booking Lufthansa awards as a result.
So, I was hoping I could change my SWISS First award to a Lufthansa Business award, get Aeroplan miles refunded for the difference, and avoid fuel surcharges.
Make a Change
When Lufthansa recently opened up award space on the Boston to Frankfurt route I thought it would be a good time to call them and check whether I could pull of the change.
I've got Aeroplan Diamond status so when I called their contact center on a Sunday afternoon a bright, helpful agent answered straight away.
A quick aside on Aeroplan Diamond. It's not a Star Alliance-qualifying status. It's status that's earned through accruing miles in Aeroplan's program through means other than flying. I earned it by spending money on the TD Bank Aeroplan co-branded credit card. It's not particularly useful but it does reduce award change fees at bit.
I asked the agent to look up my crusty old reservation to see whether I could change it from the unticketed SWISS First award it had become to a Lufthansa Business Class ticket on the same day.
She was able to find award space on Lufthansa and was able to refund my account for the mileage difference (55,000 vs 70,000 pp) but when she went to make the change it wanted to charge $2,000+ in fuel surcharges vs $22 currently charged on my four tickets.
The Compromise
I asked her whether she could check whether she could get the fuel surcharges waived considering Aeroplan wasn't able to honor the original SWISS First tickets I booked.
She put me on hold and came back a few minutes later saying she could waive the fuel surcharges, refund the difference in miles, and charge no change fees on one condition: If I made any more changes (say to Lufthansa First close-in) I'd have to pay fuel surcharges.
I had to think for just a moment but I took her up on the offer.
At this point it was beyond clear we weren't going to be flying SWISS First.
Because of this snafu, I was effectively able to book Lufthansa Business Class with 55,000 Aeroplan miles per person with no fuel surcharges. That's not usually possible. Besides, there were no SWISS Business Class available on dates that worked for me and I prefer Lufthansa's Business Class over SWISS.
I was potentially limiting my ability to upgrade to Lufthansa First close-in without change fees and without fuel surcharges. I was willing to forego that opportunity because you never know whether Lufthansa will actually release award space. And if they do they usually don't open more than 2 award seats in First Class on the same flight in my experience. And if they did I can still cancel the tickets, pay a cancellation fee (or not? you never know what might be possible given the history on this one), and rebook using United or Avianca miles.
Bottom Line
I can accept this as a reasonable outcome. I really wish Aeroplan and SWISS would have honored these tickets.
I got the feeling all along that SWISS really did mistakenly release this space. And Aeroplan (and other programs) allowed people to book that space. When SWISS decided their exposure was more than they were comfortable "eating" they decided to cancel the tickets, leaving Aeroplan in a bind.
Aeroplan could very well have told me to pound sand so I appreciate that they met me half way with this solution.
If you've still got an Aeroplan/SWISS First award ticket(s) hanging around in an ambiguous state it might be worth holding on to it until you can change it to a Lufthansa First or Business Class ticket. Because booking a Lufthansa award with Aeroplan miles without fuel surcharges isn't generally possible.