Bank of America is a quirky player in the rewards credit card space.
They've got co-branded travel cards with a few airlines (Alaska, Virgin Atlantic, Asiana, Spirit, and Allegiant), an Amtrak card, and even cruise line cards. However, they lack a flexible point currency that can be transferred 1:1 to these partners.
That said, they do have a card that earns 2.625% back on all spend if you maintain $100,000 in investments with Merrill Edge.
They used to be rather "churn friendly" allowing customers to repeatedly get signup bonuses for the same card, but like other banks they've tightened their policies.
Given these restrictions, let's discuss which BofA cards we should get.
Foundational Information
Word has it that BofA's current policies are that you can't get more than:
2 new BofA cards every 2 months
3 new BofA cards every 12 months
4 new BofA cards every 24 months
Note this is a different approach than Chase has taken with 5/24 (which applies to new cards across all banks). BofA mostly wants to limit churning of their cards. That said, you can certainly get denied a new credit card from BofA for reasons outside of this policy.
Notably, business cards are excluded from the calculation.
Preferred Rewards
If you maintain $100,000 in investments with Merrill Edge you qualify for their Preferred Rewards program. This is true of brokerage accounts and retirement accounts. There are other ways to earn Preferred Rewards status (like maintaining $100,000 in checking) but they're probably not a good idea since you'd be missing out on better returns if invested.
Mostly meaningfully for our discussion Preferred Rewards triggers a 75% increase in rewards on certain cards. Netting it out from their website, the cards that are eligible are the Cash Rewards, Travel Rewards, and Premium Rewards cards. All others are ineligible:
Most Bank of America® branded consumer credit cards (such as the Cash Rewards, Travel Rewards, and Premium Rewards® credit cards) are eligible to receive the Preferred Rewards bonus, as long as the card account is open and in good standing. The Preferred Rewards bonus will replace the 10% customer bonus you may receive with certain cards.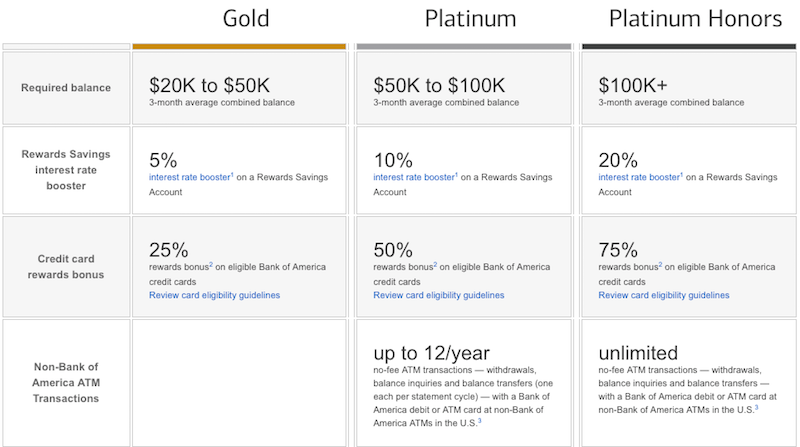 Here's a link to the program.
Ground rules
For the purposes of this discussion, let's simplify the rules. Let's say you can get 4 new BofA credit cards every 2 years.
You can get 4 of the same card if you'd like. Or 4 different cards. To keep things realistic, consider whether BofA will like these antics.
The impact this has on your credit report and your Chase 5/24 situation should also be considered.
Here's a list of the BofA Personal Cards we'll be choosing from.
Since Business Cards don't count towards the 4 new cards you can get in a year we'll keep them off the table.
Which cards should you get?
As with all things in this game it depends on your situation and on your goals.
Would a 2.625% everywhere card be meaningfully differentiated to you?
Are you in a position to invest $100,000 with Merrill?
Are you looking for international premium cabin flights?
Are you looking for rewards that can be used towards any travel?
What kind of spend do you/can you push through credit cards?
All of that said, here's how I'd prioritize BofA's personal cards based on my preferences and travel patterns and why…
#1 Premium Rewards Visa Signature
50,000 point signup bonus after spending $3,000 in 3 months
Points are worth $0.01 each as a statement credit (thanks Scott) or towards any travel paid for with the card
2x on travel and dining
1.5x everywhere else
$100 air incidental credit
$100 Global Entry reimbursement
$95 annual fee (not waived the first year)
Eligible for 75% Platinum Honors uplift (so 3.5x on travel/dining and 2.625x everywhere else)
Upshot: A healthy, easily usable signup bonus and strong ongoing rewards for those with Platinum Honors uplift make this a strong all-around offering. The potential for $2,000 in unrestricted travel over 2 years is straightforward and appealing.
#2 Virgin Atlantic World Elite Mastercard
75,000 mile signup bonus after spending $12,000 in 6 months and adding 2 authorized users
1.5x everywhere
$90 annual fee (not waived the first year)
Upshot: Strong for those with the ability to get outsized value from international premium cabin flights on Delta to Europe and ANA to Japan. Or moderate value on domestic Delta flights. You can top off Virgin Atlantic miles from flexible bank point programs. Or you can bail and transfer to Hilton 1:1.5 if you get fed up with airline award availability. You need to be able to hit the high-ish spending targets and tolerate the up front annual fee.
#3 Alaska Airlines Visa Signature
30,000 mile signup bonus after spending $1,000 in 3 months
$100 statement credit
Companion certificate
$75 annual fee (not waived the first year)
Upshot: Alaska miles are strong for travel to Asia, and elsewhere for those savvy navigating award availability. For those well-served by Alaska/former Virgin America routes the companion certificate has merit. But still: Even if you get this card 4 times over 2 years that's just 120,000 Alaska miles. That doesn't get a family very far.
#4 Travel Rewards Visa Signature
20,000 point signup bonus after spending $1,000 in 3 months
Points are worth $0.01 towards any travel paid for with the card
1.5x everywhere else
Eligible for 75% Platinum Honors uplift (so 2.625x everywhere)
$0 annual fee
Upshot: The bonus here is anemic so this card is best for those "severely allergic" to annual fees, in a position to attain Platinum Honors, and likely to have large amounts of unbonused spend. Perhaps just as well to downgrade from a Premium Rewards to this when the annual fee comes due.
Frequent Miler maintains a useful list of best offers by bank. I'd encourage you to check it out for info and links to the cards.
Discussion
Sorting these out and coming up with a rank order for my preferences was harder than I thought it would be.
Although 2.625% everywhere towards unrestricted travel sounds great I've found it to be a long hard slog earning points this way. There's no "jackpot"-style upside. It's just slow and steady. But don't go too crazy – I hear they're prone to shutdown.
I prefer flexible points to these because the everyday earning isn't that much worse and you maintain the potential for large upside when transferring then redeeming bank points effectively.
For example, if you have a Chase Freedom Unlimited that earns 1.5x everywhere paired with the Chase Sapphire Reserve with 1.5 cpp uplift towards any travel booked through Chase that's 2.25x everywhere. Sure, you have to deal with complications "living the bank point lifestyle" but 2.25x isn't so far off 2.625%. And with Ultimate Rewards you retain the potential of big upside when transferring and redeeming.
The Virgin Atlantic card and program is a unique one. I originally started collecting them thinking I'd suck up the fuel surcharges flying Boston to London on Virgin Atlantic Upper Class with good award availability. But redeeming for Delta One to Europe seems more likely so long as Delta maintains good availability on those routes.
Alaska miles tend to collect dust in my collection, but your situation may differ. If you're on the west coast or want to get to Asia they're a terrific currency. Still, I think BofA is a little greedy with the signup bonus on these. You can earn 60,000+ AA miles with a Citi signup yet only 30,000 Alaska miles with a BofA signup. And I don't think Alaska miles are worth twice as much as AA miles.
Bottom Line
Bank of America has tightened its restrictions on approving new cards. With these new restrictions we need to be selective about which of their cards, if any, we'll go for. Their better cards don't waive the annual fee the first year, but I think there's enough value to justify the fees.
Their cards are also structured to reward "healthy medium-sized spend" profiles. Not so much that you could only take advantage of them with ridiculous amounts of manufactured spend. But large enough that they take considerable wallet share.
Overall, BofA is a solid but "tier 2" player in the credit card rewards ecosystem. They lack a flexible point currency that ties their travel partners together. Until the can piece that together the best we can do is take what they're offering. And what they're offering is not so bad.
Your turn: What would you go for and why? Let us know in the comments.