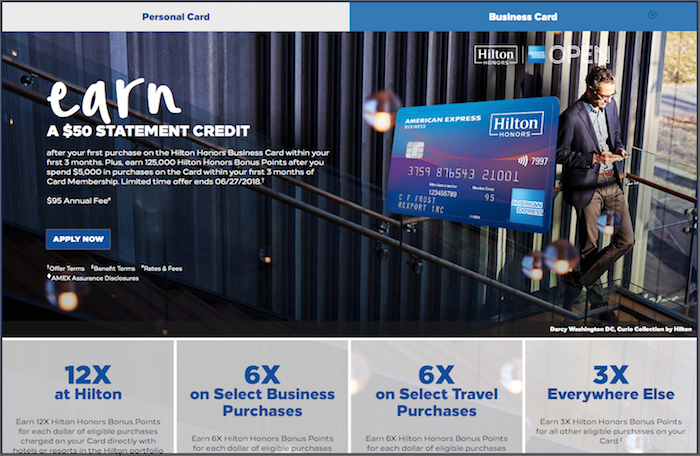 A heightened offer for the new AmEx Hilton Business card (125,000 + a $50 statement credit) and expanded eligibility of the targeted 50,000 AmEx Premier Rewards Gold with no lifetime language might be worth applying for both on the same day.
The Offers
AmEx Hilton Business
Signup bonus: 125,000 Hilton points + $50 Statement credit
Min spend: $5,000 in 3 months
Annual fee: $95 (not waived the first year)
Bonus categories:
12x Hilton, 3x everywhere else
6x on "Select Business Travel & Purchases"
on flights booked directly with airlines or amextravel.com
on car rentals booked directly from select car rental companies
at U.S. restaurants
at U.S. gas stations
on wireless telephone services purchased directly from U.S. service provider
on U.S. purchases for shipping
How to get it: $50 statement credit offer appears while making a reservation on Hilton.com
Hat tip: Doctor of Credit
AmEx Premier Rewards Gold
Signup bonus: 50,000 MRs (no lifetime language, targeted)
Min spend: $2,000 in 3 months
Annual fee: $195 (waived the first year)
$100 per calendar year for air travel incidentals
Bonus categories: 3x on air travel, 2x at restaurants, gas stations, and supermarkets, 1x everywhere else
How to get it: Log in to your AmEx account and check for it alongside AmEx Offers on existing cards
See: Targeted: No Lifetime Language 50k MR American Express PRG Offer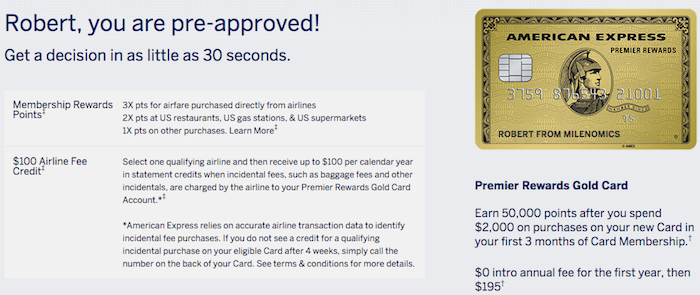 Commentary
The $50 statement credit on the 125,000 Hilton Business card helps take the edge off the $95 annual fee that's not waived the first year. I'd value Hilton points at around a half-cent a piece, though award availability can sometimes be annoying.
Still, since Hilton points can be pooled I think I'll be able to get good value out of this card without too much effort. I much prefer Hilton points to free weekend night certificates that expire.
I applied for the Hilton card first, and the application went pending. While I was poking around checking credit limits on other existing AmEx cards I noticed the 50,000 Premier Rewards Gold offer pop up. When I checked a couple months ago, the offer was for only 25,000 so it might be worth checking again to see if you're targeted. I had it on one of my Old Blue Cash cards.
50,000 Membership Rewards are worth a minimum of $750 to me in conjunction with the AmEx Business Platinum with its 1.5x uplift towards air travel
The Premier Rewards Gold offer said "Pre-Approved" but is there really such a thing as pre-approval in this game? At any rate, I was instantly approved for the Gold card even though the Hilton card was still pending.
A couple of hours later (on the weekend) the Hilton card was approved without needing to call reconsideration to prompt them.
One good thing about applying for 2 cards from the same bank on a single day is that the hard pulls will be merged into one. Not that hard pulls are that big a deal these days, but still.
For more info on AmEx approval policies check out DoC's 25 Things Everybody Should Know About American Express (including guidance on how many AmEx credit cards you can have at a time).
Summing it up
AmEx's "one signup bonus per product lifetime" rule is proving to be more workable than Chase's 5/24 policy for me.
If they keep creating new products and sending targeted offers for cards I've gotten the signup bonus for in the past I'm happy to keep applying for their cards.
Strangely, the Hilton Business card is not eligible for referral as of yet. That may change, but even when it does I doubt it'll include the $50 statement credit. Banks love to invite you to refer friends for inferior offers. It's a shame because when in 2-player mode it would add even more value to signups.