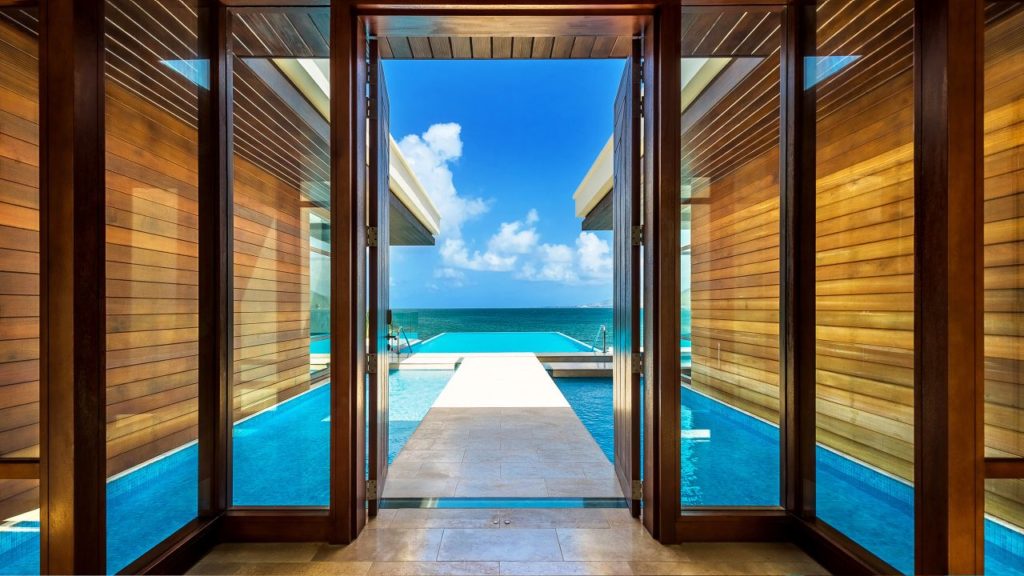 Welcome to another edition of This Week in Bank Points where we examine the pros and cons of booking various forms of travel with flexible bank points like Chase Ultimate Rewards and Citi ThankYou Points.
This week I'll examine using bank points for a 4-night stay at the Park Hyatt St. Kitts as part of a Fourth Night Free with Resort Credit promo they're running.
Enjoy a night and resort credit with Compliments.

Indulge in the wonders of St. Kitts, fly and extend your stay, on us. For every three nights booked enjoy a fourth night free and 300 usd resort credit per person, per stay to be deducted at check out from your final bill (Non-Refunfdable). Please see T&C for travel dates and other details.
I learned about the deal from these two posts:
I've been poking around for a getaway in late August and all things considered this property and this island fit the bill nicely. At least as a placeholder.
See: 8-part review of the Park Hyatt St. Kitts by @TravelSummary
Let's walk through various booking options to see how well bank points work for an offer like this, starting with booking directly with cash.
What's unique about this one is that it's a high-end property (so you can stack a lot of nice benefits on the stay through various booking channels) yet the cash rate is low relative to the resort credit promotion they're running.
Booking Direct
The deal pops up on Hyatt's website when pricing a 4-night stay.
Normally, I think of Hyatt as a chain where you get a lot of leverage out of points. But since they've categorized this property as a Category 7 (the top of their chart) it's 30,000 points per night. When you can book it for $300/nt it would be a weak use of Hyatt points.
The $300 per person resort credit will really take the edge off the high food & beverage prices the hotel is known for.
But let's see what we can do with bank points and other booking channels to make the deal even sweeter.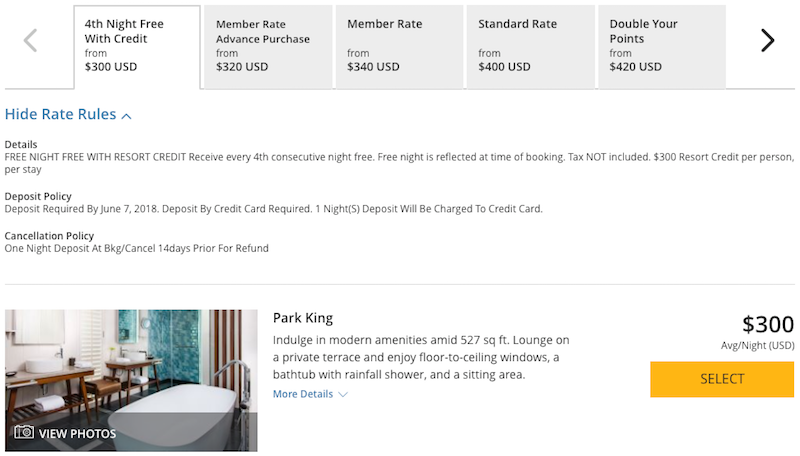 Citi ThankYou Points w/Premier and Prestige 4th Night Free
If you've got both the Citi Premier and Prestige cards you can combine:
1.25 cent per point uplift from the Premier card
4th night free the Prestige card offers
And pay with ThankYou Points
However, in practice I often find the prices in bank portals to be inflated. Especially in cases where a hotel is running a promotion.
And that's indeed the case with the Park Hyatt St. Kitts through the Citi portal.
Although they do have a rate that ambiguously includes a "resort credit" (no word on whether it's $300, let alone per person) the room rate is $423 rather than $300 seen when booking direct.
It's possible to call the Citi Concierge to get them to match the price, but in my experience when you call or e-mail the Citi Concierge you cannot pay with ThankYou Points.
I've heard datapoints that it's possible to have the Concierge conference in a ThankYou Point rep to pay with points, but I've tried this many times unsuccessfully.
For these reasons Citi ThankYou Points are a not a good option for this booking even with 1.25 cents per point and the ability to stack Prestige 4th night free on top of the hotel's 4th night free promo.
Update (7/25/2018): Turns out the Citi Prestige Concierge is a Hyatt Prive travel agent. For prestige card holders this can be a good option for a booking a paid stay at Hyatt properties.

Chase Ultimate Rewards
With the Chase Sapphire Reserve card you get 1.5 cents per point of value towards hotel bookings when paying with Ultimate Rewards and booking through their portal.
In this case, Chase's rate aligns with Hyatt's rate. It even includes the resort credit, though it's not certain the value or whether it's per person.
I was tempted to book this rate with Ultimate Rewards then call Hyatt to confirm the resort credit, but I wanted to find a way to get daily complimentary breakfast and other benefits that would come from booking through other channels.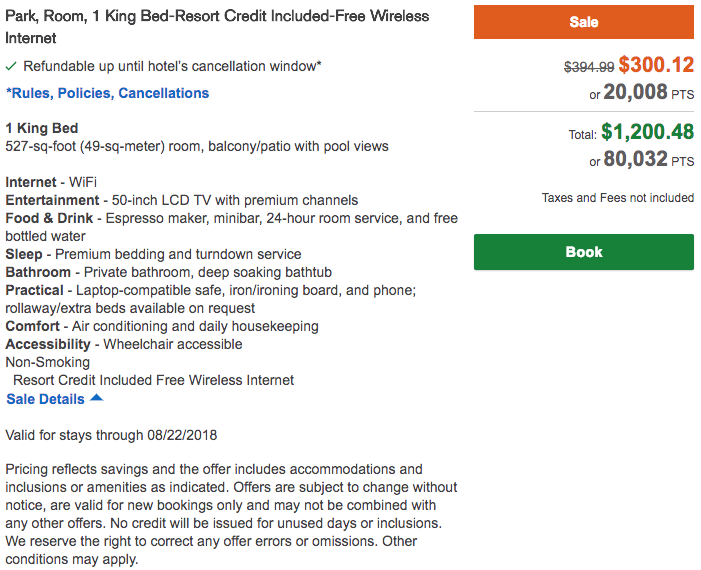 AmEx Fine Hotels & Resorts
My next check was with AmEx's Fine Hotels & Resorts program. If you've got an AmEx Platinum card you can book online or over the phone, and stack benefits like complimentary breakfast, a $100 stay credit, room upgrades (on the famous "space available" basis), and early check-in/late check-out at fancier hotels around the world.
In this case, the $300/nt rate seen on Hyatt's site conveys and the offer comes through mostly clearly. It mentions a $300 property credit, but doesn't mention whether it's per person or per room.
All things considered, this is a low-hassle way to book the offer and stack additional benefits on top of the Hyatt offer if you've got an AmEx Platinum card.
It would be great if AmEx would let you pay with Membership Rewards with > 1 cent per point uplift when booking stays like these. Alas, they do not. So it would be a booking you'd have to pay for out-of-pocket.

Virtuoso Online Booking
If you book a stay at a qualifying [usually fancy] hotel, Virtuoso travel agents can stack benefits on top of your stay, similar to what you get with AmEx Fine Hotels & Resorts. Virtuoso agents generally don't charge for these services, especially if you keep things simple for them and your request doesn't involve trip planning/consultation on where to stay.
In the spirit of keeping things simple, Virtuoso now has an Online Booking Tool (here's an example of one).
Unfortunately, through this channel the offer didn't come through. The room rate didn't reflect the 4th night free so I proceeded to working with my preferred Virtuoso travel agent via email.

Virtuoso
It took a little back and forth to dial things in but I was eventually able to get a quote from a Virtuoso travel agent that stacked Virtuoso benefits with Hyatt's 4th night free rate and $300 per person resort credit.
Virtuoso benefits are very similar to AmEx Fine Hotels & Resorts. You may find slight differences in the two programs but at a high level they offer very similar benefits. A $100 resort credit, daily complimentary breakfast, space available upgrade at check-in, etc.
I would have been content to book with either AmEx Fine Hotels & Resorts or Virtuoso but the key point I want to make here is that the benefits of the two programs are so similar, and you can make reservations through a Virtuoso travel agent for free, so AmEx Fine Hotels & Resorts should not be a reason to keep an AmEx Platinum card pay its high annual fee.
If you keep your bookings simple (ie, please book the Park Hyatt St. Kitts for 4 nights on this date and stack Virtuoso benefits on top fo the $300/nt room rate with 4th night free and $300 per person resort credit) you should be able to find a Virtuoso travel agent that's happy to work with you fee-free. If your needs are more complicated (like, "we're looking to go to Southeast Asia for 10 days and like really nice resorts – what would you recommend?") you'll rightly pay a fee for vacation planning services.
Hyatt Prive
Most Virtuoso travel agents are also members of proprietary hotel booking channels like Four Seasons Preferred Partner, Ritz-Carlton STARS, Starwood Luxury Privledges, etc.
In this case, Hyatt Prive has a couple of useful advantages over Virtuoso: The room upgrade is at the time of booking (Park King to Beachside King in this case) and the cancellation policy is better (3 nights instead of 14 nights).
So, I booked the reservation as a Hyatt Prive stay.
Summing it Up
Well, we got a "great deal" on a 4-night stay at a new Park Hyatt known for service gaffes on an island in the Caribbean during hurricane season.
For $1,200 (before tax) in lodging we should get a total of $700 in resort credit plus daily complimentary breakfast (which can easily reach $100 per day). Given the "captive" situation at this resort, I found the resort credit promotion compelling. In my experience food & beverage is an area Hyatt excels so I'm looking forward to it.
Bank points are ill-suited to this type of booking. The additional benefits that came with booking it through Hyatt Prive (or Virtuoso or AmEx Fine Hotels & Resorts for that matter) were too good to ignore. I booked it with my Chase Sapphire Reserve for 3x for now.
Especially with its 3-day cancellation policy I can keep my options open for international flight awards that might pop up 14 days prior to departure.
If St. Kitts is a destination you've been interested in this deal could be worth checking out.