Quick Summary: Wells Fargo has added a tracker that makes it easy to confirm signup bonuses are attached to your account, your progress toward the minimum spending requirement, and when the bonus is scheduled to be paid.
We beat up on Wells Fargo quite a bit when discussing Good, Bad and Ugly banks recently, and rightly so. One thing in particular we took them to task for was taking their sweet time to pay signup bonuses, especially since it's difficult to confirm whether they're satisfied you've met the minimum spend requirement until it's too late.
That said, I noticed an improvement in this area recently.
It seems they've added a tracker that:
Confirms what signup bonuses are currently attached to your personal Wells Fargo cards
Tracks the spending progress towards the minimum spend requirement
Clarifies when the bonus is scheduled to post to your account
Other than the fact that they still take a long time to actually pay this bonuses, I'd say this makes them one of the best banks in terms of providing clarity on signup bonus progress.
How to Track Wells Fargo Signup Bonuses
Log in to your Wells Fargo account and click on "Go Far Rewards".
If you have a signup bonus attached to a card, and you're within the minimum spend requirement window, you should see an image like the following: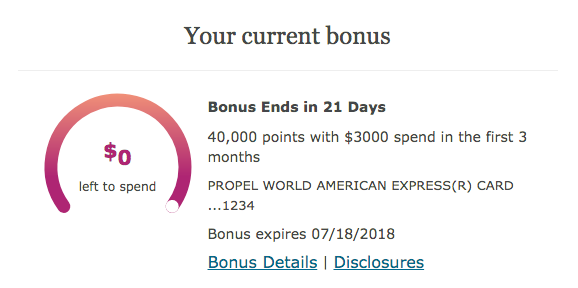 This is nice because it shows you definitively that the bonus is attached to your account, the timeframe you have to meet the minimum spend requirement, and the progress you've made towards the minimum spend requirement.
If I click through to Bonus Details it shows that I've met the bonus and that it will post within 1-2 billing periods from when the offer period ends. This is different from how most banks operate but at least it provides clarity on when you should expect the bonus to post.
I don't think this signup bonus tracking mechanism is present for business cards, but if someone sees otherwise please let us know. It would be useful because I still don't think we have a datapoint confirming that if you opt for the rewards scheme instead of cashback on the Business Platinum card that you'll get 50,000 points.
Implications
This is a nice development in general, but it enables me to confirm that Wells Fargo treats personal and business signup bonus waiting periods separately.
I got the a bonus on a Wells Fargo Business card for a December 2017 signup. The tracker shows I've met the requirements for signup bonus on a Wells Fargo Personal card for an April 2018 signup.
There was a lack of clarity on that since personal card signup bonuses contain this language, ambiguously referring to "a Wells Fargo Credit Card":
If you opened a Wells Fargo Credit Card within the last 15 months, you may not be eligible for introductory annual percentage rates, fees, and/or bonus rewards offers.
Meanwhile, the business card language makes it clear that business cards are treated separately:
This offer is not available if the business already has a Wells Fargo business credit card or had a Wells Fargo business credit card opened or closed in the immediately preceding 12 months.
Especially with Wells Fargo re-tooling their Propel line of personal cards on the heels of a very good signup bonus for the Business Platinum card I think there will be a lot of people wondering whether they can get the signup bonus for both Wells Fargo Business and Personal cards without resetting the clock. It seems that you can.
Summing it up
This is a welcome development from Wells Fargo, and one I think other banks would do well to emulate.
Although it's certainly possible to tabulate your progress towards a minimum spend requirement it's sometimes a bit tricky (annual fees, refunds, promotional rebates, etc). More importantly a tracker like this confirms how much you've spent according to the bank's criteria. In the end that's all that really matters, so gaining clarity on this before the minimum spend window expires is reassuring.
With reasonably good signup bonuses available on their business and personal cards combined with very good point transfer policies I'd say it's worth looking into Wells Fargo cards if you've exhausted your options with better banks.
See: Why And How: Transferring Wells Fargo Rewards Between Accounts
Not too shabby for a Tier 2 bank.