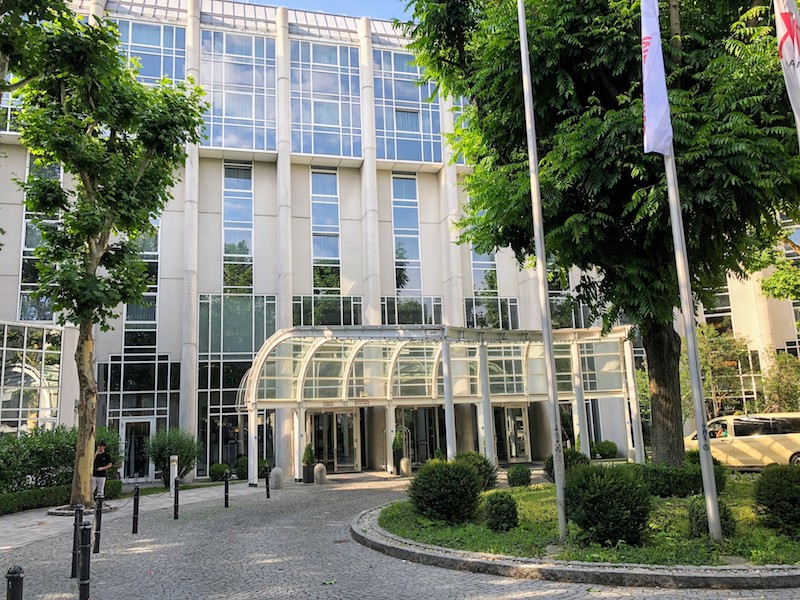 Update: Marriott no longer honors elite status benefits when booking through on OTA, including bank points.
See: No Notice: Marriott Stops Giving Elite Benefits For Online Travel Agency Reservations
We're just back from a stay at the Marriott Munich. This is the second trip in a row we've stayed at a Marriott proper in Europe and although the accommodations are very American, for better or worse, they do offer a good solution for families looking for rooms that accommodate 4 people.
Combined with Marriott's relatively favorable policy of recognizing status on third-party travel bookings, they can also be good properties to consider for bank point bookings.
Here are four things to keep in mind when booking a Marriott hotel with bank points…
1: Use bank points when cent-per-point value using hotel points is weak
For our travel dates, the Marriott Munich had cash rates in the 230 euro per night range. Since the hotel is a Category 8 that's 40,000 points/night. At an exchange rate of around 1.17 that's $269/nt. $269/40,000 equals 0.6 cents per point which is a rather weak redemption for Marriott points (I aim for at least 1 cpp).
I was staying 3 nights so this was a good use of bank points. I was able to book online through the Chase Ultimate Rewards portal at the same prices posted on Marriott's site and realize 1.5 cents per point of value per point through the Chase Sapphire Reserve card.
See also: This post from Freequent Flyer on booking hotels based on length of stay
2: Bank points can provide more room-type flexibility than hotel points
The standard room you get for 40,000 points only accommodates 2 adults and 1 child. Since we have 2 kids we needed to book into a slightly larger room that was unbookable with Marriott points if we wanted to fully declare the number of people in our room.
The larger room only cost about 10% more and was available in the Chase Ultimate Rewards portal so I booked it. This eliminated any stress about having more people in the room than allowed, and afforded us enough space in the room for a roll away bed (not shown in photo below when we first arrived).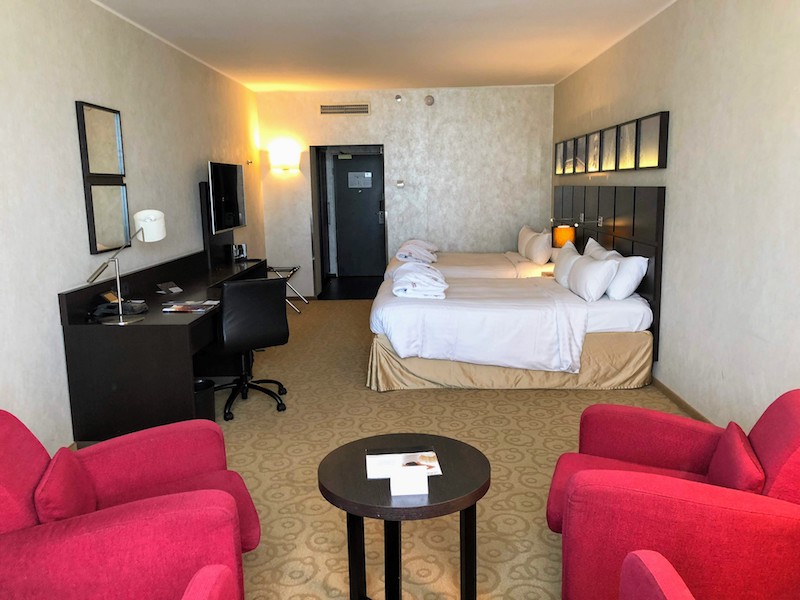 It's worth noting that sometimes Marriott offers buy-up options (points + cash) for larger rooms. This worked well for us at the Marriott Champs-Elysees in Paris.
3: When using bank points, Marriott recognizes status benefits
One nice thing about Marriott is how they recognize status benefits like complimentary breakfast when booking with bank points or third-party travel agencies. This isn't the case with most other hotel chains.
Just to be clear: You won't earn points for your stay, but the benefits associated with any status you have should be recognized.
I've got Marriott Platinum status. For this stay the benefits we realized were:
Half bottle of red wine & chocolates on arrival
Complimentary breakfast for 2 adults/2 kids each day (28 euro pp value)
Complimentary evening dinner buffet for 2 adults/2 kids each night including unlimited beer and wine from 5p-10p (only available to those with status as a substitute for the property not having a lounge). The beer was self-serve on tap and included German beers like Augustiner Helles and Franziskiner Weissbier.
They didn't charge me for a roll away bed (their policies say 15 euro per night).
All of these combined to really minimize our food & beverage costs for this portion of our trip. Lunch out at a biergarten each day combined with breakfast and a light dinner and beers each night hit the spot.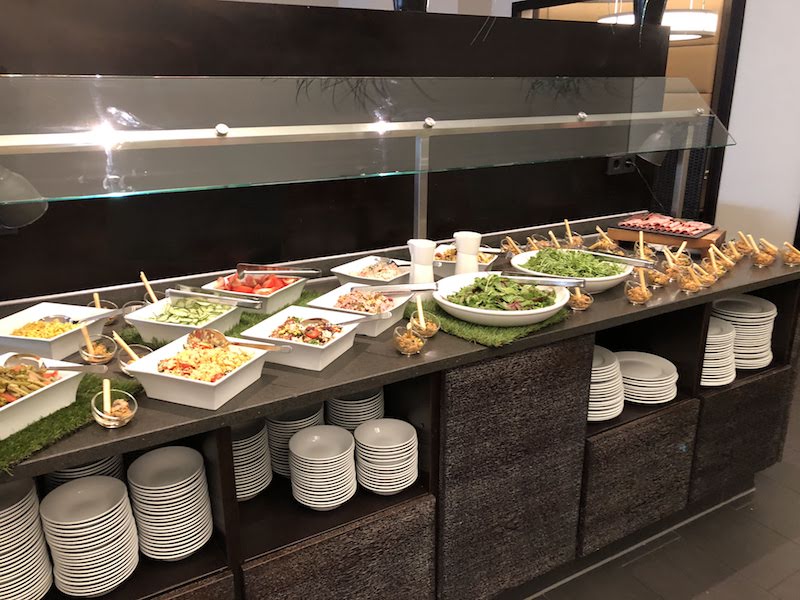 4: Adding your Marriott Rewards number to a Chase Ultimate Rewards reservation
When booking a hotel through the Chase Ultimate Rewards portal they ask for your hotel loyalty number, but it doesn't seem to get linked to your reservation automatically. I had to call Chase to get the number added to my hotel reservation.
I suppose you could show up at the front desk and give them your Marriott number but it's nice to get it to the hotel up front in case room upgrades/early check-in might be available or important.
After calling Chase, who in turn called Marriott, my reservation showed up when logging into my Marriott account.
Summing it Up
We had a delightful stay at the Marriott Munich. It's a little north of central Munich but near the English Garden with a nearby subway station that provides ready access to all Munich has to offer (a group pass costs 29 euros for 3 days).
The staff recognized my status upon arrival and clearly laid out what the benefits were. Minor requests during our stay were taking care of with a pleasant human touch. The room was clean and comfortable. The breakfast buffet was terrific, and the complimentary dinner and drinks were unexpected and appreciated. No service gaffes to speak of. Can't ask for much more than that.