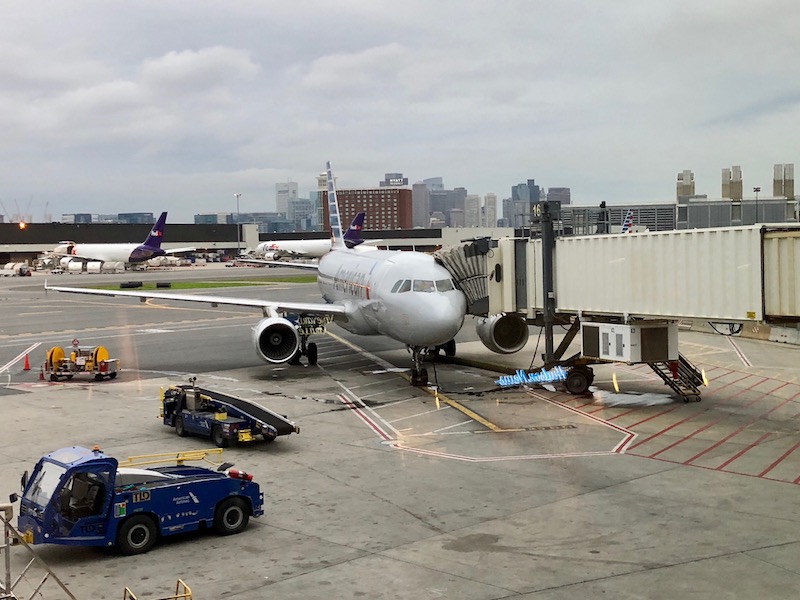 We decided a week ago to take a short-notice trip from Boston to Washington DC this weekend. Since AA and JetBlue serve the BOS-DCA direct route, the conventional wisdom is that this would be a great use of British Airways Avios.
Well, AA award availability being what it is I've rarely found Avios useful for short-notice short-haul flights. It's one of those things that sounds great on paper (just 7,500 pp one-way!) but so rarely materializes in practice.
Even if saver level award availability did materialize it would probably be when flights were dirt cheap anyway, making bank points once again a winner over airline miles for domestic flights. Let's run through an example, hopefully to inform which currencies we should be earning for the trips we want to take.
Example Booking: BOS-DCA next weekend
The first place I'd look to see if there is award availability using AA miles or British Airways miles is on AA.com.
I'd like to fly out first thing Saturday morning.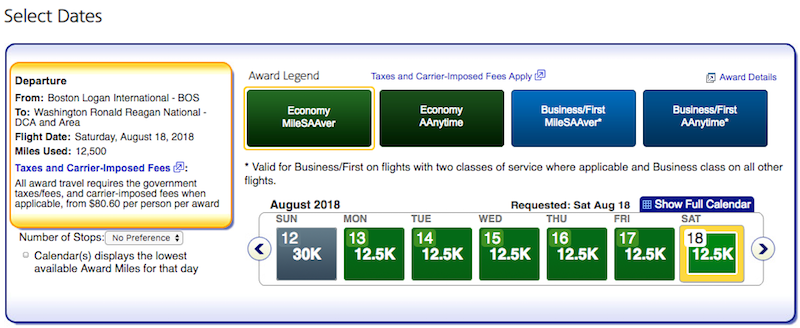 At first glance, things look promising. The green 12.5k box Saturday indicate there's saver level availability.
If we drill down, things aren't as good as they seemed. The only saver level flight in Economy is a connection through JFK that arrives into BWI: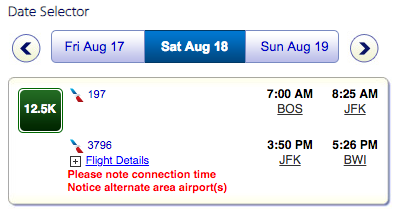 What about space in Business Class? All of those flights connect through Charlotte and none of them arrive into DCA: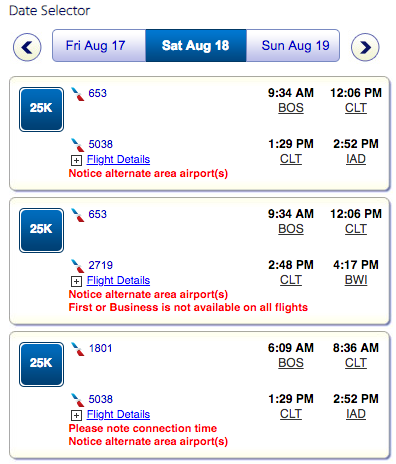 If I look at AAnytime fares in Economy or Business I do see the direct flights I want at the times I want to fly.
But they're 20K and 45K pp one-way.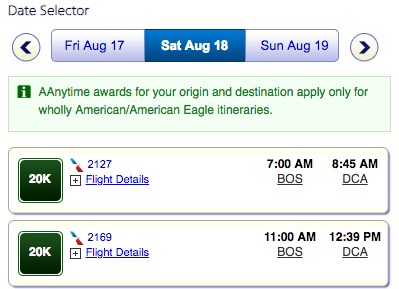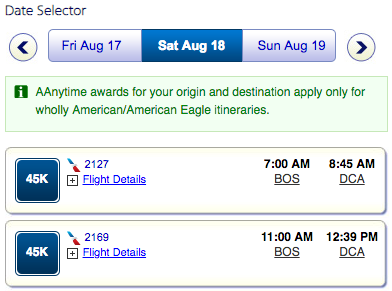 Since there isn't saver level availability I can't use partner miles like British Airways Avios.
And 20K AA in Economy/45K AA in Business is a poor value.
Miles are not working well for this scenario.
What are my options if paying with cash?
When paying with cash [or bank points as I'll get to in a minute] I'm presented with a gorgeous cornucopia of options.
Direct flights on JetBlue for just $119 pp one-way. AA for $157 in Economy.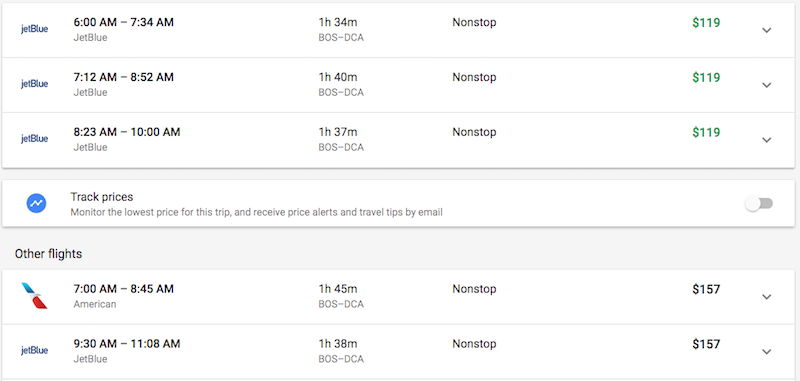 If you'd like to fly up front it's $261 pp one-way. That's quite a premium over $119 pp one-way in Economy on JetBlue, but it beats 45,000 miles AA wants for Business Class.

Booking it with Bank Points
If I head over the Amex travel portal, I see the same prices as Google Flights/airline direct. The same is true on the Chase and Citi, but I'll use Amex for this example since Chase Ultimate Rewards are more flexible whereas Amex Membership Rewards are, I think, best used for flights.

In some cases, you see even better prices on Amex's site than directly from the airline. When available, Membership Rewards Insider Fares are about 10% cheaper than airline direct.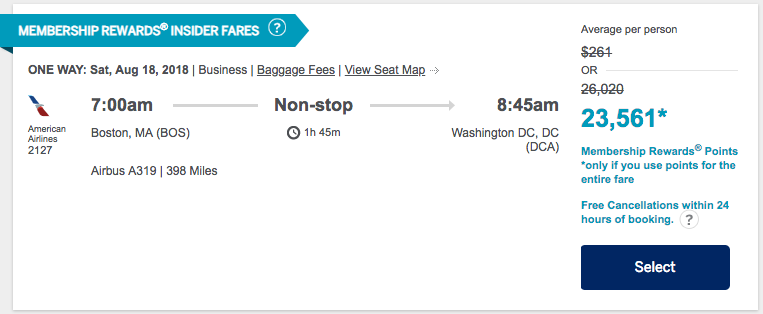 Determining the Value of Bank Points
To get the Insider Fares you need to pay entirely with Membership Rewards.
If you've got the Amex Business Platinum you'll get a 35% point rebate a couple of months after the booking if:
The flights are on the airline you've chosen for your $200 annual air travel credit
-or-
The flights are in Business/First Class on any carrier
Plus you'll earn miles for the flights.
Plus, if you have an Amex Personal Platinum card (any flavor) you'll earn 4x Membership Rewards for "paying" for the flights.
So we you choose the JetBlue flights we'll get a $119 flight for 11,820 MRs. After 35% rebate that's 7,283. We'll earn 3 JetBlue points per dollar so that's 357 JetBlue points (which I'd say are worth $5). We'll earn 476 MRs for the 4x on the Personal Platinum. So $124 in value for 7,283 Membership Rewards = 1.7 cents per point of value
If we choose the AA Business Class flights we'll get $261 flight for 23,561 MRs. After 35% rebate that's 15,314. We'll earn 5 AA miles per dollar so that's 1,305 AA miles (which I'd say are worth $13). We'll earn 944 MRs for the 4x on the Personal Platinum. So $274 in value for 14,370 Membership Rewards = 1.9 cents per point of value
The AA Business Class fares offer slightly better cent per point value due to Insider Fares being available for those flights.
Netting it Out
Either of these bank point options are better than using traditional airline miles since award availability is poor. And in my experience: It's almost always poor.
Using bank points enables us to make reasonable trade-offs on flight times, class of service and carrier. Using airline miles is too "hyperactive" – either we hit the jackpot and find saver level availability or we have terrible value with AAnytime fares.
You can "goose" the value of Amex Membership Rewards if you carry a Business Platinum ($450 annual fee) and the Personal Platinum ($550 annual fee). These fees can cut into the value you're getting out of your points, but hopefully you're redeeming points while in the first year of cardmembership -or- you've gotten a good retention bonus and whittled down the annual fee with benefits like the $200 per calendar year air travel credit.
For our actual travel dates, the JetBlue flights weren't as affordable as the dates in the example above so we went with AA Business Class both ways.
Bank points are great for airfare, especially domestically. Internationally, we saw recently that bank points were also a great option – but by transferring them 1:1 to a partner airline. Bank points are also great for "in-between" destinations like the Caribbean.
Keep this in mind when deciding which currencies to collect depending on your typical/upcoming travel plans.