I was doing some award searches for our February 2019 school break and found a surprising amount of Saver Level award availability for four people from Boston-LAX in First Class: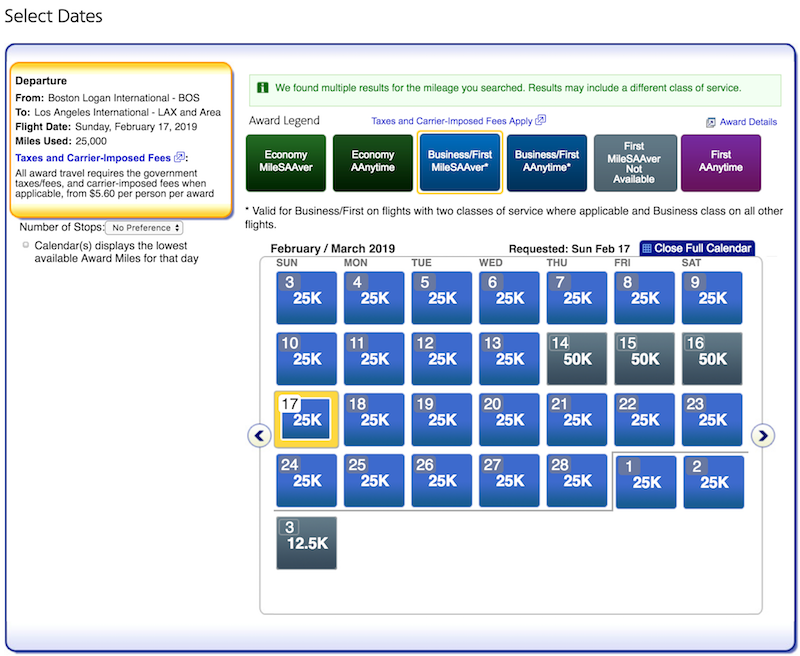 If I narrow the search to include just non-stops there was still pretty good availability for four. So I booked the morning outbound for 100,000 AA miles total for four of us + ~$20 taxes and fees.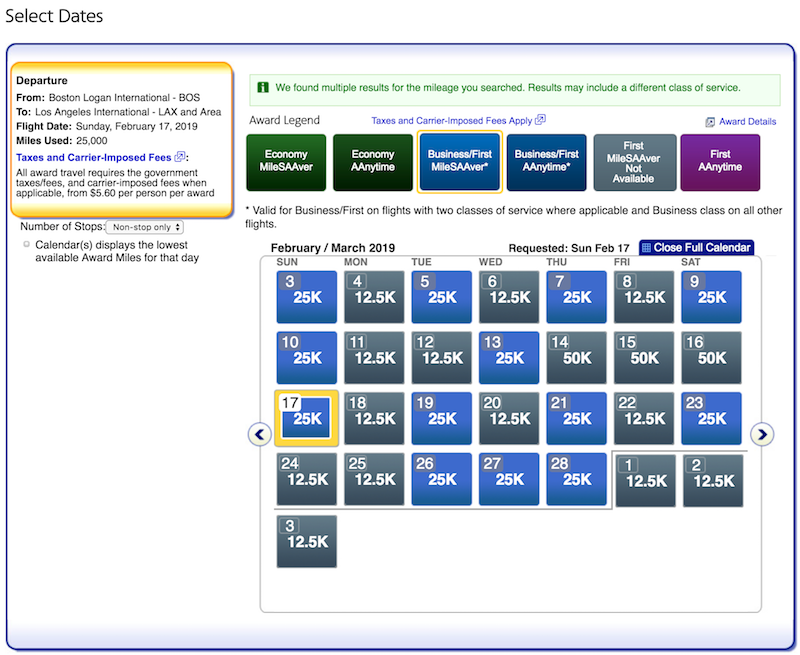 I realize it can be annoying when someone says award availability is "wide open" on a certain route. Or that a certain airline is "working hard" at improving award availability. What's so hard about it? Just open it up. All that matters is whether there's space available for the flights you want using currencies you have.
But seeing improved AA saver level availability for a transcontinental route during a school break is an encouraging sign. Especially out of Boston that's poorly served by AA.
Maybe give an AA award search a try if you've given up at this point?
Peak Vacation Demand
Before booking this I was considering a trip to Orlando. Just like everyone else in New England evidently.
Prices were sky-high, especially for the days right around school break. Direct flights in Economy were over $500 per person one-way.
I've monitored prices for BOS-MCO around this break the past couple years. I even made a bet with @asthejoeflies whether prices would drop closer to the dates of travel. They did but not enough to make them a good deal. The price drops came about a month prior to travel which is a little too close for comfort. I prefer to have things buttoned up ahead of time if possible. I ended up shifting our travel dates just a bit to take the edge off.
Return Flights
Award availability looks good on the return flights, but not on the exact dates I'm looking for as of yet.
I'll keep an eye on it, but this is shaping up like our trip to California this past April where the whole thing was kicked off by award availability on the outbound. We flew Virgin America First for 25,000 pp one-way when Alaska was making those flights widely available. Unfortunately, they "fixed that for us": Those flights price out at 70,000 Alaska miles per person one-way in First now.
The BOS-LAX route is served by many carriers though, so I'm not worried. Between a healthy stash of bank points and so many flight options I'm sure we'll find something.
Giving up on Miles?
It's been a very long time since I've redeemed an AA mile. So long in fact that I realized we don't have a Citi AA Platinum card for the 10% rebate on award redemptions each year (capped at 10,000 miles for 100,000 miles redeemed). Oh well, they've stopped being generous on retention bonuses on that card so they had to go.
Bank points have been better for flights than traditional airline miles domestically for me lately. Even to the Caribbean.
Flights in Economy on this route were around $400 pp one-way, and First was closer to $700 pp one-way. For 25,000 AA miles in First (that I've had a hard time using) it was a solid redemption. Especially for a direct flight at good time around school vacation.
It can be tempting to burn airline miles for non-Saver Level awards, but I think it's important to hold them for a respectable redemption.
Asia is always on our list but hasn't worked out yet. Between AA and Alaska we've still got enough miles to fund that, so I don't feel like we've burned a scarce resource.
Bottom Line: AA Saver Level Award Availability may be improving
American Airlines Saver Level award availability appears to be improving. At least for the transcontinental routes I searched across a few months out of Boston.
Give them a second look if you've given up.
Have you seen Saver Level award availability on AA improving lately in your searches?