Welcome to another edition of Shop Talk where we discuss what's going on in our personal points & miles space and highlight what we think is interesting in the broader space as well. This is the kind of "Shop Talk" many of you are engaged in on a daily basis, so feel free to discuss with us in the comments section.
Note: This post is not in any way sponsored by any of the companies mentioned below, this is just all in good fun.
Robert: It feels like there's been a lot going on lately…
I think the Plastiq/Masterpass promo will go down as being the deal of the year. Nice sleuthing triangulating the end date of that promo. Until then: Click click click. In the end, I'll only regret the bills I didn't pay.
We talked about the CNB Crystal Infinite 50,000 bonus. You joked that if you applied it would bump back up to 100,000. I applied (and was approved) and it bumped up to 75,000. I tried for a match but was denied. Oh well. It's still a great card with as much if not more value over the long term. The $250 air travel incidental credits that each authorized user gets each calendar year for example. It might be challenging to find bona fide authorized users since they have to be 15 year or older, but still. I'd encourage people to check out your post on it for more info.
I had a good time researching Hawaiian's program and their new Boston to Honolulu route. I added quite a bit more info after publishing it initially so I'd encourage people to revisit the post "in case they missed it" as they say, especially if long-haul routes on Hawaiian (out of JFK and BOS) would be useful to them.
Finally, more bad news for #ChaseFan. Looks like Chase is blocking Disney redemptions. It's truly bizarre and I hope it's a temporary outage possibly related to their move to Expedia. My latest theory is that they don't get commission on certain types of Disney redemptions. Like say for example Park Tickets. So, it was rather costly for them to let people redeem their Ultimate Rewards with 1.5 cpp uplift on something they don't get any commision on. But I'm not sure that holds water. They don't get commission on an air travel booking do they? It rasies a question in my mind about why so many rewards programs incentivize redemptions for travel in the first place. Anyway, bumping it up a level of abstraction: What other redemptions might they block?
What's caught your attention lately, Sam?
Sam:  I've said it before that I'm not much of a Disney fan–but that one doesn't make a whole lot of sense to me outside the temporary outage angle.
I've been working on clearing my backlog of cards from last weeks' MCGC sale at Office Depot/Office Max.  I'm finally done, and dangerously close to never wanting to see Plastiq again when this promo is over.
Other than that, there's not much else going on with me.  My OBC year resets next week, so I'll be back on that treadmill for a while.  I also took an offer to upgrade Blue Cash everyday to a Blue Cash Preferred for $250.  Amex does seem to be crushing it lately, at least for me.
I was thinking we could mix it up a bit this week on Shop Talk. Rather than a boring discussion of how to earn miles points and cashback, what if we get into a little discussion of what we enjoy besides earning points and miles? Call it 'better know your bloggers,' that kind of has a nice ring to it. No?
Something I'd like to share about myself is that I'm a big fan of Cost Plus World Market. Call it a guilty pleasure, but that store has furnished my home, stocks my wife's favorite wine, and has snacks and gifts that you won't find anywhere else.  I know we're not supposed to be talking about points and miles… but….
I'm excited that they've started to partner with a second in-store cash back app–Retail Me Not.  I'm becoming a fan of in-store cash back apps–they're a great way for me to earn extra money back on things I was going to buy anyway.  Take this offer for example: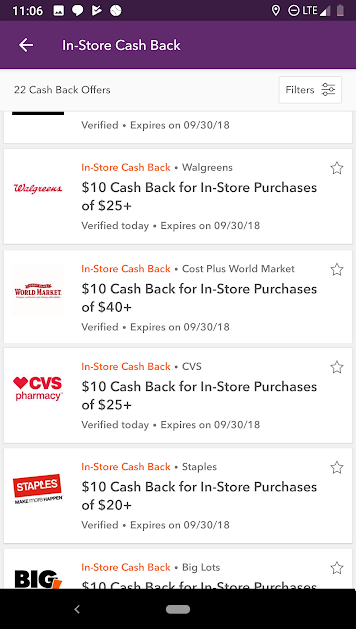 I know what you're thinking… no way, $10 back on each purchase at Cost Plus. What's the catch? Well the catch is they exclude gift card purchases, or they say they do. They don't seem to have a good way to know when I'm buying a $40 gift card for a friend's birthday and when I'm stocking up on Original New York Seltzer or Biscoff Cookie Butter in bulk.
This kind of additional revenue from these purchases isn't going to make me rich, but it does cover the extra fees that get tacked onto my Cost Plus Gift Card and Seltzer purchases.  And if I'm going to be buying these things anyway, why not get a little extra over and above my CC Cash back/Miles?
How about you Robert? Any little tidbits about yourself you think readers might enjoy hearing about? I know I said we won't talk about about in-store cash back apps, but seeing as how I already broke that rule maybe you should be allowed to as well, if you wanted to, of course.
Robert: This isn't the first time you've mentioned that cookie butter. I've got to try some of that soon.
I'm not sure if you caught that Top 50 Fast Food Item list from The Ringer from a while back. In the Top 10 they got one item very right and [for me] one item very wrong. The Dairy Queen Blizzard at Number 7 is a fantastic treat. The McFlurry at Number 9 is a horrible imitation.
Anyway, I bumped into an accidental passive cashback gem recently. 1% back at Dairy Queen! And it's Pumpkin Pie Blizzard month don't you know?
This was through the Pei app. There's a waitlist to join at the moment. I signed up a couple months ago and got it like a month later.
It runs on the same Empyr network as the RetailMeNot app, so there is definitely a potential for "interferece" between the two. Mogl, Dosh, Yelp, and Spent are on the same network. I'd recommend associating each credit card with only one of these Empyr apps, and make it the most valuable one for each merchant.
But check out Pei. There are some terrific retailers included.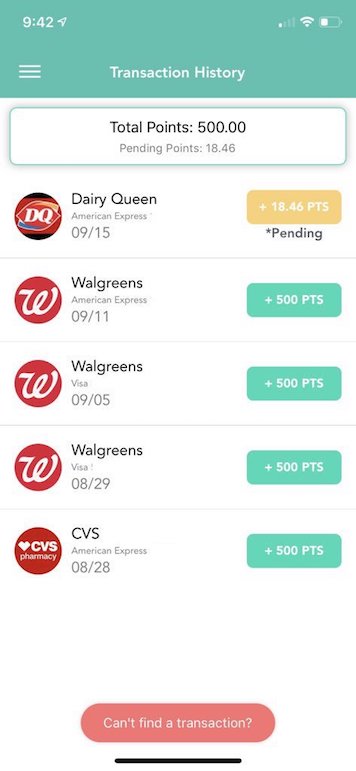 Sam:  You're right, I have mentioned that cookie butter elsewhere, on a small time blog.
How funny about you bringing up both Pei and Dairy Queen. Very small world, I too am working Pei, but I hadn't yet seen Dairy Queen on the Pei list.  And speaking of blizzards (Blended Vanilla soft serve and other goodies), fun fact #3: I think it has been 10, or even 15 years since I last had a DQ Blizzard.  But I am very much a fan of buying anything Vanilla.  With 1% cash back on any and all purchases there I should really put the app to good use.
Prior to this I was struggling with Pei, the app was just terrible, on par with an alpha build.  The app has come a long way, and I think it is at a point where I can recommend readers play with it.  It's nowhere near as bad as it was even just a few weeks ago (on android at least, it seems to have been more stable on iOS from day 1). And the idea of cash back on Vanilla, well that's just icing on the cake.
One thing to note: If you're going to be buying DQ Blizzards for the entire office the maximum cash back you can earn in a transaction is $5.  So any purchases over $500 you need to either consider  splitting up, or just realize that on a $2000+ purchase you're effectively earning only .25% cash back.  If Retail Me Not had DQ on their list of offers it might be a better fit for most since the flat amount on Retail Me Not is usually higher than the capped amount on Pei.
But choice is good. I think it is important for everyone to consider the store they're using the offers at, the purchase amount and the cash back as well.  I also would recommend if you're looking at using both apps to keep cards separate among the two apps.  For Amex cards this means adding yourself or spouse as an AU, which will generate a new card number.
For Visa/MC this is a little tougher–and you'll have to dynamically juggle the cards you add, or keep one card on one app and a second (maybe a spouse's unique card) on the other.
I thought today's post would end up just being a little about us–and here it turned into some cool advice on how to earn extra cash back on Ice Cream purchases.  Just goes to show, there's miles and points everywhere you look…
—
That's a wrap on this week's edition of Shop Talk, Better Know Your Bloggers edition.  We hope you learned a few interesting facts here.  Continue the discussion with us, either in the comments below, or on twitter, @Milenomics and @RobertDwyer.