Update: Looks like they've stopped allowing Hilton accounts to be linked and the option to pay with Hilton points is currently unavailable.
Most likely dead, but it may come back to life.
Update 2: Looks like the option to pay with Hilton points is back online at $0.002.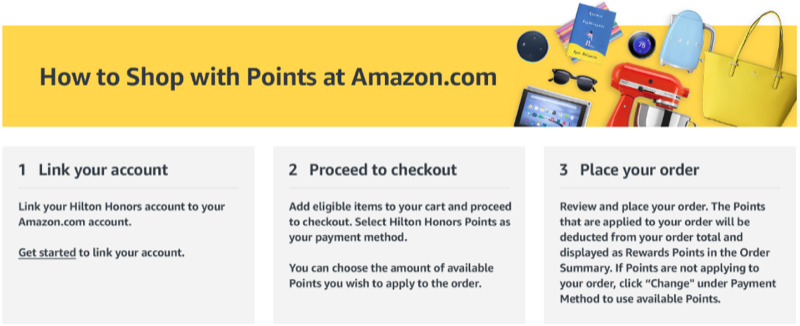 reddit user mohamedsharif7 noticed that Amazon has increased the value of Hilton points from $0.002 to $0.005 when redeeming for merchandise and gift cards on Amazon.com:

This is odd because the stated per point value on the program description page is $1/500 points which is $0.002 per point of value:

…and Hilton was just recently selling their points for $0.005 a piece.
Interesting Opportunities
It makes each of the heightened Amex Hilton card signups worth money towards Amazon -or- cash if you buy then resell Amazon GCs. For example:
Amex Hilton no-fee 100,000 = $500 Amazon credit = $470 if sold at 94% of face
Amex Hilton Ascend 150,000 = $750 Amazon credit = $705 if sold at 94% of face
Amex Hilton Aspire 150,000 = $750 Amazon credit = $705 if sold at 94% of face
Amex Hiton Business 125,000 = $625 Amazon credit = $587.50 if sold at 94% of face
I wouldn't count on being able to apply for these cards, get the bonus, then cash them out this way.
But if you've been sitting on a big pile of Hilton points looking for opportunities to get a half a cent of value per point or better this could be a good way to cash them out.
Hilton Amazon: How To Link and Make Purchases with Points
Go to Amazon.com and search "Hilton"
Click on the link "Shop with Points"
That should take you to this page where you can then link your Hilton account to your Amazon account (affiliate link)
Shop for merchandise -or- Amazon eGCs (you can send to yourself)
Proceed to Checkout
Click "Change" on the Payment Type then scroll down to points from your Hilton account as a payment method
Make sure you're seeing $0.005 cents per point of value not $0.002
Complete order and the points should be deducted from your Hilton account and Amazon eGCs should be delivered within 5 minutes.
T&Cs
It looks to me like Amazon gift cards are not excluded, though reloading your balance directly is excluded.
What can I buy with Points?

With your Hilton Honors Points, you can buy millions of products at Amazon.com. At this time you cannot use points for certain purchases at Amazon.com including Amazon Kindle downloads, digital music, Amazon video titles, Amazon Appstore apps, AmazonFresh items, Subscribe and Save items, Prime memberships (with the exception of Prime Gift memberships), Pre-order items, Textbook rentals, Amazon Allowance or to Reload your balance (Gift Cards). Please note that currently you may not be able to use a one-click option to purchase products using your points.
My Experience
I placed an order for a $100 Amazon GC, paying with 20,000 Hilton points. That sailed through and was fulfilled in 5 minutes.
I placed a second order for a $500 Amazon GC, paying with 100,000 Hilton points. That's not been fulfilled yet. I'll update this post as my orders get fulfilled or cancelled. It doesn't help that Hilton's site has been down for maintenance this week in general.
Update: Orders were fulfilled. But now when I go to pay with Hilton points for future orders it says "Shop with Points currently unavailable".
Bottom Line
I think this is a tremendous way to cash out Hilton points, and a great way to realize big cash signup bonuses for what would otherwise be restricted to Hilton hotel stays.
Here's hoping it's not a glitch and will remain in place for a while.
Are you taking advantage of this opportunity? How are you playing it?