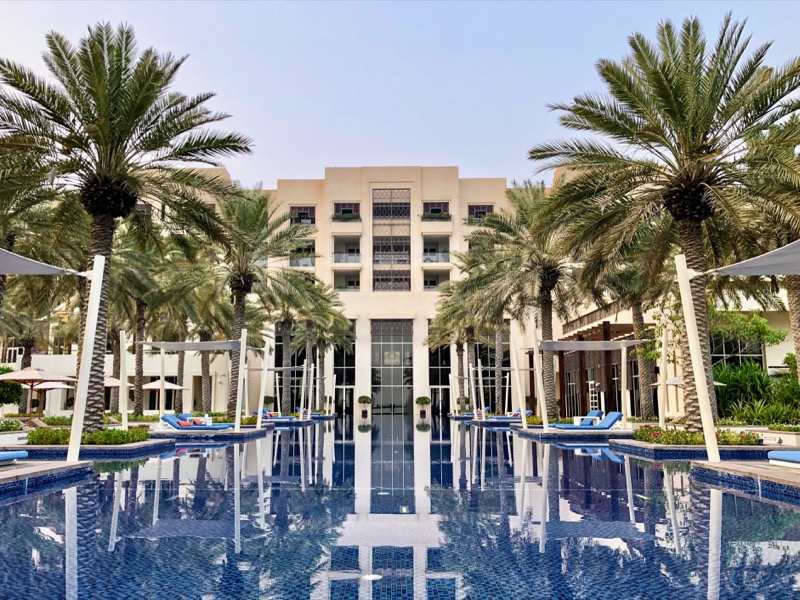 On our way back from Thailand we were transiting through AUH on a stopover between midnight and 10:30a. Rather than get a place in or near the airport I wanted to check out the Park Hyatt Abu Dhabi.
The hotel opened in 2011 and has 306 rooms, suites and villas in a resort setting on the Saadiyat Island development on the Arabian Sea.
After our terrific stay at the Park Hyatt Bangkok we were looking forward to checking out another Park Hyatt property. They've really been impressing us lately.
Booking
The Park Hyatt Abu Dhabi is a Hyatt Category 6 so it's 25,000 points/nt for a standard room. Room rates were low for this August stay so I booked a cash rate of $179 USD/nt. With tax it came to $210 USD/nt.
Tip: If your room rate drops after booking, ping @HyattConcierge on Twitter for a rate adjustment, even if it's within the 48 hour cancellation window. I did so and they were happy to make a ~10% rate adjustment.
Additional Tip: For paid Park Hyatt stays, consider booking through a Hyatt Prive travel agent. If you don't have Globalist this will add perks like free breakfast for 2, a room upgrade at the time of booking and a $100 property credit. Our stay was so short I didn't bother, but if I could have used the property credit I would have booked through a Prive agent. Even with Globalist status, layering on Prive can add value.
Location: Uber Pick-up from AUH Airport
The hotel is about 30 minutes by car from the AUH aiport.
As of August 2019, Uber works for pick-up from the AUH airport. Only Uber "Select" is available so it's a little more expensive than regular Uber Black.
It cost us $30-$35 for the ride, in a Lexus ES 300 in both directions. Pick-up was easy, with a rideshare area on the curb right outside baggage claim.
Globalist Recognition
Check-in couldn't have been better. Arriving after midnight, the hotel was quiet and we were tired. The personable desk agent greeted me, thanked me for my loyalty and noted my preference for a room on a high floor near the elevator and upgraded us to a Diplomat Suite.
I was saying on our podcast recently how this is exactly what I'm looking for from hotel status. Putting it bluntly, I want to book the cheapest room in the joint and get upgraded to a gonzo suite. I also want a generous high quality complimentary breakfast. It rarely works that way, but when it does – it's usually at a Hyatt.
See: Podcast Episode 31: The Hotel Loyalty Status Trap
Room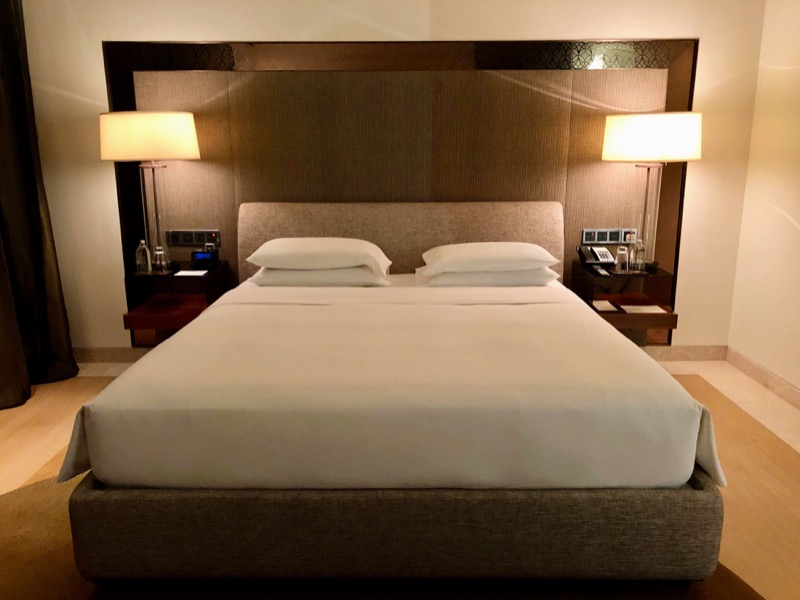 I don't even see the Diplomat Suite on their website, but I'd estimate it was 1,200 SF. It included:
A separate bedroom with King Bed
1.5 bathrooms
3 balconies
A living room
A kitchen
A dining room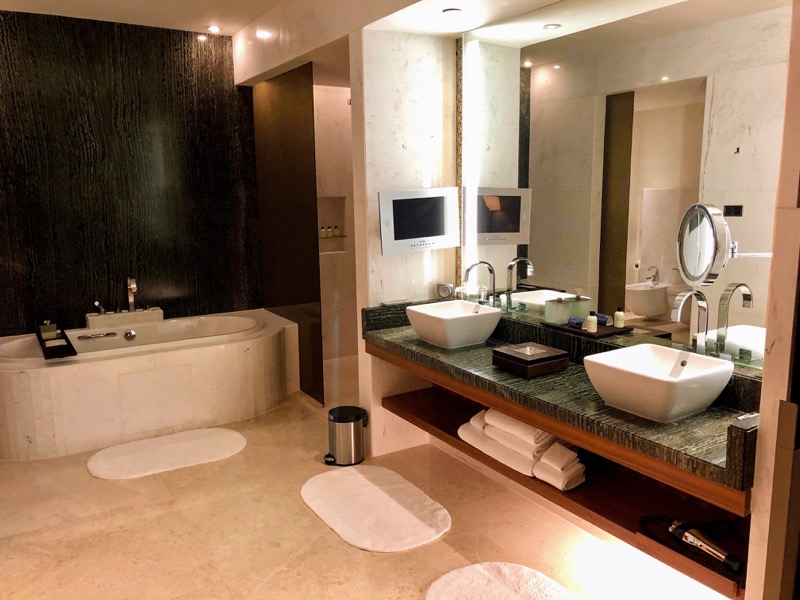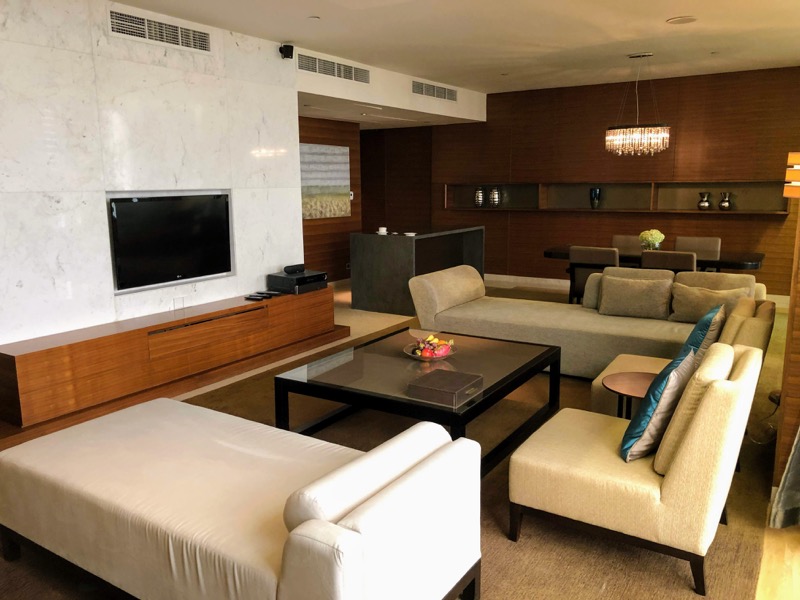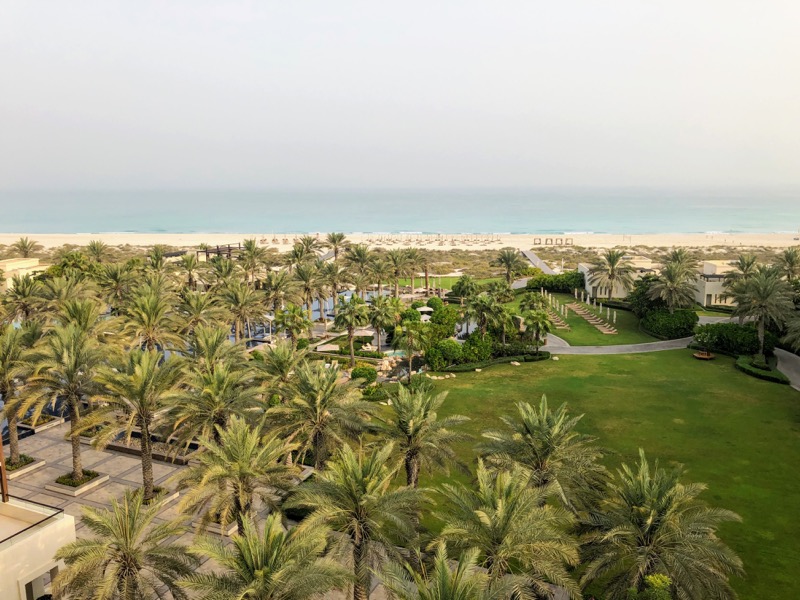 It was absolutely more space than we needed for what would be an 8 hour stay, but it's fun to check out a room like this for future reference.
I was a bit concerned that it wouldn't be worth leaving the airport, taking a car, and checking into a hotel. But it turned out to be a very rejuvenating experience.
Property
The pool area is large with multiple pools, lounge areas and a beach bar & grill. It opens at 6a so we poked around and had a look. The temperature was in the 90Fs with high humidity so even at that early hour it was steamy.
The space looked very nice though. Obviously from the pictures very resort-like. I could see a model like this playing well at a location in Florida. Hint-hint Hyatt.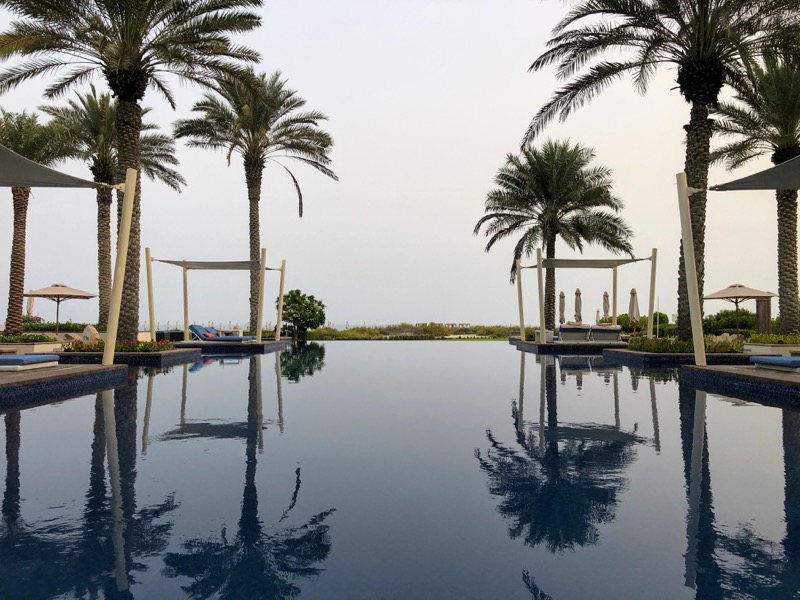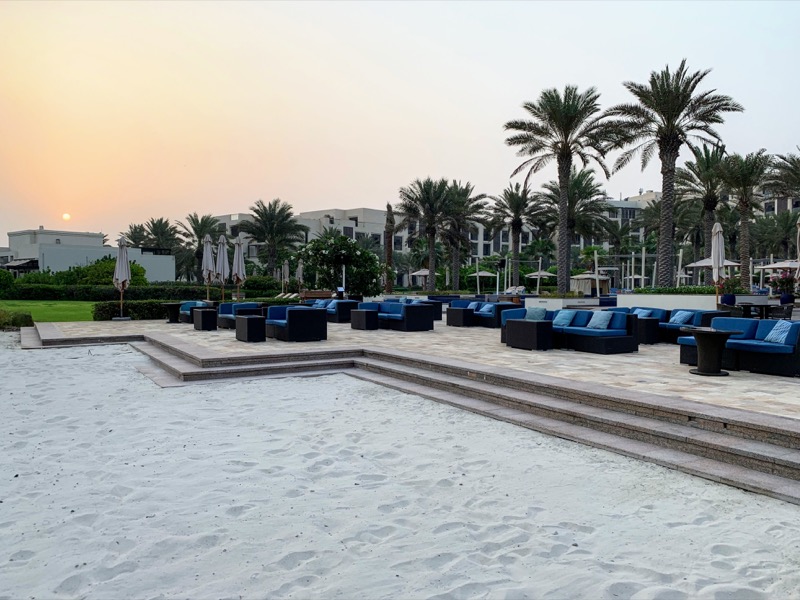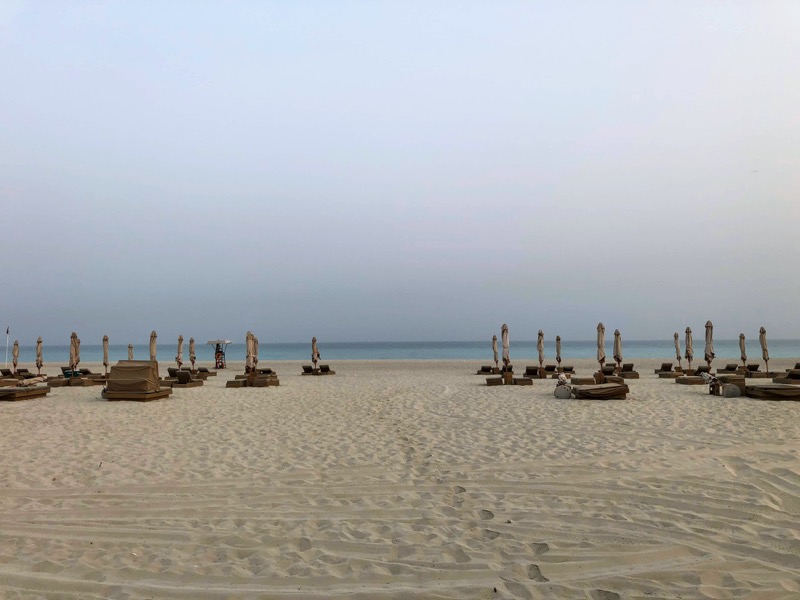 Breakfast
Park Hyatts do breakfast incredibly well in my experience, and the Park Hyatt Abu Dhabi is no exception. Since they don't have a lounge, a full breakfast is complimentary for Hyatt Globalists. During check-in I was told that we could optionally take breakfast as in-room dining instead.
I thought the buffet was outstanding with terrific local and international options.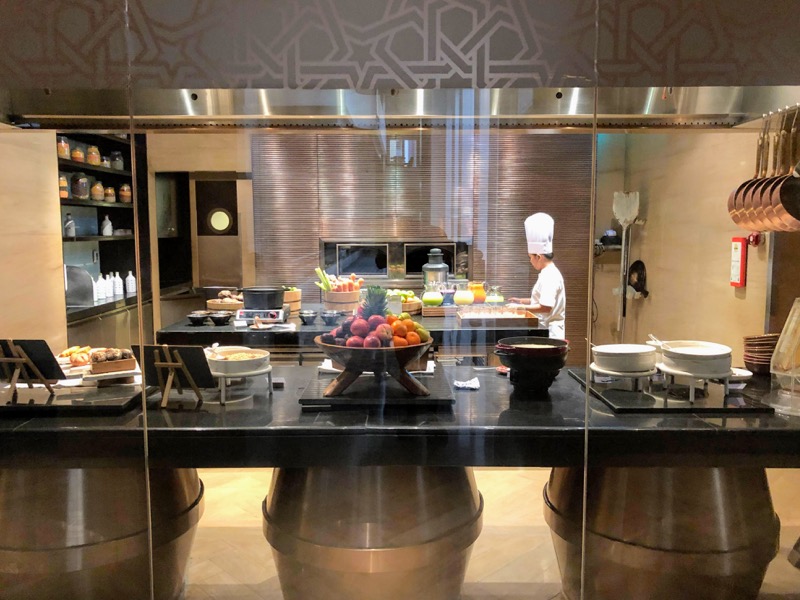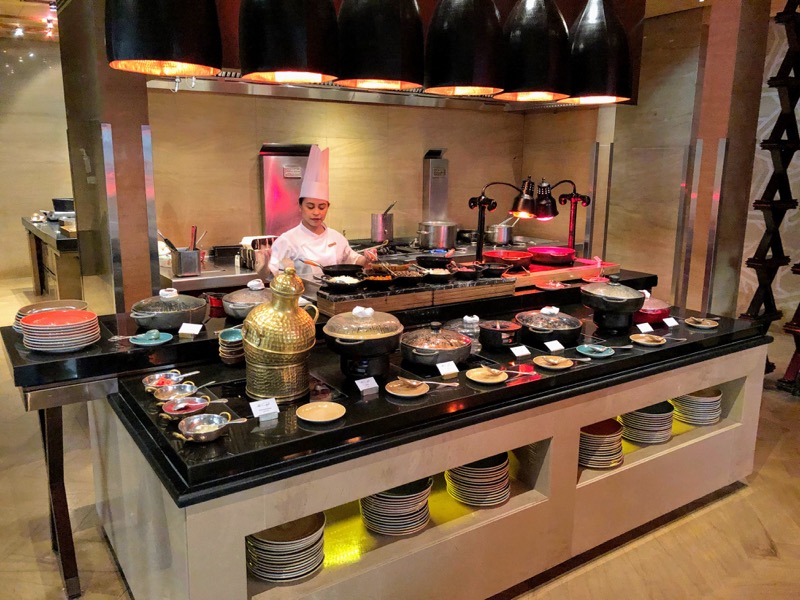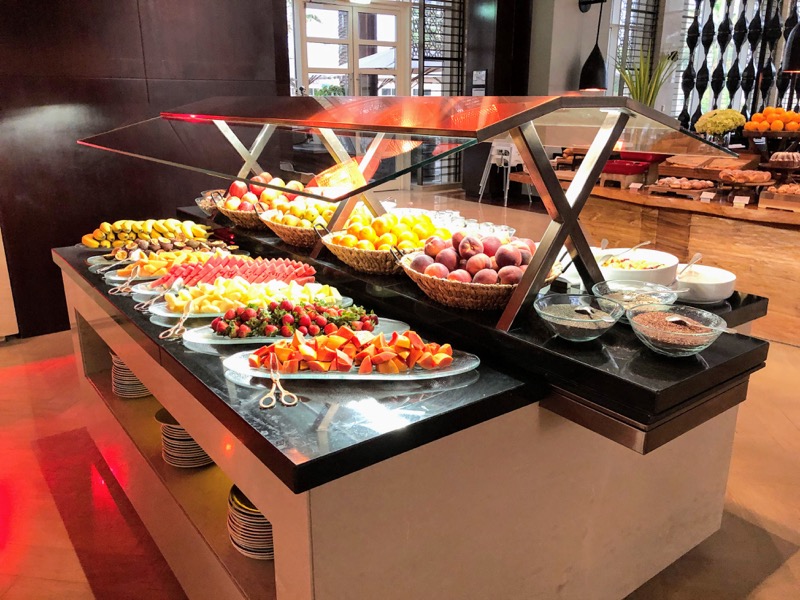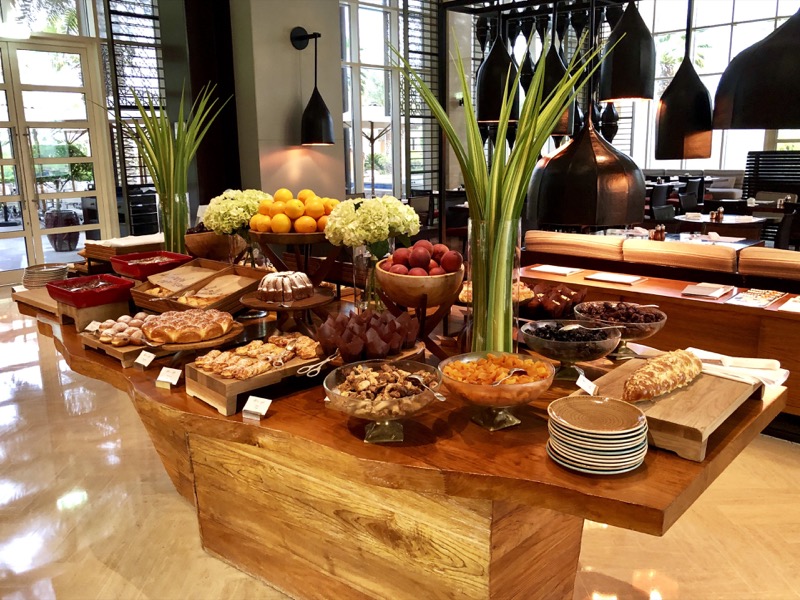 Park Hyatt Abu Dhabi: Bottom Line
This was another great stay at a Park Hyatt. Like I said in my review of the Park Hyatt Bangkok, Park Hyatt has gone from being a good points hotel in my mind to good hotel period. The quality of their newer properties along with their outstanding food & beverage program has me seeking out more situations to stay at Park Hyatts.
See: Current and Upcoming Park Hyatt Locations
Unfortunately, there are only 5 Park Hyatts in North America (with Los Angeles and Toronto coming soon). Most of their new locations lately have been in Asia, specifically China.
The world could use more Park Hyatts. The following combination of attributes is hard to beat:
Hyatt's favorable award chart
The ability to earn Chase URs through bonused credit card spend and transfer them to Hyatt 1:1
Luxury properties that compete with the best hotels in locations they serve
Generous Globalist recognition especially at their top hotels
The ability to stack Hyatt Prive benefits on cash stays
Their Guest of Honor program
What are some of your favorite Park Hyatt locations in the world?