I ended up going down quite a rabbit hole recently while trying to figure out the best way of booking an award for travel on Etihad – using their miles or that of a partner airline like AA.
I was exploring options from Boston -or- New York to Southeast Asia and ultimately decided on Phuket, Thailand (HKT) based on recommendations from friends who have explored the region. I've never been to Asia, nor anywhere "on the other side of the globe", so the routing options seemed infinite to me.
Figuring out how to book flights I'd be enthusiastic about taking has proven to be a fascinating puzzle.
Want: One-stop to Phuket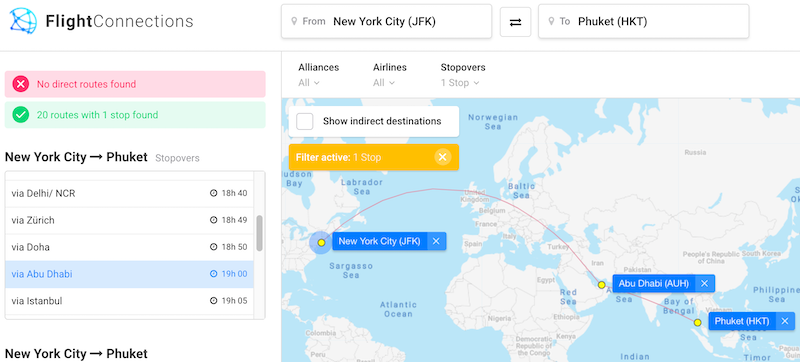 I started my journey using FlightConnections.com to get a feel for the options. I was surprised to find 20 different routes with just 1 stop to Phuket. Flight times are about the same whether going west with a stop somewhere in Asia -or- east with a stop in Europe or the Middle East.
I could write entire posts about some of the tangents I went off on wrestling with award availability on Cathay Pacific, Thai Airways, and more. But for this post I'd like to focus on booking flights on Etihad metal, and continuing on to Asia on a single award ticket.
Checking award availability on Etihad Guest
I started with a Google search on the subject and found this post…
See: Best Ways To Book Etihad First Class Using Points [Step-by-Step]
I created an Etihad Guest account and started performing searches. Sure enough, no availability appeared when I searched JFK-AUH on Etihad Guest: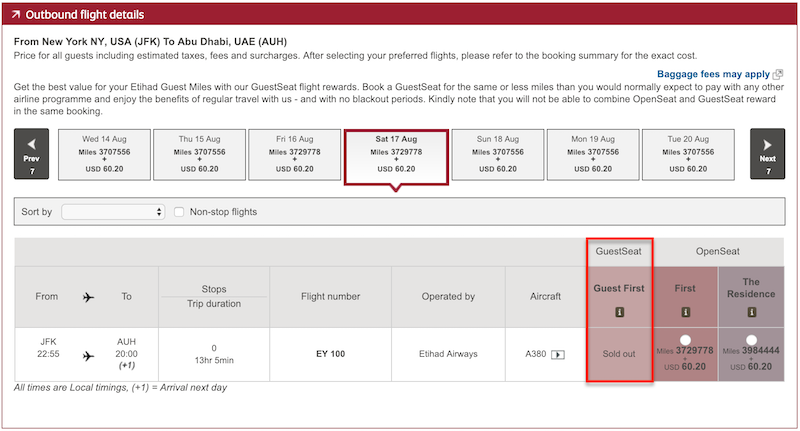 Some of the posts I stumbled upon said "try checking availability as a roundtrip with AUH as your origin".
Sure enough, when I search AUH-JFK-AUH space appeared for 2 in First from JFK-AUH. I felt so clever!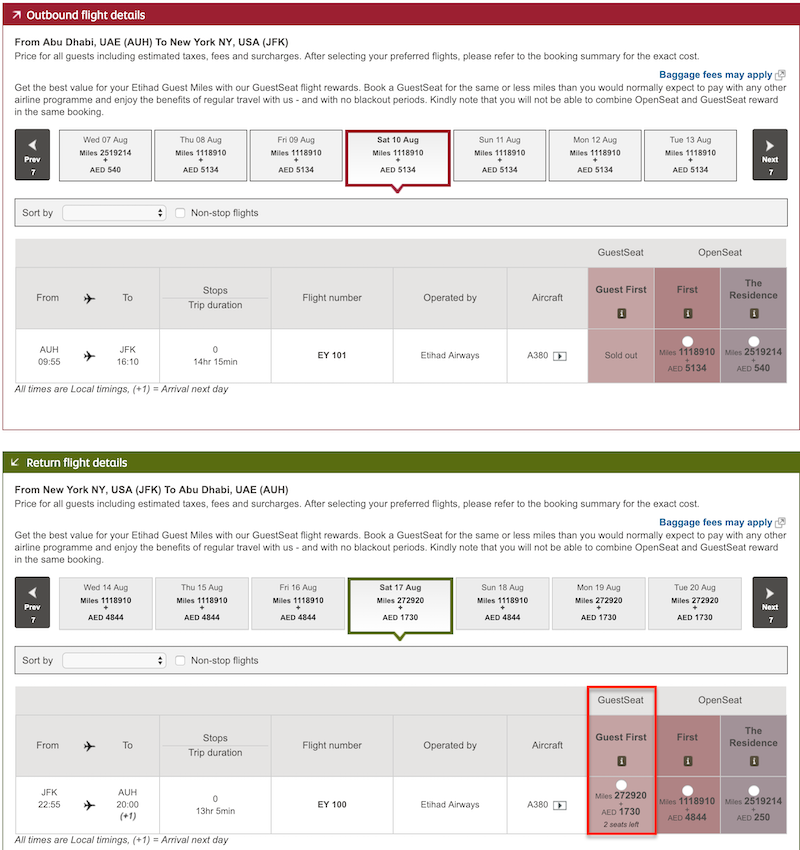 [Not] Booking the award with Etihad
When I saw the award availability for JFK-AUH I called Etihad Guest to see if they could see the availability if booked as a one-way departing JFK. The agent performed the search, and just like me – he could only see it if booked as a roundtrip originating in AUH.
I thought for sure he'd be able to flatten the issue but he couldn't. It could only be booked as part of a round-trip, and maddeningly even if I was willing to fly it as a roundtrip the award space didn't appear if searching with JFK as the origin.
Trying to book the award with AA
I called the regular US-based AA award desk and they couldn't see the space booked as a one-way JFK-AUH.
I read some blog posts that suggest calling AA's call center in Fiji. AA doesn't have a call center in Fiji (anymore?) so I called their call center in Australia as Spencer suggested in his post. And I leaned heavily on him for moral support on Twitter via Direct Message throughout this exploration. Many thanks to him for that.
I've got a Google Pixel phone with Google Fi service from that promotion they ran late last year. So I made the call for $0.01 per minute with WiFi calling as advised by Becky in this post.
Sam had to help me figure out how to dial Australia. The number listed on AA's site is 02-9101-1948. The country code for Australia is +61. So to call that number you press and hold "0" to get the "+", then 61. Then 02-9101-1948.
As you can see I was enlisting help from quite a few people, and I hadn't even come close to successfully completing the booking yet.
I got through to AA right away, but unfortunately the Australian rep couldn't see the space either.
Back to Etihad
I called Etihad again, mostly as a HUCA attempt – but I was thinking perhaps I could book it as a roundtrip (if I could find some random dates with outbound availability) then cancel the outbound portion within 24 hours.
This time I got a fantastic Etihad agent who knew her stuff. Although she too could see the return space if booked as a round-trip she couldn't as a one-way. I floated the idea of a "book and cancel" and she said that if she did that she'd need to release the space and catch it again so it was unlikely to bear fruit.
While I had her on the line, I asked a follow-on question: Why couldn't I see award space from JFK all the way to Phuket online even though I saw both segments available individually? She said that connections with layovers greater than 8 hours don't show online. If I wanted to book that I'd have to call.
Amex Membership Rewards and Citi ThankYou do transfer 1:1 to Etihad, but with fuel surcharges and all things considered I gave up.
Until the next day when I did a search (for different dates) on Etihad's site and found Business Class space available HKT-AUH and AUH-JFK.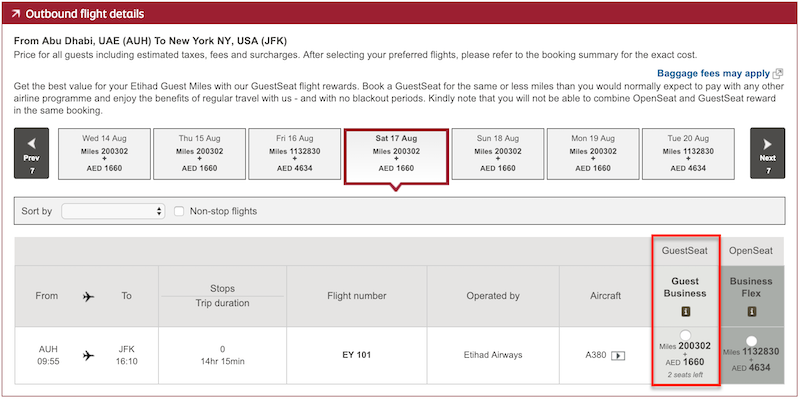 Placing the award on a 5-day hold with AA
I once again called AA's office in Australia and said I was looking for Phuket to JFK through Abu Dhabi in Business Class.
The agent readily found the space and placed the award on a 5 day hold. These holds can be quite handy while trying to piece together the rest of a trip.
Did I really need to call AA in Australia to see the space? Not sure, but it made me feel clever.
Booking the award with AA 4 days later
I fooled around with the outbound portion of our itinerary and got a feel for what options might become available. I'm confident I'll be able to piece something together but as of yet I don't see any great options.
When I called AA's regular US call center I got a very good agent who noticed the ticket was pricing out at 110,000 miles. She asked if I'd checked Cathay Pacific because that would only be 70,000 miles routed through Hong Kong. I'd checked, there wasn't availability on Cathay. But she checked again to confirm there wasn't space.
While I had her on the phone I asked about my options for changing the award later. Specifically, I was wondering what would happen if space opened on Cathay. She pointed out [correctly I believe] that AA charges change fees if you switch between a OneWorld carrier (Cathay) and a non-OneWorld carrier (Etihad) even if you maintain the origin and destination.
If I did that switch, I'd have the difference in miles refunded (110,000 – 70,000 = 40,000) plus change fees of either $150 x 2 or $150 + $25. It wasn't immediately clear which would be charged, but at any rate that is one option I might use.
The flights cost 110,000 AA miles + $51 USD per person one-way Phuket to JFK through Abu Dhabi in Etihad Business Class.
If space opens up in Etihad First AUH-JFK I could make that change without fees and pay the difference in miles: 115,000 – 70,000 = 45,000 miles per person for the AUH-JFK leg. That's getting to be a lot of miles (155,000 pp one-way Phuket to JFK) but their First Apartments are something I'd like to try. We'll see what develops on the outbound.
Bottom Line
It seems to me that seeing award space on Etihad Guest when booked as a round-trip is not a useful indicator of award availability. At least not that I could find.
I think the play here is booking flights you'd be happy to take (Etihad Business Class) with the potential of an even better upgrade option developing later (First Apartments AUH-JFK) that you can switch to without change fees.
I could have booked the entire round-trip in Business Class on Etihad for $3,300 pp one-way using bank points but I'd lose out on the option of booking Etihad First later if space opens up. Plus, I'd like to try Cathay or Thai on the outbound if possible.
I was surprised how complicated this one routing option (out of 20!) was. I was thinking about trying an award booking service a couple of times along the way, but it got me to thinking: What if an award booking service looked at the award availability shown on Etihad's site and said "call AA Australia – you should be all set!"? It was more complicated than that by a long shot.
Overall it was an interesting learning expedition. I learned a lot. The sheer number of options available when getting to the other side of the globe is wild.
It also seems like the games you have to play when looking for award space is constantly changing:
The patterns of when space gets released
How to reliably search for award space using the airline's miles vs partner miles
How to actually perform the booking
Understanding change fees when seeking to "improve your lie"
I feel like next time I look at this in a year or two things will have changed again. But I'll be better off for it having gone through the rigmarole myself rather than farming it out to an award booking service.
I'm definitely not a DIY kind of guy around the house, but I like tinkering with this kind of stuff. It's a fun puzzle. In the end we humans end up doing the things we like to do.
I'll follow-up in a separate post when I book the outbound.
Any tips you'd like to share [for me or others] that would make this kind of booking easier or better next time?