It's been a wild week as the threat of Coronavirus has expanded, causing the need for more travel cancellations.
Earlier in the week I cancelled a trip to Italy, and more recently a trip to Washington DC. I thought I'd share my experiences here in case they mirror situations you might be facing, and to open up the comments for any tips you might like to share.
Cancelling Award Travel: Who do you even contact?
When you've booked directly with an airline or hotel, it's pretty clear who to contact. You contact the travel provider directly. But how do you contact them? Online? Via chat? Over the phone? Via Twitter Direct Message? It depends.
Like we were discussing on our podcast recently, policies are changing rapidly and human customer service reps are often able to make judgement calls that arent codified in public policies. So my approach has been to try online first, and when that fails to provide the desired out come to contact them via whatever channel takes the least amount of time.
Read: Avoiding Fees When Cancelling Award Travel Due To Coronavirus
When it's award travel, travel booked using bank points, or an online travel agency – it's not always clear who to contact. The answer, I think, depends on what you're asking for.
If you're looking for an outright refund, I think you need to contact the entity you made your booking with. If you're looking to change the booking, and can accept that the value of your ticket might be tied up in an airline travel bank it can be better to contact an airline directly. There are many permutations and combinations here – please share your experiences in the comments.
Like we were discussing in the a recent podcast episode, almost everything is negotiable in these cases. And it helps to have a firm grasp on what exactly you're asking for.
Listen: Negotiating Coronavirus Change Waivers
Hyatt Hotel Booked through Amex Fine Hotels & Resorts
Let's get into some specific examples from recent cancellations.
I wanted to cancel an upcoming reservation for the Park Hyatt Washington DC 24 hours before arrival. I booked it through Amex Fine Hotels & Resorts (for complimentary breakfast and a $100 property credit) so I went online to explore cancellation options through Amex.
I booked it as a prepaid but refundable rate (for 5x Amex MRs). I was inside of the stated cancellation policy so the site said they "might" charge a cancellation fee equal to the first night. Indeed, when I proceeded with the cancellation they did charge me a fee.
I called Amex and waited only 2 minutes on hold. The Amex rep then called the Park Hyatt Washington DC. They agreed to waive the cancellation fee.
Kudos to Amex for having the staffing to deal with this, and to Hyatt for their lenient policies as well.

Delta Domestic Flight Booked with Amex Membership Rewards
This one proved to be the most challenging of the bunch, and I'm still working on it. I initially called Amex to explore my options since:
Amex was the company I purchased the ticket from (I paid with Membership Rewards)
I'd prefer an outright refund over an expiring travel credit if possible
I had a good experience with them when cancelling my Hyatt stay
However, I couldn't get through to Amex's flight cancellation customer service after a lengthy hold.
So I stepped back and thought about my options and concluded that Delta's current published policy was acceptable to me. I booked before March 1st, but I should be able to cancel without fee.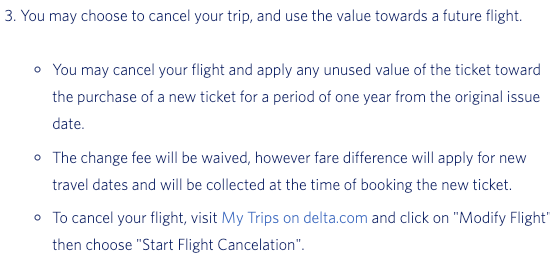 So I went about pursuing a cancellation online. The interface was a little unclear to me but I ended up cancelling the tickets and incurring a $235 per person cancellation fee: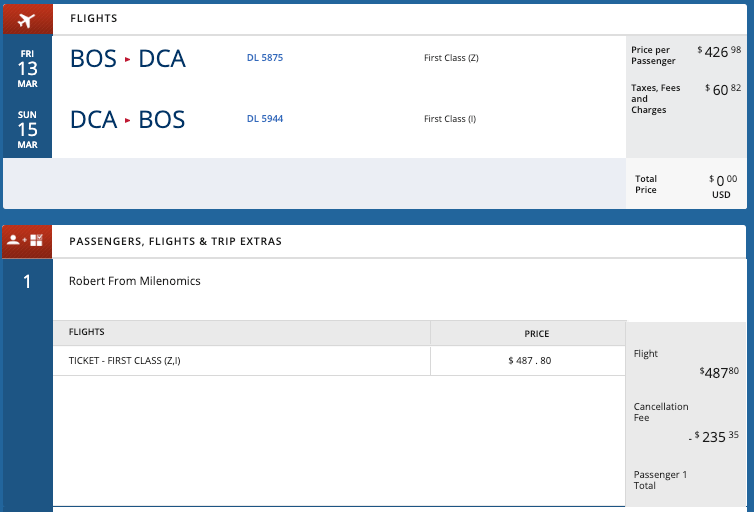 I wanted to be sure to cancel before the flight departed. I figured I could always patch up any fees they might charge me later. Sort of an "ask for forgiveness rather than permission" approach.
I wasn't sure how Delta manages these kinds of travel credits, but if I go to "My Delta" -> "My Wallet" -> "Credits and Certificates" it shows an Unused eTicket for what appears to be the value of the ticket less a $200 Cancellation Fee.

I think I'll be able to reverse the Cancellation Fee. Their call center isn't taking calls at all at the moment, but I've got a Twitter DM into them.
Update: I checked the eTicket later in the day and the value changed to be the full value of the ticket with Cancellation Fees no longer deducted.
VRBO in Italy
This was the easiest of the bunch. Not necessarily because of any Coronavirus specific waivers, but because the cancellation terms of this particular property were generous.
I haven't gotten the refund back on my credit card yet, but it looks like it should be on its way.
My heart goes out to small rental agencies and people whose livelihood relies on tourism at times like these. I hope we'll be book this same property in 2021.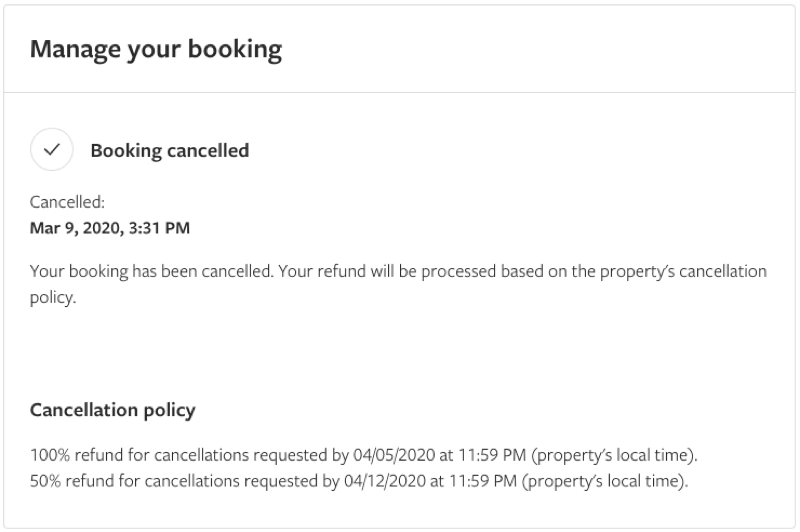 Bottom Line
Across the board I'm seeing that customer service agents are being given latitude to provide fee-free changes and cancellations, above and beyond published policies. This is a good thing.
Call centers are overwhelmed with volume at the moment, and online changes and cancellations either aren't possible or can't keep pace with rapidly evolving policies. This is unfortunate, because it leads to more calls to already overwhelmed call centers.
Everyone's situation is different on this, as is everyone's risk tolerance. I hope you and yours are safe and healthy, and that we start to see some positive news in combatting this virus soon.
What's been your experience dealing with changes and cancellations due to Coronavirus?