Last week I learned of an opportunity to attend Capital One's The Match in Florida and see Tiger Woods and Rory McIlroy take on Justin Thomas and Jordan Spieth in a made for TV golf event.
I quickly chose to spend 35,000 Capital One "Miles" per person for a couple tickets, but had no idea what to expect. I had no idea how many tickets were released to Capital One cardholders, no clue how crowded the venue would be, and further – no idea how I'd get there and where we'd stay.
I'm pleased to report that everything fell into place brilliantly. Capital One really birdied this one.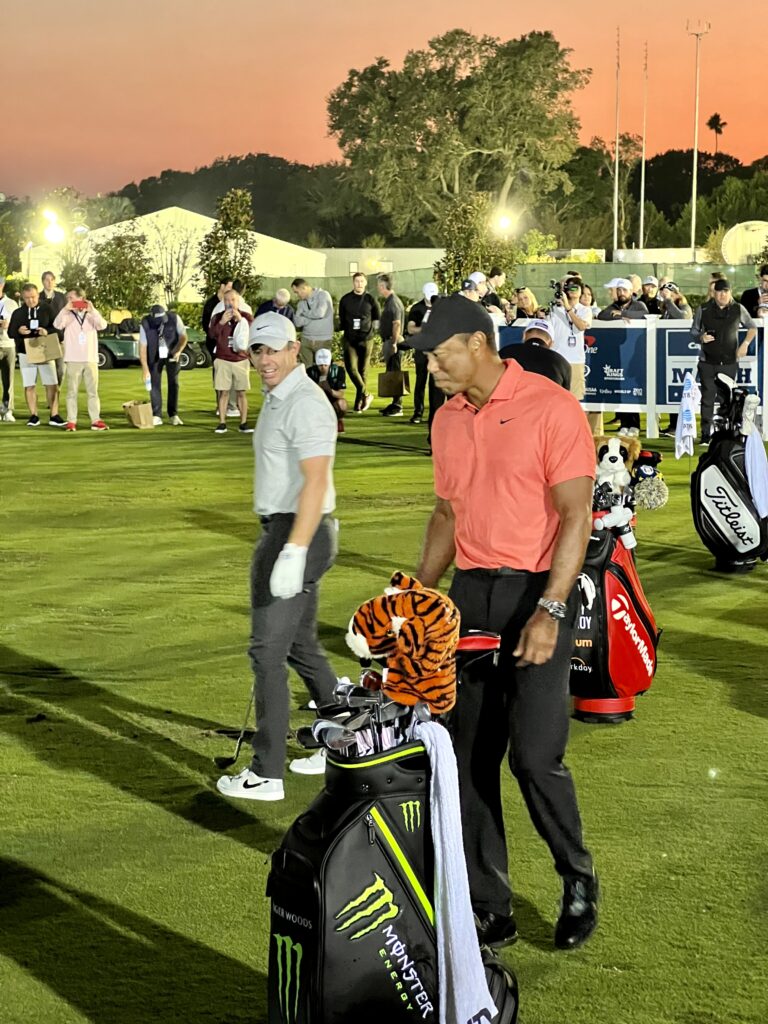 An Amazing Event
The day of the event we went to pick up our badges at at the Sandpearl Resort Hotel in Clearwater Beach. This worked out great since we were staying next door at the Hilton, since we had to use up some Free Night Certificates before they expired 12/31.
I thought there'd be a line of people there to get their tickets, but there was just a Capital One event manager sitting casually on a sofa in the lobby. I as told there were just 20 tickets allocated for Caiptal One cardholders so I started to get the feeling that the VIP badges we picked up might actually mean we'd get some VIP treatment.
The majority of the tickets were allocated to members of the Pelican Golf Club where the event was held, along with event sponsors. I heard there'd be around 800 guests in attendance, but it felt like quite a few more than that once things got going. That said, I could not believe how well all event attendees were treated – including ourselves as Capital One cardholders.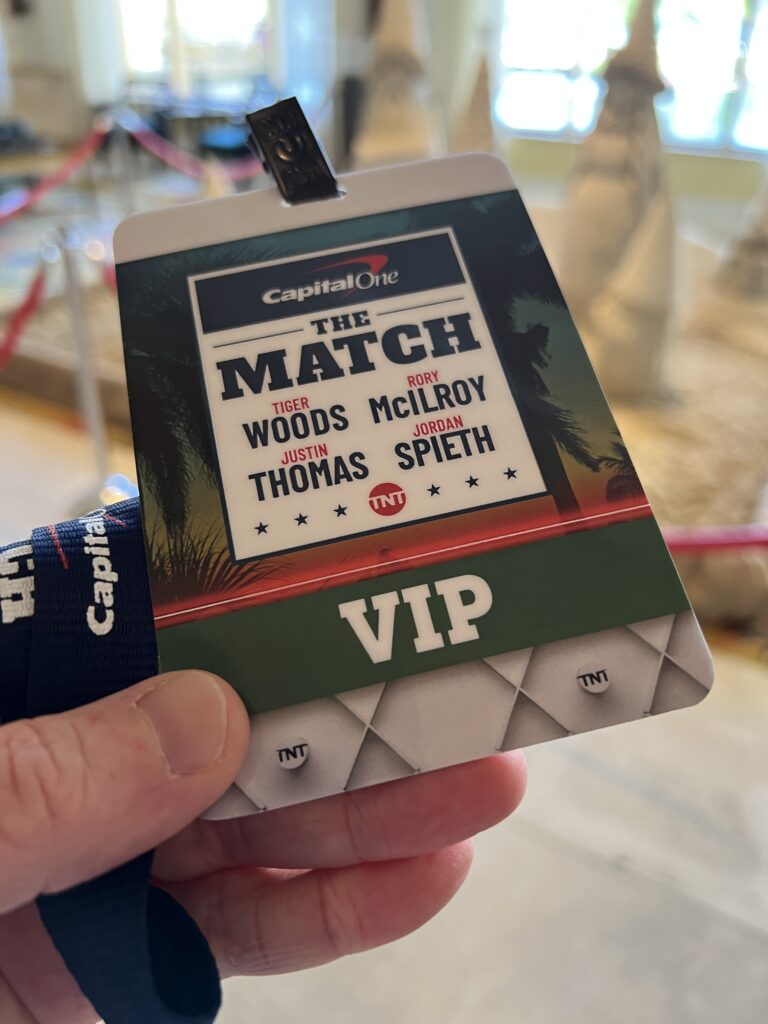 Everyone is a VIP
Capital One provided shuttle bus transportation to and from the Sandpearl and the Wyndham. We arrived at the appointed time and immediately hopped on a shuttle that headed straight to the venue. Small private clubs aren't equipped to handle events like this so traffic in and out – or even catching an Uber would have been challenging.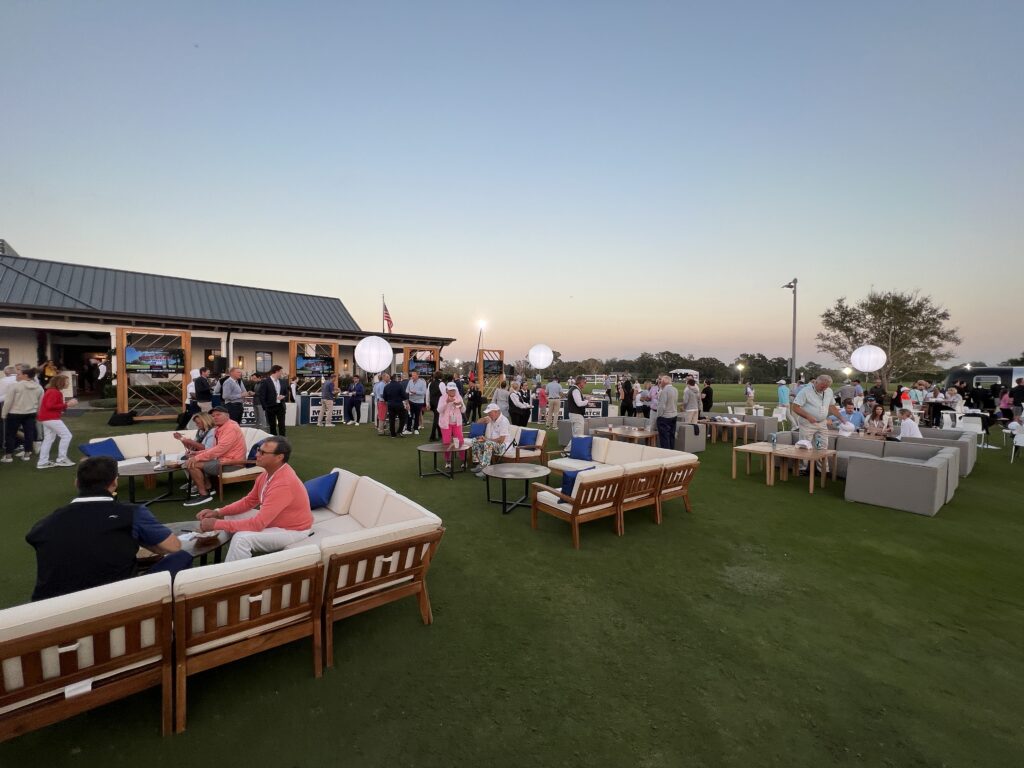 We walked right in I was immediately impressed with the setup. Multiple indoor and outdoor high end food & beverage options. Things like fresh-made surf and turf sushi with wagyu and lobster. Plenty of comfortable well-appointed seating areas.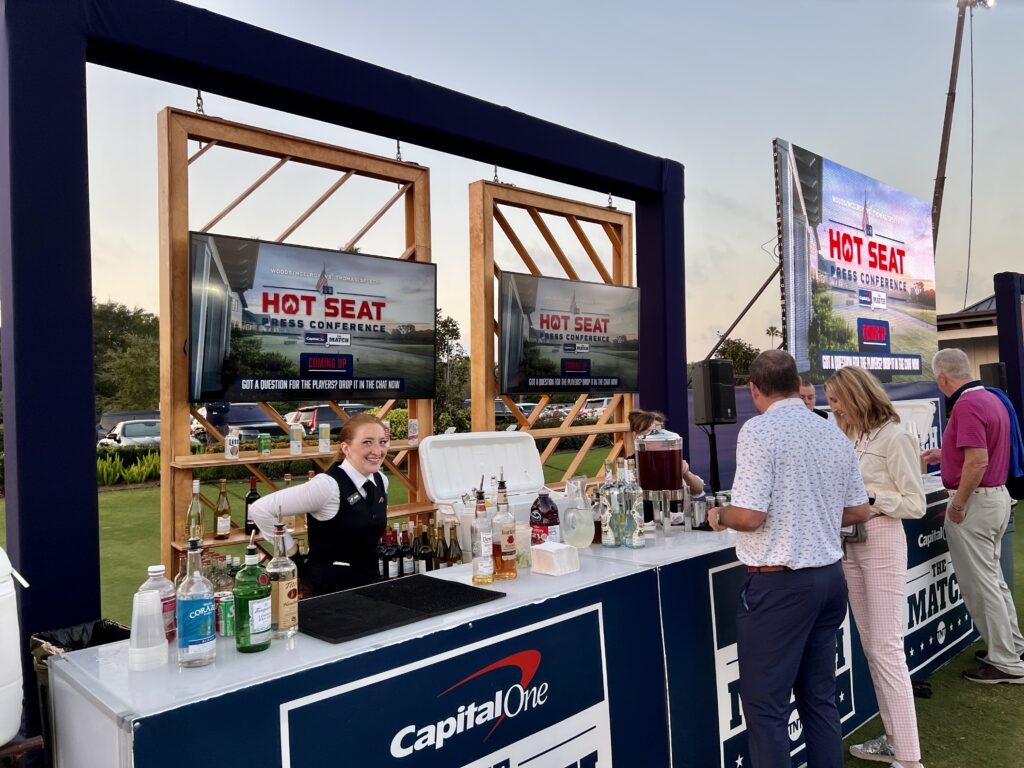 They opened the clubhouse bar and restaurant areas to all guests; hardly any areas were off limits. This really surprised me. Usually there are many "tiers" of access at events like this but here everyone's badge seemed to say "VIP" and everyone was actually treated like a very important person. It really set the stage for a great evening.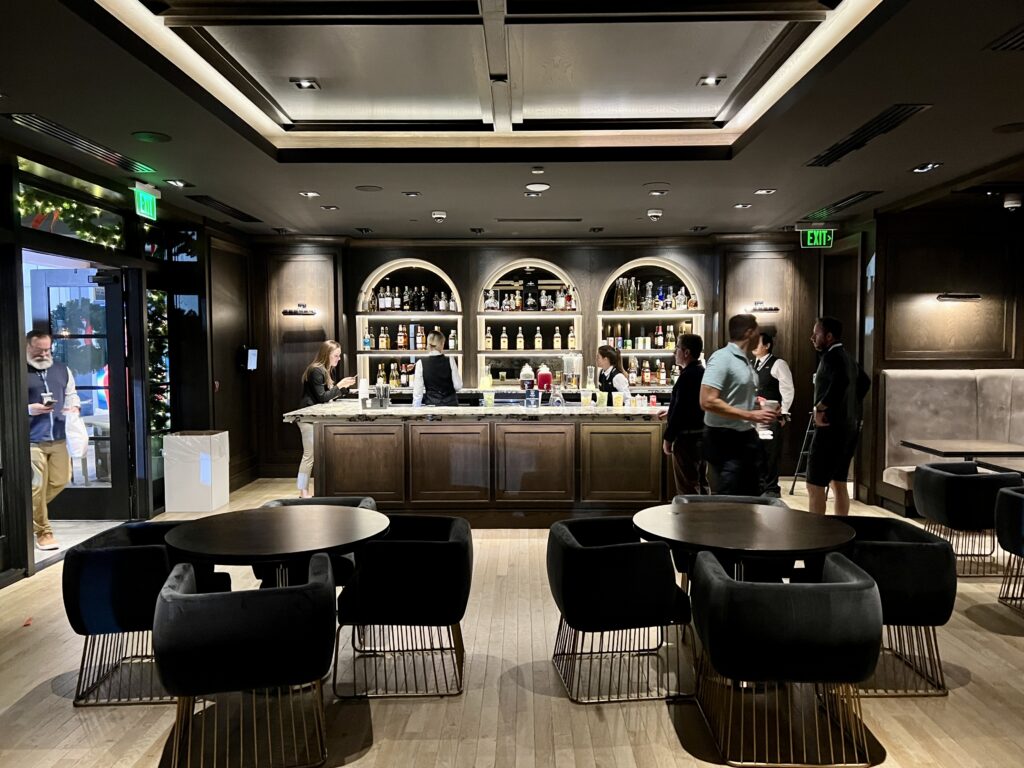 The Golf
First and foremost, seeing pros hit a golf ball up close is amazing to me as an aspiring golfer. They all hit the ball with effortless power and consistency – the ball just flies.
But seeing Tiger and Rory especially, up close, with my son, is something I'll never forget.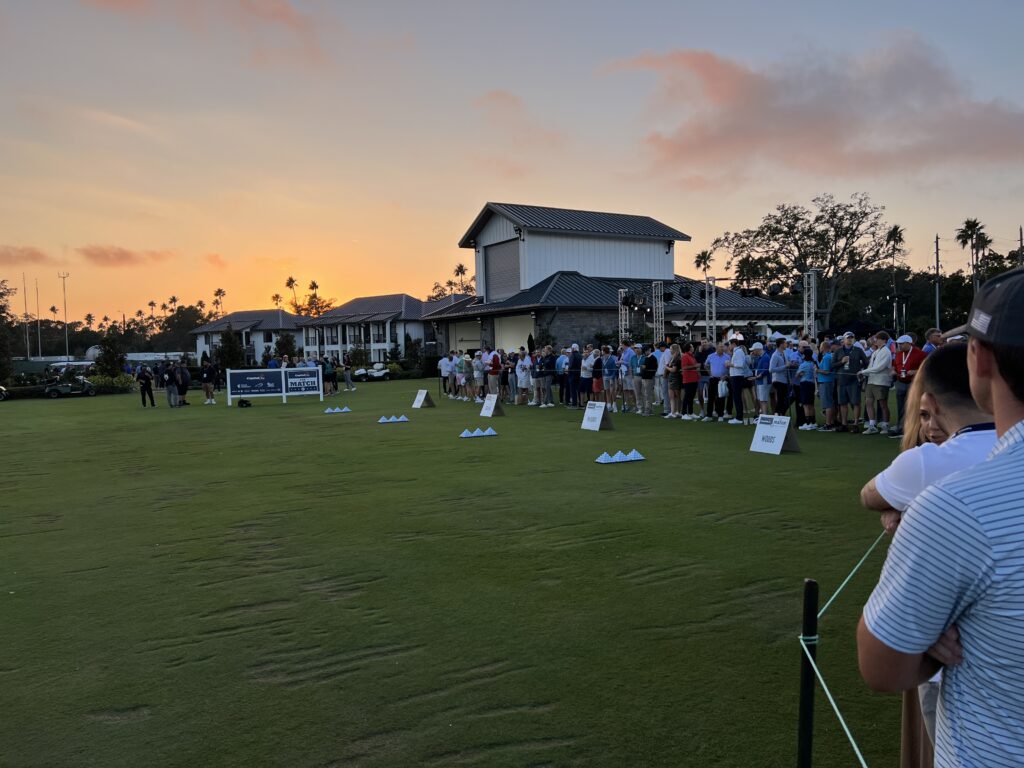 We staked out a good spot to watch the four of them warm up on the driving range up close. That was just a little competitive for standing room. Things got a little more crowded on the course. With only one group to follow it felt like there were about 2,000 people (a wild guess) in attendance. If we went ahead a hole or two we could secure a prime viewing area. Overall it was far less crowded than following Tiger or Rory at a tour event.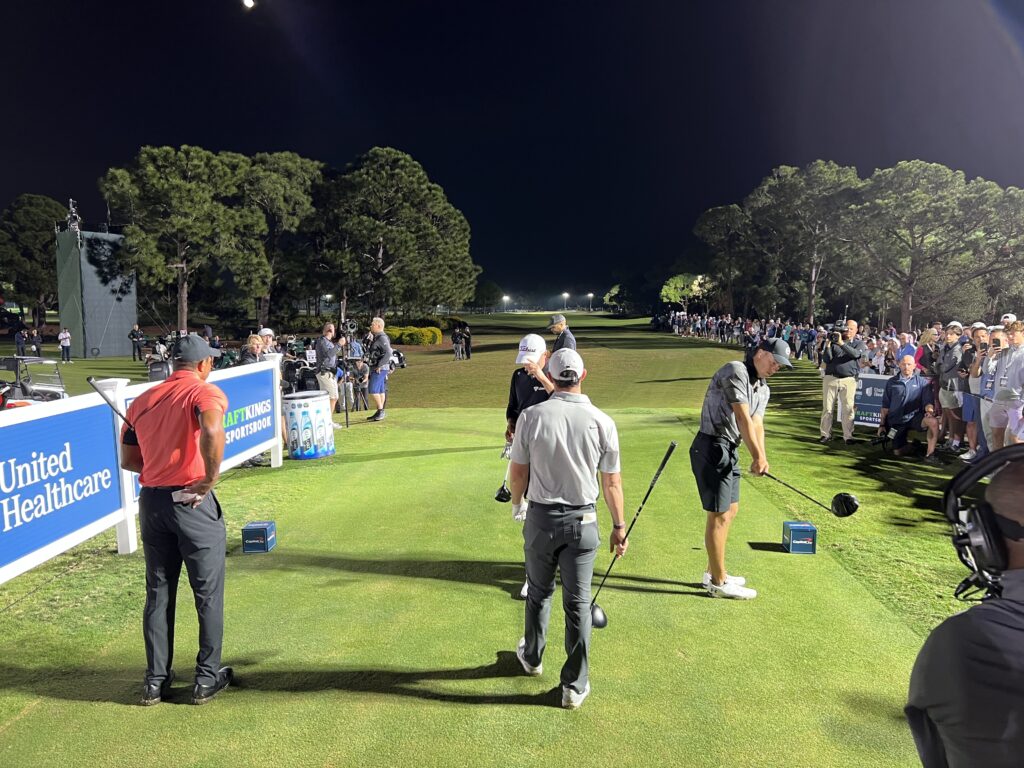 Capital One Experiences
It's hard to gauge how "exclusive" an opportunity like this is going to be. Just weeks before this golf event, Capital One promised "Exclusive Presale Tickets" for Taylor Swift's concert. That ended up being quite a fiasco, but I mention it here as an example of why I'm skeptical of credit card exclusive experiences. I've grown weary of the noise.
It seems like events are either so popular relative to the availability that they sell out immediately, or so mainstream that they're either not a good deal or not exclusive at all.
Capital One has a recurring offer for cardholders to use points for MLB tickets. I've tried my hand at this, but have yet to find a game where the well-priced tickets were still available.
But I'll pay closer attention to their offerings after this experience.
The Importance of Outsized Value
I think it's really important for credit card rewards program to have a "jackpot" element to them, that can be realized with reasonable attention and effort. So many programs (Delta Airlines comes to mind as an example) have rigged their schemes such that pretty much every redemption is around 1 cent per point of value.
With a situation like this where I could use my CapitalOne miles for something I couldn't otherwise purcahse is really special. Sure I could have cashed out the 70,000 miles for $700. But I couldn't buy these tickets without a connection.
International Premium Cabin flights are similarly enticing to me. When I use 70,000 airline miles to fly to Asia or Europe in a premium cabin – that's something I couldn't justify paying cash for in my mind.
That's what I'm here for. This is why I spend time futzing around with credit cards, points & miles.
Capital One Credit Cards Going Forward
For the longest time I've thought of Capital One as mostly a bank that loves to pull my credit report from all three bureaus then deny me. But I had a really good year with them last year with the 100,000 Venture X card and a $3,500 Spark Cash Business card.
I was actually thinking of closing my Venture X card a couple weeks ago when the annual fee posted but I'm glad I didn't. Because if I had, I wouldn't have been able to transfer my Spark Cash points to Venture miles to pay for these tickets.
With the $300 annual travel credit, 10,000 points on renewal, and other perks I can justify keeping the Venture X even with its $395 annual fee.
Capital One has a way to go to compete with the likes of Amex and Chase, but I like most of their moves lately.
Bottom Line
Attending Capital One's The Match in person was a terrific experience. Seeing Tiger and Rory up close was awesome, Capital One exceeded expectations in terms of what the event included, and the Pelican Golf Club treated guests very well.
I'll look forward future events like this and I'll look forward to discussing this in more detail on the next episode of our podcast.