Editor's Note [Sam]: The following is a guest post, written by long time friend to the site, Elaine Friedman. With the recent news of Citi pulling travel insurance benefits on all cards I though it would be helpful to share a real world view of what the Trip Cancellation and Interruption coverage from Chase is like. I think Elaine really gets to the heart of the issues that are not given enough coverage online: Most notably that this coverage is not a benefit administered by Chase, but rather by their 3rd party insurance company. Nowhere are Elaine nor myself claiming this is bad/good, simply that this means an extra 'layer' between you and the claim process. As you'll see the process is not always simple, not always successful.
There's a truism that you never really know your insurance coverage until you file a claim. It is certainly true for travel insurance that comes with selected credit cards.
Since it hit the market in 2016, I've been a big fan of the Chase Sapphire Reserve Visa Card, or my CSRes, as I fondly call it. I put nearly all my out-of-pocket travel expenses on it. Not only do I like the 3X multiple for travel, but it has an impressive set of benefits.
What really got my attention was the Trip Cancellation coverage. Why? Because I wanted to book a cruise for a date eighteen months in the future. If I was willing to pay in full in advance, I could get a very hefty discount. But what if someone got sick? And what if that someone wasn't me, but a close enough relative that I'd need or want to cancel the trip?
A careful reading of their Guide to Benefits was promising. It appeared that Trip Cancellation coverage reimburses for a loss when canceling prepaid non-refundable travel arrangements because someone in my immediate family gets sick. Chase says:
What Exactly is a Covered Loss?
Could I really cancel the trip, lose a big chunk of money, and then have the loss reimbursed by Chase if, let's say, my granddaughter got sick, and my daughter needed my help?
"Yes," the Chase benefits rep assured me. In fact, she continued, "There were many such claims during the last flu season, when travelers had to stay home to care for immediate family members."
And the definition of immediate family is very broad:
Immediate Family Member – you or your Spouse's or Domestic Partner's children, including adopted children or stepchildren; legal guardians or wards; siblings or siblings-in-law; parents or parents-in-law; grandparents or grandchildren; aunts or uncles; nieces or nephew
Now I haven't – fortunately – had occasion to test this, and it is the third party claims adjusters, not the Chase benefits reps, who make the final decisions. But that is how it is supposed to work. So I booked that cruise!
I knew about the card's pretty straightforward Trip Delay coverage: if I was delayed 6 hours or more or a delay meant an unexpected overnight stay, expenses for meals; lodging; ground transportation; toiletries; medication; and other personal use items would be reimbursed up to $500.
Putting Trip Delay Coverage to the Test
So on a recent trip when a huge storm cancelled all flights in and out of Denver, delaying me a full 24 hours, I was confident that my out-of-pocket costs for an extra NYC hotel night, Lyft rides, and a few meals would be reimbursed. And they eventually were, to the penny. More about that "eventually" later….
What I knew little about was how the CSRes coverage handled Trip Interruption. I was able to alert the Denver hotel in enough time to cancel my first hotel night without penalty. But had the hotel charged me, Chase would have reimbursed. So far, so good.
Finding Where the Line Is Between Covered and Not
Here's where it got dicey: When JetBlue canceled my Wednesday JFK > DEN flight, they couldn't get me on another flight until Saturday! Knowing I could book something sooner myself, I opted to instead get a full refund of the $113.30 – actually I'd paid in 7,653 Ultimate Rewards points – for a one way ticket that would have cost me $113.30 if done as cash booking through the Chase UR Travel Center. I paid no taxes or fees; just a nice, clean, cheap 7,653 points.
Unfortunately, the best flight I could find for the next day was $295, considerably more than double the JetBlue refund. Still, I had to get to Denver.
Which was when when I learned that not one of the CSRes travel insurance categories – not Trip Cancellation, not Trip Delay, and not Trip Interruption – will reimburse that difference. In the end, I booked that Delta flight using 19,666 Ultimate Rewards, saving a little, but I still spent significantly more than what I'd paid for the original JetBlue flight.
I've since heard similar tales of travelers surprised to learn this too. When they bought new tickets to get to their intended destinations, or had no choice but to rent a car to get there, the CSRes travel insurance was to be of no help at all.
While my love affair with CSRes has cooled a bit, I still value the generous Trip Cancellation coverage. Doing research for this post, I found myself attracted to the CITI Prestige card. According to that Guide to Benefits and confirmed by a benefits rep by phone, their coverage would have paid for the new flight, as would the coverage they currently offer with a few other CITI cards. But not for long – as of September 22, 2019, CITI is discontinuing Trip Cancellation, Delay, and Interruption on all their cards. So for now, I'll stay with Chase.
Tips and Suggested Best Practices
First I'll cut to the chase – pun intended – and tell you that in the end, I did get reimbursed for all my Trip Delay expenses, but it was very time-consuming and not easy.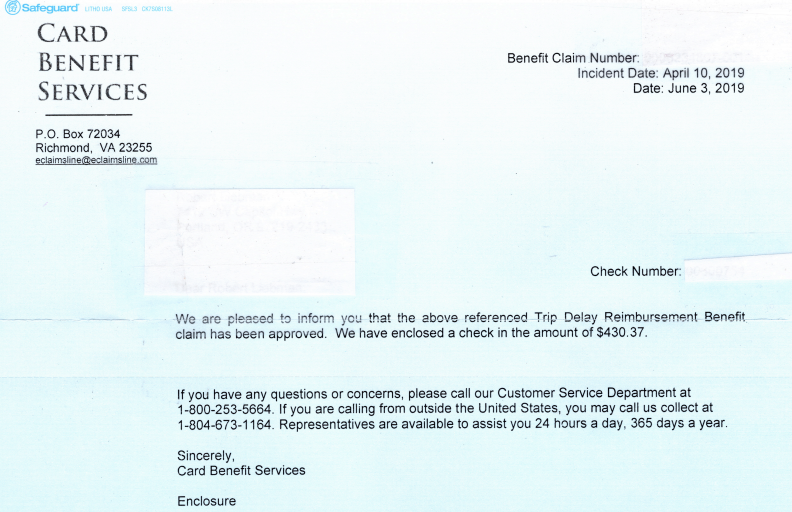 The Trip Delay claims process requires, understandably, a copy of the credit card statement on which you charged your air ticket. But because I paid only Ultimate Rewards points and no cash to buy the original ticket, there was no transaction line for a cash amount on the CSRes credit card statement. It did show I'd used UR points that January, but we'd used lots of URs that month for both hotels and airfare, so the amounts did not match.
So I wrote a statement detailing that, and instead submitted an Ultimate Rewards Travel Center receipt for the cancelled flight. But that receipt does not tie the ticket purchase to the card used; no trusty last four digits of the CSRes number appear anywhere on it.
So the phone calls began, with the claims rep asking repeatedly for a "credit card statement showing the transaction" or something called a "rewards statement." That was a new one for me, and after more calls, I learned that neither the CSRes card reps at Chase Card Services nor the travel reps at the Chase Travel site had ever heard of a rewards statement either. I finally asked the claims rep to have the adjuster handling my claim call me.
Then I remembered that I had paid extra for a JetBlue EvenMoreSpace seat! And I'd done it the very same day, using my CSRes. Sure enough, I was able to find a transaction for that seat on my credit card statement. I quickly uploaded the statement to the claims website. And that worked!
By the time the adjuster called two days later, it wasn't to answer my question on this so-called rewards statement, but to say that my claim was approved. She turned out to be a lovely woman who was quite knowledgeable. I took the opportunity to ask about the elusive rewards statement the phone rep insisted was required in place of the credit card statement showing a transaction.
The adjuster explained that if I hadn't bought that seat upgrade, she would have requested a rewards statement directly from Chase as a way to prove that I'd used URs attached to the CSRes. Why the phone reps thought I could get it myself is unclear, but apparently such a document does exist or can be generated somewhere in the bowels of Chase at the request of a claims adjuster. It might take a few weeks or more, she noted, but eventually she could have gotten what she needed that way.
I didn't ask whether the rewards statement was detailed enough to show if a claimant had moved URs from a Chase Freedom card or another CSRes account. Hopefully not. But I made a mental note that I'd rather not have to depend on an adjuster successfully getting one from Chase, or what it might actually say!
Going forward, I will make sure that, anytime I use Ultimate Rewards points towards travel, there is some cash transaction on the CSRes at the same time. Just as paying the tax on an awards air ticket provides a record on your credit card statement, I'll then have an easy way to prove that I used URs attached to my CSRes for the booking in question.
For example, here's the payment screen from the Chase Travel Center showing an air ticket will cost $190.30 or 12,686 URs:
But I won't pay that. Instead I'll pay 12,000 URs + $10.30:
Or I'll make sure to upgrade my seat at the same time so that charge will show as a transaction on my credit card statement. As tempting as it is to use nothing but URs, so your out-of-pocket cost is zero, doing it this way provides a little insurance for your insurance. It may someday speed up a claim, avoid repeated emails that a claim is incomplete, and save you a bunch of phone calls to resolve it all.
More Tips For the Claims Process
Though I didn't promise multiple tips, here's a few more:
The emails that come during the claims process requesting more documents are not well tailored to specific claims or issues. There's clearly an algorithm at work that just doesn't always fit. I was baffled why I got repeated requests to upload the same items, and it was only on calling that I learned from the phone rep that the adjuster couldn't read the boarding passes well enough. I quickly sent new scans with a much higher resolution.
It is ironic that while Chase wouldn't pay for the new flight, they still wanted to see the boarding passes for that flight, so save everything!
Finally, it was only after multiple phone calls that I requested a direct call back from my adjuster. I expected to be told that wasn't possible, but not only did the rep take that message, but the adjuster called back within the promised timeframe, and on a national holiday too! Should I have to file another claim, I will remember I can ask for a call from the adjuster, and I'll do it much earlier in the process.
Insurance claims are never easy and insurance coverage is the clearest only after a claim is settled. With hopes you will never need to confirm that yourselves, happy travels!
Disclaimer: The author is not an insurance professional, has no professional relationship with Chase, and cannot in any way, shape or form promise or guarantee the coverages described here. Please do your own due diligence!