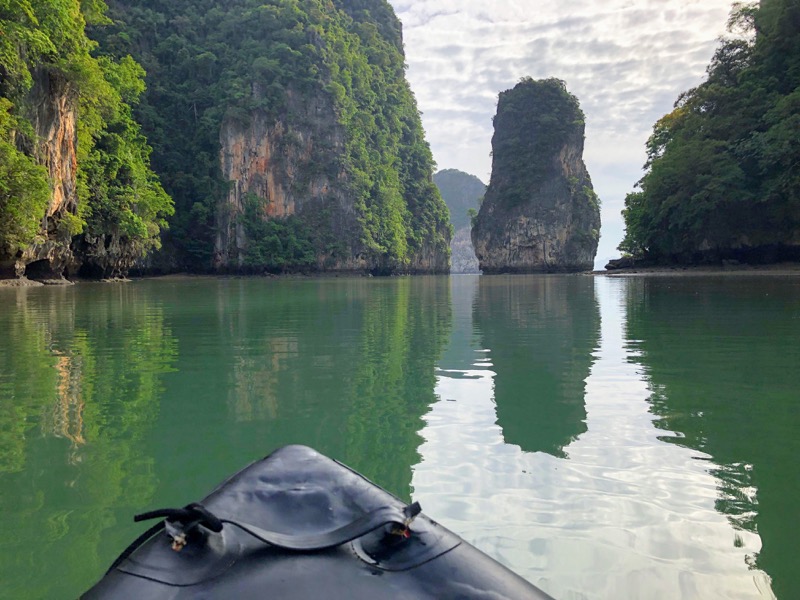 In this review of Two Sea Tour I'll cover why I think it's not only the #1 boat tour in Phuket on TripAdvisor, but the best tour I've ever taken anywhere. I'll describe what the tour entails, compare it to other options for experiencing Thailand's Andaman Sea, and describe how Two Sea Tour is different than other options to help you make a decision on whether it's the best option for you.
Inspiration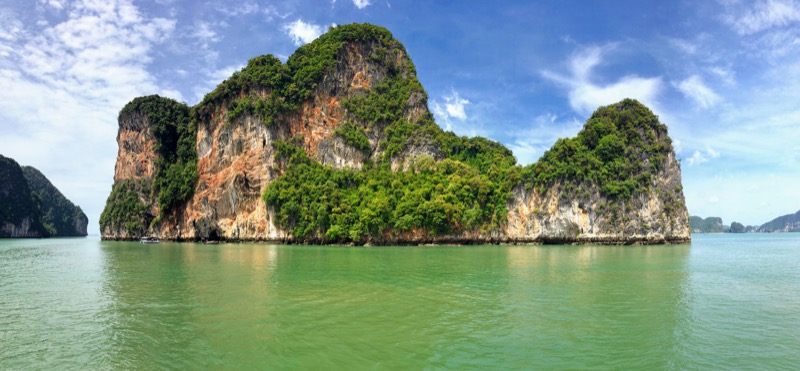 I like a trip to have at least one definitive reason for going. I need something to hang my hat on and say "this is what we're flying 20,000 miles for." In the case of this trip to Phuket the primary motivation was experiencing the rock formations in the Andaman Sea.
To me, the limestone rising vertically out of the sea covered with trees and greenery is incredible.
The terrain is similar to what you see in the 2000 movie "The Beach" (quick clip from YouTube as a reminder) – but that was actually filmed south of Phang Nga Bay on the Phi Phi Islands. Maya Bay, where the iconic scenes in that movie were shot, has been closed to tourists since 2018.
The notion of movies inspiring visits to this area are not a new phenomenon. The 1974 James Bond 007 movie "The Man With the Golden Gun" was filmed in Phang Nga Bay on Ping Gan Island and features an iconic rock formation in its lagoon called Koh Tapu.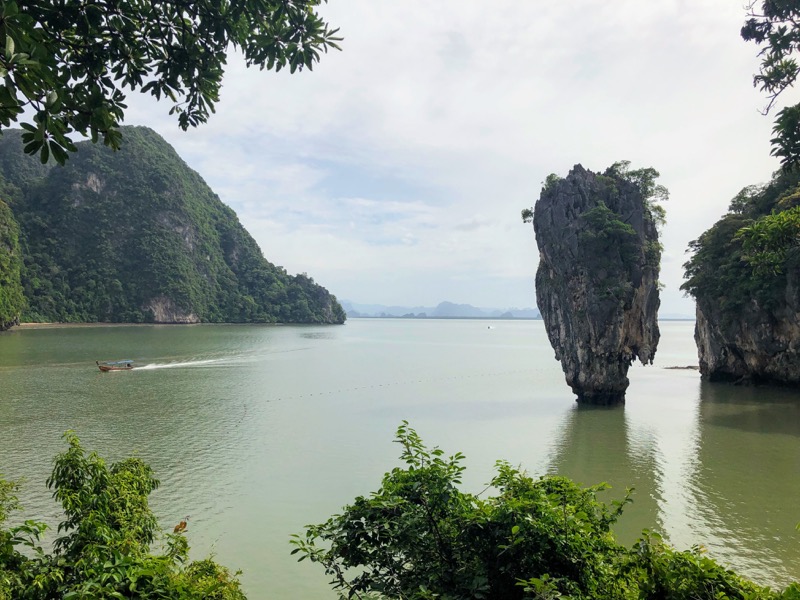 And maybe its just me, but I can't help but think the area looks similar to the floating rocks in Walt Disney World's Pandora World of Avatar. Evidently a more appropriate Disney inspiration for the area is from Star Wars movies.
No matter how you come to be aware of this part of the planet, once you see it I think you'll want to experience it if you can. And I'm glad we did.
Selection
I was initially thinking we'd head down and visit the Phi Phi Islands even though Maya Bay was closed. The Phi Phi Islands are quite a bit further from Phuket than Phanga Nga Bay, so you have to take a speedboat there and conditions can be choppier. So if seasickness is a concern you might want to choose Phanga Nga Bay over the Phi Phi Islands for that reason alone.
We were also debating Speedboat vs Long Tail Boat. Both are noisy, but a Long Tail Boat can be nice because you can conceivably charter one privately for around $750 for 6 people and be in control of your itinerary. But for our situation it was just the 2 of us so it would be quite expensive.
Further, I didn't necessarily want to call the shots on where we went. I wanted someone who knew the area to put together a compelling way for us to experience the islands. I was unsure whether we wanted snorkeling, general sightseeing, kayaking or who knows what. That's where Two Sea Tour came into the picture. They've figured out what I think is the perfect way for a couple or small group to visit Phang Nga Bay.
Best Tour in Phuket: What is it like Kayaking with Two Sea Tour?
Two Sea Tour only offers one itinerary. You can have a look at it here.
You can also check out this quick YouTube video of the experience. I think it captures it well:
A few key things I'd reinforce:
While this is in large part a kayaking tour, you don't paddle yourself. Each person or couple gets their own paddler. You just sit back and enjoy the ride.
Each paddler is also your tour guide and personal photographer for the day. And they're awesome.
The boat leaves early in the morning to beat the crowds. I thought it might be too early but due to time zone differences coming from the US it was no problem waking up early.
They sent a car to your hotel to pick you up, and a car drops you off at your hotel at the end of the day. Easy peasy. No negotiating for rides in a place where taxi service is notoriously corrupt.
Their boat can technically hold 50+ people but most tours go out with 8 guests and a 1:1 staff:guest ratio.
Complimentary non-alcoholic refreshments, a light breakfast, and a terrific lunch buffet prepared fresh on board is included.
The Two Sea Tour Difference: Our Experience
The entire day was incredibly well planned out and executed to maximize guest enjoyment.
Our car arrived at our hotel right on schedule at 4:50a. Some other tour providers might send a shuttle bus or a van to pick up guests at multiple hotels, increasing the time you spend getting there vs enjoying the experience.
There's a saying that "people wait for boats, boats don't wait for people." But in our case that turned out to not be the case. We were the last of 4 couples to get on the boat and I kid you not: the moment we stepped on the boat it pulled away from the dock. How nice is that? No waiting around. We just got right to it.
Leaving early means you get to enjoy the sunrise from the boat.
From the moment we stepped foot on the boat I could appreciate how nice it was to have low crowds on the boat. There's plenty of space and shade for everyone to be comfortable. I snapped this shot while everyone else was up on the bow of the boat checking out the sunrise. Hopefully it gives you an idea of how comfortable it is spending a day on this tour.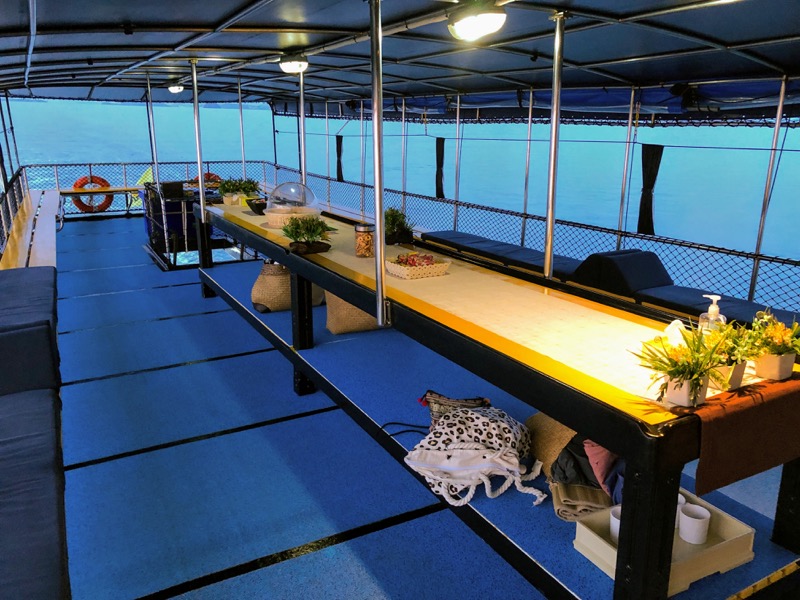 From our first stop, it was evident how nice it was to have a paddler and kayak for each couple on the tour. Some other tours offer kayak tours, but they don't actually have their own canoes and paddlers on board with you. They just contract with a local company that stays near the islands and provides the kayaking. This means that with say 40+ people on board you'll be waiting to get your turn, then waiting for others to take their turn after you've kayaked.
With Two Sea Tour since they've got the kayaks and paddlers on board with you, you're off and running as soon as you reach each stop.
Boarding and unboarding the boats was super easy. The staff was super helpful and made sure everyone was taken care of.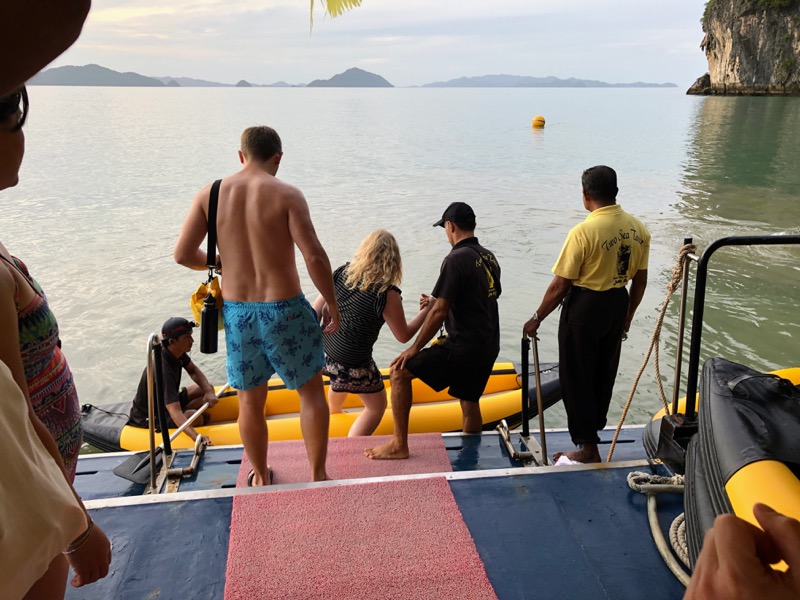 Our first stop was Panak Island where we got to explore by foot through caves because of low tides. It was a short trek by foot through caves and the tour hosts provided flashlights so we all navigated safely.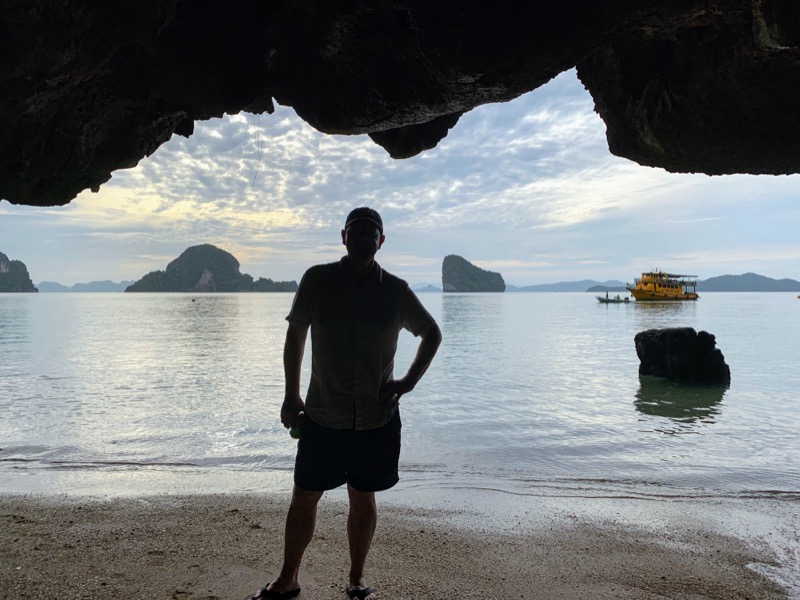 After exploring through the caves, things opened up to reveal what's usually a lagoon. But at low tides you could see the roots of mangrove trees and explore the fish and creatures that thrive in the brackish water. Our tour hosts pointed wildlife out and gave us just the right amount of education to accompany it.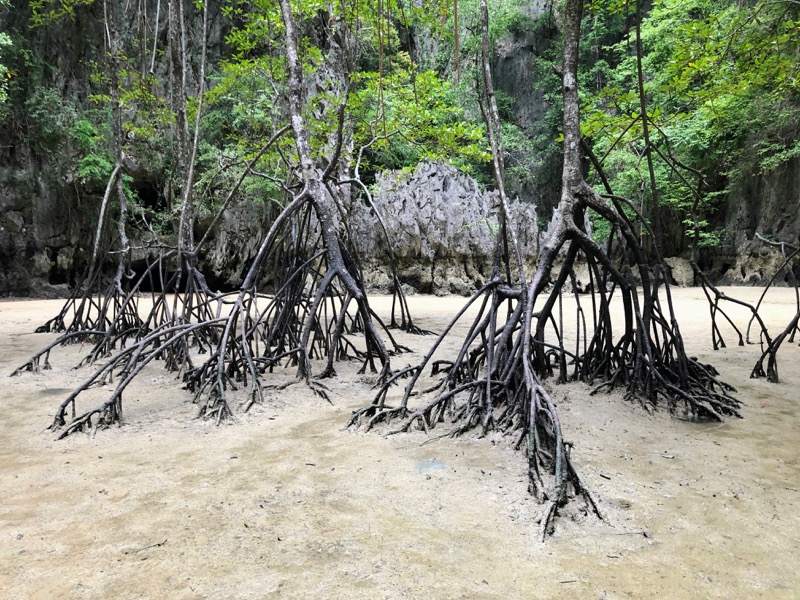 We explored another cave and lagoon on Panak Island, this time on the canoes.
Here's a link to a quick video I shared on Instagram.
I really appreciated here how great it was to explore these quiet lagoons in canoes. They could navigate easily in very shallow water and you really got to experience this amazing area in the best way possible. I was entertaining the idea of snorkeling or general sightseeing when deciding what to book, but kayaking is the way to go.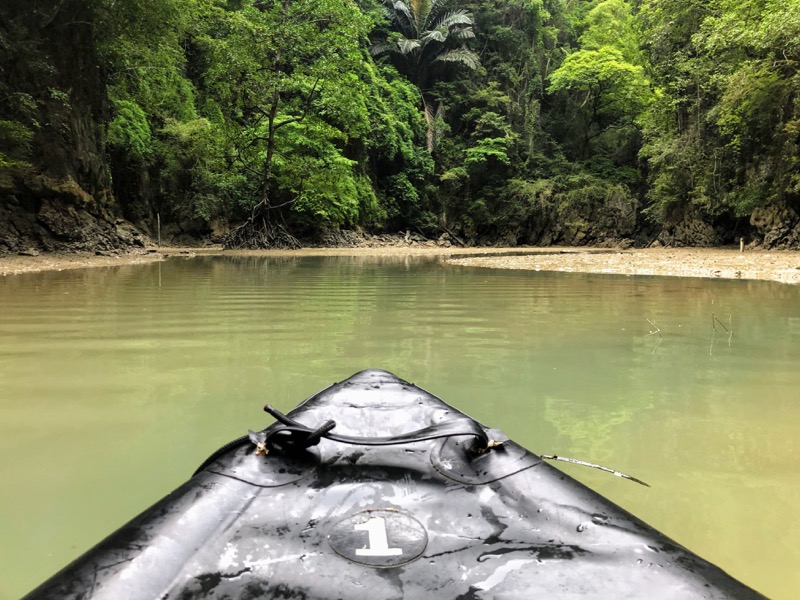 After exploring Panak, we were back on the boat and off to Hong Island. I really loved the pacing and variety of the tour. It was never boring as we were constantly on the move and experiencing new things. Being in the canoes was quiet which made the experience a peaceful one. Especially while exploring such a natural location, we were glad not to contribute to the noise and exhaust pollution that the speedboats and long tail boats created.
A word about the "big boat" vs speedboat. When I first heard that I thought that meant a bunch of people were going to be on board. That's not the case. The key thing is how many people are actually going to be on the boat, not the size of the boat. Going on a big boat also means there's enough rooms for canoes on board. This big boat is also very quiet and stable. So keep that in mind when selecting your tour. A big boat can be great so long as the number of people on the tour is low. We had plenty of space and could either socialize with others on board or find our own little quiet spot in between stops. This boat also had plenty of shade so we weren't overexposed to the tropical sun.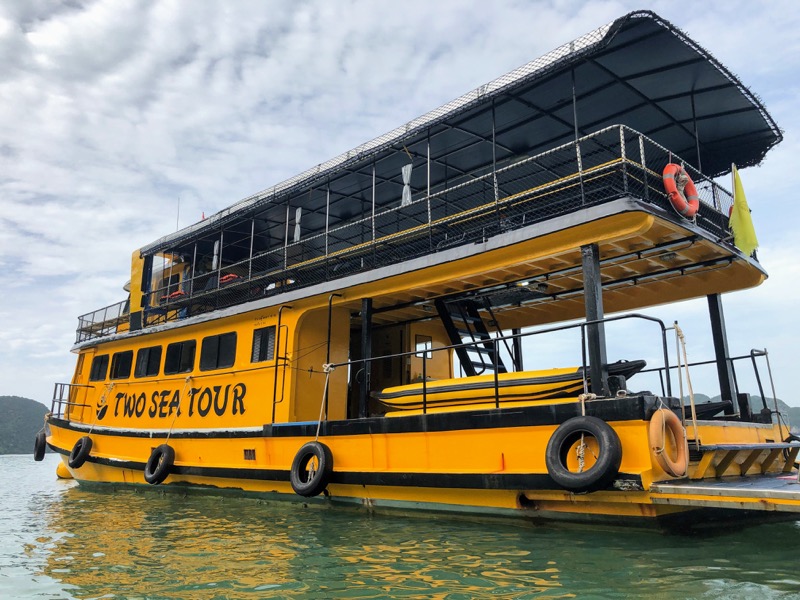 Like I was saying – I thought the variety and pacing was perfect. For example here's a rock formation that looks like a piranha on Hong Island. Then it was back in the canoes for more exploring.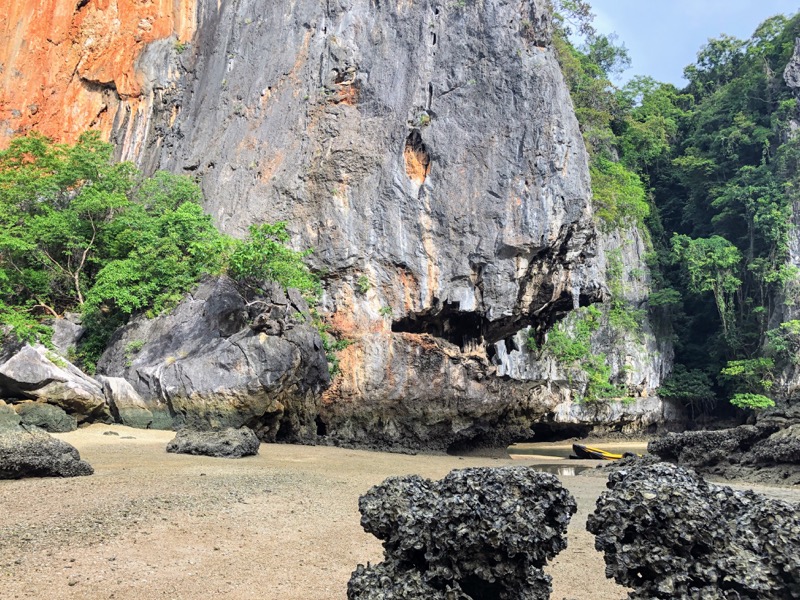 We took a long tail boat from the big boat to James Bond Island. It's the most crowded and touristy of the stops.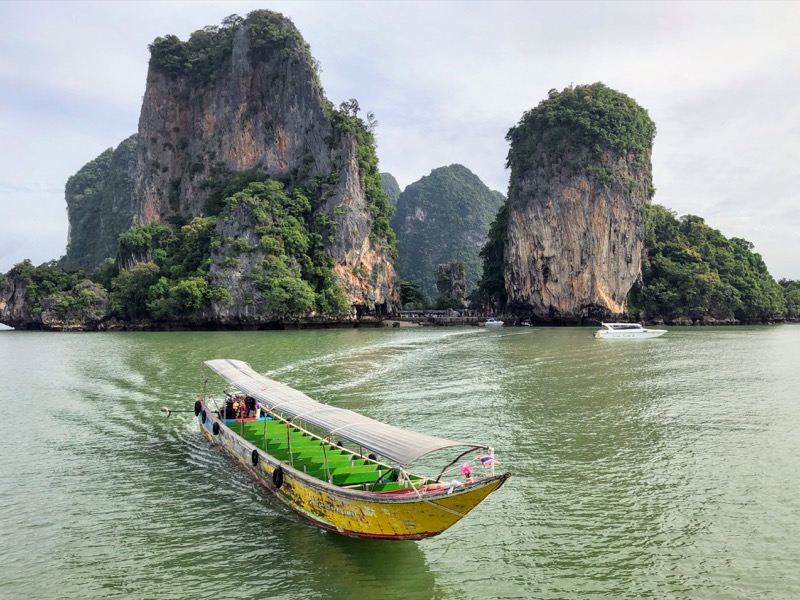 They say James Bond Island is fun to visit, and fun to leave. I thought it was cool having seen the movie a couple weeks earlier.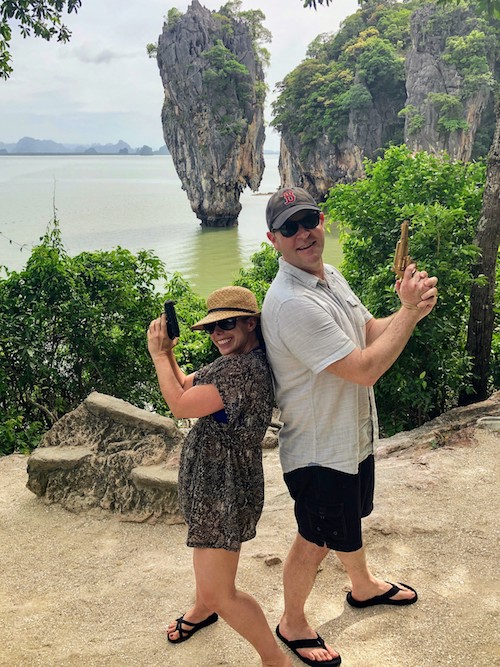 As we were heading back we could see how crowded some of the spots we'd previously visited were getting. And keep in mind – this was August which is considered low season. You can also see how the speedboats arrive then go contract with canoes and paddlers who stay at the island all day. I really appreciated getting to know our tour guide and having that consistent experience all day. All of the guides knew that their guests wanted to capture the experience in photos so they pointed out the best vantage points and even took photos if we wanted to be in them.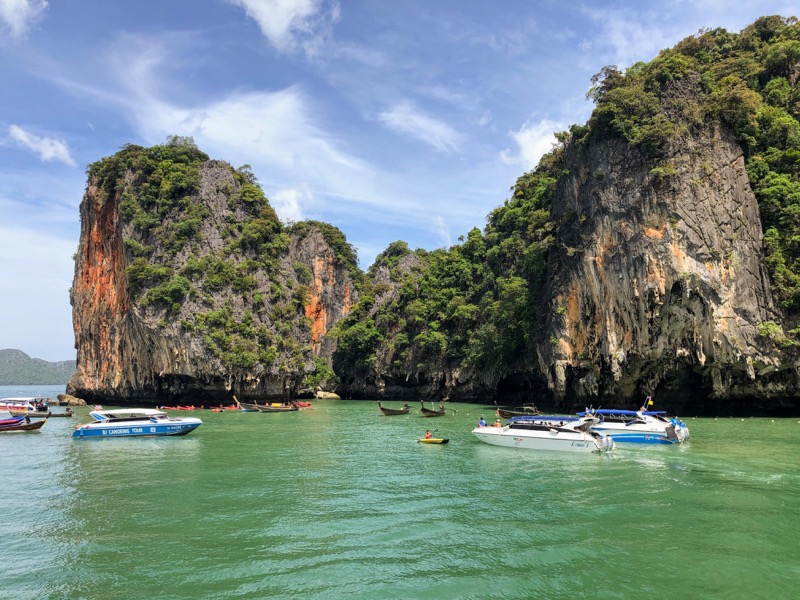 While the boat was traveling from James Bond Island back towards where we started the day we enjoyed lunch on the boat. It was actually really good. I especially appreciated that it was a buffet which meant we could try new Thai dishes. While some might be concerned with food preparation health standards in Thailand and especially on a boat, we found the food to be fresh and well-prepared.
From there we stopped at a little beach for swimming and paddling around ourselves if we wanted to.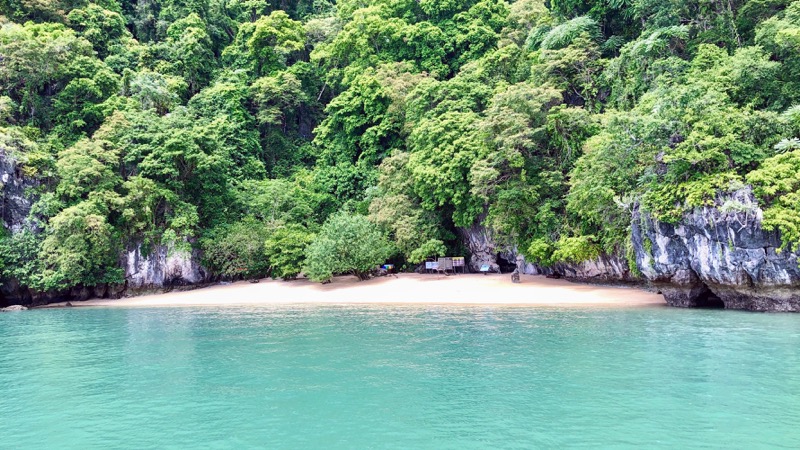 Or you could just sit on a blanket under a shade tree.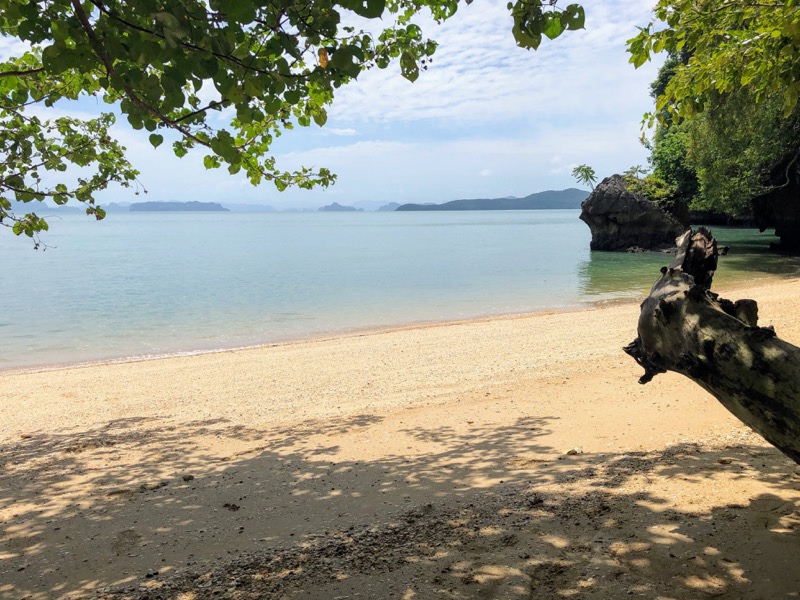 It was a short ride back to the marina where we started our day. Our guides helped connect us with our individual rides back to our hotel and that was it. We were back at our hotel by 1:30p.
Cost
Current pricing is 9,800 THB (~$317 USD) for a couple in one canoe, so around $158 pp.
I mentioned how there are similar sounding tours you can find on Viator/through the Chase Ultimate Rewards portal. They go for around $90 pp. I think the extra money for Two Sea Tour is totally worth it for the reasons outlined in this post. With a lot of those tours you're booking through a travel agency so you don't know which actual tour provider you're going to end up with. And with these lower cost options you're not going to have anywhere near the experience you'll have with Two Sea Tour.
Like they say:
We would rather explain the cost of quality, than apologise for the lack of it
Be sure to book in advance as tours can and will sell out early given their low capacity. And bear in mind that they won't go out if the weather is bad. This is another difference between them and other operators. They want you to have a good experience and prioritize your safety over their profits.
Bottom Line
I can't stress enough how much I liked this tour. If I had to rate it on a 100 point scale it would be 100/100 points: Perfection.
Every detail was thought of, it was so well run and it provided exactly the experience I was hoping for. It's also the kind of tour I would gladly do again if we went back. Like, if you've gone on a tour of the Colosseum or the Eiffel Tower – you wouldn't like want to do that a second time. But this is something I can see myself doing again. It was just so awesome to be paddling around in the canoes experiencing this amazing place.
It can be difficult finding high quality tours like this, and sorting through the options to know when you're taking the best option for you is time consuming.
I wrote recently how I'd have some luck booking tours through the Chase Ultimate Rewards portal. Chase's tour listings are Expedia's tour listings, and a lot of those are travel agencies rather than tour operators. That's why it feels like your tour is getting sold and you wind up with a different operator than you thought you signed up for.
This is a tough space to navigate. TripAdvisor is helpful, but I find it confusing navigating which are travel agencies vs tour operators like this one. But taking the time to do your research and find operators like this can pay off big time.
Check them out if you're heading to the region: