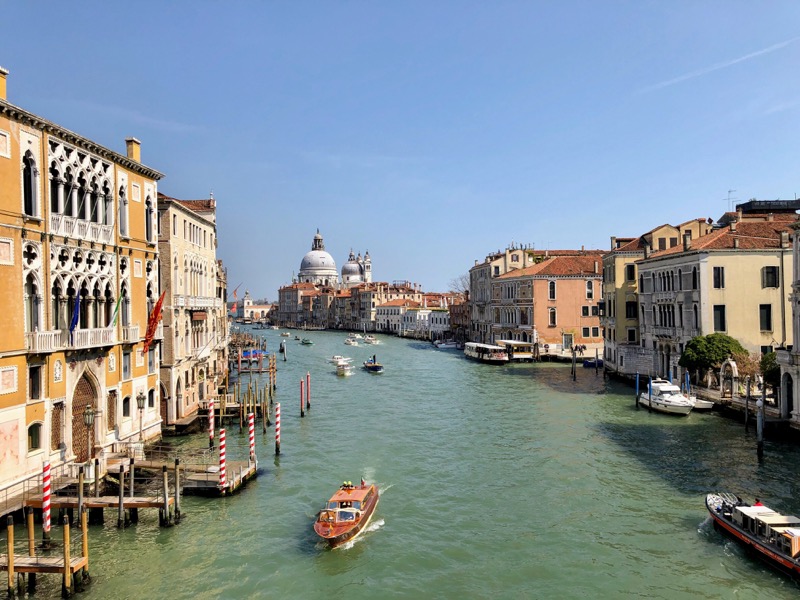 We just got back from a week in Europe where we did tours and activities in London, Venice, and Rome – all booked through the Chase Ultimate Rewards portal.
I think I'm pretty good at booking flights and hotels, but I'm exceedingly bad at planning things to do once we get to a destination. I generally have rough ideas in my head about what we might like to do, but getting our acts together and deciding on things to do is challenging. The sheer number of options are overwhelming, you never know what you're really getting for the price, and it's always hard to know what you'd like to do far in advance without knowing what the weather is going to be like.
To overcome these challenges I decided to go "all in"' on booking activities through the Chase portal. Overall it went well and I think I'll be doing more of these in the future.
Things to Know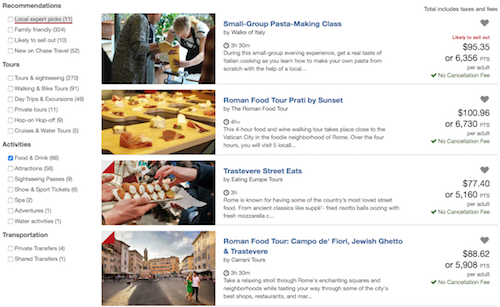 The "Things to Do" options available through the Chase Ultimate Rewards portal are generally the same as what you can book through the Expedia portal (previously Chase showed Viator inventory)
Ultimate Rewards are worth 1.5 cents a piece towards these activities if you have the Sapphire Reserve card, 1.25 cents a piece for the Sapphire Preferred and Ink Business cards with annual fees
To book, go to your Ultimate Rewards account -> Travel -> Things to Do
You can book ground transportation, hop-on/hop-off busses, major tourist sites, and more unique small group tours
Sometimes you'll see discounted prices for certain activities if you've also booked other aspects of the trip through the Chase portal. I didn't see any 55% discounts, but the prices did seem to be the same price or lower through the Chase portal than booking direct.

London Photography Mystery Tour: 11:00 AM in English
Tour Operator: Hairy Goat Photography Tours
Duration: 3h
Cost: $65.24 adults, $52.19 youth, Under 12 free
Meet-up difficulties? No. But there was some confusion over why there were four of us when we only signed up three people. My 11 year old was free and I didn't see a place to register him when I booked the tour. Our tour guide made a quick phone call which evidently alleviated the problem and off we went.
Our guide was a terrific Italian woman with a passion for architectural photography who was great with kids. My 14 year old brought his DSLR, we just had our iPhones. I wasn't sure what the "Mystery" part of the tour was but it turned out that it meant we'd see hidden photographic perspectives of London not the tourist sites, subject to the tour guide's personal preferences, which in this case was fine by us.
If someone says "photo tour" my first thought is "Okay – show me the photos!". So here you go…
Here's a photo from where we started the day that I would have taken on my own: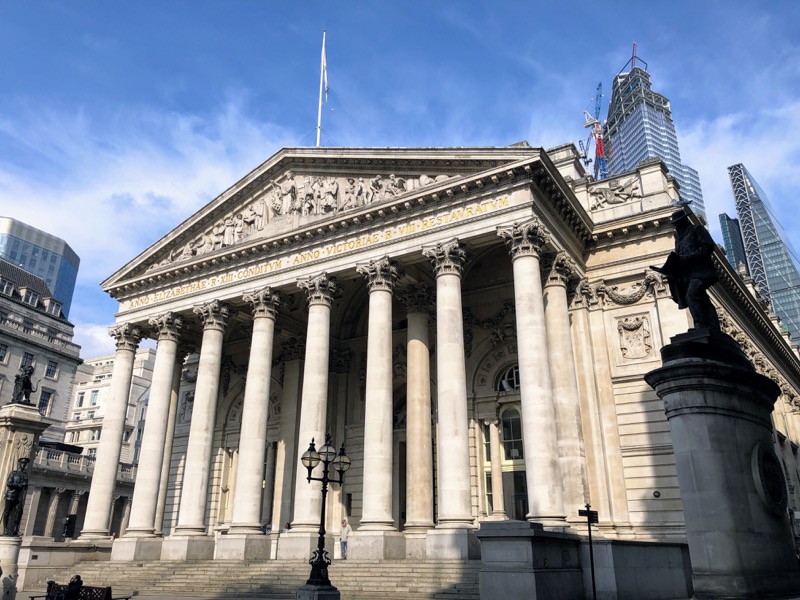 Here's a photo from the same area that I was guided to take, showing classic London with modern elements in the background: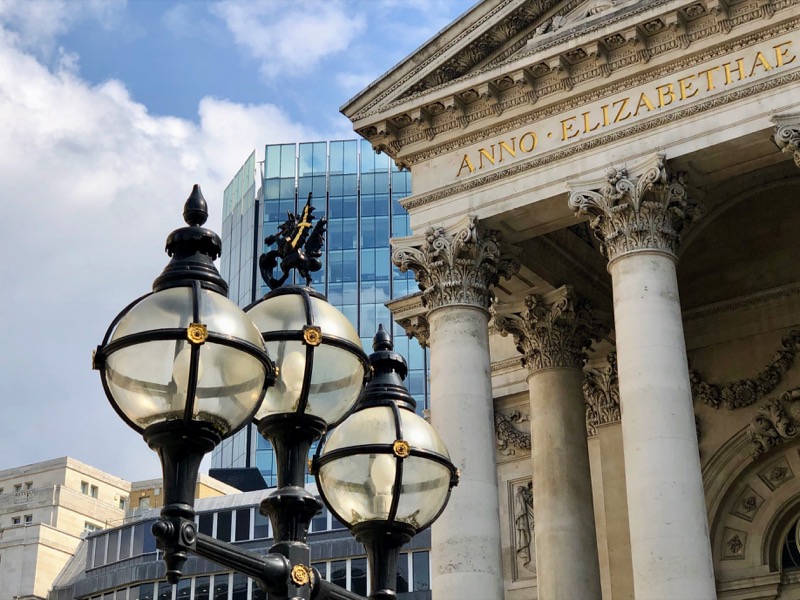 Here's something I wouldn't have thought to take a picture of: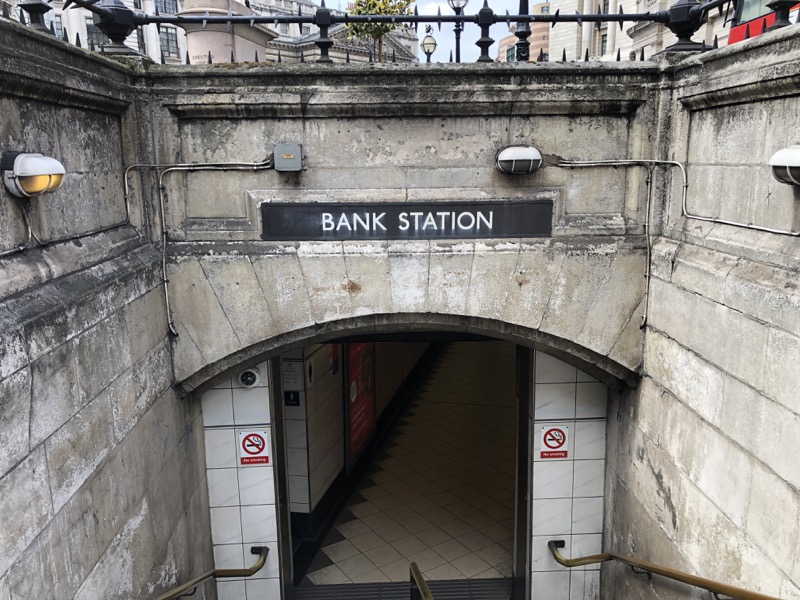 Here's a photo I was guided to take:
Position myself at the center of the stairs with straight lines
Crop out the distracting city background at the top of the photo
Give it a black and white treatment to emphasize the old and de-emphasize the new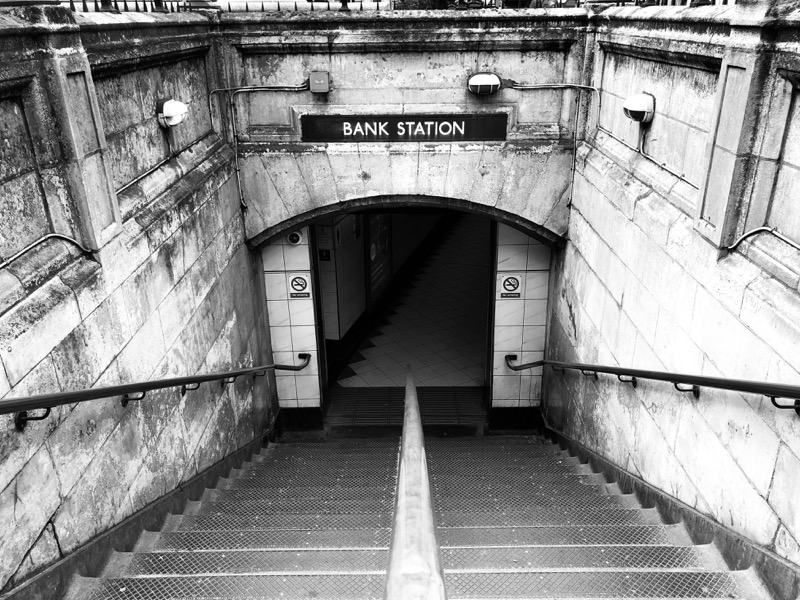 Our guide encouraged us to find unique ways to frame subjects. For example: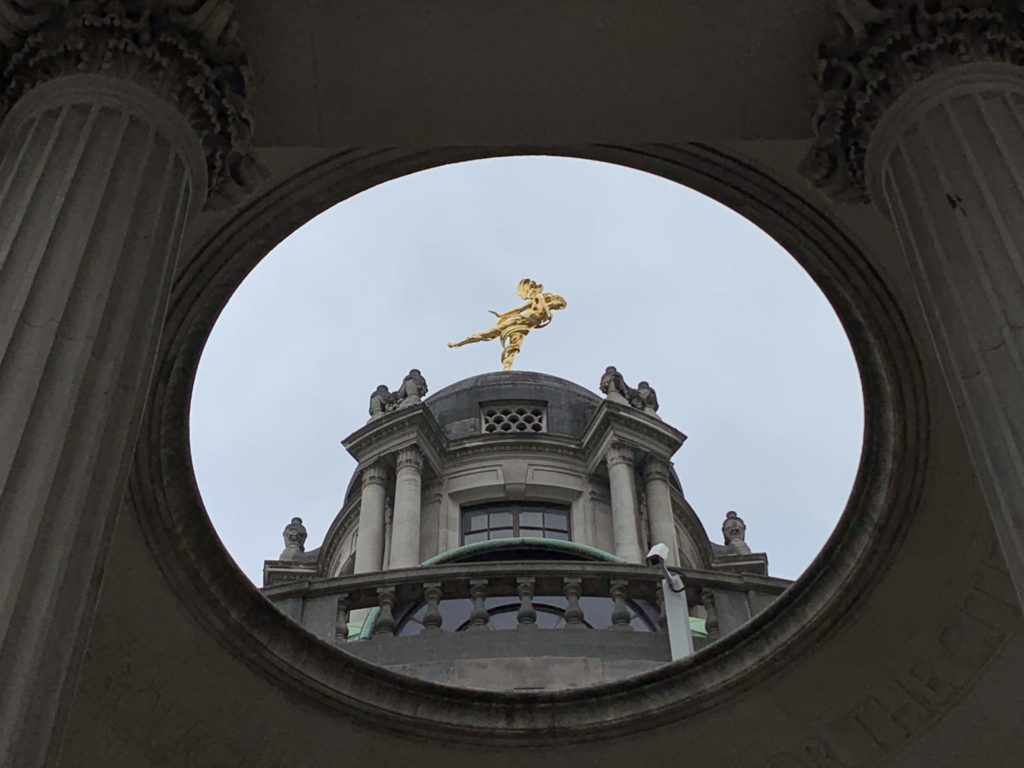 She was a bit perplexed why I chose to frame an image of a Barclays icon. Explaining that I blog about credit cards didn't help the situation.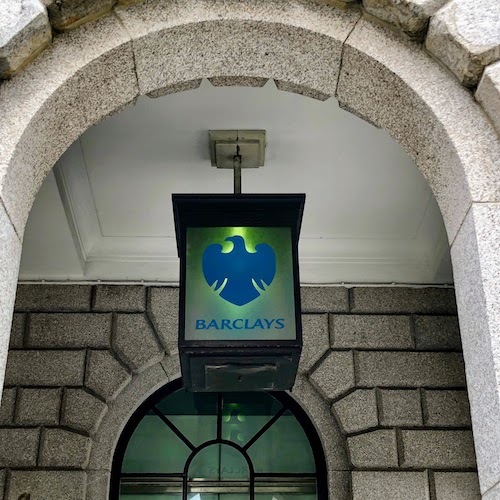 I did use that technique with some effectiveness, I think, at the Rosewood London after our tour. I like this shot because it shows one of the more unique elements of the hotel (the courtyard) with a classic British taxi, and attentive service from the valet: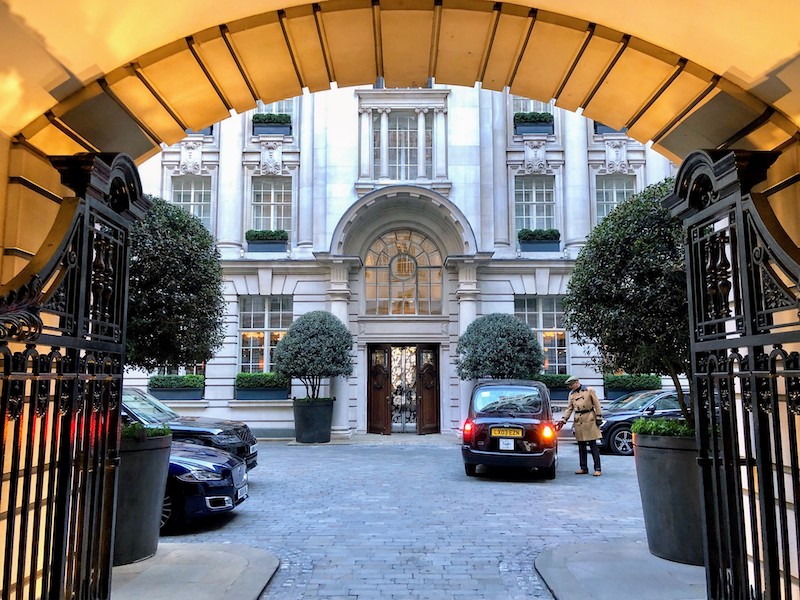 Our guide encouraged us to focus in on one specific unique part of a larger thing. For example, she asked us to take a picture of the entrance to this church. I chose this perspective: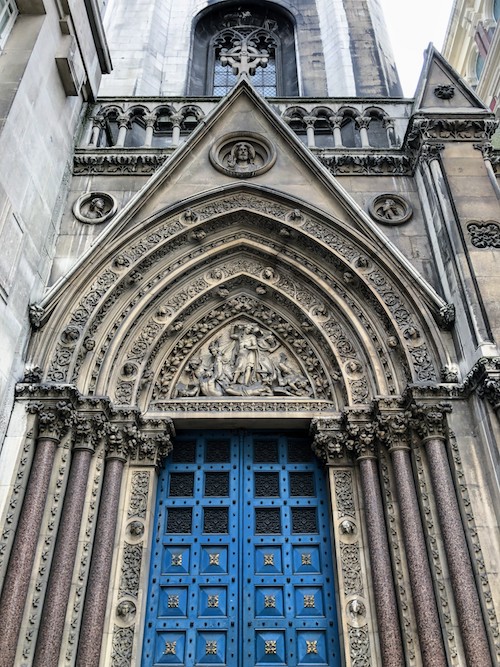 She encouraged us to focus in on something that I didn't even notice in the larger context. Kind of a cool shot: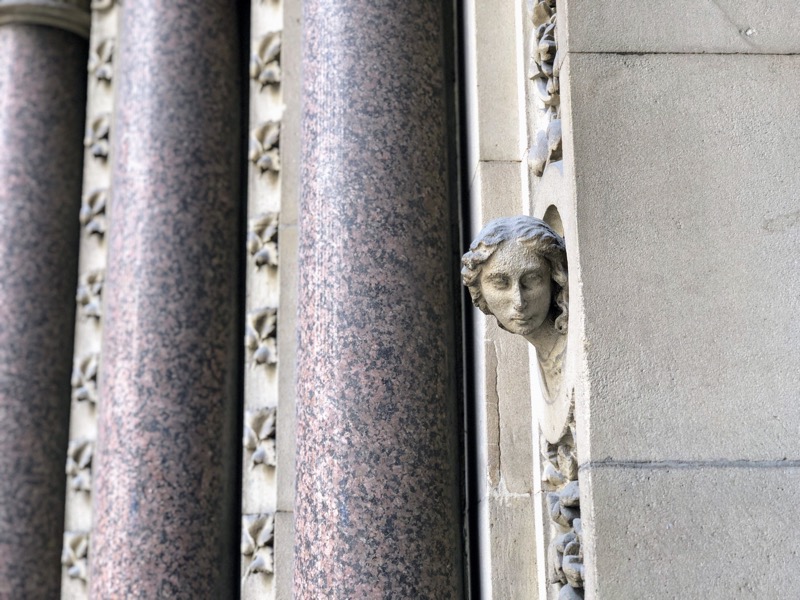 She encouraged us to make use of reflective glass surfaces: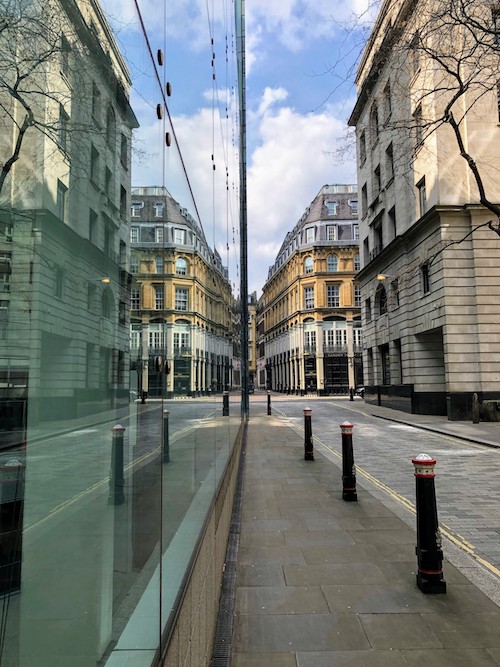 She:
Showed us how to use settings on our phones to lock focus and adjust exposure
And emphasized the importance of straight lines
So instead of photos like this one: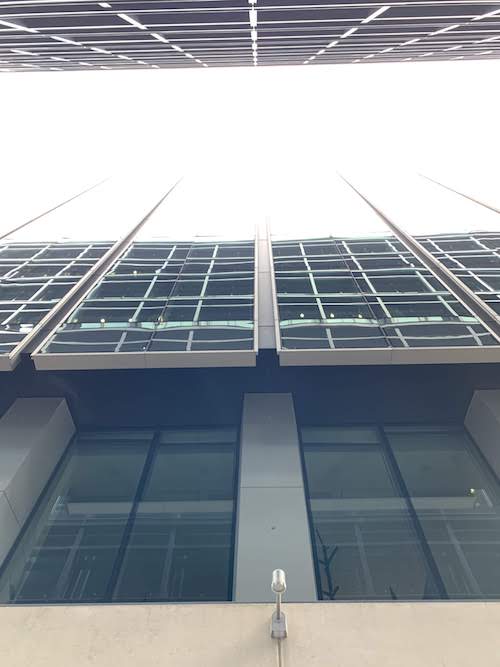 We'd get photos more like this one: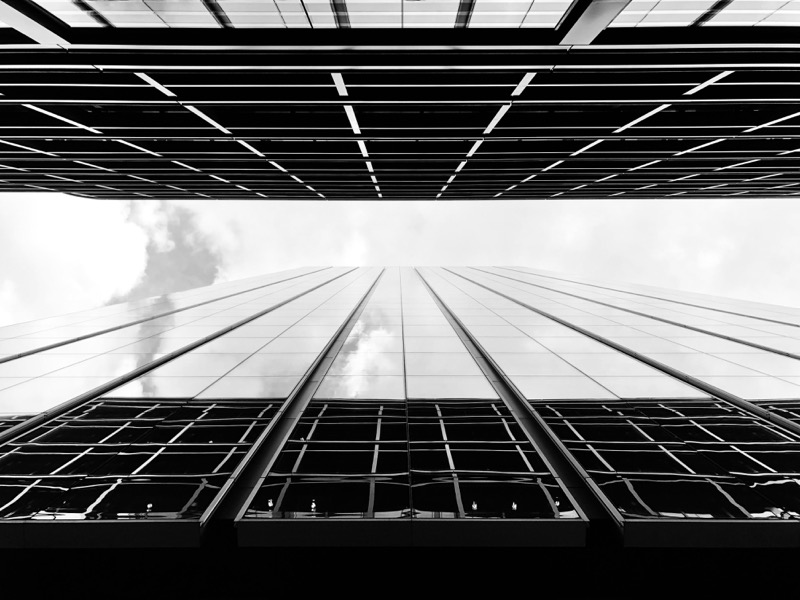 A 3 hour tour from 11:00a to 2:00p without food dragged on a bit for my taste. But it was a fantastic, slightly off the beaten trail thing to do and I enjoyed it a ton.
My Overall Rating: A-
Venice Food Tour with Gondola Ride & Lunch: 10:30 AM, Tour in English, includes Food and Drinks
Tour Operator: Walks of Italy
Duration: 3h
Cost: $78.06 adults, $72.78 Children
Direct link (closest match)
Meet-up difficulties? None. Representative with a 'Walks of Italy' sign was there at the appointed time, who handed us off to our guide who was with us for the rest of the day.
The main thrust here is enjoying Cicchetti (finger foods) at Bacaros (bars where you stand and eat cicchetti and enjoy a glass of wine or a spritz.) That part of it was pretty fantastic because I probably wouldn't have naturally done so otherwise. The format isn't something you see a lot of places. Having a local handle the ordering and navigating the line was appreciated.
I also appreciated the brief historical introduction along the lines of "the merchants were busy and didn't have a time to sit down and eat so this style of food & drink suited their situation and continues to this day."
Our guide was very good: A lifelong resident of Venice with enthusiasm and a great ability to explain nuances in interesting and clear ways.
Overall, I thought it was an outstanding tour with about 12 people altogether. My only gripe was that the Gondola Ride was just a "traghetto" (a ride that gets you across the Grand Canal in 2 minutes, useful when you're not near a bridge but want to cross.) They could have made it more clear that the duration of the gondola ride was so short and not the 30-40 minute experience which is much more expensive. No worries though: None of us much liked the gondola experience anyway.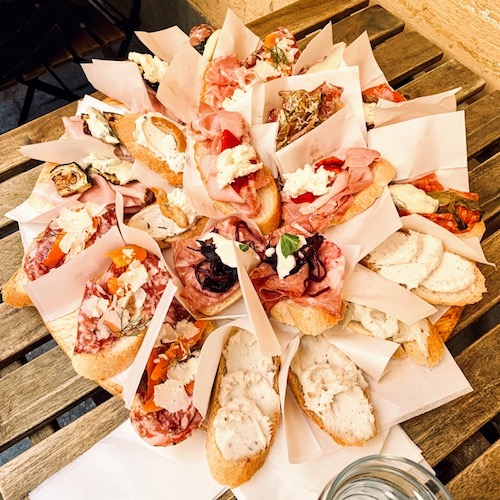 My Overall Rating: B+
Rome: Skip-the-Line Roman Forum, Palatine & Colosseum Tour in English: 11:30 AM
Tour Operator: Touriks
Duration: 3h (ended up being 4h 30min)
Cost: $54.99 adults, $41.52
Meet-up difficulties? Not really. It's pretty hectic around the Colosseum as you'd expect but a Touriks guide was where they said to meet with a sign at the appointed time.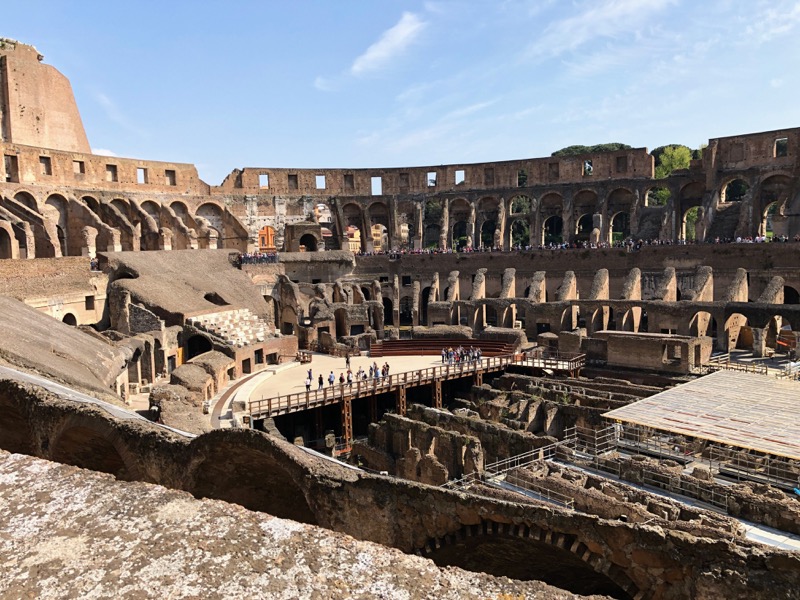 Although this tour did indeed provide skip-the-line access to these big name sites, I didn't like the way we got "handed off" between multiple guides. We met the first guy who introduced us to the next lady who waited with us in line to get the tickets (wait, I thought this was skip the line?) who then handed us off to another person for the Roman Forum tour.
Then there was a 1.5 hour break between the Roman Forum Tour and the Colosseum tour which stretched what should have been a 3h tour into a 4h 30m tour. We were actually thankful for the break because there are no refreshments in the Roman Forum. We headed nearby for some emergency gelato.
Then we were handed off a couple more times for the Colosseum tour. All-in-all it was a lot to take in. I would have liked it more if we had one consistent [really good] tour guide with us the entire time.
If the temperatures hadn't been perfect this would have been a miserable tour.
But we got to see the Colosseum and Roman Forum. The kids studied both in school recently so it was good to do it at least once. Upside, there was audio amplification to the tour which you absolutely needed given the large group and how spread out the walking is.
My Overall Rating: B-
Rome Pasta-Making Class & Market Walking Tour: 10:30 AM, Tour in English, includes Food and Drinks
Tour Operator: Once in Rome Tours
Duration: 4h 30min
Cost: $55.55 per person
Direct link to closest match from Once in Rome Tours
Direct link to tour we actually ended up experiencing
Meet-up difficulties? Yes. Majorly stressful and annoying.
What time do you think a 10:30 AM tour starts? 10:30 AM, right? Wrong! For some reason it started at 10:00a. I noticed this inconsistency after clicking through my email confirmation to the "See Your Itinerary" page to view our vouchers.
Beyond that the meeting place on the confirmation page says both:

It took us a few phone calls to the tour company and a half an hour to finally connect with our guide. By then, we were out of sync with the other 2 people on the tour in terms of introductions. And I was a little cranky.
But you know what? I quickly snapped out of it because this was by far the best experience we had our entire time in Europe.
The whole thing was perfect from the time we met our guide until we said goodbye.
It started with a market tour of unique things in the Campo de' Fiori market, where we'd taste a few items and pick up some ingredients for the pasta we'd make and enjoy later. Our guide, Silvia, did a great job keeping it to things that were truly unusual to us and kept any overly aggressive vendors at bay.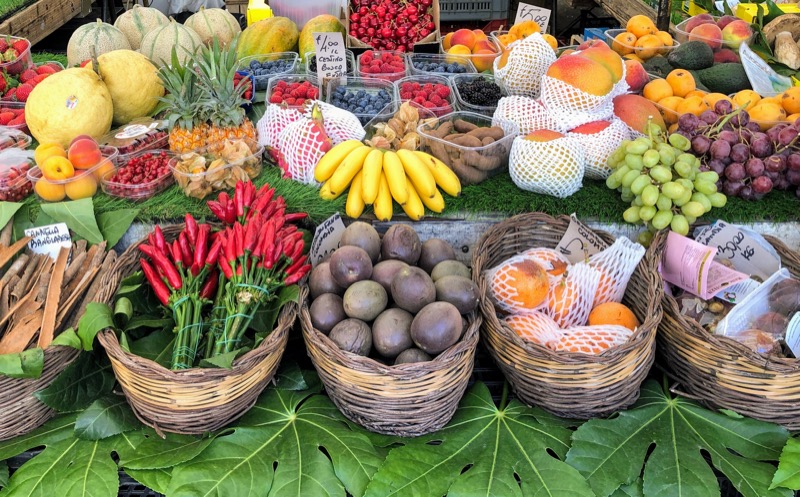 After the market, we went back to Silvia's apartment where she and her assistant had wine and stations prepared for us for making pasta. We each got to make two types of pasta, which in turn resulted in two delicious dishes that we got to enjoy for lunch.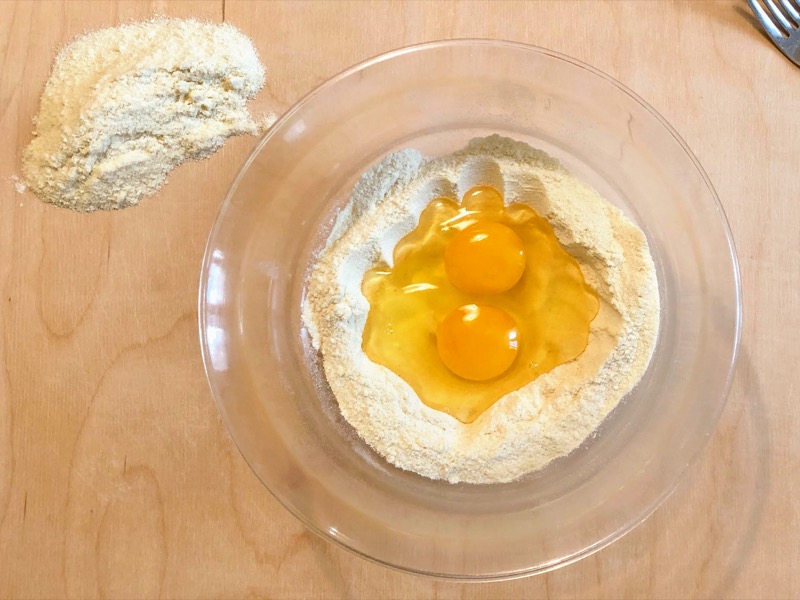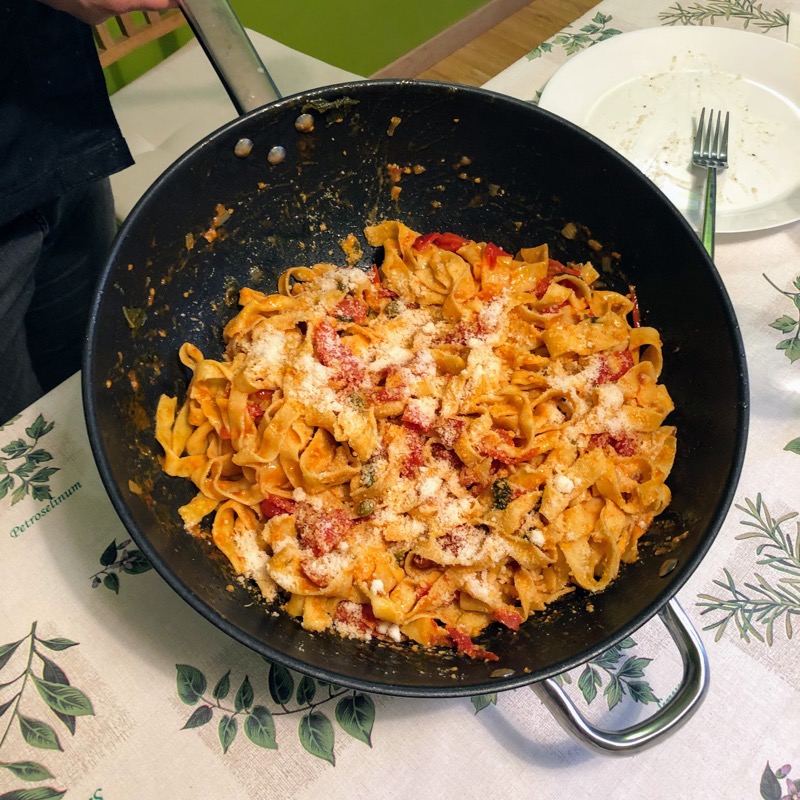 It became clear to me along the way that the tour we were on wasn't really the tour we booked, but in a good way. Somehow, it seems, Once in Rome [the original company we booked with] re-routed our tour to what was essentially an AirBnB Experience.
I could have quibbled about the description of our tour saying it included making 7 shapes of pasta when our tour only included 2. But our guide and the overall experience was so utterly fantastic that I wish I knew how to replicate the stunt of booking an AirBnB Experience through the Chase Ultimate Rewards portal.
I think our experience was just luck. Or perhaps when they don't have enough people to go on tours, operators consolidate? That's the best explanation I can think of.
My Overall Rating: A+ (I strongly encourage booking this directly with AirBnB Experiences to get Silvia's tour: link)
Tips
Try to make the contact info you provide before the tour match with phone numbers/email you have access to while on vacation. The tour companies may try to contact you with schedule changes.
Double-check the tour start time and meeting point, not just on the email confirmation but by clicking through to "See your itinerary." Sometimes they don't match up.
When you click through "See your itinerary" it appears to dump you ambiguously into the Chase Ultimate Rewards portal. But if you select the Chase credit card that you booked the tour through (in my case the Chase Sapphire Reserve for 1.5x uplift) it will take you to a more detailed page and additionally to a page with vouchers.
I didn't actually need the vouchers for any of the tours. I just gave them my name. But printing out vouchers ahead of time would be wise – in case they didn't have your name on the tour for whatever reason.
Create a PDF of the detailed tour description at the time of booking because the email confirmation and vouchers don't have as much information about the tour descriptions. Not a huge deal, but when questions about whether you got what you were expecting arise it's good to have detail to refer back to.
Have a phone with that has affordable international rates to call the tour companies at the numbers listed in the email confirmation in case you can't connect with them. In my experience they answer their phones and can patch things up.
Make sure to plan with some lead time. If you search day-of you're not likely to find many options, even for ground transportation.
Bottom Line
I was a little concerned going in that:
a) The tours would be a little cliche or cookie cutter and thus not that interesting
b) We wouldn't be in the mood to do the activities we signed up for when the time came
c) We'd have a hard time finding the tour guides at the meeting point at the appointed time
For the most part, those concerns didn't materialize.
The assortment of tours in the Chase Expedia portal are quite interesting. There's a lot of different things to choose from, and going through the portal sparked some ideas that wouldn't have otherwise occurred to me – like the photography tour.
Having one activity each day to get us up and going was actually a good thing. If we're not careful we'll sit around the room looking at our phones, or just stumble around the city we're in aimlessly.
The meeting of the tour guide only proved to be a problem in once case, and we were able to patch it up and have a great time.
So I'm a fan of booking tours through the Chase portal. It went well for this trip and I can see myself doing more of it in the future. Especially in say, Tokyo, where the cultural differences are even more significant.
What's been your experience booking tours and activities like this in general? Any tips you'd like to share?