Citi is offering $75 off $750+ hotel bookings with code TY75HOTEL for bookings between November 1, 2019 and December 31, 2019.
Update (Nov 1, 2019): This code works towards online ThankYou Point bookings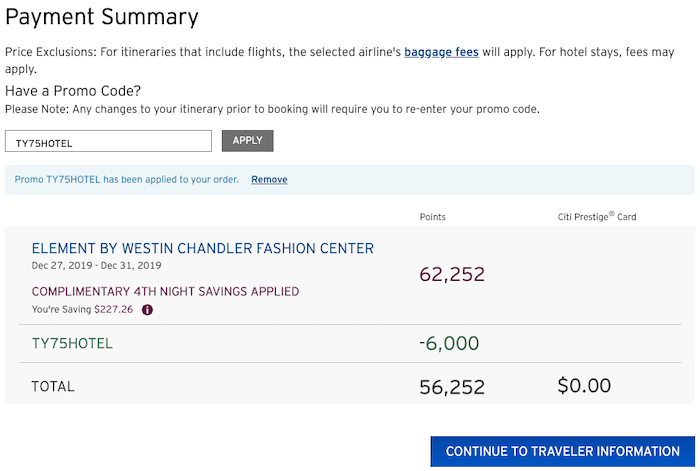 —
It's unclear [to me] whether you can use this code for bookings paid for with ThankYou Points, though I am hopeful.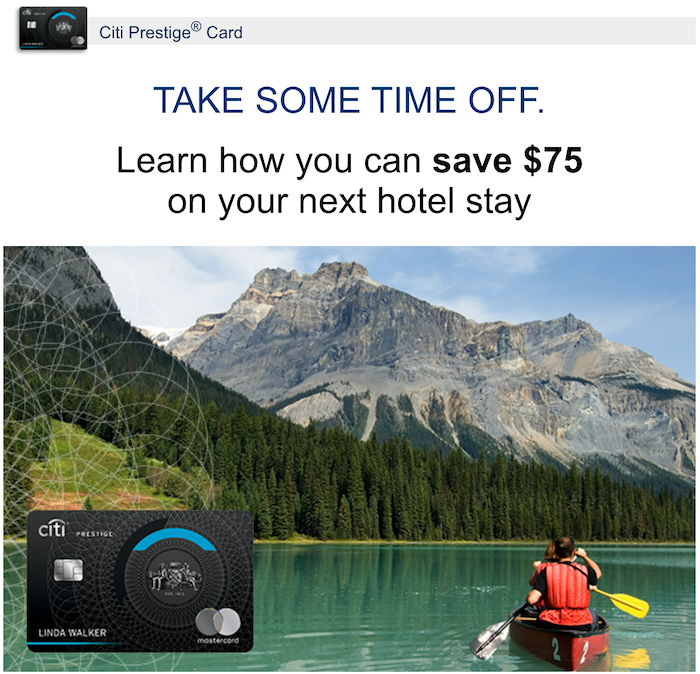 For certain cardholders, there could be a potential here to stack:
4th night free with Prestige
25% uplift with Premier
10% rebate with Rewards+
This $75 off $750 code
Since the code isn't acitve yet, it's unclear whether it can reduce the price of bookings paid for with ThankYou Points. But if it can, under just the right circumstances, it could create strong value for bank points enthusiasts.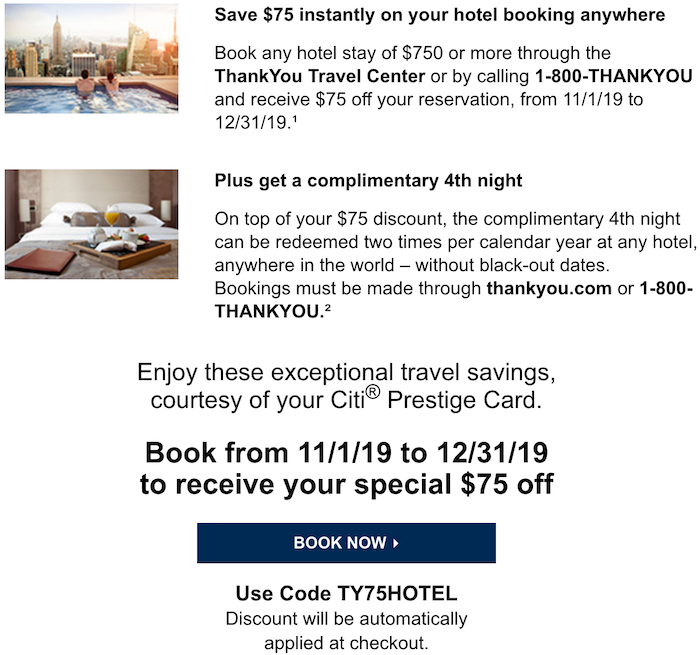 The Citi portal has a tendency to inflate hotel prices. And some hotels aren't listed in the portal at all. And bookings through third parties like the portal will cause most loyalty hotels to not honor status benefits. But other than that: Great deal! 😉
One silver lining is that you can combine multiple hotel bookings to reach the $750 threshold. And you can book 330 days out. But still, it seems like you'd really need fortunate alignment of demand schedule with this promotion for it to be highly impactful.
Fine Print:
¹ Offer Details: $75 off your total hotel booking of $750 or more, inclusive of taxes and fees, when booked through the ThankYou Travel Center. All hotels available on the travel rewards site are eligible, subject to availability of desired dates and room type. Reservations can be booked up to 330 days in advance. Must enter promo code TY75HOTEL at checkout. Discount may be applied to multiple hotel reservations placed in one order. Program Terms and Conditions apply. Hotels must be booked by 11:59 PM EST on 12/31/19. Travel services provided by Connexions Loyalty.

² Cardmembers will enjoy a complimentary fourth night with no black-out dates ("Fourth Night"), when booking at least four consecutive nights at any hotel only through Thankyou.com or by phone at 1-800-ThankYou (powered by Connexions) and subject to additional requirements stated below. All bookings must be made through ThankYou.com or by phone at 1-800-ThankYou. The amount due to you for the Fourth Night benefit will be based on the average nightly rate of your stay (excluding taxes and fees). When booked through Thankyou.com or 1-800-ThankYou, the complimentary night savings will be provided at the time of booking. Cardmembers are eligible for no more than two complimentary Fourth Night benefits per Card Account per calendar year. To receive your Fourth Night benefit, you must 1) book a minimum of a four-consecutive-night hotel stay through thankyou.com and 2) pay for your complete stay with your Citi Prestige Card, a redemption of ThankYou Points, or a combination of ThankYou Points and your Citi Prestige Card. You must prepay for your reservation. As stated above, you will receive the complimentary night savings, based on the average nightly rate of your stay (excluding taxes and fees), at the time of your reservation.
If booked through Thankyou.com, all reservations must be changed or cancelled through Thankyou.com or by calling
1-800-THANKYOU.

Eligibility Requirements
Reservations can be made in the primary cardmember or authorized users' name.
Only one complimentary night is eligible per each stay. A stay is consecutive nights booked and stayed on one reservation and does not include back-to-back stays. Back-to-back stays are stays at the same hotel booked on two reservations (as an example, you book four nights at a hotel on one reservation for Monday, Tuesday, Wednesday and Thursday and book another four nights on another reservation for Friday, Saturday, Sunday, and Monday. In this situation, you would only be eligible for one complimentary night for the eight night stay).
For group reservations, or other reservations consisting of multiple rooms, only one room will qualify for one complimentary night.
Packaged rates, such as air and hotel, hotel and car rental do not qualify for this benefit.
Hotel imposed fees and incidental guest charges are the Cardmember's responsibility and are not included in the calculation of the Complimentary Fourth Night benefit.
Reservations made through any party or channel other than Thankyou.com are not eligible for the Fourth Night Free benefit.
The Complimentary Fourth Night benefit is intended only for personal use by the primary cardmember and/or authorized user(s), and not for business travel.
Connexions Loyalty assumes all responsibility for fulfillment of this promotion. Connexions Loyalty is not an affiliate of Citibank N.A., the issuer of your credit card of Citigroup. By enrolling in this offer, you will be disclosing information to a company outside of the Citigroup family of companies.
We discussed whether to Keep or Cancel the Citi Prestige card in Episode 41 of our podcast.
Question of the Day: Have you been able to find any great uses for this promotion?