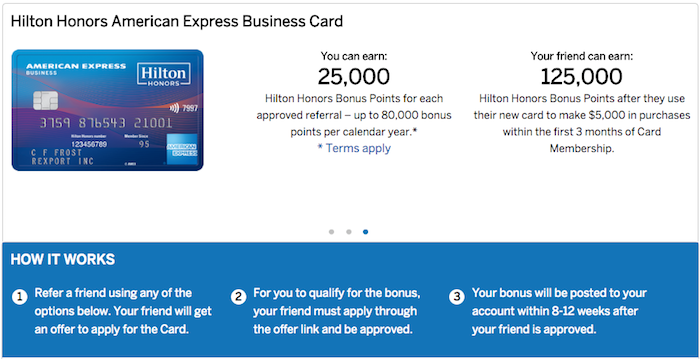 The AmEx Hilton Business credit card I wrote about yesterday is now eligible for referral. The offer is 25,000 for you and 125,000 for your friend.
How to refer
Direct link to refer-a-friend on an AmEx card: https://www.americanexpress.com/refernav/
Log in.
Refer your friends.
Receive bonus rewards if your friend is approved.
Thoughts
On the receiving end, this offer isn't as good as the 125,000 + $50 statement credit offer I wrote about yesterday.
But if you're referring a spouse I'd take 25,000 Hilton points over $50 since Hilton points are worth around a half a cent or $125 to me.
Another scenario could be where you refer a close friend and "split" the referral.
If you don't want to involve a close friend in referral splitting, and you're in two player mode, I think the optimal solution would be to go for the 125,000 + $50 statement credit then refer your spouse for another 25,000 + 125,000.
It's worth noting a 80,000 point annual cap on referrals for this card, so that's 3 referrals and you'll be maxed out.