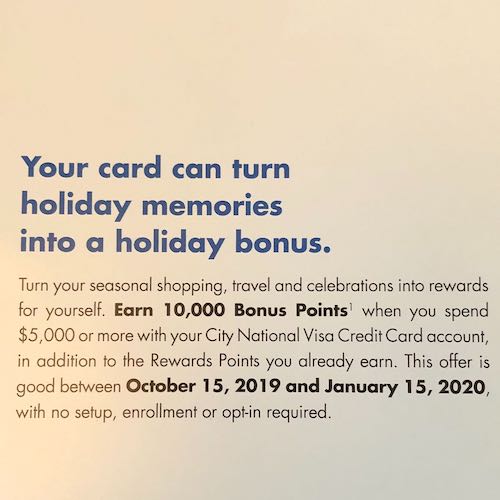 CNB Visa 10,000 Bonus for Spending $5,000
City National Bank Crystal Visa Infinite cardholders should check their USPS mail for this targeted (?) offer: Earn 10,000 bonus points for up to $5,000 in spend between October 15, 2019 and January 15, 2020. If targeted the offer should be applied to your account automatically.
This is a bonus in all categories as I read it so grocery/dining/travel spend would earn its regular 3x + 2x bonus points for a total of 5x in those categories up to 5,000 in spend. The fine print says the bonus is once per account, not per individual authorized user card.
The bonus period doesn't start until October 15, 2019 so don't spend immediately. And if you cut it close as the end give yourself a few days to let transactions post before the offer ends.
CNB Points Devalued
As we were discussing in Episode 47 of our podcast, CNB recently devalued their rewards. Once worth as much as 1.3 cents a piece towards travel, points are now worth 1.1 cents a piece for travel booked through their concierge and ~1.2 cents a piece when booked through their portal.
It was a painful no-knock devaluation, no doubt about it. I'm trying to consider the value of CNB's program overall with fresh eyes, but I'm seeing challenges on the redemption side beyond just the per-point devaluation.
CNB Rewards Booking Challenges
Hotel bookings through the Concierge can only be made if the hotel offers a prepaid rate. Bookings through the portal, even if you call the travel desk, can only be made for the properties listed in the portal. And bank point portals are notoriously inflated for hotels. So this knocks out some of the more desirable bookings you might want to make.
It seems the best redemption therefore would be for moderately priced air travel. And perhaps trying to stack the $100 Visa Infinite airfare discount when booking 2+ tickets. But that comes with its own restrictions (like no JetBlue) and you'd only get 1.1 cents per point of value if redeeming through the concierge.
Bottom Line
All in all, the card is worse than it was but perhaps worth keeping if you can find your way to decent redemption value. This promo gives me reason to use the card some more.
If you have the card and weren't targeted it might be worth dropping an email to your banker.