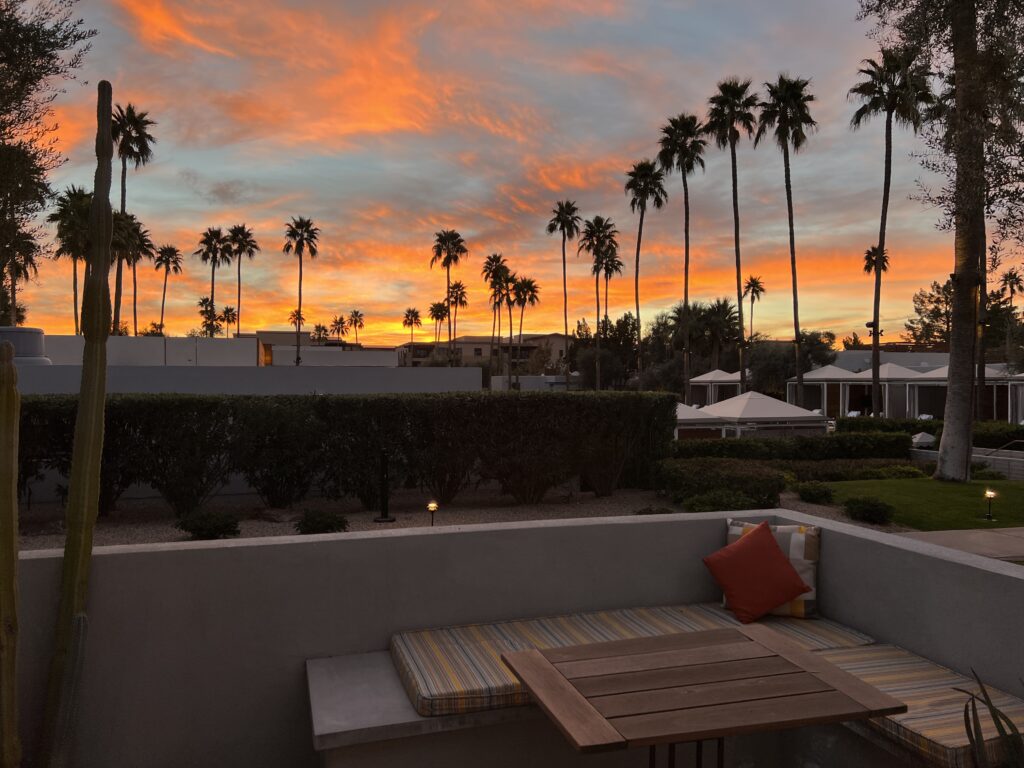 We're just back from a week-long stay at the Andaz Scottsdale. You get to know a lot about a property during a longer stay. Despite having Globalist status and staying at a lot of Hyatt properties over the years this was our first time at an Andaz.
Let's get right into it…
Quick Review
The 185 room bungalow style Andaz Scottsdale is centrally located in an affluent part of the greater Phoenix area near shopping and residential developments. About 20 minutes from PHX Sky Harbor Airport, it features views of Camelback mountain, an on-trend mid-century modern aesthetic, a vibrant pool scene, and a locally inspired food & beverage program with an eye towards wellness.
Typical Clientele: Who Stays Here?
The typical guest varies quite a bit on the weekend vs weekdays.
On weekends there's typically a wedding, and with that comes large groups competing for things like seating at the hotel's one restaurant/bar. On weekdays, small conferences roll in with more individualistic tendencies.
Beyond this, weekends see more vacationers as you'd expect and as a result, the hotel pool is more lively and crowded on the weekends. More families in the morning and more fashionable young to middle-aged groups of couples in the afternoons.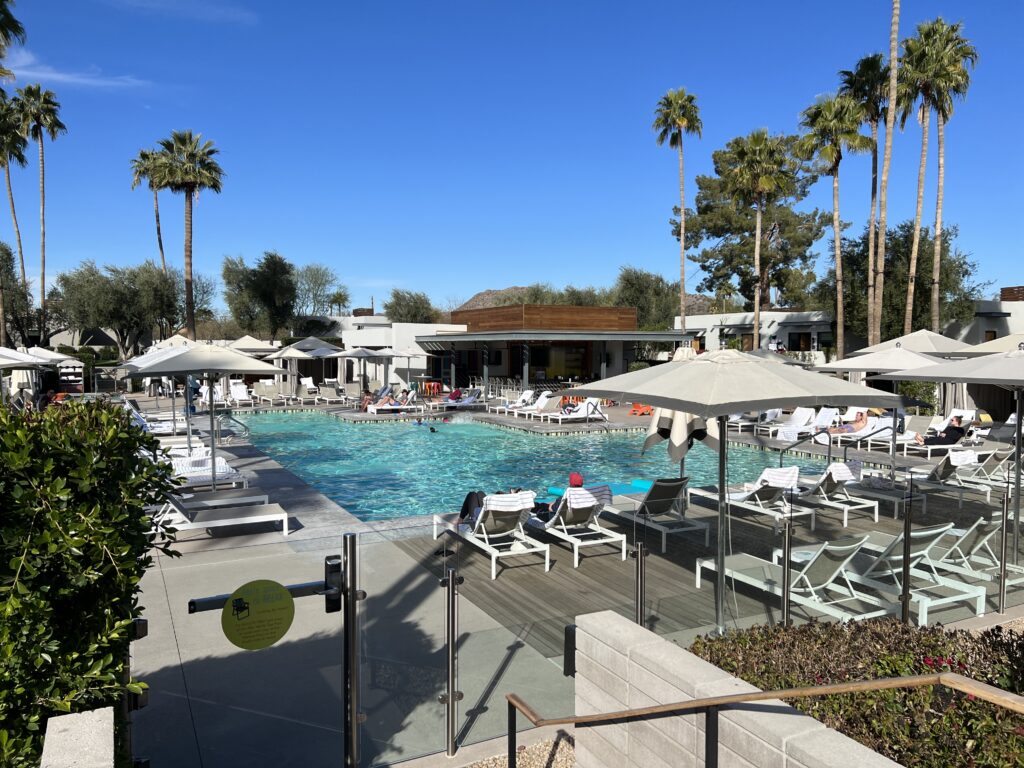 Room Rates
The Andaz Scottsdale is a Hyatt Category 6 hotel at 25,000 points/nt. Now that Hyatt has peak and off-peak these rates can go as high as 29,000/nt and as low as 21,000/nt.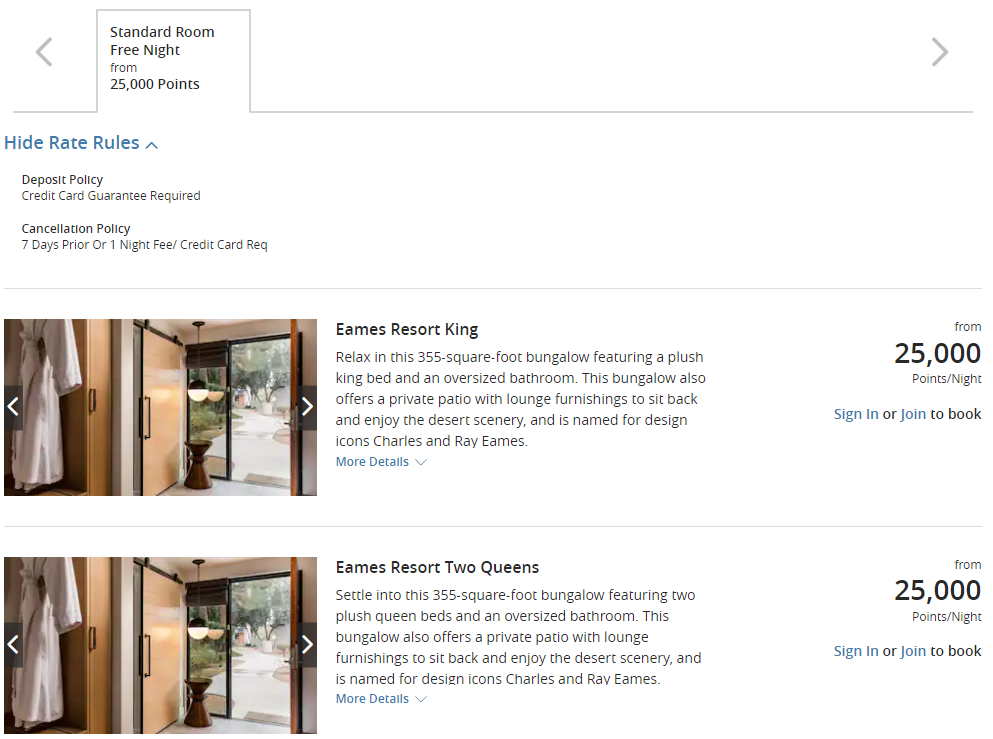 For our stay in February 2022 around President's Day cash rates started at $872/nt so there's quite a bit of value in award stays here.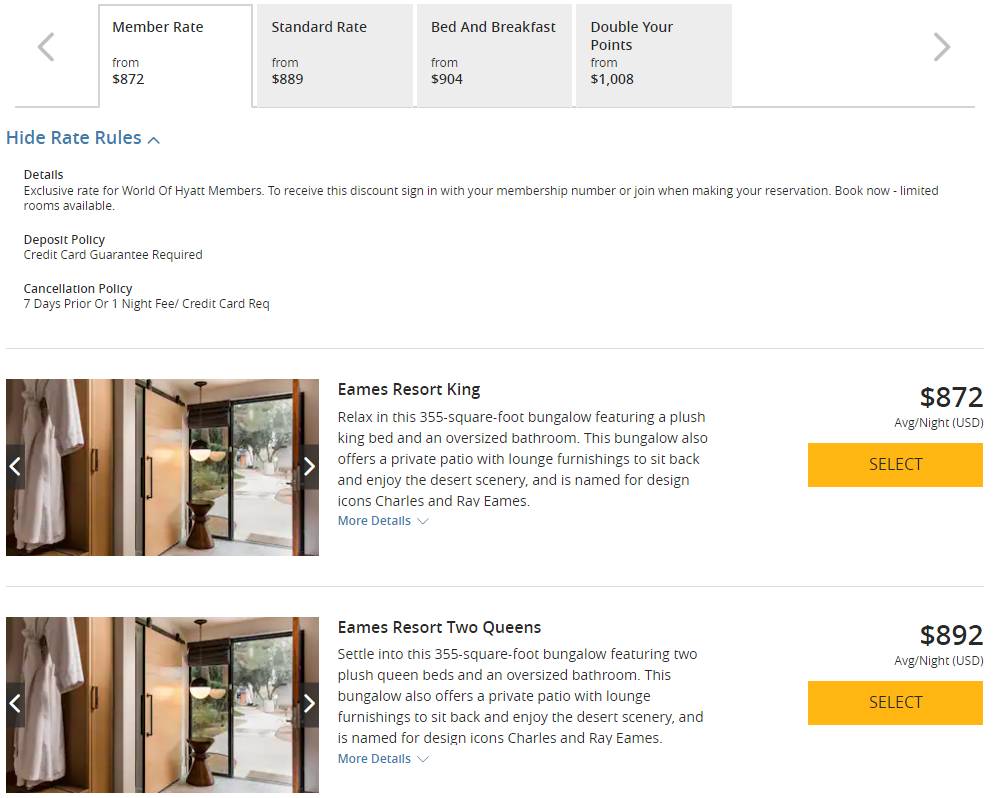 I had a peek at a couple of the entry-level rooms. They weren't particularly inspiring, especially considering the $872+ price tag.
Award Availability
Like other Hyatt hotels (unfortunately) the Andaz Scottsdale seems to enforce a minimum length of stay for award bookings. For our stay in February 2022, there was no award availability until searching for six nights.
The Eames Resort King and Eames Resort Two Queens are the qualifying standard free night rooms.
I've had luck at other Hyatt properties booking a longer stay then shortening it to get around these restrictions. Since our stay was seven nights we didn't have to play those games. Nonetheless, I wish Hyatt properties didn't do this. It feels against the spirit of the World of Hyatt program that if a standard room is available at a standard cash rate it should be bookable as an award.
Coincidentally, we had family in the Phoenix area join us for one night during our stay. We found that single-night award availability opened up a few days before arrival.
Suite Upgrade
Before arrival, we used a Globalist Suite Upgrade Award to ensure a suite for the duration of our stay.
This books into a 750 sf Sonoran Suite with a king bed, queen sofa, two full baths, and two patios. The Sonoran Suite was priced at $1,372/nt during our stay so it felt like a good use of a Suite Upgrade Award, especially since we were staying a full week.
We wanted as much space as possible since we were traveling with our two boys. The bedding configuration wasn't ideal for our situation (the property doesn't have rollaway beds) but the square footage and two bathrooms were much appreciated. We had housekeeping set up the L-shaped sofa into essentially a queen + a twin so it worked well for us.
Our two family members staying one night at the hotel at the beginning of our vacation did not receive a complimentary suite upgrade at check-in. One has Globalist status as well, the other was staying as a Globalist Guest of Honor. Sonoran Suites showed available but for some reason, the hotel chose not to upgrade them.
Beyond the ability to use a suite upgrade award, we found this property didn't provide much in the way of Globalist leverage.

Sonoran Suite
The property does a great job describing their suites and other rooms on their website. Especially since the room layout is quite unique, I appreciated this guidance prior to arrival.
A Globalist Suite Upgrade books into a Sonoran Suite. It's kind of two rooms smushed together with the second room converted into a living space. It didn't seem to be designed as a suite from the beginning but it served our family of four well.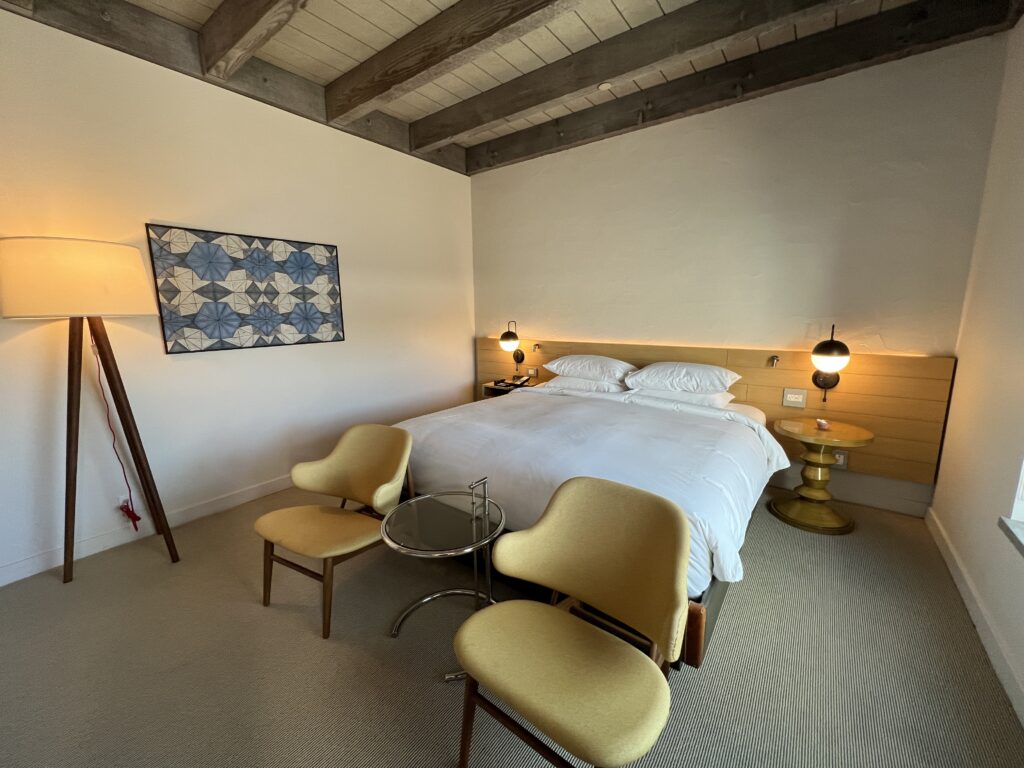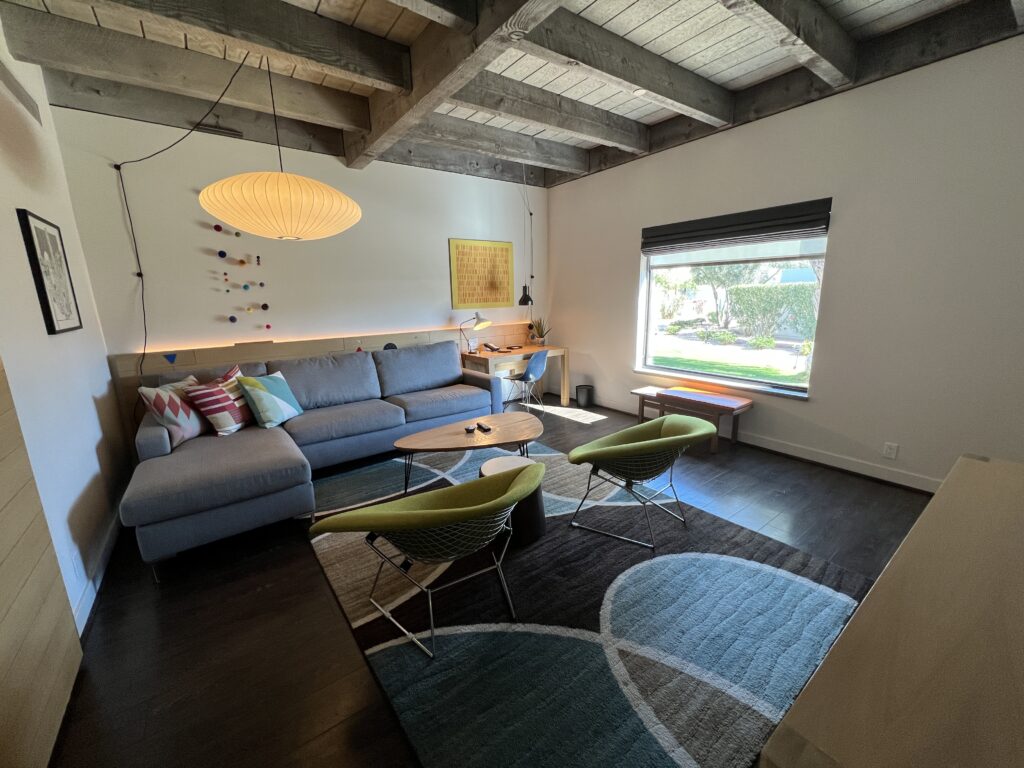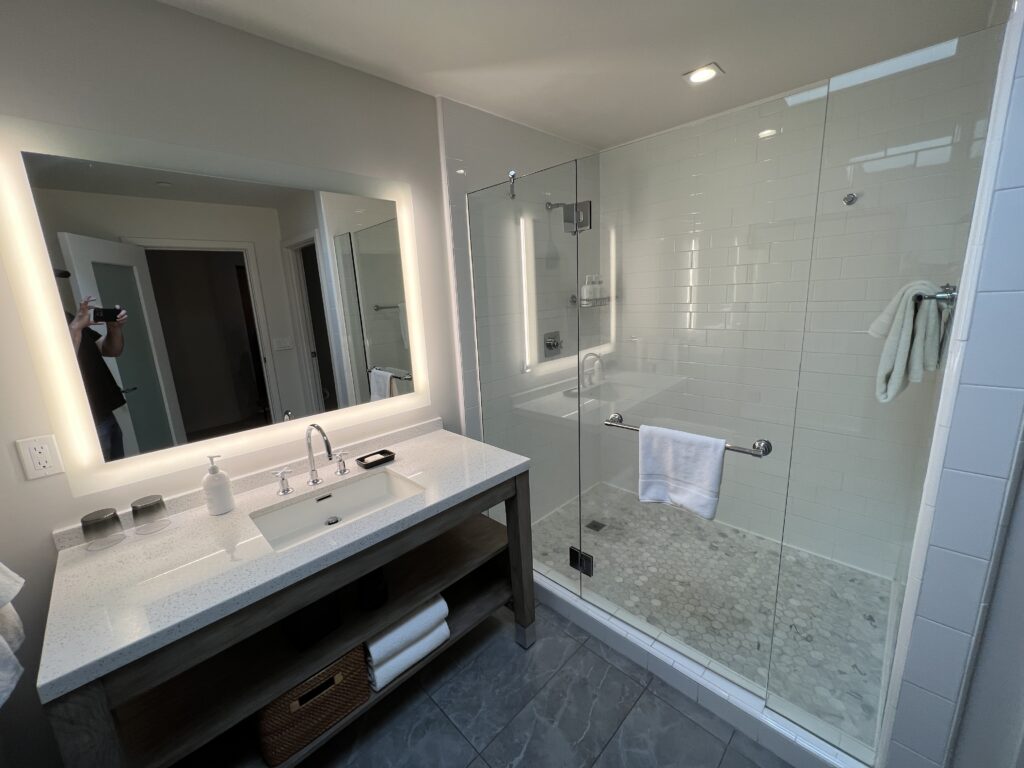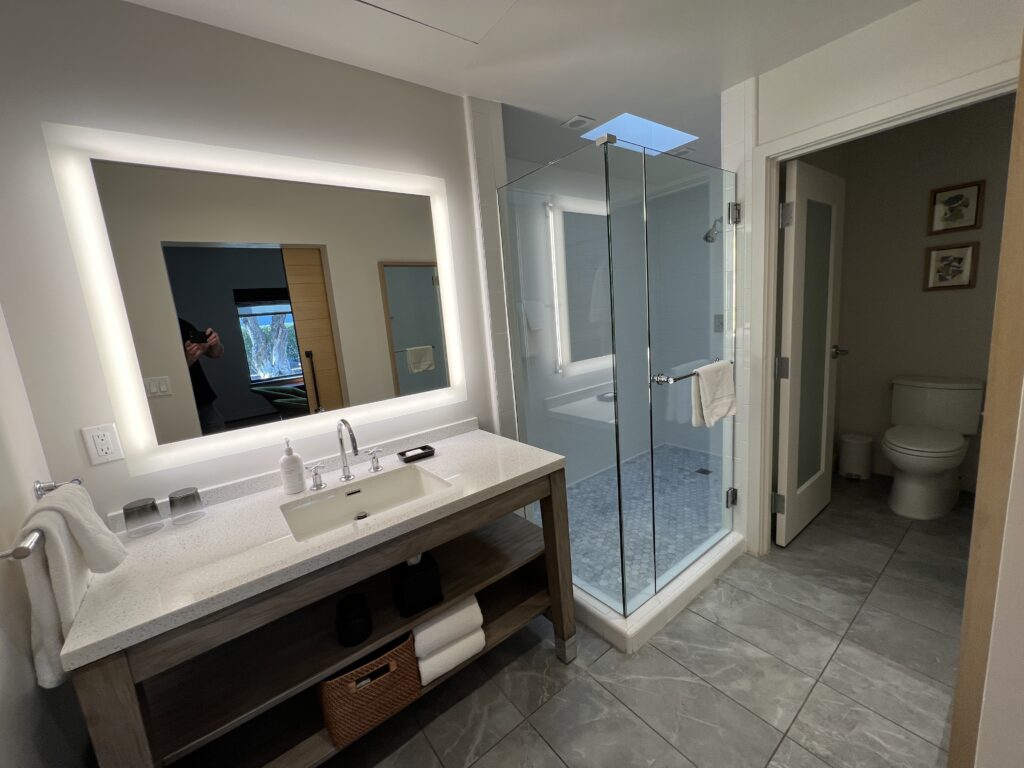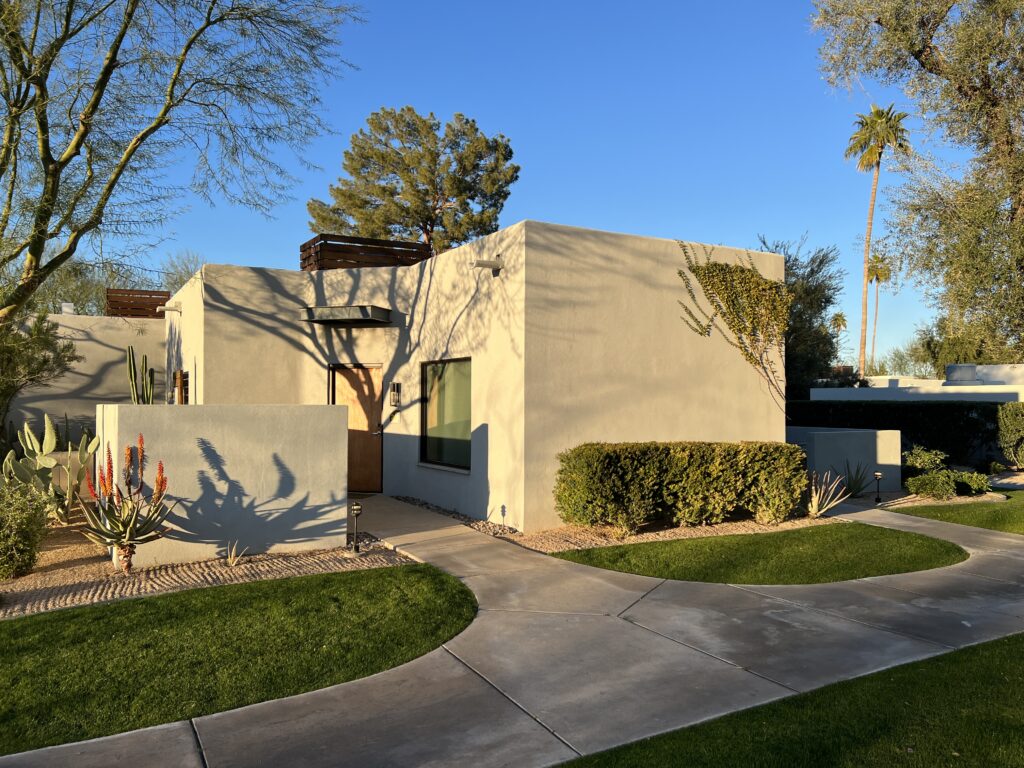 Breakfast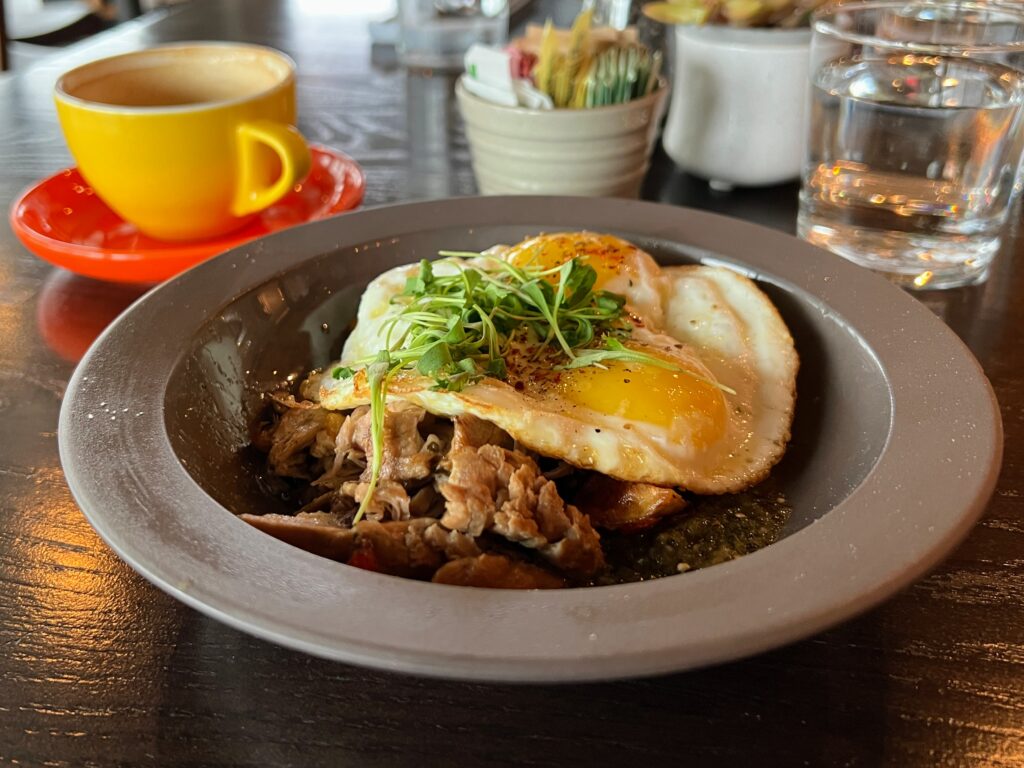 Breakfast is served at the hotel's one restaurant Weft & Warp. Hyatt's standard policy for breakfast at properties without a club lounge is:
Globalists will receive daily complimentary full breakfast (which includes one entrée or standard breakfast buffet, juice, and coffee, as well as tax, gratuity and service charges) for each registered guest in the room, up to a maximum of two (2) adults and two (2) children. The age cut-off for a "child" is determined by each hotel or resort in its sole discretion.
At check-in, I inquired about breakfast options and was told it was a $60 per room credit, and that was in fact what the restaurant adhered to. I was mildly irritated that the hotel chooses not to honor the Hyatt Globalist free breakfast benefit to two adults and two kids, but didn't argue.
We minimized what we enjoyed at breakfast and supplemented with light options from the nearby Trader Joe's and the outstanding AJ's Fine Foods grocery store.
Our family who concurrently stayed at the hotel on a Guest of Honor booking was charged full price for their breakfast. That bothers me because a "guest" of a Globalist may not know what they are entitled to. A poor showing on this front in particular.
Overall, I thought the food was solid and the service pleasant. The space is attractive. I was able to find 7 different breakfast options that were interesting and high quality. I appreciated that they tried to tailor the menu to the locale. For example, if you ask for hot sauce they bring you a trio of options from a local purveyor.
Sunset Hour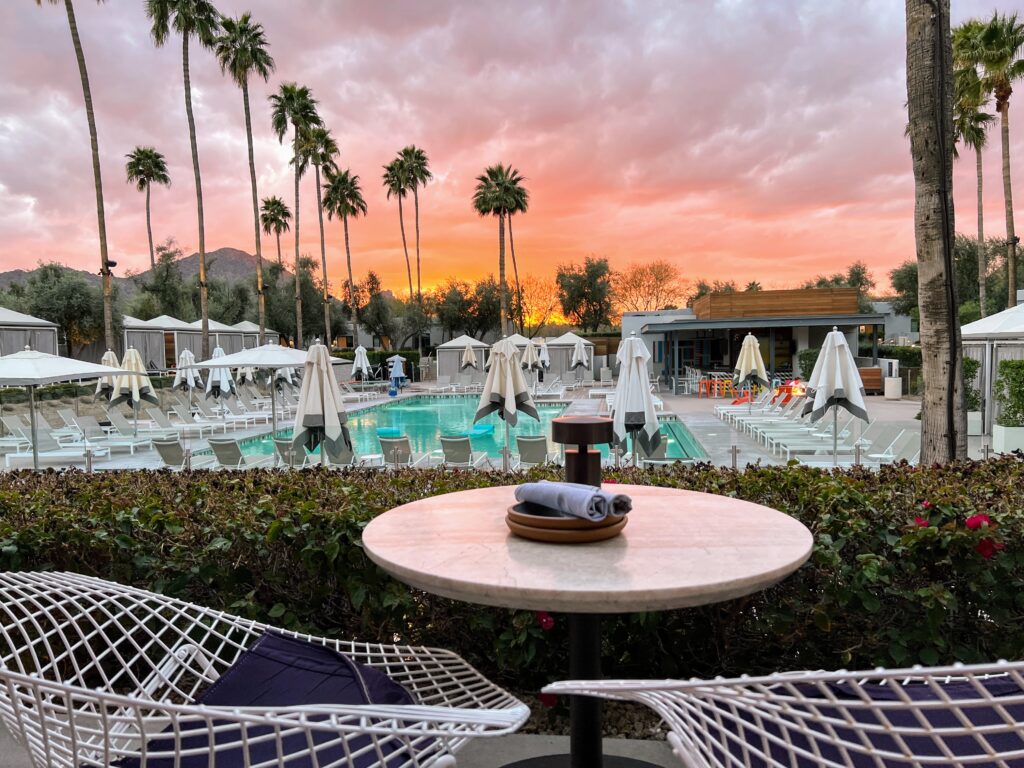 The restaurant/bar plus adjacent outdoor seating overlooking the pool is the heart of the hotel. Each night from 5-6:30p the hotel encourages guests to gather for Sunset Hour with 30% off starters.
On pleasant evenings, especially on the weekends, seating is very competitive. At these times it felt like the hotel's dining options were too small for its overall size.
On the first night we arrived, they had a hard time accomodating us. Our group of 10 crowded around a table for 8 with meager views.
On the last night of our stay, a Friday, I thought I'd wisened up and requested a table for later that evening while at breakfast. The restaurant manager indicated they were fully booked that evening until 9p and asked whether I was staying at the hotel. I thought that was odd given I'd visited the restaurant every morning and most evenings and interacted with the staff regularly. Despite inquiring with upper management our request for a table was denied. That felt like a missed opportunity for hospitality and ended our stay on a bit of a sour note.
My point is: Make reservations for Sunset Hour seating ahead of time, especially on weekends.
Globalist Perks
Daily parking is complimentary for Globalists on award stays and the $39/day resort fee is also waived.
Guests in suites are also supposed to get these perks:
Guests staying in our Sonoran suites are provided with a dedicated Experience Concierge to assist with all aspects of their stay. From arranging transportation to and from the airport to securing reservations for activities, dining, and events—both at Andaz and in the surrounding area—they can help with nearly any request. A complimentary Raise Your Glass class also is included if desired, along with a special welcome amenity. Reservations are required for all mixology experiences to continue to provide an intimate experience for all guests. Please secure your spot at least 48 hours in advance by contacting our spa hosts at (480) 214-4672 or book directly here.
Sadly, we weren't advised of any of these amenities upon arrival and didn't take part in them.
The welcome amenity was a bottle of red wine.
One thing the Andaz brand is famous for is its complimentary minibar:
Our complimentary mini-bar invites guests to taste local treats and non-alcoholic beverages.

https://www.hyatt.com/brands/andaz
Unfortunately, the Andaz Scottsdale doesn't seem to adhere to this brand standard. Our room was stocked with some of the items listed on the menu below but other than bottled water the mini bar was definitely not complimentary.
Hotel Amenities: Things to Do
Gym
The gym is medium-sized for the property featuring 4 treadmills, 2 Pelotons, weight machines, dumbbells, and yoga equipment. It's open 24 hours. I appreciated that they let our 14-year-old join without supervision. Space on the treadmills was a bit competitive at peak hours. It was, at times, seriously cold during our stay and there aren't really inviting jogging paths around the resort.
Yoga
The hotel offers several wellness activities. Some are complimentary, others have a fee. Members of our travel group gave high marks to the Stretch Into Sunset activity and lower marks to morning yoga.
Spa
Other members of our group enjoyed a massage at the spa. Booking a time, even mid-week, was competitive. I hear the massage was good, but the heat was broken in the dressing room. With temps dropping down near freezing it marred the experience a bit.
Fire Pits
It's hard to find a space for a larger group to gather, but the fire pits sprinkled around the resort served us well. S'mores kits are available at the front desk from 7-9p.
Live Music
Sunday brunch at the restaurant featured a live musician with an acoustic guitar. This was amplified to the pool area at, I thought, just the right volume and vibe to appeal to a wide range of guests.
Pools
The hotel has 3 pools, but the action is centered almost entirely around the main Turquoise pool. On warmer weekend days finding a seat is competitive in the afternoon with music on the louder side to inspire a lively scene. Families with children enjoy the space more leisurely in the mornings.
Food & beverage service starts at 11a. You're on your own for towel service and finding space. The chaise lounges are middle-of-the-road mesh material with no padding. These characteristics put it behind Park Hyatt/Four Seasons/Ritz-Carlton brand standards but above garden variety Hilton and Marriott standards.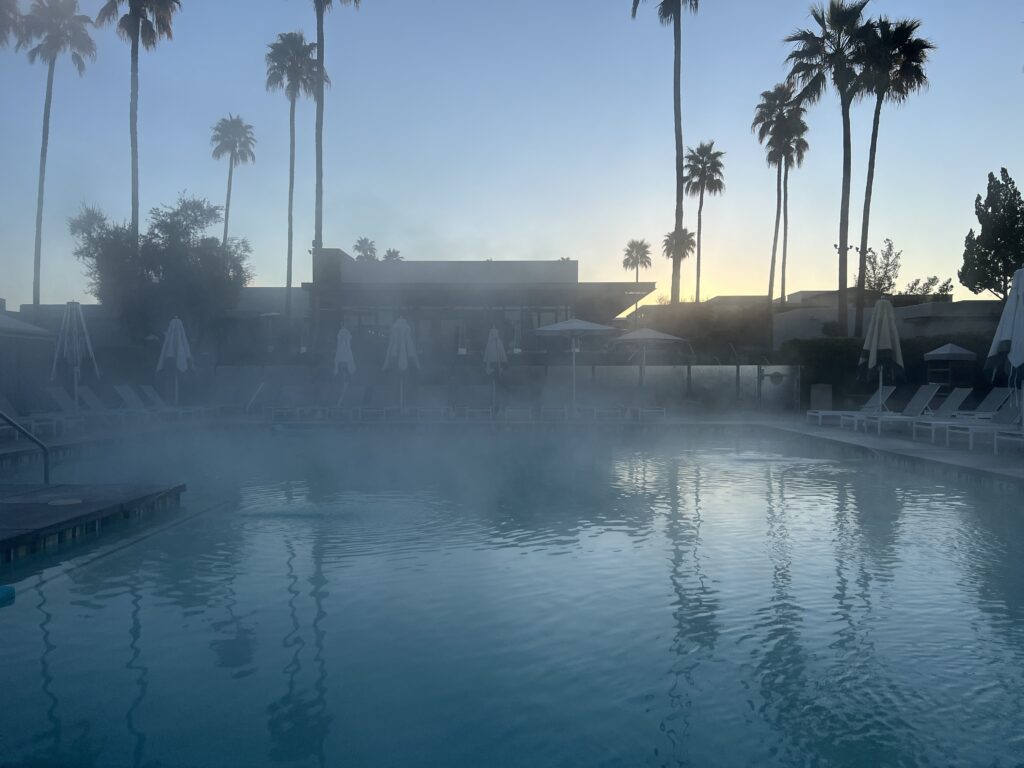 Bottom Line
The Andaz Scottsdale is a lovely property in a desirable, central location with weak Hyatt Globalist recognition. It somehow opts not to adhere to Hyatt Globalist T&Cs (they cap the breakfast benefit) and flouts brand standards published on the Andaz website (no complimentary minibar).
That said, when cash rates are high it can be an outstanding use of Chase Ultimate Rewards transferred to World of Hyatt, and it is a very good use of a Globalist Suite Upgrade Award certificate.
Pros
Unique manicured property centrally located for exploring Scottsdale and the surrounding area
Self-parking near bungalows make for easy in/easy out
Very comfortable bedding. I preferred the mattress over those at most Park Hyatts
Nightly turndown service
Cons
Hotel seems stingy with complimentary Globalist room upgrades
Globalist breakfast benefit capped at $60/room per day
Hotel doesn't adhere to Andaz complimentary minibar brand standard
Property plays games with award availability requiring long minimum stays to book awards
Limited dining options that can't handle guest demand at peak times
No tennis courts, no golf course tie-ins
All things considered, I'll probably try someplace else next time we stay in Phoenix. The Royal Palms (also a Hyatt property) seems better suited for couples and the Hyatt Regency Gainey Ranch seems better suited to families with younger kids. That being the case I'll likely try another brand in the Phoenix area. The nearby Ritz-Carlton Paradise Valley is scheduled to open in the Fall of 2022.