Quick Summary: We just got back from the Park Hyatt St. Kitts as part of a deal that included a generous property credit and 4th night free. The property is outstanding and I highly recommend visiting.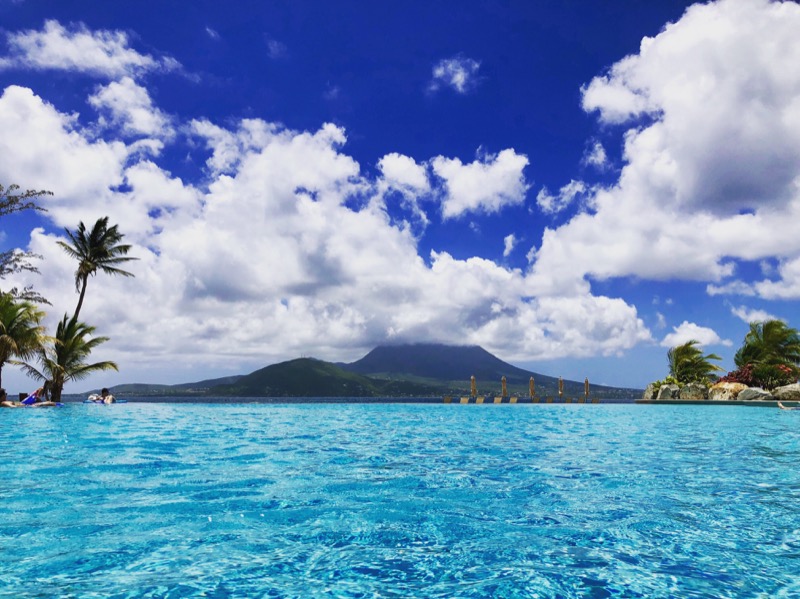 The Feel
St. Kitts is an island in the eastern Caribbean. It's part of the same country as the neighboring island of Nevis. St. Kitts and Nevis were British colonies. They've been an independent country since 1983.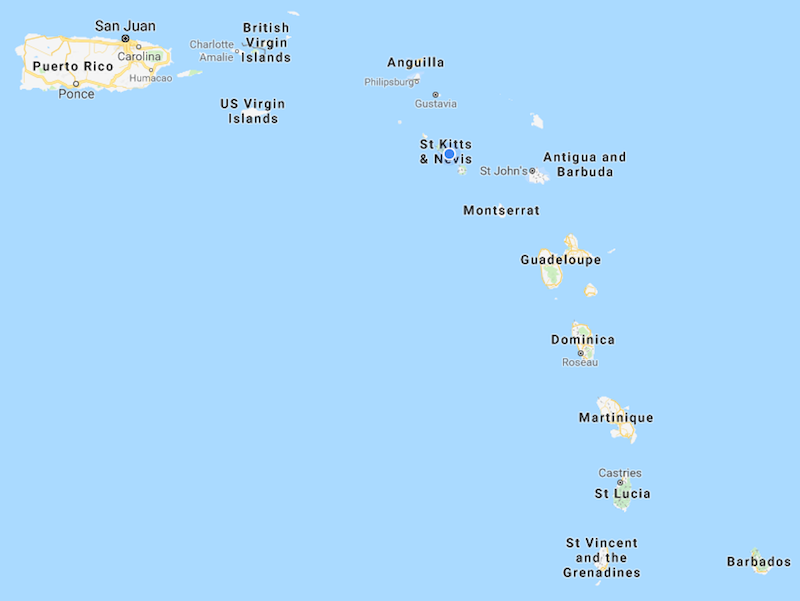 The Park Hyatt St. Kitts opened in 2017. It joined a large Marriott property on St. Kitts that opened in 2003, and a Four Seasons on Nevis that opened in 1991.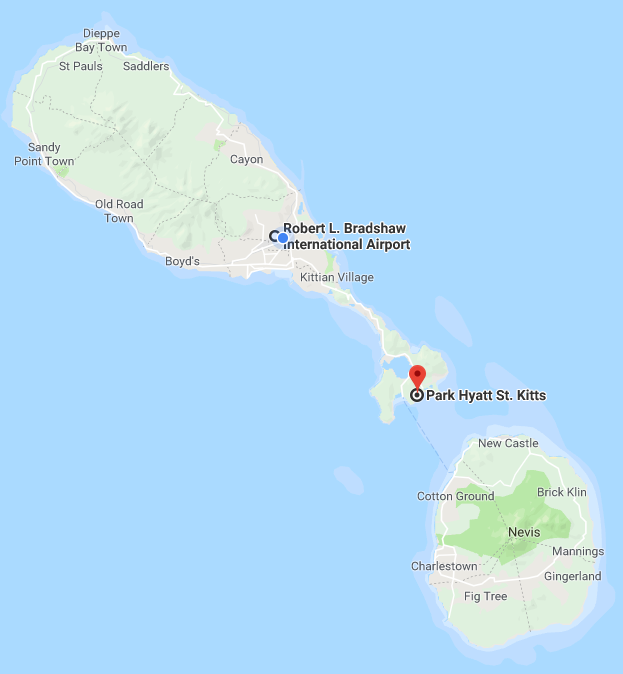 Park Hyatt is the luxury hotel brand within the Hyatt portfolio. Of the 44 Park Hyatt properties in the world, only 13 are Park Hyatt Resorts. And of those 13 only 4 Park Hyatt Resorts are outside of Asia:
Mallorca (a Spanish island in the Balearic Sea)
Beaver Creek, CO (a ski area and year-round resort)
Aviara (North of San Diego, which used to be a Four Seasons)
St. Kitts – the subject of this post
The Park Hyatt Mallorca and the Park Hyatt St. Kitts are, for me, terrific examples of a well-executed modern luxury resort.
The Deal
I stacked three things together for this booking:
A promotion the hotel was running for 4th night free and a $300 per-person/per stay property credit
Booked through a Hyatt Prive travel agent for complimentary breakfast and a $100 additional property credit
Booked through Citi Prestige 4th night free to reduce the room rate before tax by 25%*
* – it's not possible to stack Citi Prestige 4th night free with Hyatt Prive bookings any more
More in these two posts:
The upshot of it was that for ~$1,100 we got a 4-night stay, $700 in property credit, and a daily complimentary breakfast.
Pre-Arrival
I initially booked the reservation through a Virtuoso/Hyatt Prive travel agent. When I realized the Citi Prestige Concierge was also a Hyatt Prive travel agent, I rebooked through Citi Prestige to take advantage of its 4th night free benefit.
All of these booking shenanigans were tedious.
First, I had to encourage my Virtuoso/Hyatt Prive agent that the hotel's promo was indeed stackable with Prive benefits.
Then, when I rebooked through the Citi Prestige Concierge it took a week to fully confirm the reservation and get it right. After going back and forth with them, tweaking the number of people on the booking (2, not 1) and the room type (King bed, not Queen), l still didn't have written confirmation of the hotel's promo and Prive benefits. Whereas when I booked it through my Virtuoso/Hyatt Prive agent I quickly got a written sheet enumerating the benefits.
This is a bit a moot point since it seems Citi Prestige 4th night free can't stack with Hyatt Prive benefits any more.
The Citi Concierge blamed the booking delays on the hotel not getting back to them, which I'm sure is true. But it's annoying when working with a travel agent for the benefits that come from booking with them takes significantly more energy than self-booking.
[No] Suite Upgrade
I don't have Hyatt status, so I tried to upgrade the room to a suite using 6,000 Hyatt points per night but was never successful. Hyatt Prive ensures an upgraded room at the time of booking, but only to a better room not including suites. Hyatt's program terms say you can upgrade paid stays to suites for 6,000 points a night, but perhaps this isn't possible on Prive bookings? Let's find out…
I first called Hyatt central reservations. They told me the hotel was sold out. Sold out? Every single room category appeared available for booking, how could that be? She said "Sorry, I called the hotel and that's what they told me."
So I pinged Hyatt Concierge on Twitter.
Me: I was wondering whether I could apply a suite upgrade to my stay at the Park Hyatt St. Kitts for 6,000 points per night.
Hyatt Concierge: I checked with the hotel and they said you have already been upgraded to a suite.
Me: Great! What kind of suite is it specifically?
Hyatt Concierge: A Beachside King.
Me: That's not a suite.
Hyatt Concierge: I'm sorry, in your reservation it references both an upgraded room and a suite. We'll have the hotel contact you directly.
The hotel never contacted me directly.
I contacted the hotel prior to arrival to enquire about ground transportation and asked them about confirming a suite upgrade with points. They said they didn't know how to do that. I gave up and decided to wait and see what they gave me upon arrival.
It was just the two of us so I didn't necessarily need a suite. But I mention this in case someone out there really wants/needs to confirm a suite ahead of time for whatever reason: It seems rather difficult without Globalist status and/or a Suite Upgrade Award.
Getting There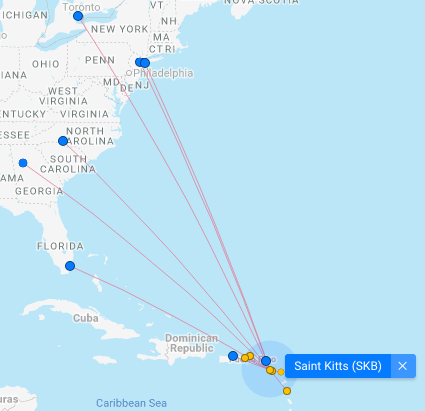 To get to St. Kitts you fly into the SKB airport. The only daily non-stops are out of MIA. The rest of the points on the map are Saturday only.
We flew direct from JFK on Delta. It was fine – a typical domestic Delta First experience.
We've never flown to the Caribbean before [we've only visited on cruises] so it was novel flying 4 hours to a different country and staying in the same time zone. In that respect it was great compared to Hawaii which is often considered when looking for a tropical resort experience.
The line at customs was pretty brutal since they only had 3 agents to deal with a plane full of people. They haphazardly passed out lengthy customs forms to those in line – not sure why they didn't do that on the flight. I was thankful to be at the front of the line. We got through in about 10 minutes.
Ground Transport
I checked with the Park Hyatt ahead of time on the best way to get there. They recommended just catching a cab. A person controlling the cab line assigned us a small van with seating for 8 and advised it should be $30.
Our driver pleasantly pointed out some sites on the way to the Park Hyatt. The ride took about 20 minutes. He wanted to charge me $35. I was planning to give him $40 either way, but I said I thought it was supposed to be $30? He said "$30? Fine."
He had Visa/Mastercard signs up in the window so I asked if I could pay with a credit card. He said I could. I asked him to put a tip on the credit card for $40 total. He asked if he could make it out for $35 + $5 tip. It made no difference to me how he split it up, but it was a bit of an awkward end to an otherwise enjoyable introductory trip on the island.
Reception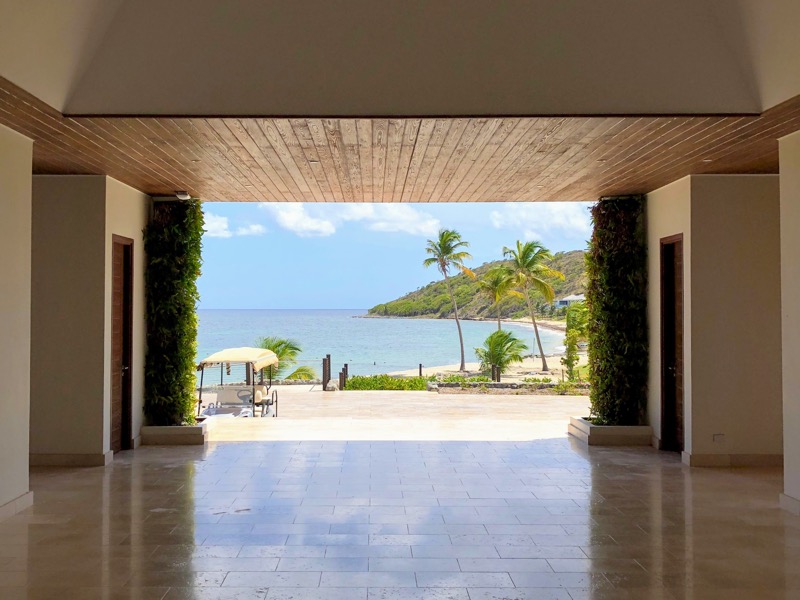 Upon arrival at the hotel we were warmly greeted. Our bags were taken and we were guided to the "Living Room" for check-in.
There are two tables where check-in occurs. Another couple was being tended to at one of them. We were seated at the other.
The rep we were assigned to was on the phone for a few minutes so I decided to go to the restroom while we waited. When I came back we were given some sparkling wine and cold towels.
I was given a rate sheet to sign that pretty much just said "$400/night" and that the last night was complimentary. There was no mention or discussion of the $300 per person property credit, nor the daily complimentary breakfast and additional $100 property credit that came with booking through a Hyatt Prive travel agent. So I asked. The rep confirmed that yes, the property credit and breakfast were included.
I asked whether the property credit could be applied towards room rate since I'd read some data points suggesting it could. I was told it could not be applied to room rate. That it could only be applied to food & beverage, spa, activities and such.
Then, kind of abruptly, the rep said she'd have someone show us to our room.
I asked what kind of room we were in. She said, "You originally requested Queen beds but we've upgraded you to a Beachside King". I'm grinding my teeth at this point, recalling how my Citi Prestige Concierge initially requested Queen beds, but that I'd patched that up prior to arrival.
I continued my quest for an upgrade by asking whether it might be possible with points or cash to, say, one of their suites with a private plunge pool?
While walking us towards an awaiting golf card she said something along the lines of "We usually don't offer those as upgrade options, but you'll love your room – it's right on the first floor."
If you're looking for a points & miles blogger who is exceedingly bad at getting room upgrades – I'm your guy.
Room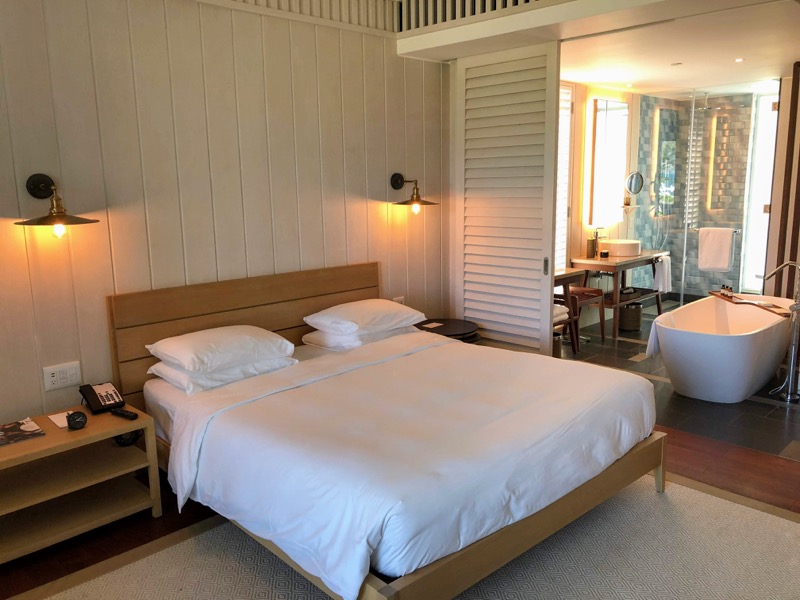 The Beachside King is 527 square feet, which is identical to the entry-level Park King but is located on the ground level. This would seem to position the Beachside King for ready access to the pool and beach, but since you can't lock the sliding door it's not much of a practical benefit if you're going to the pool with your room-mate(s).
I appreciate the creative layout and custom furniture at newer Park Hyatts. The style is appropriate to the locale, though it isn't quite as polished as the Park Hyatt Mallorca. That said, I thought the room was very nice overall.
A Nespresso machine was a nice touch as were USB chargers near each nightstand. AC outlets are standard American plugs so we didn't need adapters.
Complimentary bottled water was plentiful.
High temps were in the mid 80Fs during our August visit and the in-room air conditioning worked very well.
The platform bed with firm mattress felt appropriate to the warm locale, though they seem to use these beds/mattresses at all Park Hyatt locations.
There was no Bluetooth speaker (nor a clock radio) so bring your own speaker for in-room music.
Housekeeping was mostly good. Definitely call when you're leaving the room and suggest that it would be a good time for housekeeping to service the room. We went 2 for 4 on turn down service during our stay.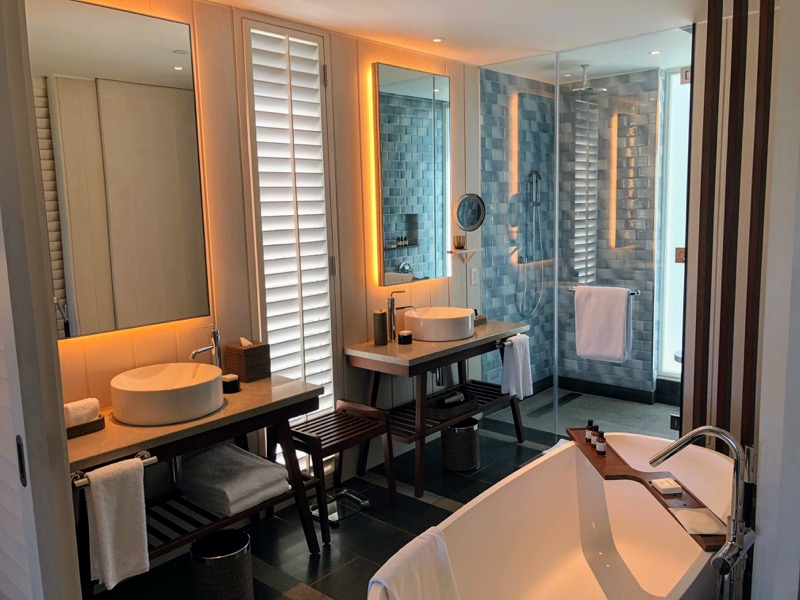 Resort Overall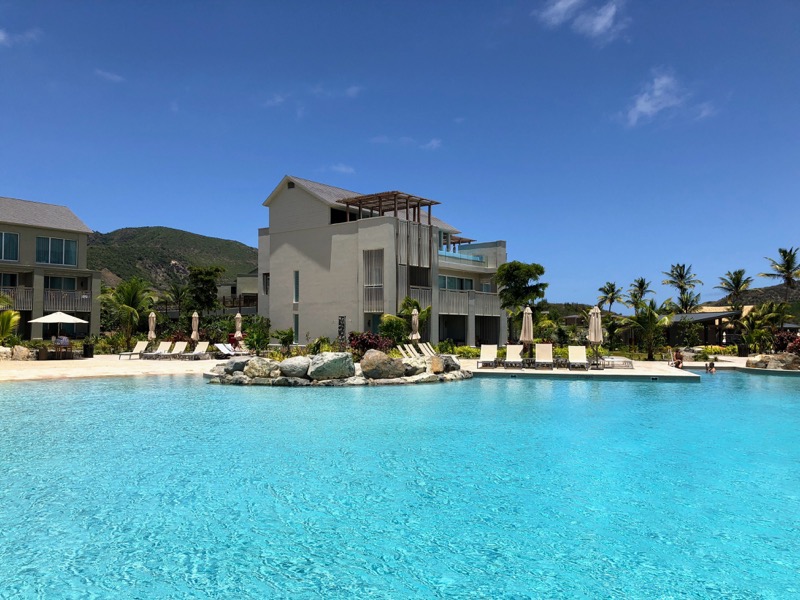 I love the thoughtful design and architecture of newer Park Hyatts like this one. Local nods with a fresh take on what makes a resort hotel work.
With just 78 rooms and 48 suites it's large enough to offer multiple pools and dining venues, but small enough to provide a personalized experience.
As we walked around I couldn't help but appreciate the thoughtful design choices they made in terms of layout, lighting, and material selection.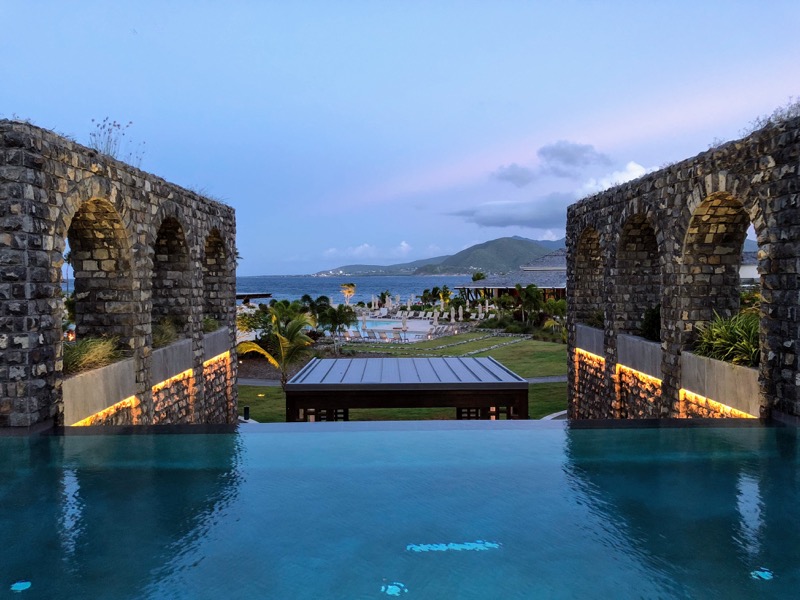 One thing the St. Kitts property has going for it is its private beach, but seaweed has been challenging on windward beaches in the area. The hotel makes an effort to clear it on a daily basis, but there's still a lot of seaweed in the water.
The water temperature was very nice, so if you're really into swimming in the sea you could get some mileage out of it.
While the waves aren't tall, the water is choppy and it was constantly windy while we were there.
We didn't see many people in the water during our visit.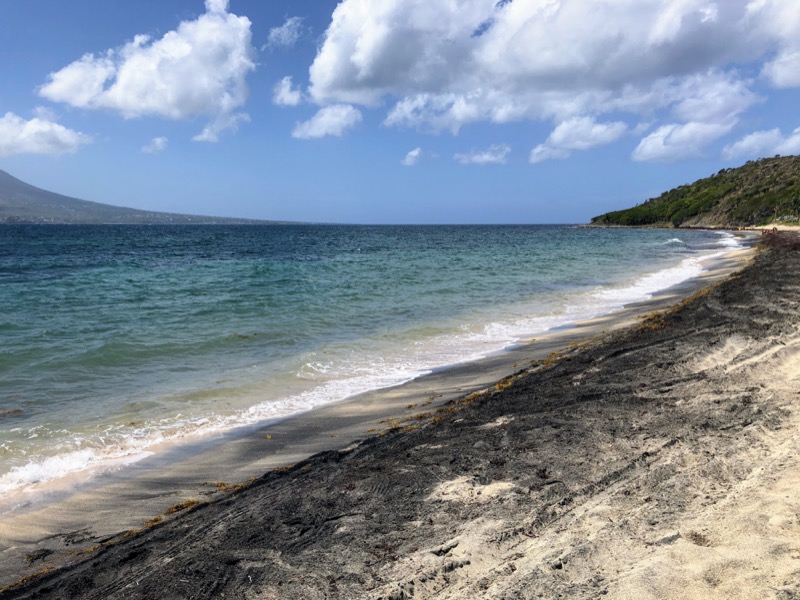 There were a smattering of activities during the week. Most were free but some had a nominal fee. We enjoyed the small group kayak tour and the stargazing activities.
WiFi coverage and speed was outstanding all over the resort, even on the beach and definitely at the pool. I know the idea of vacation is to disconnect and relax but it was great being able to get things done without fussing with connectivity.
We didn't take advantage of the spa, though we did use the fitness center. The resort had low occupancy during our visit, but plenty of treadmills were available in the morning. And we'd need them as you'll see in the next section…
Food & Beverage
If there's one place Park Hyatts consistently excel it's in their food & beverage program. They take what's local and elevate it with international sensibilities to create a memorable experience.
We loved the dining experience at the Park Hyatt St. Kitts.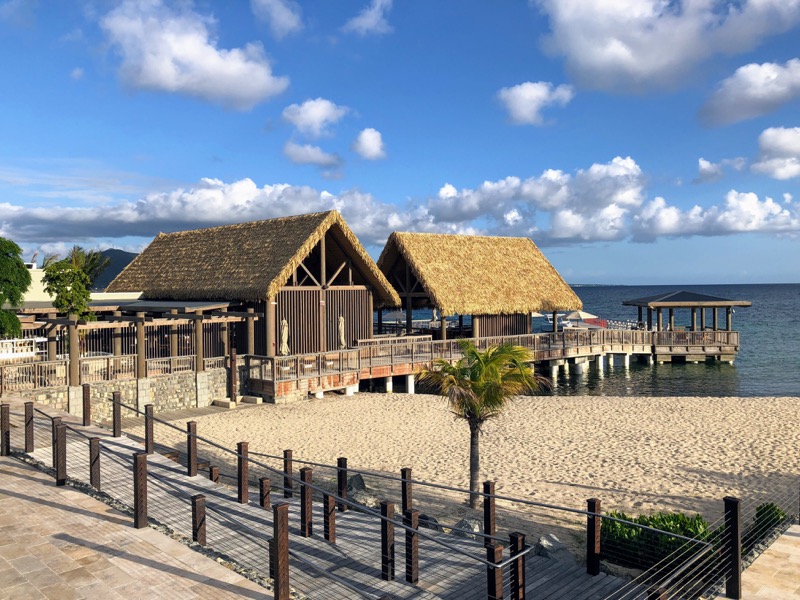 When we arrived the first night, drinks and bar bites at Fisherman's Village hit the spot. It's perhaps the most architecturally iconic dining restaurant at the resort. Fish tacos with a local Carib beer was terrific. Avocados the size of massive oversized pears fuel terrific guacamole here.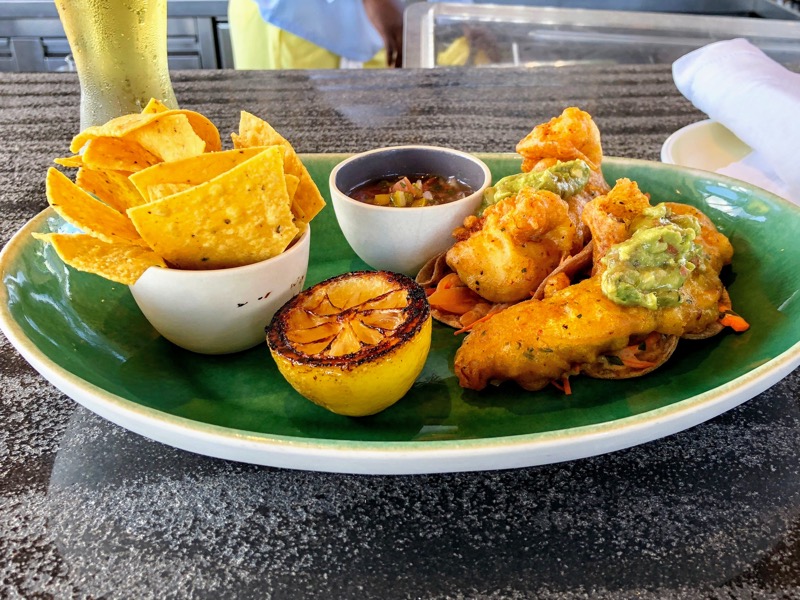 Breakfast is served in The Great House. It's the main and most versatile restaurant on-property open for breakfast, lunch and dinner.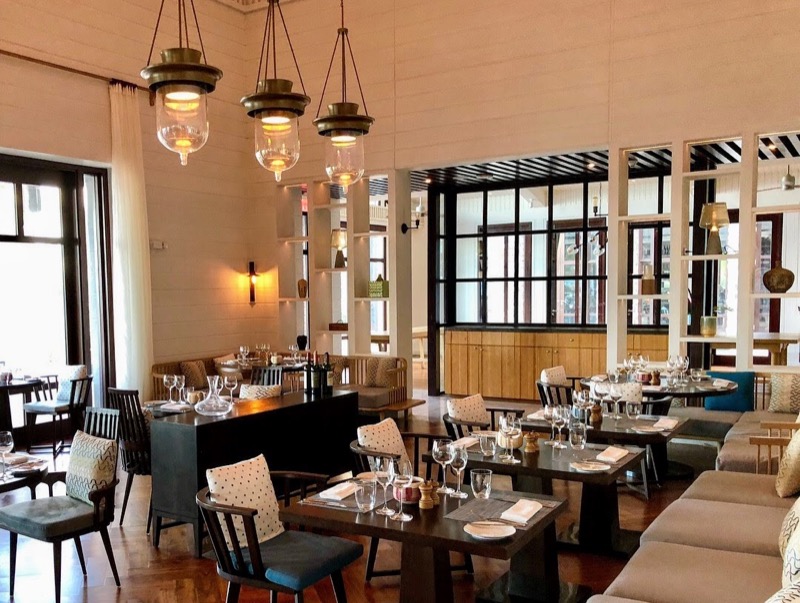 The outdoor dining space is equally appealing.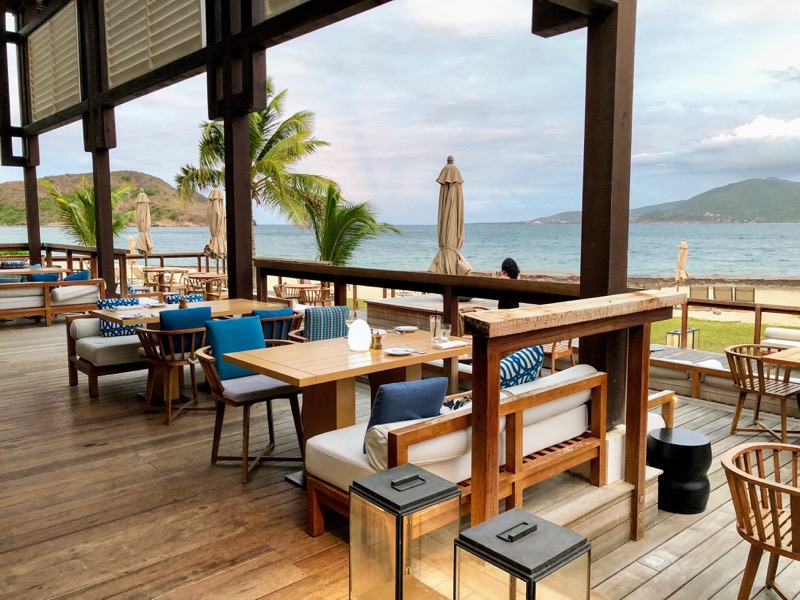 Breakfast was consistently outstanding. Especially the locally inspired hot items off the menu, supplemented with select items from the buffet.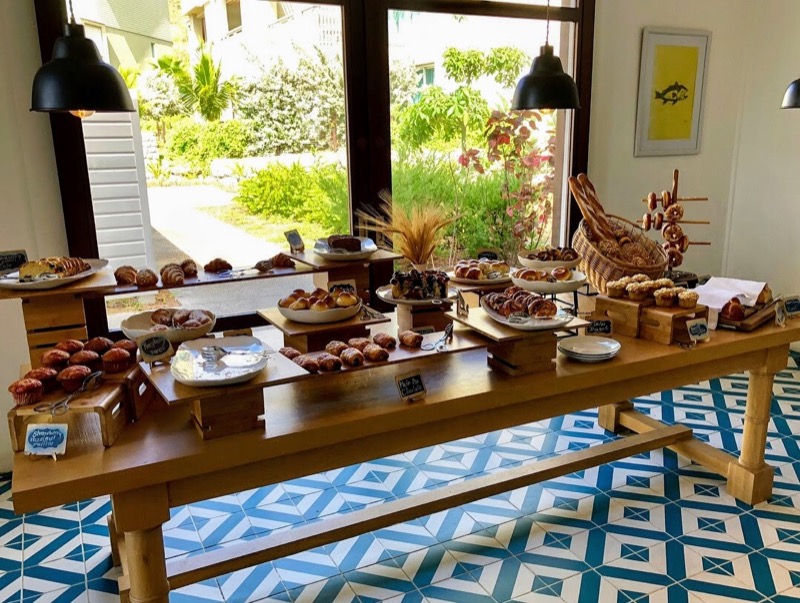 Highlights included the Caribe Johnny Cake and Salt Fish Fritters with Sunny Side Up Egg, Blistered Pepper Coulis, and Local Green Salad. In talking with local staff, Johhny Cakes are a local favorite. In this preparation they use this deep-fried coconut bread in a sandwich along with guacamole, fritters, and enough greens to lighten it up. Spectacular.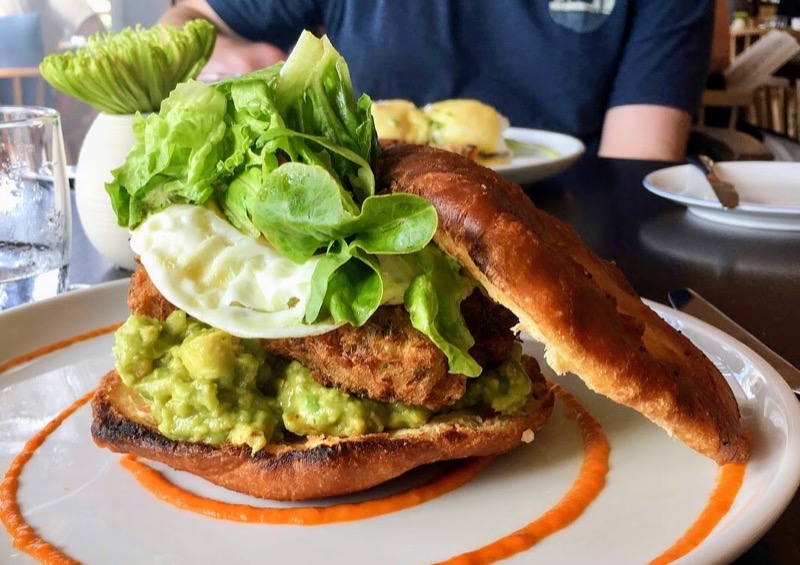 The Nevesian Mansa's Bird Eye Chili Pepper Egg on a Grilled Multi-grain Slice, Avocado, and Beetroot sauce was on point. Mansa is a legendary farmer on the nearby island of Nevis. The restaurant incorporates his spicy Bird Eye Chili Peppers and balances it out with slightly sweet Beetroot to create a complex dish with diverse appealing flavors.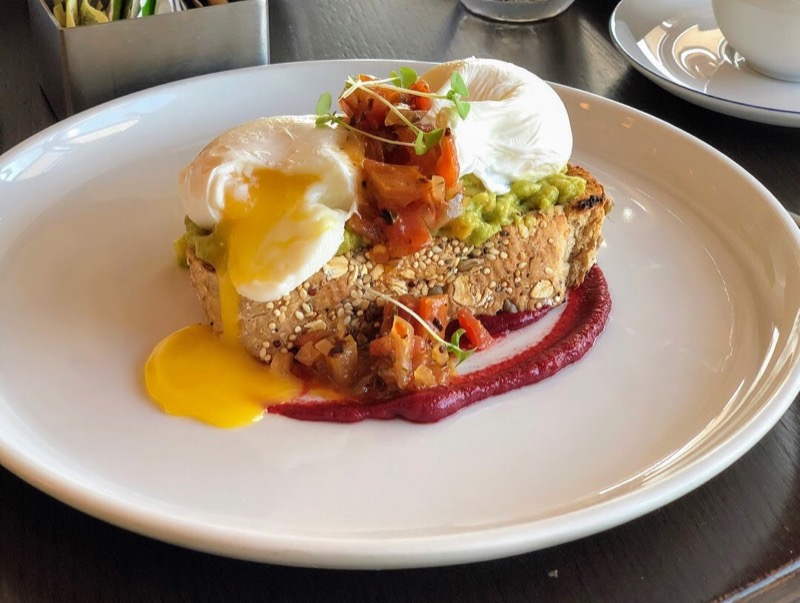 If Park Hyatt is known for their focus on food, they're downright famous for their generosity to top elites. Although the breakfast buffet + one hot item costs $45 USD pp it's complimentary for those with Hyatt Globalist status.
It's also complimentary for those who book through a Hyatt Prive travel agent.
If you're unsure what's included, have the hostess check with the front desk. We did, and there was still quibbling over whether tax & gratuity were included with the front desk after the fact.
See, there is tax and a 10% service charge applied automatically to everything at the resort, including room rate. I was unsure how much to add but erred on the side of generosity to show my appreciation for the service and added a $20 tip each breakfast.
I'm still arguing with Hyatt and the property about why the gratuity above and beyond 10% wasn't picked up by Hyatt when their T&Cs say breakfast is complimentary including tax + gratuity…
Dinner al fresco at The Great House was fantastic.
I went with the Breadfuit Crusted Jerk Spiced Lamb Chops (not shown since it got dark) and the Mediterranean Spiced Zucchini with Mint, Tahini, Green Peas, Feta, Cheese, and Pomegranate. Absolutely spectacular.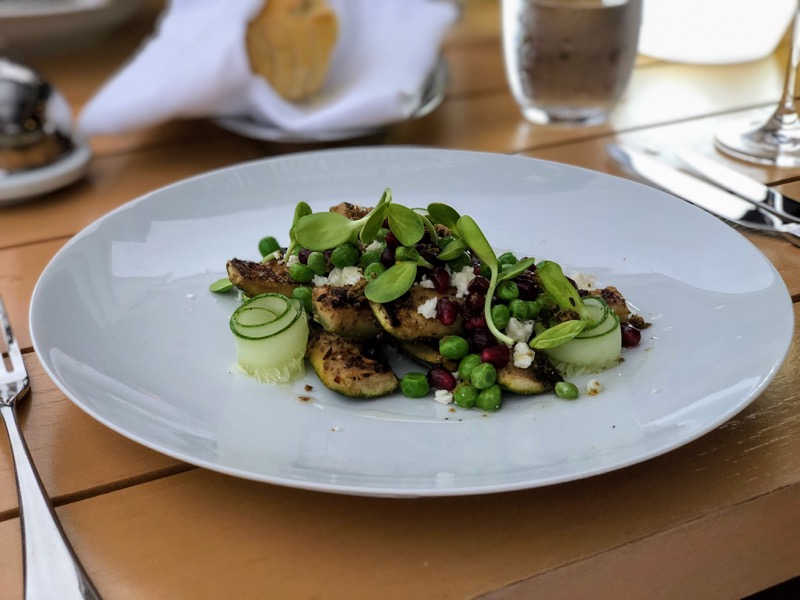 We also enjoyed Stone Barn, the hotel's adults-only dining venue.
The warm ambiance with a modern open kitchen was fantastic. Any of these restaurants could fly as a concept with multiple locations in the US.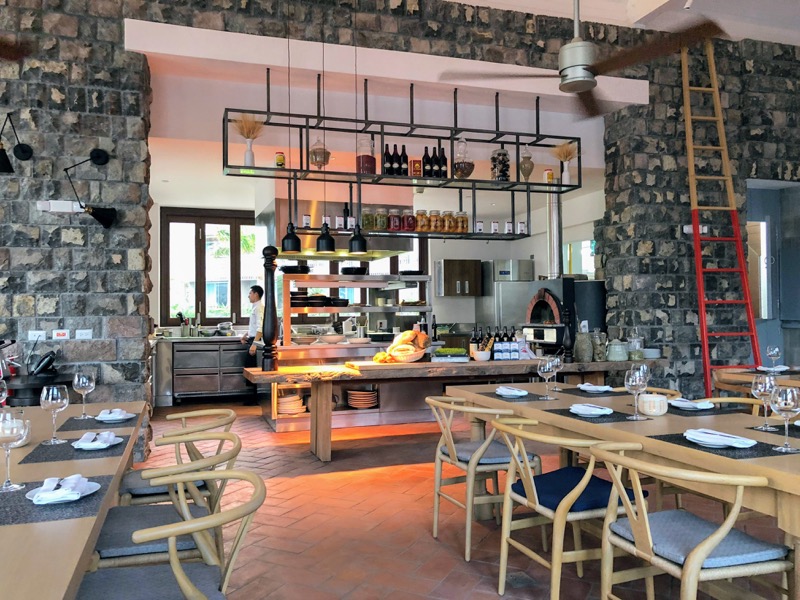 The Chermoula Spiced King Prawn with Piquilo Yogurt, Toasted Macadamia, and Cilantro tasted as good as it looked.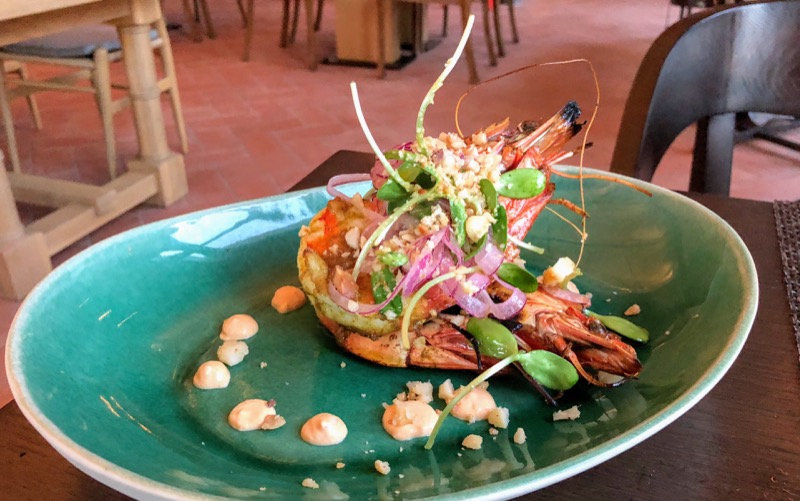 Though many of the servers here never worked in fine dining prior to the hotel's opening, much of the management comes from Four Seasons Hotels. They've been impressive in establishing a culture of gracious, intuitive service.
Given that the hotel has been open less than a year, some of the staff is a little unsure of themselves at times. But it comes across in charming, friendly way. The training program has clearly been effective though, and I look forward to them blossoming even more with experience under their belt.
Above all I appreciated interacting with locals to get a feel for the unique St. Kittian culture.
We were so impressed with the dining options after a couple meals that we booked a Private Dining Experience for two. The food section of this review was running a bit long so I published that as a guest post on my sister's travel blog:
Park Hyatt St. Kitts Private Dining Review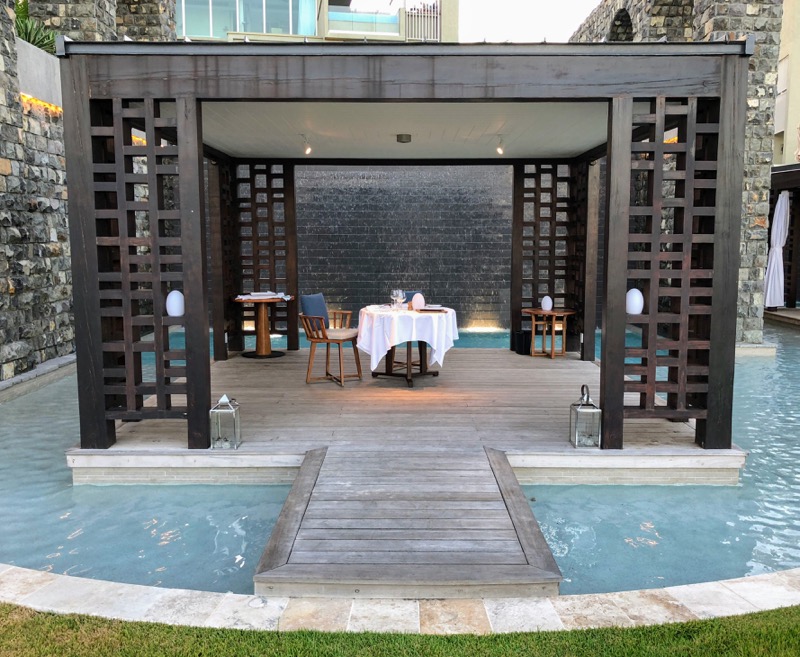 Departure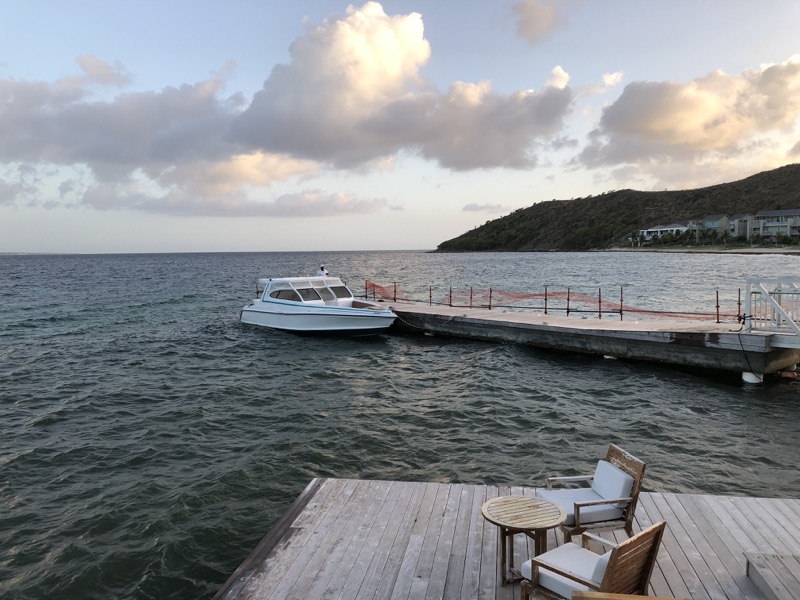 We spent the second part of our trip at the Four Seasons Nevis which is a 10 minute boat ride from the Park Hyatt St. Kitts. We arranged the boat ride through the Park Hyatt for $60 pp one-way. Boats depart at appointed times each day, but you need to make a reservation.
It's pretty cool that a boat takes you directly from the Park Hyatt to the Four Seasons. The hotel took care of collecting our bags from our room and delivering them to the boat while we checked out.
We were the only people on our boat, though it's not guaranteed to be private.
A more affordable option to Nevis would require a short taxi-ride to the Sea Bridge which is a car and passenger ferry that links St. Kitts to Nevis for $10 pp one-way.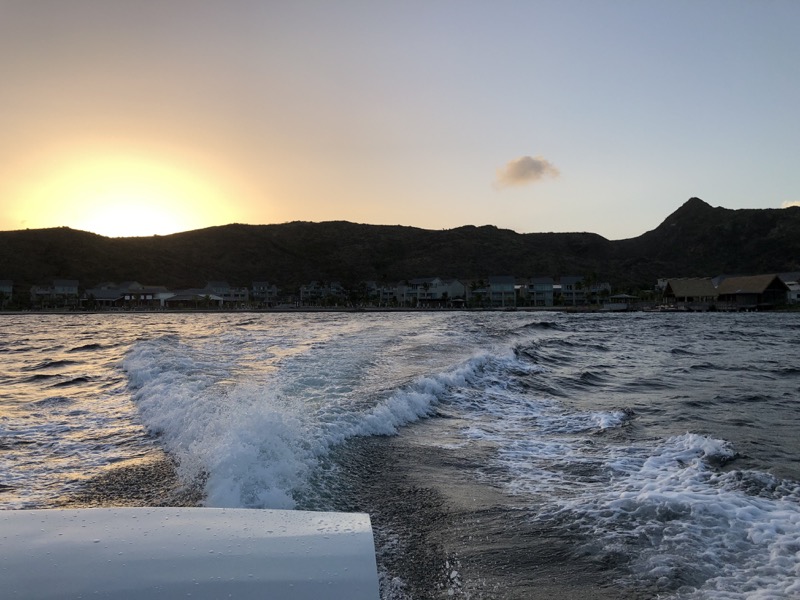 Bottom Line
On a 100-point scale I'd rate the Park Hyatt St. Kitts 94 points.
The resort is incredibly well-designed, the property is gorgeous, most of the staff is delightful, and the food is amazing.
The world could really use more Park Hyatts, especially Park Hyatt resorts. It's a rare thing that such a great hotel brand is associated with a generous loyalty program, and also a 1:1 transfer option of Chase Ultimate Rewards.
Is the $300 pp resort credit deal still available? Check the Park Hyatt St. Kitts Offers page to see what kind of specials they're running.
It's also worth checking with a Hyatt Prive travel agent. They have access to deals not publicly available, and it's a great way to book especially if you don't have Hyatt Globalist status.
Related Reading: A review of the Four Seasons Nevis
Feel free to ping me on Twitter @RobertDwyer with any questions.