A theme I've been seeing lately is this: Domestic airfare is sky high and miles aren't saving me.
It seems like legacy US carriers aren't releasing much saver level space. So using airline miles rather than paying cash (or using bank points) has been a mediocre to bad value. And with a move to dynamically priced awards tied to the cash price of a ticket it's not always clear what constitutes partner award availability.
For example I've had no luck with old tricks like booking awards on AA metal with British Airways Avios. Likewise on United metal with partners like Avianca Lifemiles. The space just isn't there.
When we get into carriers not tied to alliances like JetBlue things get murkier. It's quite convoluted to determine whether partner award space is available.
An option that's intrigued me for some time that I haven't written about until now is booking JetBlue Mint with Emirates miles. I haven't written about it because it seemed like mostly a mirage that isn't even a particularly good value.
That said, I did find an opportunity recently where this redemption made sense for me. I thought I'd share my experience booking it because you never know what these redemptions are really like until you actually work through the process.
But before we get into that…
Why NOT Book JetBlue Mint w/Emirates Miles
No matter how you go about it, JetBlue Mint is relatively expensive and JetBlue defends the cabin rather aggressively.
In addition to cost considerations, I've found I'm cancelling more flights than usual lately. Especially on the heels of a moderately painful recent experience, booking JetBlue Mint with bank points could be a very bad idea.
See: Airlines Getting Nasty w/Cancellation Fees and Expiring Credits
Here's an itemized list of just a few reasons why it might not make sense to book JetBlue Mint with Emirates miles:
The JetBlue Mint route map isn't relevant to you
It costs a lot of flexible bank points that could be cashed out
Award availability is scarce especially for more than 1 person
Emirates online partner award search is janky
You can't change Emirates partner reservations online
Emirates doesn't always answer the phone and JetBlue is slow to respond
Emirates charges $75 pp to cancel and redeposit an award (worse than most US carriers)
Emirates charges $25 pp to change an award (not so bad actually)
If you cancel you'll be left with Emirates miles you may have no use for
Emirates miles expires about 3 years after transfering them from bank points and activity doesn't extend expiration
If after all that you're still interested, read on!
When Booking JetBlue Mint w/Emirates Miles Might Make Sense
A mantra we discuss frequently on the show is knowing what you want then figuring out the best way to pay for it. It's the opposite of a "rewards first" mindset where the tail wags the dog.
Generally speaking, I think the best way to book JetBlue Mint is with Amex Membership Rewards with the 35% rebate that comes with the Business Platinum card. Or through the Chase travel portal with the Sapphire Reserve. Either approach will get you around 1.5 cents a point of value.
Perhaps ironically (and unfortunately) Mint flights are a weak JetBlue TrueBlue point redemption. For some reason JetBlue makes their points worth less towards Mint flights than Economy flights. Between this reality and the fact that JetBlue's Mosaic status does not provide a path to Mint upgrades, JetBlue really defends their Mint cabin from loyal customers.
Emirates has a distance based award chart for JetBlue flights. If JetBlue elects to make partner space available (and that's a big if) you can book a one-way transcontinental flight in JetBlue Mint for 52,000 Emirates miles + $10.10 person.
Emirates is a 1:1 transfer partner of Amex, Chase, Citi, and even CapitalOne.
As a rough approximation, if a JetBlue Mint flight costs less than $780 (1.5 cent per point of value x $520) you'd be better off booking with bank points. That's if you have an Amex Business Platinum or a Chase Sapphire Reserve for uplift.
But airfares have been high lately. So if you see JetBlue Mint fares north of $780 and you can stomach potentially stranding your bank points over at Emirates in case of cancellation this redemption might make sense.
A more likely consideration than how to book JetBlue Mint is whether there's a comparable flight from another airline that's less expensive. Especially when you factor in the potential of booking those flights with airlines miles and/or bank points – it's worth looking at other options.
But if JetBlue Mint is what you want and the flights are expensive and the partner availability is there: Booking with Emirates miles could be your best option.
Availability Trends
For transcontinental JetBlue Mint routes booked with Emirates miles I see:
Award availability open up to 4 months out (but no further out than that)
Up to 7 seats available (but never more than 7)
Here are results showing award availability using Emirates miles JFK-LAX for 7 people in May. Each day with a price listed has at least one nonstop available on JetBlue Mint. The paid cost of the flights is $898, or 52,000 Emirates miles + $10.10: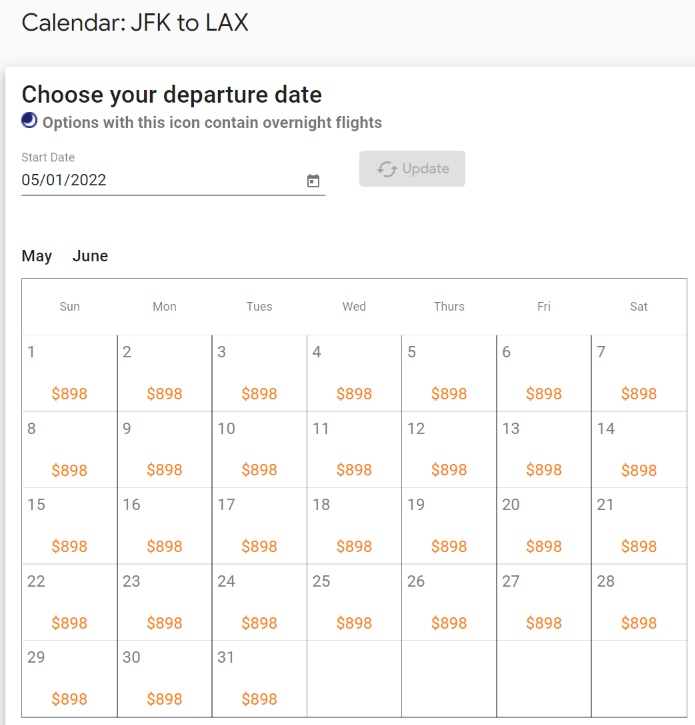 Here's a look at the same route in June. Notice how award availability vaporizes for dates later than 4 months out. I've seen this trend across all routes I've searched. So don't give up hope if you're looking far out and don't see availability: They don't release until closer in.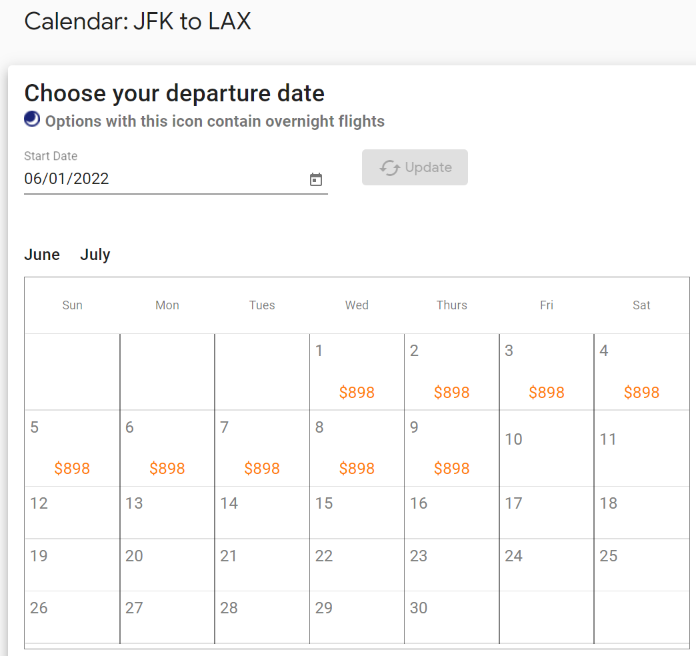 Here's a close-in search on the same route, still for 7 people. For a search on Feb 11. This could be a good angle for close-in expensive flights if you really want to take the flight and there's partner award availability.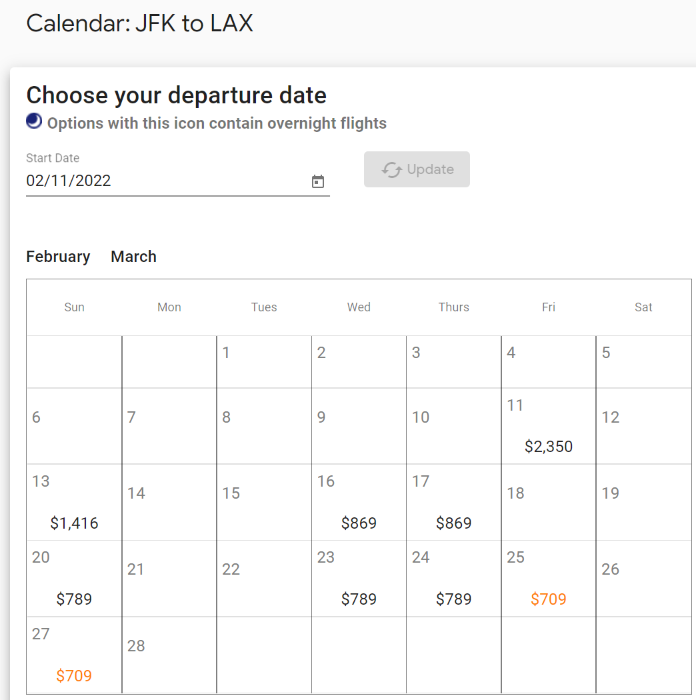 Here's 4 people JFK-LAX in March, a month out: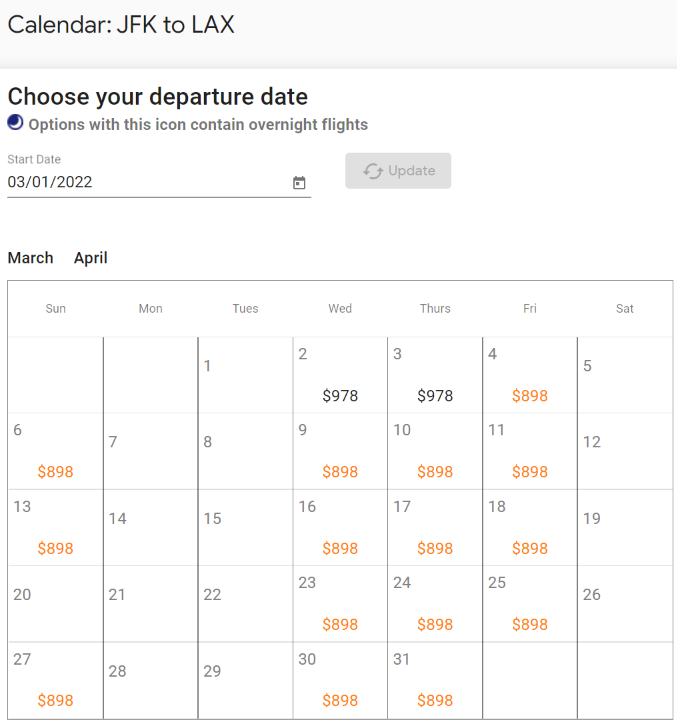 Here's an interesting search: Boston – Seattle for June for 4 people. The flights are less than $780 so it would probably be better to book this with bank points:
How to Search for Availability
You can search for award availability directly on Emirates.com but it's easier to search across a number of dates on ITA Matrix.
See: How to Use Emirates Miles on JetBlue by JT Genter on NerdWallet
Key concepts:
Routing Code: o:b6
Extension Code: f bc=i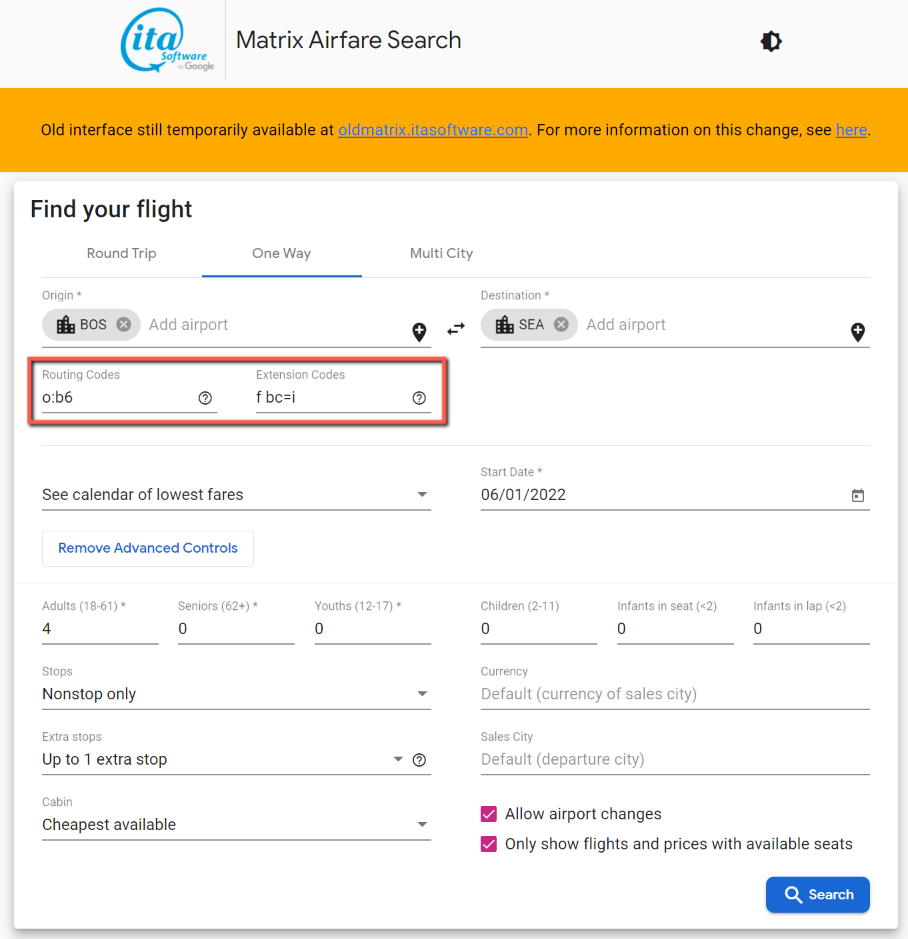 In my experience, searches on Emirates matched what I saw on ITA Matrix. Just be sure to:
Book Classic Rewards Flight
Search partner flights only
Do NOT use the +/- 3 days search feature (it tends to return no results)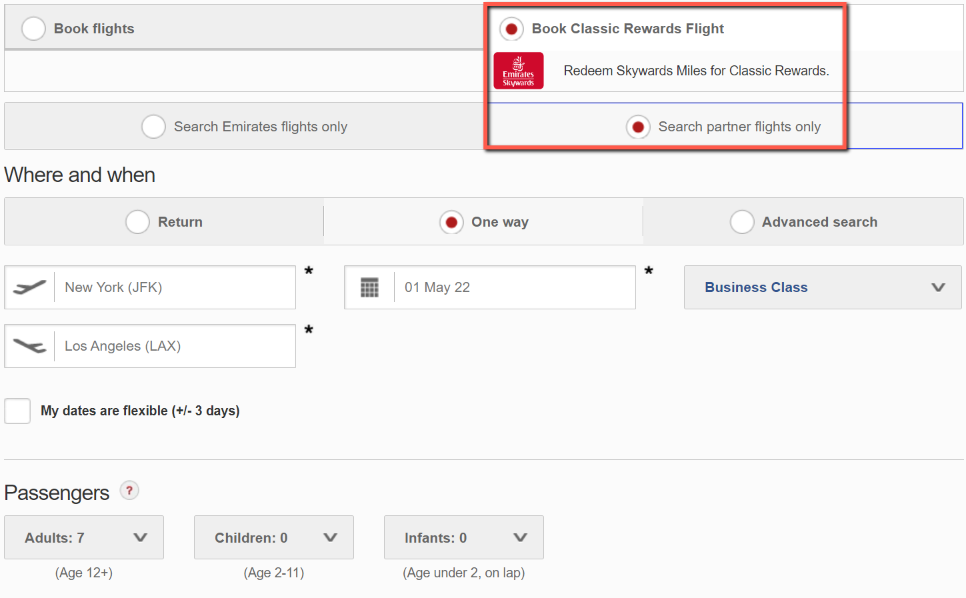 My Experience Booking (and Changing) JetBlue Mint w/Emirates Miles
Once I confirmed the award availability I wanted on Emirates.com I tried calling them because I wanted to see if I could book an open jaw roundtrip (BOS-SAN//LAX-BOS). Unfortunately, I couldn't get a rep on the phone. The message just said they were experiencing high call volume and they didn't have any callback options.
Emirates US Call Center:
1(800)777-3999
Their site does allow a multi-city search but it errored out when searching for the open jaw.
So, I plowed forward booking two one-ways online feeling a bit like I was operating without a safety net. If I had any issues I couldn't resolve on my own I felt like I might be stuck with stranded Emirates miles. Once I confirmed the award availability I wanted on the Emirates site I took a leap of faith and transferred over enough miles for one seat as a trial.
The good news is Capital One and Citi points transferred instantly.
The bad news is that even though I had 52,000 miles, which should have been enough to complete the booking, the site told me I didn't have enough miles to proceed. I had a hunch that there might be a bug whereby they checked to make sure you had enough miles to cover not just the flight but also the taxes and fees ($10.10). So I transferred over another 2,000 miles. This enabled the booking to proceed. So I transferred over enough miles for my family of four plus an additional 5,000 miles to get past the taxes + fees glitch.
From there I was able to complete the booking as desired for my family, paying the $40.40 taxes and fees with a credit card after a hiccup processing the card. Within a few minutes Emirates sent a confirmation email confirming the flight was successfully booked.
Tip: The Emirates confirmation email should have a JetBlue confirmation code (in addition to the Emirates confirmation code) that you might be able to use to select seats immediately on JetBlue.com. If that doesn't work, contact JetBlue via Twitter DM or by calling for seat assignments.
I then proceeded to transfering over more points to book one-way return flights in the same manner.
A couple days later I noticed that award availability opened up to fly back out of San Diego rather than Los Angeles. I couldn't make the change myself (partner bookings can't be modified online) but this time when I called they answered. After a few minutes on hold the Emirates rep confirmed that since there was award availability on the San Diego flight I could change my LAX-BOS to SAN-BOS flights for a fee of $25 pp.
Bottom Line
JetBlue Mint is an excellent domestic premium cabin experience offered by an airline with occasional operational issues and somewhat lacking IT.
Every time I've flown JetBlue Mint the vacation has started as soon as I got on the plane, and after a string of cancellations I felt like I could use a travel win.
52,000 bank points pp one-way for a transcontinental JetBlue Mint flight isn't cheap. I could have cashed those points out for at least a penny a piece.
But hopefully with these tips in mind, and the right amount of award availability, there's a way to make JetBlue Mint happen with flexible bank points if you're interested in flying it in the future.