We're just back from Italy after visiting the Amalfi Coast and Bologna. Our return routing was Bologna – Munich – Boston with the last leg in Lufthansa First Class.
If you're trying to book a Lufthansa First Class award ticket you've really got to keep an eye on which routes they offer the cabin on. Over the years living near Boston I've seen First Class offered to Munich and Frankfurt, then only Frankfurt, then neither, and at the moment it's only to Munich.
OMAAT does a good job capturing the current routes Lufthansa is operating a First Class Cabin on in this post.
Post-Pandemic First Class Reboot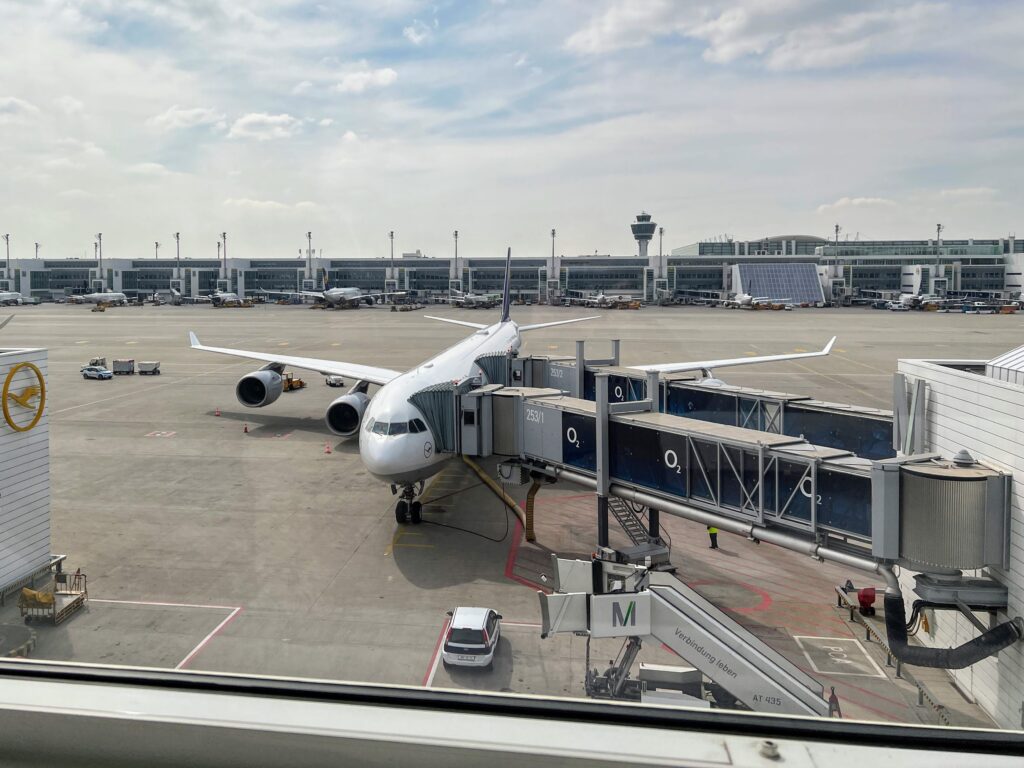 As travel demand has rebounded, Lufthansa brought a few A340-600s out of retirement to offer Munich First Class service to these US airports:
Boston (BOS) – operating now
Los Angeles (LAX) – starting May 31, 2022
New York (JFK) – from May 16, 2022
Newark (EWR) -from July 11, 2022
I read this post from OMAAT announcing this back in December for flights in summer of 2022. I figured this wouldn't happen in time for our April trip, but as luck would have it, Lufthansa indeed began operating First Class Boston to Munich in late March.
Changes for the Better
We booked and cancelled this trip for April 2020, then again for April 2021. I initially booked an all-TAP Portugal itinerary with Aeroplan miles, which left me a bunch of miles "stranded" with Aeroplan.
In the time since that initial booking, Aeroplan has:
Rolled out a new zone + distance based award chart
Eliminated fuel surcharges on Lufthansa
Temporarily suspended award change fees
If you're looking to get back to international award travel, the landscape is likely quite different from what you were familiar with before the pandemic. Not uniformly better or worse – just different.
Full Experience
We've flown Lufthansa First Class a few times before, but until yesterday didn't get to take in the full experience. This time we had a connecting flight on the same ticket, we checked bags, and had a very long layover in Munich – which enabled us to enjoy the First Class Lounge at a relaxed pace.
Check-in at Bologna (BLQ) was a breeze. We flew Air Dolomiti (a wholly owned subsidiary of Lufthansa that flies mostly to Italy) Business Class and were handed Lufthansa First Class ticket jackets and boarding passes for our entire itinerary at the check-in counter.
There was an extremely long line to get through security, but since we were flying Business Class we got to bypass that line and clear security through a dedicated Business Class line near a common Business Class lounge. If we didn't have that advantage we could very well have missed our flight despite arriving at the airport well in advance.
You never know what unpleasant pinch points might arise while travelling internationally. Upon departure from Bologna there was no jet bridge. It was absolutely pouring rain while a logjam of traffic backed up the stairs getting to the airplane. I was glad we decided to check our luggage right then especially, since carrying multiple sets of luggage up slippery steps would have been difficult.
Upon arrival in Munich, we followed signs for a short walk to the First Class Lounge. There's only one First Class lounge open in Munich at the moment, though they hope to re-open the satellite First Class lounge soon.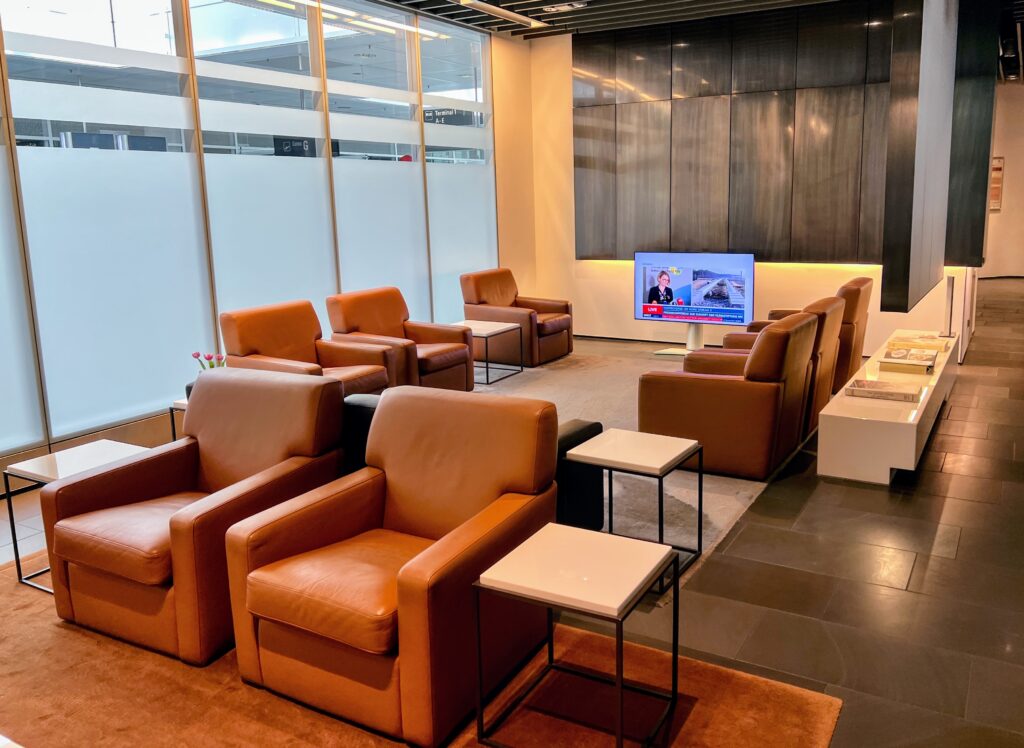 I was a little concerned that we'd be experiencing an inferior/older lounge but I think the thing that makes the Lufthansa First Class experience special is the standard of service.
It took me a while to acclimate to, but there's a pervasive feeling of "of course" in the air there. Want to get food from the table service restaurant at your seat? Of course. Want to choose for yourself off the buffet? Go ahead. Want to go to the bar and get a drink? Go for it – or the lounge attendant will happily bring it to you. Want to sit down and enjoy table service dining? Any time. Do I need to make a reservation for a shower? Of course not.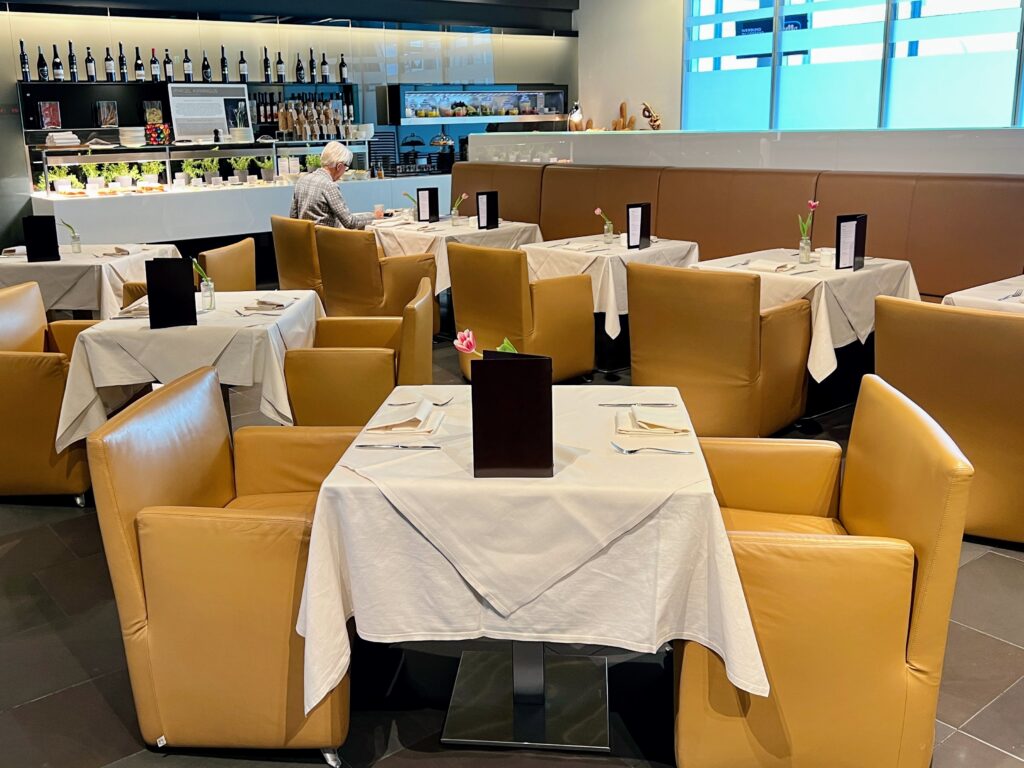 Here is an example of the great service standard that stood out…we were thinking of heading into Munich to check out a Biergarten. But after just a few minutes in the lounge, we all agreed that we didn't want to leave. So we asked the lounge attendant if she could help us assemble the pieces. They've got Hofbrauhaus beer, soft pretzels, and two types of schnitzels. I asked if they had any spätzle to round out the experience? She went and checked with the chef and 15 minutes later we were presented with beautiful bowls of the delicious dish. Amazing. It's this kind of service-minded attitude – and empowered staff – that differentiates an experience like this from others.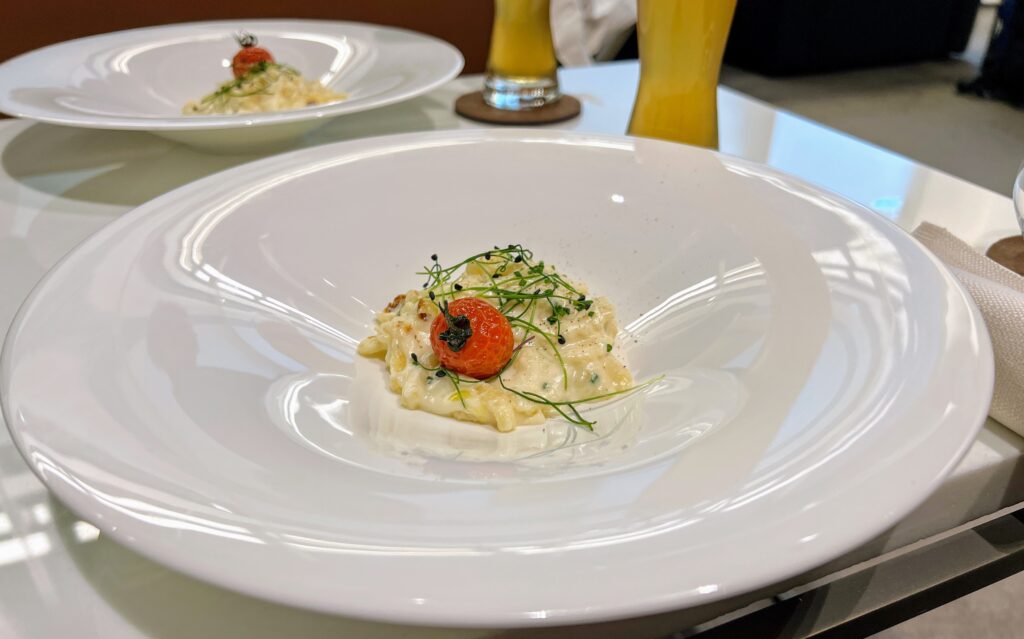 Other lounge highlights included:
A Nap Room (with a legit bed that enabled sleep)
Showers (so well designed, great service)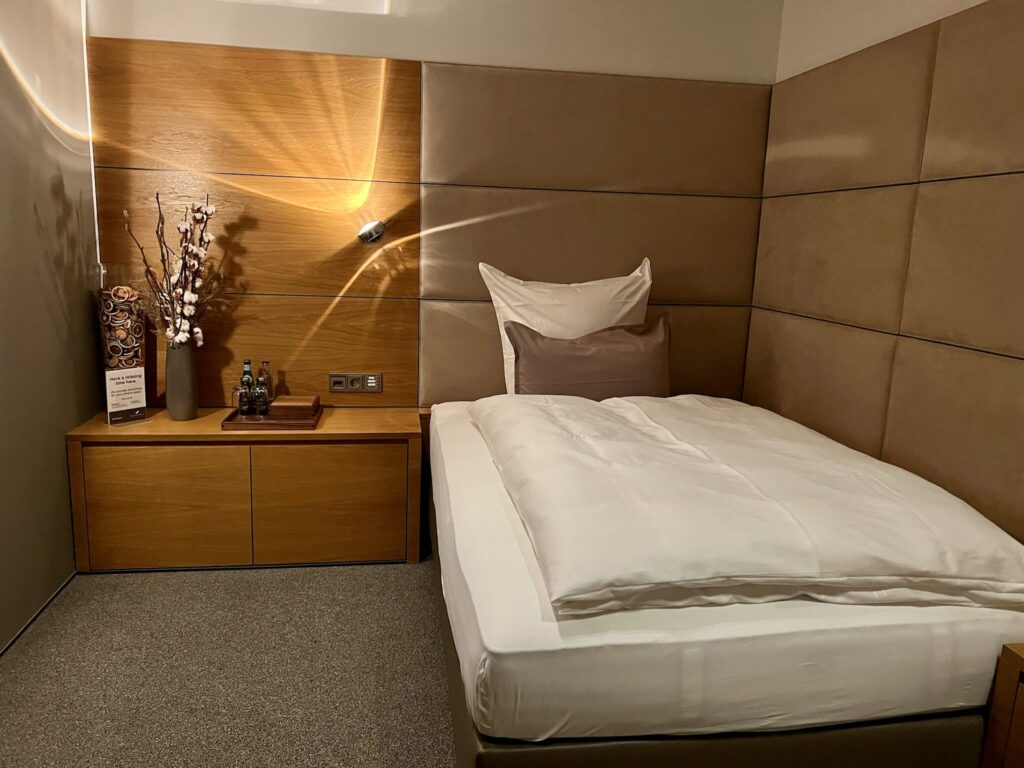 As you can see in this review on Instagram we had a great time.
When it was time for our flight, we went to the passport control desk inside the lounge. Prior to the pandemic I hear they had an agent there full-time. Now they need to call someone over.
They pointed us in the right direction to take the short train ride over to the satellite terminal. No Porsche rides or anything like that – but the Lufthansa First Class lounge was a fantastic component of the trip.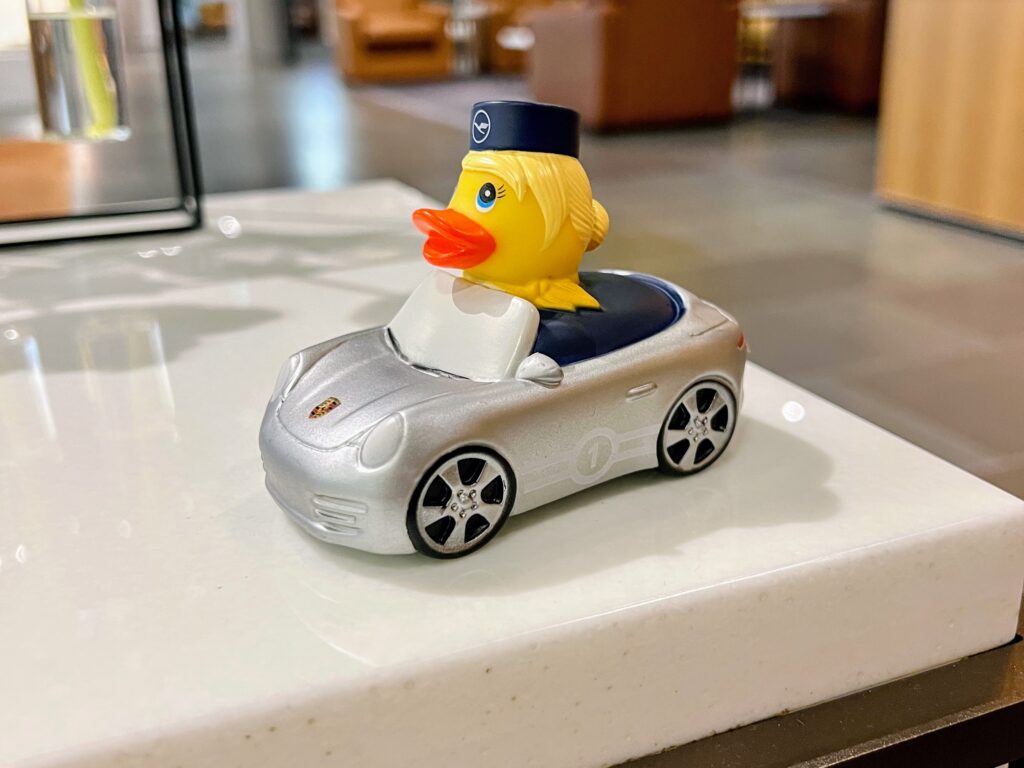 Cabin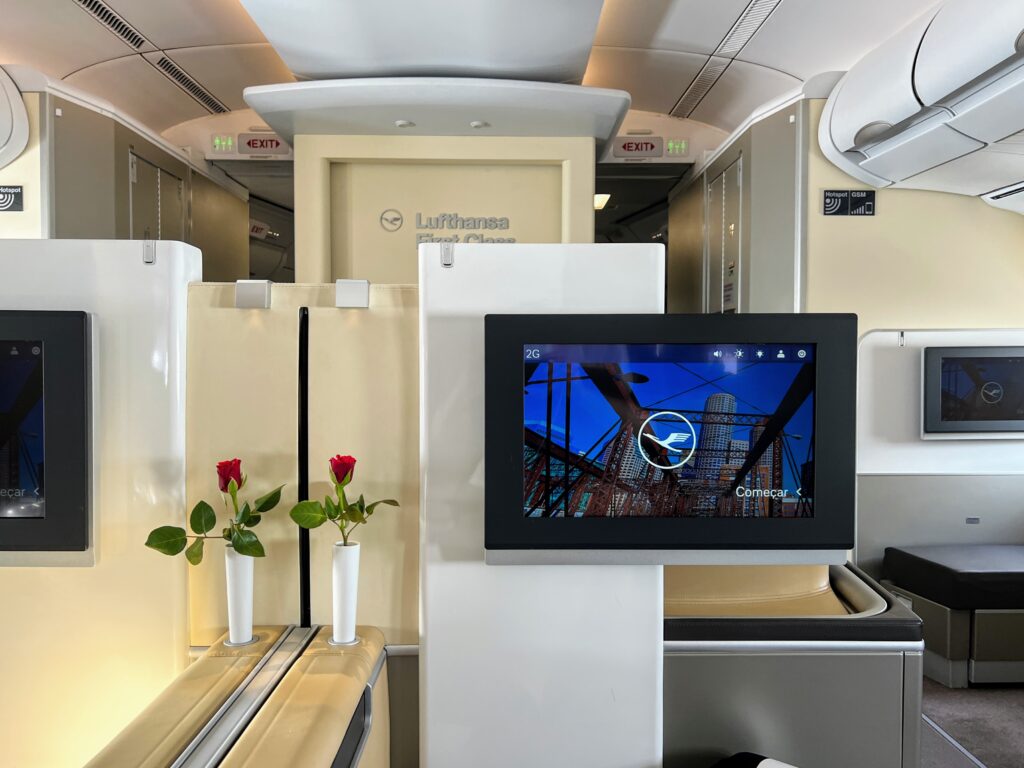 Since these planes recently came out of retirement I was curious whether they'd seem a little rough around the edges. Some things didn't work on some of our seats (headphones, charging ports, various buttons) but overall the cabin was beautiful as usual and the experience was fantastic.
I appreciate the length and width of the lie-flat bed on Lufthansa First Class. That said, the Lufthansa First matress pad is a little thin compared to say JAL First. On our flight, the cabin was warmer than I'd like for sleeping, but nonetheless I appreciated being able to catch a few hours of sleep after dinner.
Our family occupied five of the eight seats in the First Class cabin. One other seat was taken by a passenger who upgraded shortly prior to departure, and two seats remained empty.
Like in the lounge, it was a little disorienting initially not having to compete with fellow passengers for things like overhead bin space or…anything. We had multiple flight attendants caring for us the entire flight. It was amazing.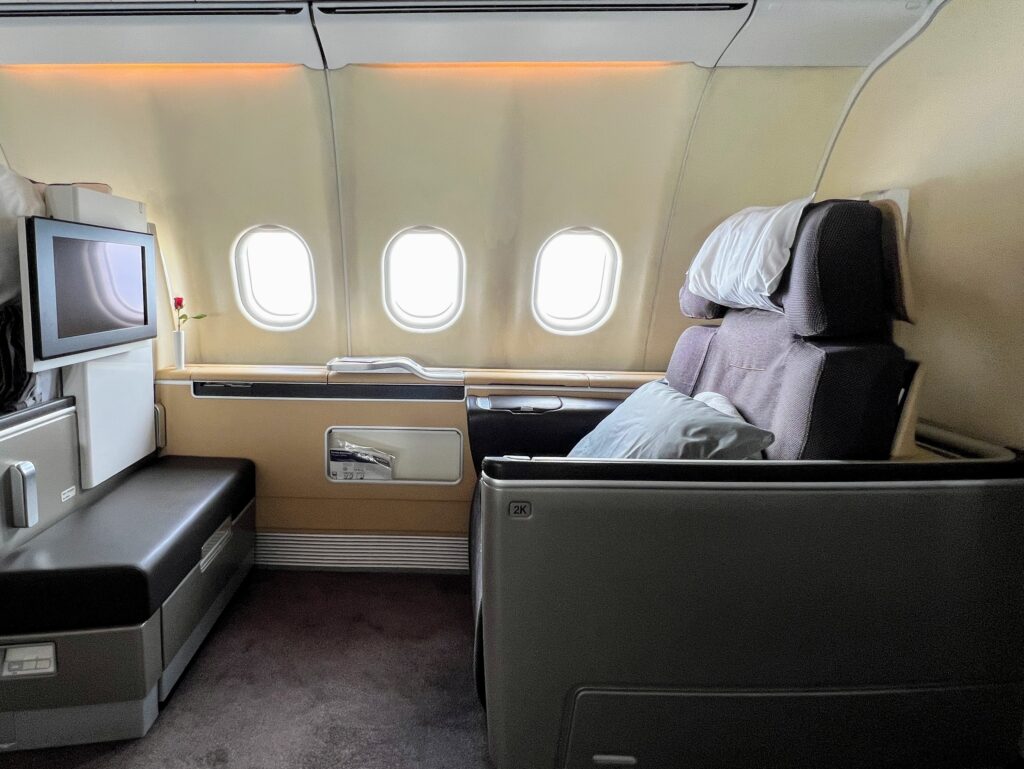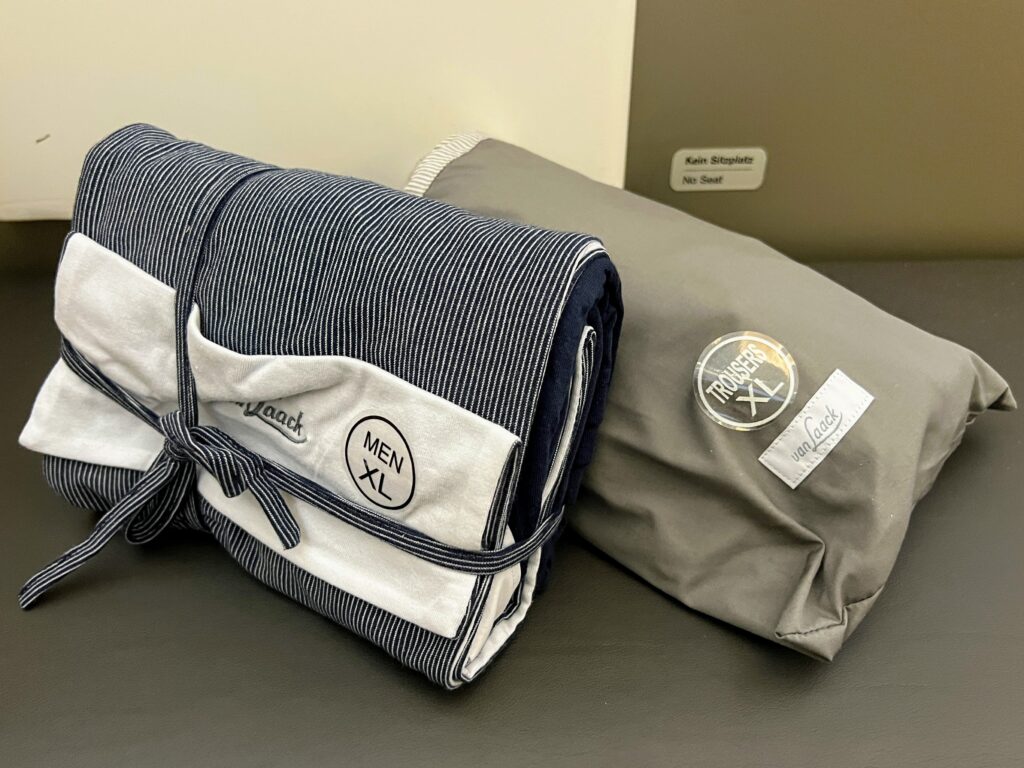 Food
Although Lufthansa started operating this route a few weeks prior, this was the first First Class flight our flight attendant was working since the pandemic. Many travel experiences have been diminished since the pandemic, but perhaps none so much as dining.
Supply chain and labor constraints have combined to create a lot of situations where I've gone back to experience something I've enjoyed in the past and it's just not what it was. In some cases the difference is obvious but in others it's almost like those old "Hocus-Focus" cartoons in the newspaper that have two images and you have to spot what's different about them. "I remember this being great but it wasn't this time, what changed?"
In the case of Lufthansa First Class dining experience I'd say it's 80-90% on point, and for that I'm thankful. I mean, you're drinking $200/btl Champagne and eating caviar on an airplane with fresh cut flowers in the cabin – what could there possibly be to complain about?
Some of the wines they had on the menu weren't available. Some of the service elements seemed a bit truncated. Some of the selections weren't very good. But overall, if this was the only time I'd experienced Lufthansa First Class I'd be hard pressed to find flaws.
Photos and thoughts below…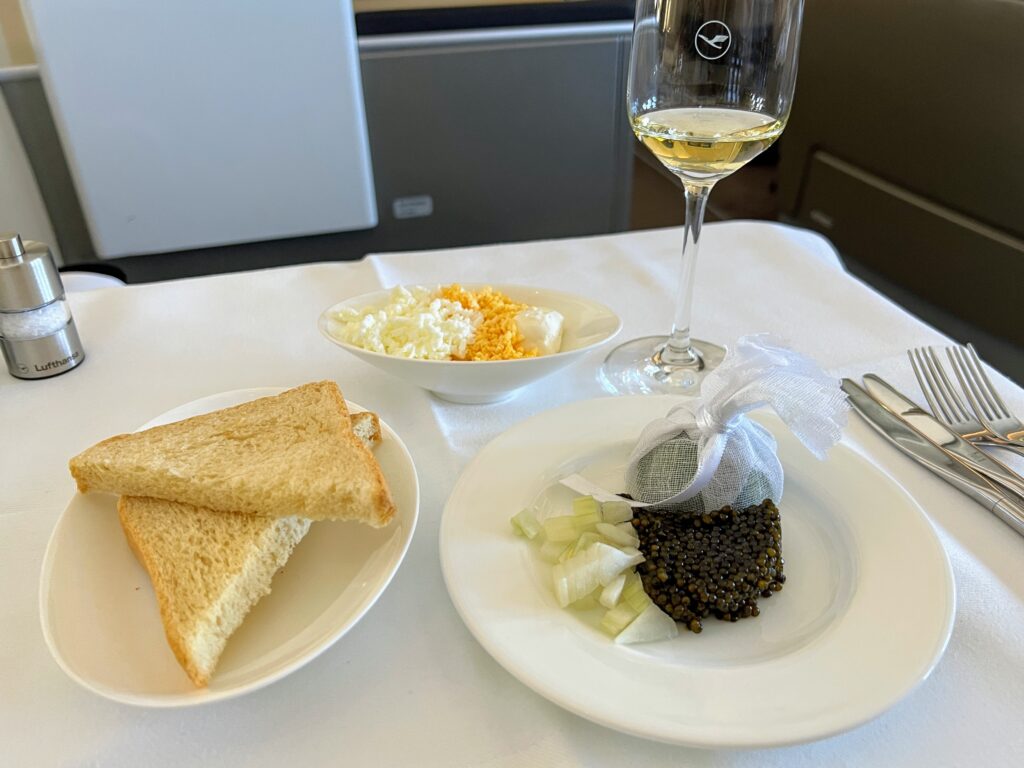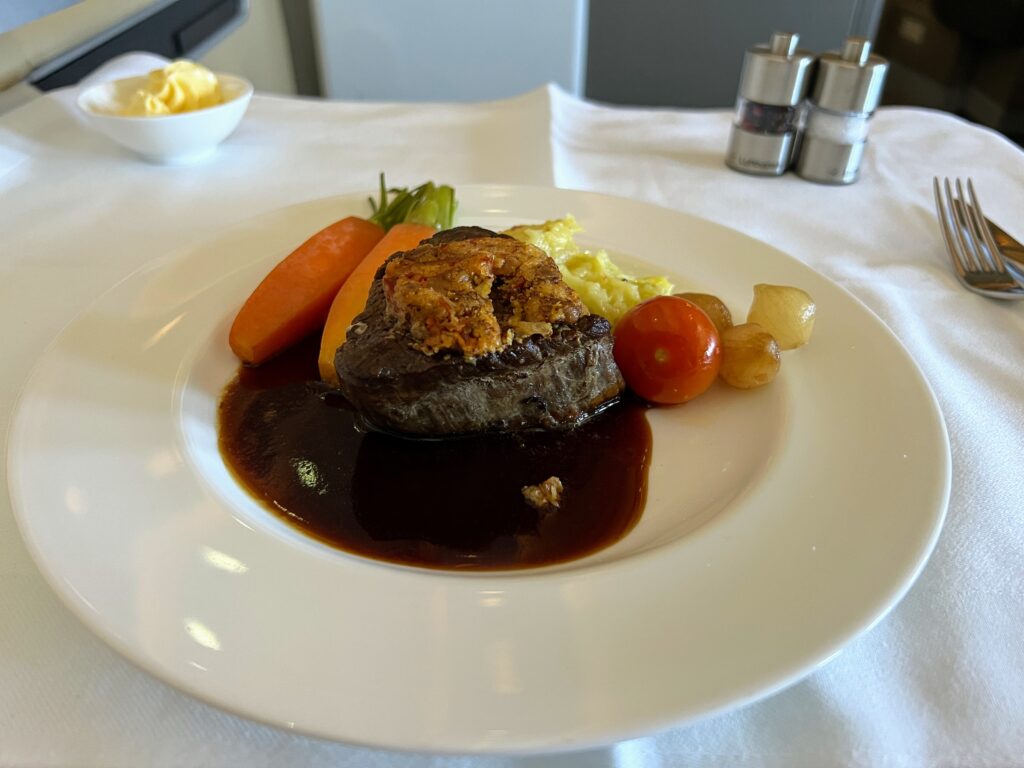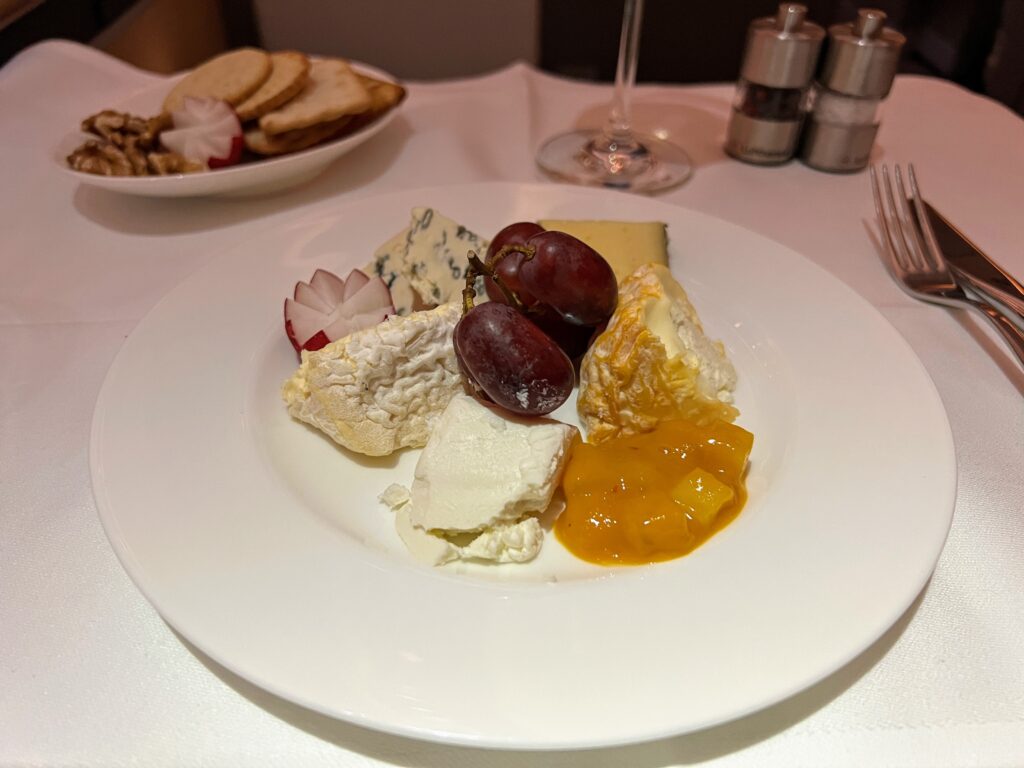 I recommended my son try the burger since I hear Lufthansa makes a really good cheeseburger. Unfortunately, the current burger on the snack menu is instead veal skewers that earned low marks. The veal was more like a meatball, not very juicy, and it was difficult to eat. He asked for something else and enjoyed a pasta dish instead.
Arrival
When we got off the airplane in Boston we were greeted by an airline employee with our names on a Star Alliance board. She told us to clear passport control and that she'd be waiting with our luggage downstairs.
We whisked through passport control even without Global Entry since we were one of the first off the plane. Downstairs our luggage was off the carousel and presented to us thanks to priority handling. We usually try to avoid checking bags – even for international flights – but in this case it worked out brilliantly. Especially with connecting flights and a long layover on the return it was so nice not to have to move our bags around during the invariably complicated transition points involved in international flights.
This has me seriously reconsidering my "no checked bags" policy especially for international return flights with connections (and a larger travel party) where the penalty of delayed bags isn't as severe as on the outbound.
Booking
The premise of this trip was a multi-generational visit to Italy for my family of four plus my mother-in-law. We needed award availability for five seats, absolutely on the same flights and hopefully in the same cabin, around Massachusetts April school break which this year coincided with Easter.
I initially booked this as Milan – Zurich – Boston on SWISS Business Class for 60,000 Aeroplan + taxes/fees.
About a month prior to departure our plans shifted and we changed to Bologna – Munich – Boston on Lufthansa Business Class for 70,000 Aeroplan + taxes/fees. The distance-based nature of Aeroplan's scheme hurt a bit, but the lack of fuel surcharges on Lufthansa helped.
Two weeks before our departure, I checked and was delighted to see saver-level award availability for five of us (five!) in First Class on the Munich to Boston flight. It's 90,000 Aeroplan miles + ~$147 USD pp one-way Munich to Boston. Adding the segment from Bologna increased the distance enough to bump the miles required to 100,000 but the taxes and fees drop to ~$85 USD departing Bologna.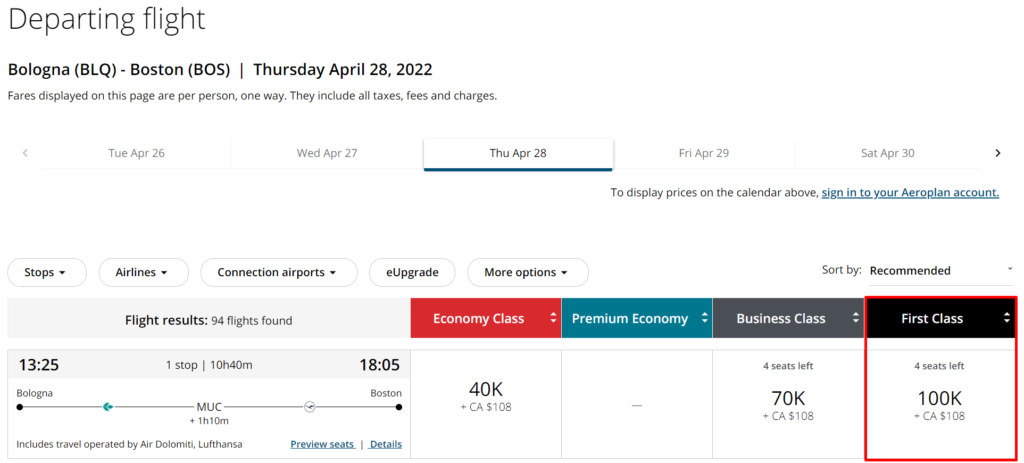 I couldn't make the change online, so I called Aeroplan right when they opened at 7a.
The Aeroplan rep was able to see the First Class space on the Munich to Boston leg, but her system made it impossible to make the change for just that segment. In order to make the change, she needed to be able to book the entire itinerary from scratch. Since we were taking up five of the seats in Business Class on the Bologna – Munich leg she wouldn't be able to make the change without releasing all the availability.
She said this was a "known issue" with their system and that they'd had meetings on it internally. Even after she spoke with a supervisor she was unable to make the change. I was tempted to have her release the space and try to rebook it, but I didn't want to lose the Business Class space we had in the process.
So rather than risking a 1-hour 10-minute connection in Munich, I had her rebook us on the morning flight out of Bologna. That's how we wound up with a 7-hour layover in Munich and a long but very pleasant day of travel.
Although it now costs slightly more Aeroplan miles to fly from the US to Europe in premium cabins, the elimination of fuel surcharges on partner awards is a welcome change.
Unfortunately, Aeroplan's elimination of change fees during the pandemic was temporary. This post describes how change fees are coming back. Keep that in mind while considering speculative bookings.
Bottom Line
It's great to see Lufthansa bringing back First Class service to more routes to the US, especially out of Munich.
Seeing as many as five saver level seats available in First Class two weeks prior to departure is something I haven't seen in the past. I've flown this route with two of us in First and the rest of the cabin empty, and they still didn't open up additional saver level space.
Overall, I'd say the experience was 90% as good as it was before the pandemic which is to say: It's terrific. I'd highly recommend giving it a look for travel to Germany and beyond.