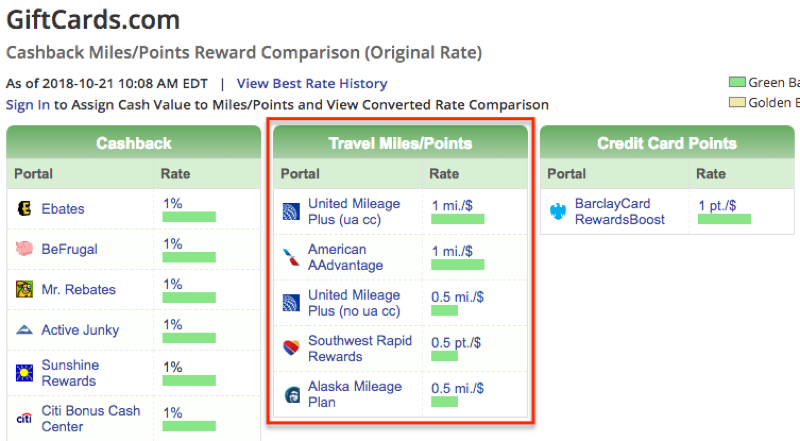 Online purveyor of gift cards GiftCards.com is now appearing in airline shopping portals.
Judging from Cashback Monitor's handy rate history functionality, this appears to be a new development.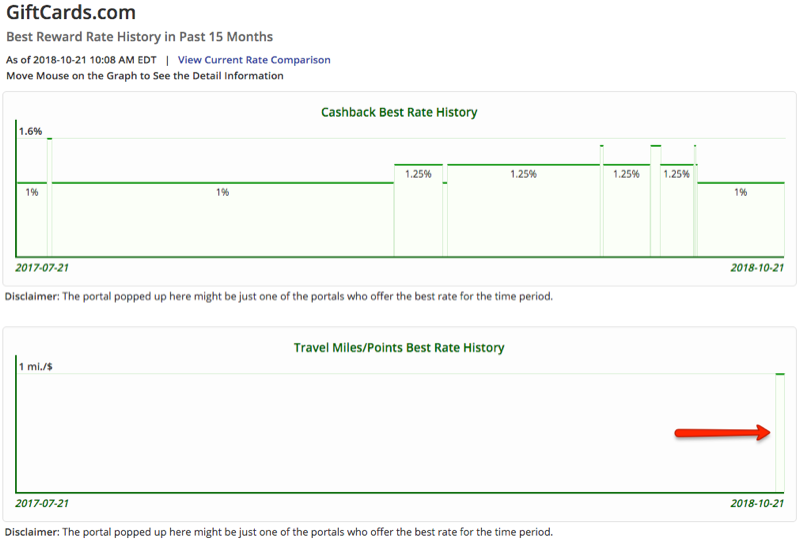 Best Options for GiftCards.com Cashback
Of late cashback portals rates have hovered in the 1-1.25% range.
A couple of portals not listed on Cashback Monitor still pay 1.25% at the moment:
RebatesMe is interesting because you earn 10% of the cashback your friends earn for a year when you refer them. Self referrals and same household referrals are excluded in the T&Cs, so to stay above-board you'd need to work with a friend outside your house. But in theory that pushes RebatesMe up to 1.375% cashback on Mastercard gift cards from GiftCards.com.
GiftCards Airline Miles vs Cashback
At the moment the AA portal is paying 1 mile per dollar. And the UA portal is also paying out 1 mile per dollar if you have the Chase United credit card. I have the fee-free version of the United card and confirm that when I log into the United portal the payout jumps from 0.5 miles per dollar to 1 mile per dollar. That's nice.
It's a tough call for me between 1.25 cents or 1 United mile. On one hand I think I can get more than 1.25 cents per value out of a United mile. But on the other I wouldn't buy United miles for 1.25 cents each, which is essentially what I'd be doing by forgoing the 1.25 cents as cash back.
Which way to go depends on your demand schedule, current balances, and ability to generate those miles in the future I'd say.
Other Uses
Where I can see this development being very useful is with the seasonal promotions airline portals run where you get bonus miles for spending during a certain period. For example, a recent promo offered "1,500 miles for spending $350".
That would bump up the earning rate through airline portals further so it's worth keeping an eye on especially during the holiday shopping period.
Bottom Line
GiftCards.com is now appearing in airline shopping portals. This is good for people who favor airline miles over cashback, and it will be especially worth keeping an eye on during holiday promos.
It'll also be interesting to see whether airline portals (and portals in general for that matter) pay out on purchases when a promo code is used. Historically that sometimes does/sometimes doesn't invalidate portal rewards. We shall see.
What portals are you using for GiftCards.com lately?