If you've got a Bank of America Business Advantage Customized Cash Rewards credit card and see a letter in the mail (USPS) that says "Earn up to $150 Cash Back" you might want to open it and check it out before throwing it away.
It looked like a credit card offer but inside was a targeted offer for double rewards for the next 60 days on a card that already earns 3% in useful categories.
The Card
The card itself is a strong earner for a no annual fee card:
Earns 3% cashback at your choice of one of these categories: Gas stations (default), office supply stores, travel, TV/telecom & wireless, computer services or business consulting services
Capped at $50,000 in spend per calendar year
Cashback qualifies for up to 75% uplift with the highest tier of Business Preferred Rewards (which is unfortunately separate from Personal Preferred Rewards)
The Offer
As I interpret the offer $5,000 of spend in a 3% category of choice should net an additional $150 cash back:
Earn twice the rewards you usually do up to $150 cash back within 60 days of activation
Activate by March 10, 2022
Visit bankofamerica.com/recognition with personalized registration code to active
The fine print on the back of the mailer states:
Allow 12 weeks from when promotion ends for the cashback to post
You may receive a 1099 for the bonus cash back
The offer does not apply to any Preferred Rewards bonus (bummer)
It's a pretty nice kicker on a card you might be putting spend on already. Hopefully the offer is widely targeted and you can catch the mailer before it finds its way into the trash.
For what it's worth, I don't see this offer mentioned in my account when I logged in even though I'm targeted.
Details below…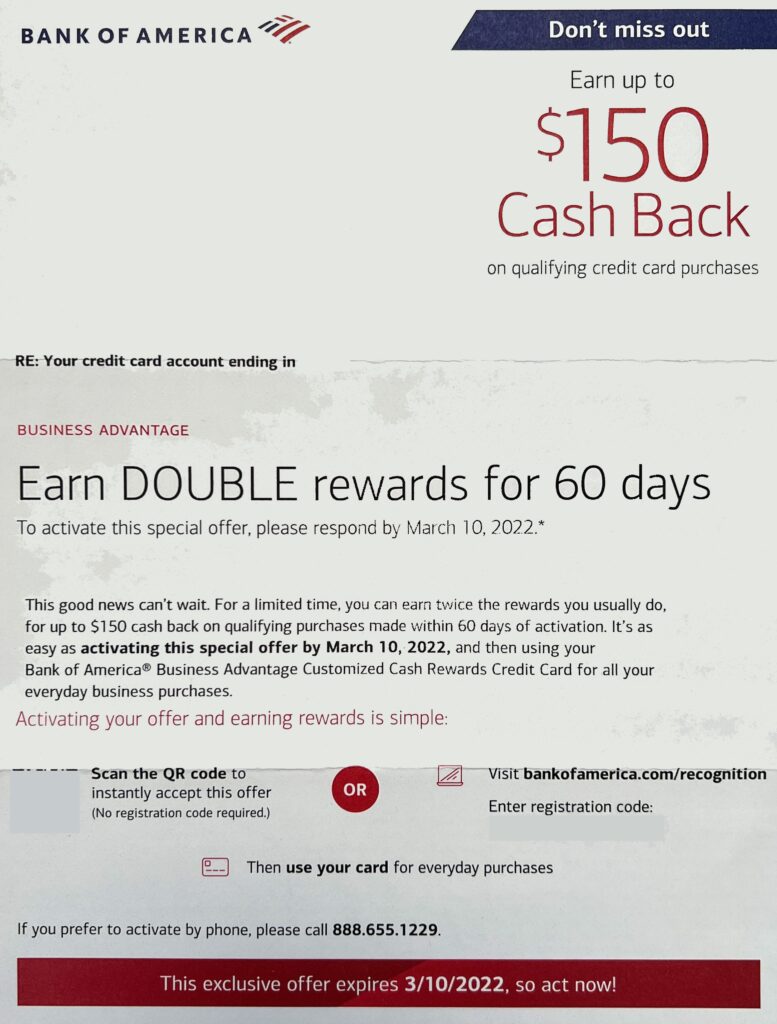 Fine Print

*To be eligible, you first must activate this offer by registering before March 10, 2022. Once activated, you will earn double the value of your cash rewards, up to $150, when you use your account to make purchase transactions (exclusive of any fees, returns and adjustments) for 60 days from the date you activate the offer. This offer is only valid on the account identified within this communication and is non-transferrable. Allow up to 12 weeks after the promotion ends for the promotional cash rewards to be added to your rewards balance. The value of this reward may constitute taxable income to you. You may be issued an Internal Revenue Service Form 1099 (or other appropriate form) that reflects the value of such reward. Please consult your tax advisor, as neither we, nor our affiliates, provide tax advice.
Limitations: All of the following conditions are applicable throughout the entire promotional period, which is inclusive of the date the offer is activated through the date promotional cash rewards are fulfilled. Your account must be open and have active charging privileges in order to receive the promotional cash rewards as a result of this offer. If your account is converted to a different rewards program or to a card without a rewards program, the offer is no longer valid. Other advertised promotional offers can vary from this promotion and may not be substituted. This offer will not apply to any Preferred Rewards bonus, customer bonus or account opening bonus, if applicable. Promotional cash rewards earned as a result of the promotion are incremental of cash rewards earned on purchases through regular use of the cash rewards program.