Earlier today I posted about the Chase Freedom vs. Chase Sapphire Preferred.  In that post I outline the best parts of the CSP–notably the 40,000 bonus UR points.  I've mentioned before that the best time of year to apply for the card is March, and we'll include it in our March CCC applications.  Applying for the CSP and then converting it to a Freedom is the best way to get a Chase Freedom card, or even a second Freedom card.  You gain the 40,000+ Bonus UR points from opening the CSP, and then have the benefits of the Freedom once you convert.
I also covered the benefits of the Chase Freedom–its ability to earn tons of UR points.  Today we will talk about those UR points a little more.  They certainly can be confusing, I'll try to demystify them.
I wrote a paragraph in that earlier post and said I'd explain it more in detail.  That paragraph was:
"What about all the travel partners that the Sapphire Preferred have? You don't need a CSP to hold UR points. You do need one to transfer UR-UA or Hyatt. However if you're a 2 person Milenomics team (husband + wife for example), that just means that one of the two of you needs a Premium Chase card. You could transfer your UR from your chase freedom to your SO's CSP or Ink Bold and then to either of your United accounts. If that sounds confusing, it is 😉  I'll go over it tomorrow when I discuss flexible points more in depth."
Let's unpack that paragraph a little.
"You don't need a CSP to hold UR points."
This is a very common misconception.  Each Chase UR card has its own pool of points.  The Freedom may be described as a cash back card everywhere, but it is in reality a UR Card which can only tranfer UR–>Cash or UR–>UR.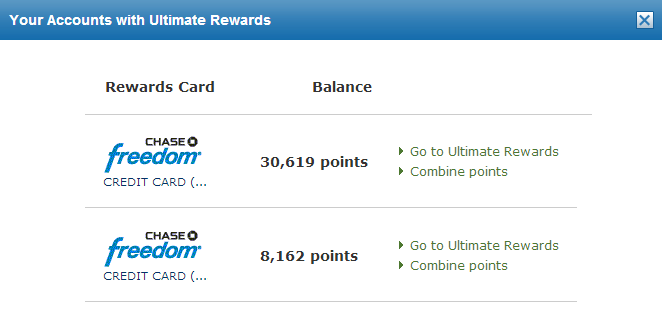 Now if she were to outright cancel one of those cards, she would lose all those UR points.   Milenomics places an importance on avoiding annual fees, but does not advocate outright cancelling of cards.  Let's assume for whatever reason the card did need to be closed, say to merge the line of credit.  With just a few clicks, I can transfer them to her other Freedom's UR Pool.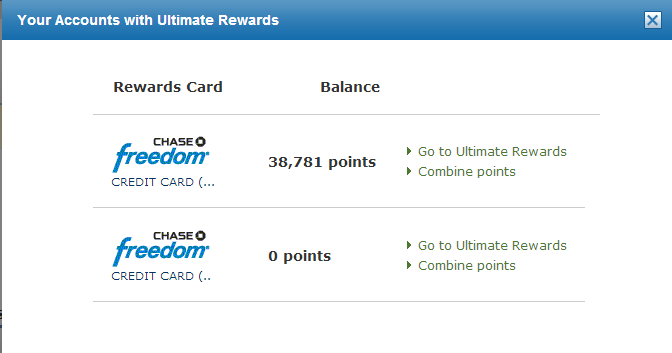 "However if you're a 2 person Milenomics team…that just means that one of the two of you needs a Premium Chase card."
My wife's Freedom UR points can be transferred into my CSP account.  We do not both need a Premium UR card like an Ink Plus, Bold, or CSP.  She would use "combine Ultimate Reward points" in her UR Mall, and send them to my CSP card (using the card number and the name).  I would then be able to transfer those points to a travel partner like United, or Hyatt.

When my Annual Fee comes due on my CSP I'll downgrade to a Freedom as well, and my 51,188 UR points will safely stay in my new Freedom Account.   This is the best way to make sure you don't lose your UR points when cancelling a card.
A note about tranferring UR-UR:  Chase has a problem on it's hands.  They allow you to transfer UR to any other UR account.  Technically all you need is the card number, and the name on the account.  This is being abused to sell UR points.  Chase has shut down accounts of people who transfer out too many UR to too many different accounts.  I'm not advocating that at all, I'm telling you how you and your Spouse/SO can pool your UR points
Chase may shut down your account if you are transferring UR-UR and the accounts are not your spouse's/SO's. 
As with anything, be careful. There's a good saying, bulls make money, bears make money but Pigs get slaughtered.
[rule]
Come back tomorrow for details on the first Milenomics Giveaway!