Three months ago I introduced the CCC in the Post, "The Credit Card Calendar: 32 Miles per Dollar all year long." For those of you who weren't reading Milenomics at the time I'll give a quick Recap of the Credit Card Calendar (CCC) here.
The CCC splits the year up into quarters–roughtly equal to the change of seasons. When a new season starts, you apply for new credit cards. Credit card applications still remain the #1 way to earn miles, for the lowest cost per mile. The idea behind the CCC is to limit the number of times you apply for cards, and pool your applications. This is done for three reasons:
1) Control of and Limiting Your Applications
The First reason for the CCC is to stop you (and me) from applying for cards that come around randomly during the year. It is impossible to read blogs without being enticed into the idea that this credit card offer is "the best deal ever."
We talked a little about Market Timing yesterday–and the idea that a card offer will only be around right now is a form of Market Timing. However great the offer sounds, more likely than not it will come back around. Later in this post I'll even show you why the best offers and the best time to apply for certain cards don't always line up.
2) Limiting the Effect of Card Applications on Your Credit Score
We've covered credit scores before, and I've also written about the 1 and 2 player modes of the CCC. In two player mode you space out your applications every six months using the following schedule:

Why stick to this schedule? By doing so you pool your applications. With each application, you take a hit for each hard pull, of 3-5 points, but then when the cards are opened you slowly see your score inch back up, as the new lines reduce your utilization, and also slowly start to age. If you applied for one card, then a month later another, then a month later another two by the time you reached the third month you'd already have the first 3 accounts open, and you decrease your likelihood of being approved. If your applications are being declined, there are ways for you to find out how to get a credit card with no credit. This credit card is very similar to an ordinary credit card, except it will have different interest rates.
3) Increasing Chances of Approvals
You might say that applying for a lot of cards at once looks bad, but remember, there are 3 big credit reporting companies, and each card issuer picks a different one to "pull" your credit from. If you apply for 5 cards the very best case scenario is that the first 3 pull different agencies, and then the last two pull different agencies. What this means is that no one sees more than 2 pulls at a time. Had you spread out those applications over a few months, once each credit line is opened, it would show on all 3 credit reports. All 4 would be visible to application #5 at that point.
Deciding on Cards for the Winter CCC
This is very similar to the process in the Fall–On Thursday I'll go in depth as to the cards I think compliment our previous Fall applications best. For now start your research doing the following:
Step 1:Calculate your monthly spending over the coming 3 months. This step is important to do each quarter–as spending goes up and down during the quarters.
Step 2:Craft your Calendar–Start to review the thread of credit card offers on Flyertalk.
I have not recommended taking on more minimum spending than you can handle with just day to day spending–because the costs to meet minimum spending via other methods can erode the value of the miles you earn. If you know what you're doing, and have been successful with MMRs in the past–you may be able to exceed your monthly spending and still keep your costs down. But especially for people new to the game, go with what you spend on regular monthly credit cards only.
Don't Apply Just Yet
I know how enticing the offers of 50,000 or more miles can seem. But don't apply just yet–I like to do my research a few days ahead of time, and make sure I'm not missing anything. Then I start a Google Doc with applications I'm looking at, and after I apply I update the doc with screenshots and notes. In the next 2 days I'll be doing this–and I ask you to do the same. Then on Thursday I'll post my ideas for applications, and you can compare to your own.
To Everything, There is a Season
I mentioned earlier that the time to apply for cards is not always when their bonus is highest. Today's examples I'll use are the SPG Amex and the Chase Sapphire Preferred Visa.
The historically highest bonus for the SPG Amex has been 30,000 miles. Like clockwork almost, Amex rolls out this bonus in the late summertime. The standard bonus right now is 25,000 SPG points with $5,000 in spend. So if you completed each spend you'd either net 30,000 total points, or 35,000 total points.
This sounds like a no brainer–apply during the 30,000 SPG offer time. And that might be good advice. However I strategically passed on the 30k offer this year. The reason is that SPG Amex offers Gold if you spend $30k in a calendar year. By Applying now, in December, and holding off any spending on the card until Jan 1 I'll be $5k towards this goal. Almost all of my stays in hotels are paid–and I usually upgrade myself to larger rooms, or suites for the price of a standard room (or less). I'm unsure what I'll do with these SPG points. There's a possibility I'll take the gold, and convert the SPG points into Airline Miles. I also may use them in Hawaii, where being gold may help some.
Either way I'm sure I'll spend at least $30,000 in a 12 month period on the card–so why not spend it during the 12 months that give me the most for it? Had I applied in August I would have had just 4 months this year, or 8 next to hit my $30k in spending on the card, and would not be able to count the min. spend towards this $30k next year.
Other cards offer similar yearly bonuses. The American Express Premier Rewards Gold card offers an extra 15k MR when you spend $30k in a year. The Chase United MP also offers 10k extra UA miles when you spend $25k in a year, and the Chase British Airways card offers a somewhat useless companion pass when you spend $30k on the card in a year. All of these types of offers should be looked at for December CCC applications since you maximize the months you have to make the spending on these.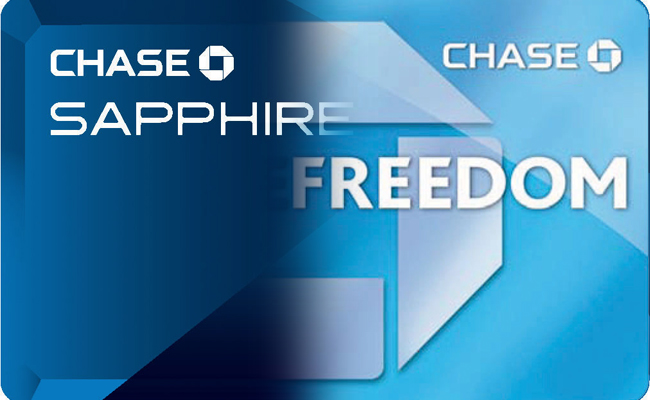 The Never Great, but Always Good Chase Sapphire Preferred
There is still an offer for 55,000 UR for the CSP, and there are other offers from 40,000 to 45,000 as well. I'm strategically leaving this card out of my Winter CCC applications. Should this card be included in your Winter CCC applications? Maybe, but also maybe not. We'll look at the two reasons below:
Why you may want to include it:
Milenomics suggests we keep the CSP for just the first year, and then downgrade to a Chase Freedom. The reason for this downgrade is that in the long run the freedom gives us the same or a better level of earning (see the calculator I've put up here), for no annual fee. For this reason getting the CSP (and the large bonus) and then downgrading is actually the best way to get a Chase Freedom.
The CSP does offer good bonus for Travel and dining; it isn't a bad card. It also has comprehensive travel insurance included if you use the card to pay for trips. If you applied for it now, you'd get the signup bonus, and in February you'd receive a 7% bonus on your signup all spending between now and that statement. (Thanks David)
If you signed up now, and spent $5k on the card between now and February your bonus would be a miserable 7% of 5,000 UR = 350 UR.
At this point I'd probably stop using the card, and then in a few months convert to a freedom and downgrade the card. Spending on it doesn't really make sense for the rest of 2014. To get the bonus on your 2014 spend you'll need to keep the card until Feb 2015, and pay a $95 annual fee. Milenomics doesn't advocate paying Annual fees.
Why I'll be waiting:
I'm playing the CCC in 2 player mode–and I hold the CSP already. For this reason alone I would pass–as holding the card for one of us means we both have the benefits. When I've downgraded mine, my wife will apply then, meaning we still hold one and haven't paid the annual fee.
In addition If you have lots of employer reimbursed travel expenses, and eat out a fair amount you'll benefit from applying in March because you'll have larger 2x spending and also get that 7% dividend on all of your 2014 spending. The big risk in waiting is that the bonus will go back down–it was just 40,000 UR when I signed up last. I don't know how long this current offer will stick around. There's also the argument that UR have lost some of their luster after the United Devaluation–which may mean you skip the CSP all together.
Timing CC Applications Isn't an Exact Science
Trying to time the market is difficult, or impossible. In fact I'm pretty sure that within 30 days after you apply for your Winter cards a great offer will come up, and you'll wish you had waited for it. Instead of feeling bummed about missing out on these offers focus on what you have already, and how to maximize those card offers.
Look at the CSP offer–for some of us will add it into our applications for Winter, for others we'll pass on it and wait until March. This is why the CCC is a great way of approaching sign up bonuses–for 48 weeks out of the year you'll disregard everything you read about credit card offers, and bonus miles. Instead you'll focus on MMR, getting your costs to earn miles down, and booking trips with miles.
Too often we're the opposite–focused 48 weeks a year on the best and newest credit card offers; leaving just 4 weeks for work on MMR, booking flights with our miles, learning tips and tricks for award seats, and all the other hard work. Miles are great–but if you're not using them they really don't even exist.
Check back on Thursday for the CCC winter edition post, and over the weekend on creative Milenomics ways to meet minimum spending.