Today I'll introduce some of you to what I think is the best Cash Back credit card on Earth. "Best on Earth" is a bold statement to make, but one I'm confident I can back up. For those of you unfamiliar with it, today we'll be discussing this card:
The Fidelity Investment Rewards American Express.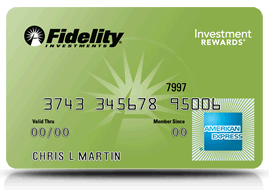 Just because you don't hear a lot about this card don't discredit it. Remember, money talks–and lots of other cards pay people to talk about them. Fidelity doesn't, and because of this you hear relatively little about it.  I'll go over when and why using the card is so beneficial, and then talk about ways to compound the rewards to earn even more off of this card.
There hasn't usually been a sign up bonus for this card, but that has recently changed, and now you're offered $75 when spending $500 in the first 60 days. Yes, I know not much of a bonus–but there are many reasons I suggest everyone have this card, and even without the $75 sign up bonus I'd still recommend it.
A, B, C; A-Always B-Be C-Charging
Anywhere you're not earning large category bonuses the Fidelity Amex is almost guaranteed to be your best card to use. It can also be useful to generate cash back from time to time for purchases of Amex GC or other items online with low/negative fees.
Personally, I use mine as a hedge against holding the over-rated Chase Sapphire Preferred. Anywhere the CSP is offering 2x UR this card is also offering 2 points per dollar. Anywhere the CSP is only offering 1 UR this card is still offering 2 points per dollar.
2% back with $0 Annual fee compares to no other card out there. The 2% rewards with this card are unlimited and come with no annual fee.  While you'll find other cards with promotional rates higher than this card, nothing matches it for day in, day out, cash back. There are even some deals which only work on this card–and those alone could net you $2,000+ in cash back per year, per card.
I'll ask you to think of this card differently from other cards. With most cards you apply, and receive a large bonus upfront.  After the first year is up your bonus is eaten away by Annual fees and you start to earn rewards more slowly.  This card starts off consistent and keeps earning at the same rate: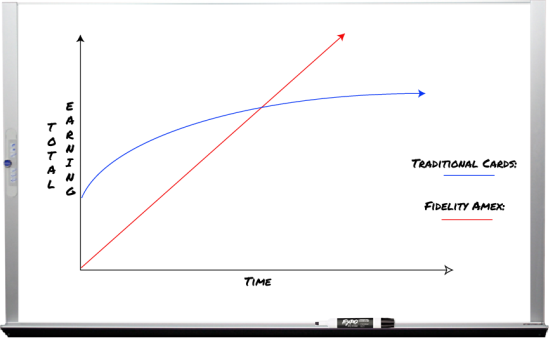 The deals which can net you $2,000 this year can do the same next year, and for as long as those deals continue. What that means is this card is a keeper, and is always near the front of my wallet.
Rewards that Compound (Or, Turning This into a 3% cash back card)
The Investment Rewards card earns "points," each of which is worth 1 cent when credited to any of the following accounts:
Cash Management Account

Brokerage account

Fidelity-managed 529 account

Retirement account
The points transfer 1=1¢ into these accounts, and can be transferred out from some of the above accounts. Today we'll talk about keeping them in a retirement account, and using that to increase our cash back by as much as 50%.
We've talked about fiscal responsibility a little here on Milenomics, but for serious discussions I recommend Matt's blog over at www.saverocity.com.  Matt and the guys at all the Saverocity blogs have probably covered this card more than all other sites online combined, and he's written some great advice on how to use the card.
Pay particular attention to this post, and the comments, where Matt and I discuss using the card to open and fund a retirement account. For anyone who qualifies for the Saver's Tax Credit the cash you put into your IRA with this card can be matched by the US government up to 50% (of your first $2k). What this means is that if you fall into the 50% match category your first $100,000 spent on the card will be earning you 3%.  The saver's credit goes all the way from 50% down to just 10%. Even at a 10% Saver's Credit you're still looking at a 2.2% earning card.
It isn't often that using a credit card can help you in the long term–but this one certainly can. With years and years of compounding your $2k per year, enhanced by the Saver's credit, can grow quite a bit. Fidelity has a calculator for seeing just how much your yearly spending could turn into, located here.
Granted this is a benefit of any card which earns cash back, so long as you choose to put that cash into a retirement account. I bring it up to ask you to consider the long term financial health of starting a retirement account and using this card as a vehicle to fund it. If you already save towards a retirement account, or if you don't qualify for the Saver's credit then this "bonus" 1% doesn't apply to you.
Amex Acceptance Rates
Usually in discussing this card a blog will add a disclaimer of the sort; "This is an American Express Card, which isn't as widely accepted as Visa/MC." I find it a bit unfair to ding this card for being an Amex, but push an Amex Gold/Platinum without a similar disclaimer.
Yes, I've found the occasional place that won't accept Amex–but that certainly shouldn't dissuade you from applying for this card. My personal belief is that the Amex acceptance argument is a way to steer people towards something like the Barclaycard Arrival World MC, which I feel is an inferior card (long-term) to this Fidelity Amex.
Visa/Mastercards Can Be Inferior As Well
I'll channel Ronald Reagan here and say, "I will not make acceptance rates an issue in this campaign. I am not going to exploit, for political purposes, Visa/MasterCard's inability to qualify for Amex Sync Deals."
In response to the argument that this card is an American Express card, and won't be accepted in as many places I've decided to argue that this card is better than a Visa or Mastercard, and is accepted in numerous money saving ways that Visa/MC are not. This card can be Sync'd with Twitter/Facebook and used for Amex deals. It can also be used on Small business Saturday. There are also deals to be purchased online which only work with this card, and cannot be bought with Visa/MCs.
I hope to change the discussion on this card–from one of "This Amex isnt' accepted everywhere Visa/MC are," to a discussion based on the true merits of the card. Obvioiusly, I'm a huge fan of this card, and want to spread the word about it to all who will listen.
Double Dipping Via Bill Payment
Free-Quent Flyer reported this last week that this card is now the only one of just a few Amex cards which can be paid at Wal-Mart Money Centers using their bill pay option. For more information on which cards are payable and how to do so, consult this Flyertalk thread. This opens the Fidelity Amex up to double, triple, or quadruple dipping–charging up this card, and then paying it off to earn even more miles. This is a strategy which doesn't work for even the big name Amex's: The Gold PRG, or the Platinum Amex.
Employing a mile earning debit card, and this Fidelity card are surefire ways to earn big miles, at almost no cost besides your time and travel.
Special thanks to Flyertalker CreditPig as well as MsArbi for testing and reporting their success in paying this card. Also a H/T to HikerT in the comments for pointing out my error in not crediting these two for their hard work in figuring out how to pay this card.
The King of the Ring
Add it all up; $2,000+ a year in cash back on deals that only work on this card, up to 3% back if you claim a saver's credit, Bill Payment which saves you from having to lug MO's around town, and this card is unmatched by any other cash back/travel "points" cards out there.
If you have an idea of a card to put up against this one–let me know. I'm all ears, and love a good shootout between credit cards. If  you'd like to try to find fault in the Fidelity Amex I'm all ears as well, and think that readers will benefit from a healthy discussion of the card's positives and negatives.