I'm sure a lot of you know what I'm going to share with you today–but for those who don't today's post is going to be very important. We'll be talking about the different airline's 24 hour cancellation/hold policies. I haven't written about it before, so for completeness I wanted to put together this post.
The DOT Rule we'll be discussing states:
"…passengers will be able to hold a reservation without payment, or cancel a booking without penalty, for 24 hours after the reservation is made, if they make the reservation one week or more prior to a flight's departure date." Source: DOT Briefing Room.
For additional information see the document "Guidance on the 24-hour reservation requirement"
The protection is there for you, the consumer, to hold or refund a ticket without a penalty for up to 24 hours.  The only exception to this is if the flight is booked less than 7 days from departure date.  We'll analyze this rule, and then go over the wording and policies of a few airlines, and finally get really risky/creative with the rule.
Hold or Cancel-The Difference is Important
You'll want to ensure you're booking with an airline that allows cancellations, not holds. American Airlines is the only one of the big players to have a hold option rather than a 24 hour cancel option:

I don't personally have a problem with this distinction–and the hold is nice in that it doesn't cost you anything or mean you have to check to make sure you're refunded.  However, booking and paying for an AA flight means you've committed to that ticket–and are now subject to the cancellation policy of the ticket.
The rule only states that you need to be able to hold or cancel, not both. By allowing the hold AA has fulfilled its obligation under the rule.  Your choice to not take the hold was declining your protection under the rule.  Ensure the airline you're booking with offers a Cancel or a Hold policy, and craft your booking based on that.
Airline by Airline Policies
This is by no means an Exhaustive list–but it does cover many major carriers for domestic travel.  For anyone else, Google "[Airline name] 24 hour cancellation Policy" and see if they're a Hold or Cancel Airline.  For the most part instituting a hold system seems to be the exception, but knowing that before you book is important. I've included actual text here for historical purposes, and in case the wording is changed in the future:
Airtran:"All bookings completed through AirTran Airways' reservations or airtran.com will not be held without payment. Reservations may be cancelled without penalty within 24 hours after the reservation is made if the reservation is made one week or more prior to a flight's departure." Source: www.airtran.com
Alaska:"Reservations made via alaskaair.com or through one of our reservation call centers or airport locations require immediate purchase. Customers holding immediate-purchase travel will have the flexibility to make one change to wholly unused tickets within 24 hours of original date of purchase without incurring applicable change fees. Any applicable increase in fare still applies. Or if you prefer, you may elect to cancel your immediate-purchase travel itinerary within 24 hours of purchase, we will refund your wholly unused ticket back to the original form of payment." Source:www.alaskaair.com.
Allegiant Air: "This travel itinerary may be canceled within 24 hours of purchase for a full refund, as long as your scheduled flight departure date is at least one week (168 hours) away at time of booking." Source: www.alegiantair.com
American Airlines: "When you make a reservation on aa.com for American Airlines flights (including American Airlines flights operated by codeshare partners) aa.com allows you to place it on hold. aa.com will reserve it for you for 24 hours (and some international flights up to 72 hours.)" Source:www.aa.com
Delta:"Once you've bought a qualifying eTicket, you have a day to cancel it for any reason and receive a full refund—including any prepaid fees and Direct Ticketing Charges—with no cancellation fee." And, "Cancellation request must be made by midnight of the day after the eTicket is purchased or midnight of the departure date of the first flight, whichever comes first. Available only for eTickets purchased at the time of reservation through Delta ticket offices and airport ticket counters, Reservation Sales, or at delta.com." Source:www.delta.com
jetBlue:"Customers will have 24 hours from the time of their original booking to cancel their reservation without being charged a cancellation fee if travel was booked seven (7) days or more prior to the departure date (not applicable for Getaways reservations). Bookings that have been changed are not eligible for a credit card refund and are subject to a cancellation fee, regardless of being within 24 hours of the original booking." Source: www.jetblue.com.
Southwest: "A reservation, once booked and confirmed by purchasing your ticket(s), means that we are holding space for you on the specific flight(s) shown on your ticket or Ticketless Travel Passenger Itinerary and Receipt.
We will allow you to cancel those reservations and/or tickets without penalty if you call or cancel online at southwest.com within 24 hours. A refund will then be processed to the form of payment of the ticket purchase." Source: www.southwest.com
Spirit Airlines: The wording is hard to copy/paste, so I took a screenshot instead:

Source:www.spirit.com
United:"United's 24-hour flexible booking policy allows the flexibility to make changes to your reservations within 24 hours of purchasing your ticket, without incurring change fees. This includes canceling your reservation and requesting a 100% refund of the ticket price." Source:www.united.com
US Airways:"You're allowed to cancel your refundable or non-refundable ticket for a full refund (and no change fees and/or difference in fare) within 24 hours of booking." Rules: You must call 800-428-4322 (800-245-2966 TTY) within 24 hours of purchase to cancel the reservation and request a refund. The reservation must have been booked at least 7 days before scheduled departure. This policy does not apply to Dividend Miles award tickets. Refunds are only issued for tickets booked on usairways.com or with US Airways Reservations." Source: www.usairways.com
Virgin America:"We are pleased to hold your itinerary for 24 hours when booking through our reservations call center. Regardless of the booking method, if you purchase a ticket and need to cancel within 24 hours of the original purchase, a full refund will be provided in your original form of payment without penalty." Source: www.virginamerica.com
As you can see the wording is not consistent  with some policies being much more lenient, and others sticking to exactly the letter of the law, such as Allegiant's exact 168 hour window.  On the other end of the spectrum is Virgin America, seeming to allow a Hold and a 24 hour cancellation window. It is also interesting that so many airlines (Alaska, American, Delta, Southwest, United and Virgin America) have no mention of the 7 day window that is in the rule. US Airways specifically mentions award tickets are not included, which is very Grinch-worthy of them.
Mistake Fares: Book Now, Sort Them Out Later
The 24 hour Cancellation policy of airlines can really be useful when booking mistake fares. Let's use today's Delta Mistake fares for an example; Flights were booking at insane prices; EWR-LAX for $23, or $80 in First, flights to HNL for $69 from the east cost.  These are now long since dead, but Delta has said they will honor any fares ticketed at these sale prices. Imagine being the guy/gal at Delta who has to call their boss on the day after Christmas and explain what happened?
The point is–when mistake fares happen book those flights, and sort them out later–using your consumer protections and the 24 hour rule to
The Fight Isn't a Fair One
On our side we have all the technology in the world focused on finding and publicizing cheap mistake fares.  We have a rule backing us,  the consumer, forbidding almost any changes/cancellations by the airlines.  In just a few minutes Millions of Dollars can be lost by mistake fares like these–and the Airlines have little recourse.
The 24 hour rule should be kept in mind for flights like these; as long as you're booking 1 week or more out, and the airline has a Cancel (not a hold) policy, always book now, and ask questions later.
Caution: Sometimes these mistake fares rely on your booking with a foreign/independent travel site. The 24 hour Rule is not always followed by foreign websites, and can only be guaranteed when booking direct from carriers.  Foreign sites often have more restrictive refund policies. Know the policy before you book. I'd still argue the 24 hour rule (since you booked in the US, and are located in the US), and mention a DOT complaint if you receive any resistance.  (HT: MLH)
Larger sites like Travelocity and such have their own 24 hour cancellation policy spelled out online: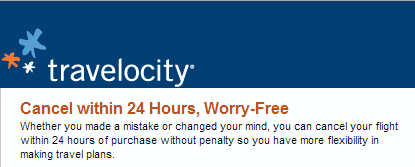 Take a moment to check for the policy of the sites you use. Mistake fares happen fast–so sometimes you'll just have to risk it, and then sort it out later.
Booking mistake fares is another great reason why having a solid demand schedule is important: You could knock off a ton of flights you know you'll be taking in one fell swoop with a good mistake booking.
Not sure of dates you'll be needing to fly somewhere? Book three different tickets, and cancel 2 within 24 hours.
Not sure if you'll be able to line up a Hotel? Book and sort that out in the next 24 hours.
The basics are that the 24 hour Cancellation Rule allows you flexibility, use it as a tool for your bookings when you need to act first, and think later.
Extreme Use of the 24 Hour Rule
I've included this section for academic reasons–I wouldn't suggest doing any of the following:
Notably missing from the wording on Alaska, American, Delta, Southwest, United and Virgin America is any discussion of the 7 day window.  Could you cancel and refund a flight booked less than 7 days away, but still within 24 hours of purchase from these airlines?  Possibly.  This would bring up interesting opportunities for last minute travel–at least on these airlines.  It could also end with you having to take the airline to small claims court–or fight it out with your credit card issuer.
And for the very Extreme: A friend of mine continually re-books his flights every day just before 24 hours, cancelling his previous reservation and keeping an eye out for fare reductions.  That's far too much work for me–but then again I didn't pay cash for any flights this year.  He swears it has saved him hundreds when a fare sale gets announced, but I swear he's wasted thousands of dollars worth of his time, and I'm sure the Airlines are not big fans of his. Whats Your Take?
My Small Christmas Bonus
And Finally, a story to warm your heart—and my wallet this Christmas:
I shared on Twitter that I lost my License last month at LAX. I knew it slipped out somewhere, but LAX lost and found and the airline both said nothing was turned in.  Then, in the mail on Christmas Eve I received a small envelope. In it was my License, and a small note saying I left it in Terminal 5.
I don't have a return address, or even a last name. I do know it was mailed from Los Angeles, so I have some extra pride in honesty for my fair city.  All I do know is the fellow's name, Derrick. So, thank you Derrick your kindness really made my day.
Merry Christmas to all who Celebrate, and Happy Boxing Day to our Canadian neighbours to the North.
---
Everything below this line is automatically inserted into this post and is not necessarily endorsed by Milenomics: