Yesterday was a Redux day here on Milenomics, but today we're back to normal.  Today's post is a personal one–I'm starting research for an award  trip and I wanted to  show you how I do some early stage planning for award tickets.
This post is going to mirror my thought process as much as possible–and I'm not sure you'll get much out of it, but I find it helpful to put my thoughts down when planning a trip, and now with the blog–it makes sense to put them in a post. I apologize in advance for the stream of consciousness format–I literally just started thinking about this trip today, so there's no time to polish up the ideas.
Surprise Spring Break Trip
The trip I'm looking to book is not on my demand schedule.  I've decided that if it works out I'll surprise my wife with it for Christmas.  Spring break for her is March 28-April 6, I'll be looking to book flights so that I'm ticketed before Dec 25th. I think it is a little late to be Planning a Spring Break Trip, especially with Miles.
The two destinations I'm looking at are ones we've always wanted to visit, but have been pushed aside for other trips. I'm pretty sure she'll really love either one, and be surprised on Christmas morning by whichever I go with.
The First is Costa Rica, the second is the island of Curacao. Because I'm taking 2+ weeks off later in the year for our South Africa trip, ideally I'd like to keep this trip to a weekend + 2 days.  This short duration will play into flight choices I'm sure.
Starting my Search
I haven't stepped through my style of searching for these trips, so I thought this would be an excellent example to use to illustrate how I do things. You'll likely have your own style, and that's fine.
My first step is always to look at routes. I like to use the excellent Airline Route Mapper software found at arm.64hosts.com. You can compare more than one route by clicking on one airport, and hovering over the other.  For SJO and CUR this is the result: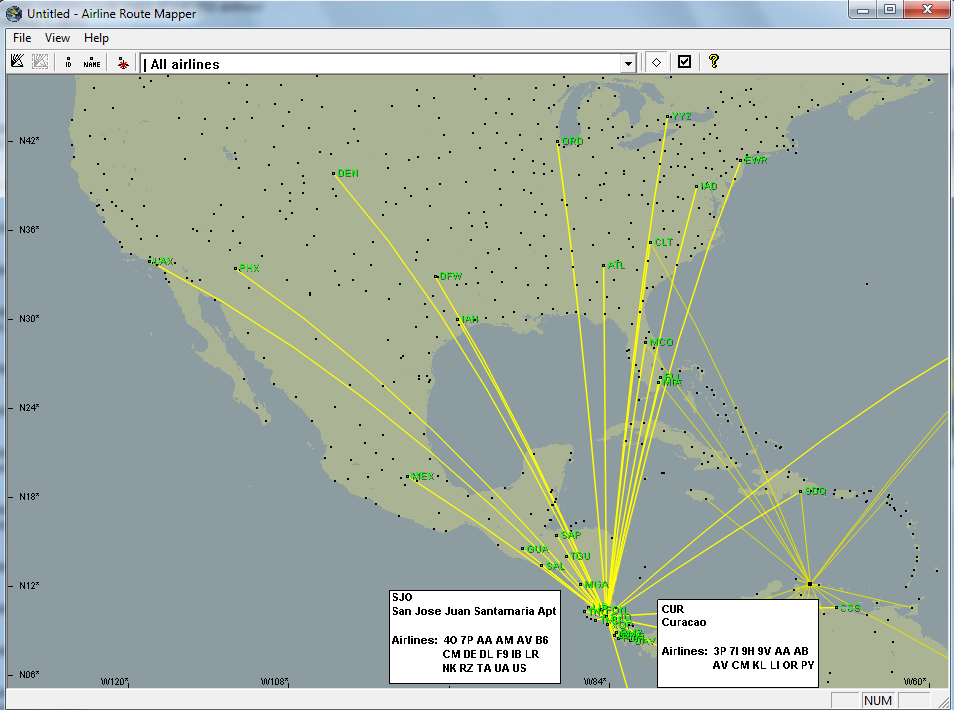 What initially stands out to me is the LAX-SJO nonstop. I happen to already know this is a DL flight, which ARM would tell me as well.  There's also that PHX-SJO (US). For CUR there are MIA and CLT (AA, US), and also PTY (COPA).  The good thing about both of these are that there are plenty of ways to get to either destination with AA, US, UA and DL miles.
Will Either Trip Fit Fixed Dates?
In the post, "Why are frequent Flyer Miles so hard to use?" I outline the need for flexibility in our travels.  Either in destination, dates, or class of travel.  Checking my flexibility for this trip I have the following:
Destination: Minimal Flexibility; I have 2 options, but flexibility in destination usually means absolute flexibility–not caring if you're going to Hawaii or Germany.
Dates: Not flexible, I really have one shot at this, March 28/29-April 2. I've nixed the idea of the following weekend, which further hurts date flexibility.
Class of Travel: Flexible. While it would be nice to be in the front of the plane for these flights, none of them are crushingly long. For that reason Cabin preference is at a minimum.  Additionally with a trip this short my eye is on time at the destination. If the choice is between say a nonstop in coach and a stop in first; I'll probably prefer the nonstop.
I'm not very sure that either of these will work out, given the very inflexible nature of my dates and destination. I want to ultimately come up with something that makes sense and doesn't break my mileage balances.
Starting Flight Searches
I'm open to using Skyteam, Oneworld, or Star Alliance partners for these flights, and so I'll want to do a search across all three. I'll be using multiple sites for this, and will be typing the results in this post as I search each one.
LAX-SJO-LAX:
Oneworld(AA): No Outbound options, Return Flight terrible as well: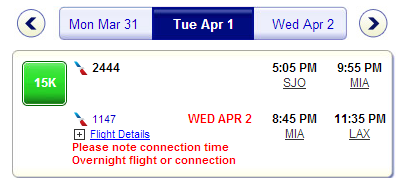 Star Alliance: Plenty of Options, Coach and Business/First Both Available, works with all dates we're looking to travel on. Connect via PTY or GUA.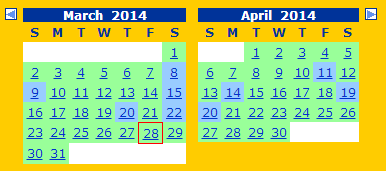 Skyteam: Good outbound option, no returns.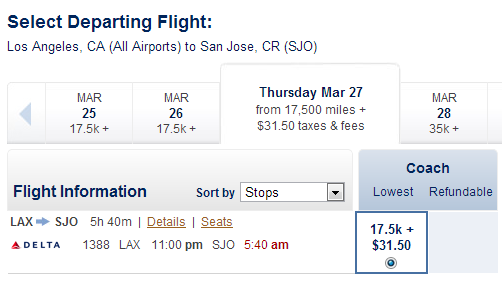 LAX-LIR-LAX
LIR is a second, smaller airport in Costa Rica.  In fact for my trip it is likely the better of the two options.  If we fly into SJO, at the bare minimum an open-Jaw LAX-SJO//LIR-LAX would be a good time saver.
AA: Our dates just aren't ideal. There is a great LIR-MIA-LAX flight, but not on our dates. I'm starting to get the feeling that I'm trying too hard  to "make it fit." It would be great if I had even +/-2 days flexibility because there are some great LIR-MIA-LAX flight options. Sadly even 1 day before/after my preferred dates looks like this: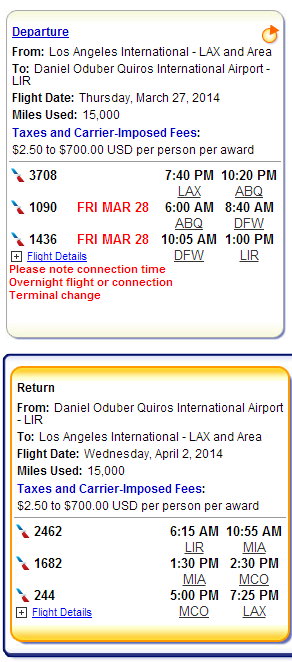 Star Alliance: Can get us into and out of LIR, giving us the flexibility to book an open jaw or not. Preferred dates are available and flights aren't terrible. This might work.
Skyteam: 0 options on or near our preferred dates.
LAX-CUR-LAX
Star Alliance: In doing the searches for Curacao there really aren't any good options.  Sure there are available options, like This: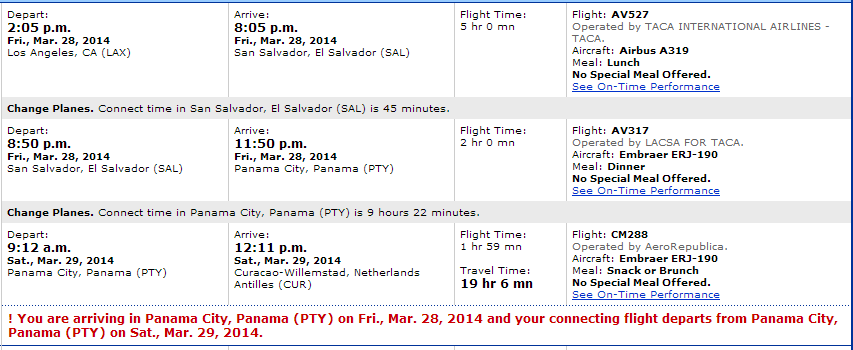 And an equally bad options on AA: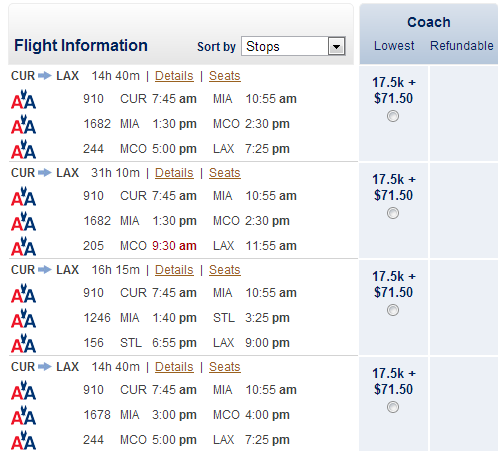 Given the short time for the trip I'm thinking Curacao just won't work this time.  We're always just missing it, and it gets away again this time.  With more flexibility I'm sure it would be doable, there are plenty of ways to get there. My plans being what they are however, getting to Curacao with miles is just not going to happen for my dates.
The Ideal, and the Real
Before deciding if I'm going to book this, I always review the ideal, and the real.
Ideal would be one of the following:
1. Delta Nonstop LAX-SJO-LAX with Delta Miles (my cheapest miles to acquire by far). Using a stopover in LAX I could continue onto any number of cities for free, or to Hawaii for 7,500 more miles.
2. AA both directions, with a free one way tacked on the start and end of the trips. This would be ideal, but tough to implement
3. United there, AA Back–using the same technique as in #2 to tack on a trip to Japan in late September with AA Miles for almost nothing.
4. United in both directions, coach would be ideal since the trip is so short. I could use a stopover in LAX and then continue to Hawaii for just 2,500 more UA miles. Return from Hawaii could be booked with Avios.
In this case, the real happens to be:
1. No way to return (at low level), I could eat the return (17.5k), or book as far out as possible and hope for a schedule change, as I did with US Airways one way bookings. This means no chance for an added flight at the end; instead I'd have to add one way at the start.
2. AA Looks to just be a non-starter.  The options don't fit with my dates, and those that do are terrible, 2 stop overnight type flights.
3. Same as #2, with no AA return this isn't going to work
4. United looks good, I have options and could make the trip work through either airport.
What about Low Level Hedges?
Longtime readers of Milenomics might be wondering; why not use the excellent Low Level hedges we have at our disposal? I absolutely looked into these; and the Delta Hedge, an option to book a Low/Mid with Delta Miles exists: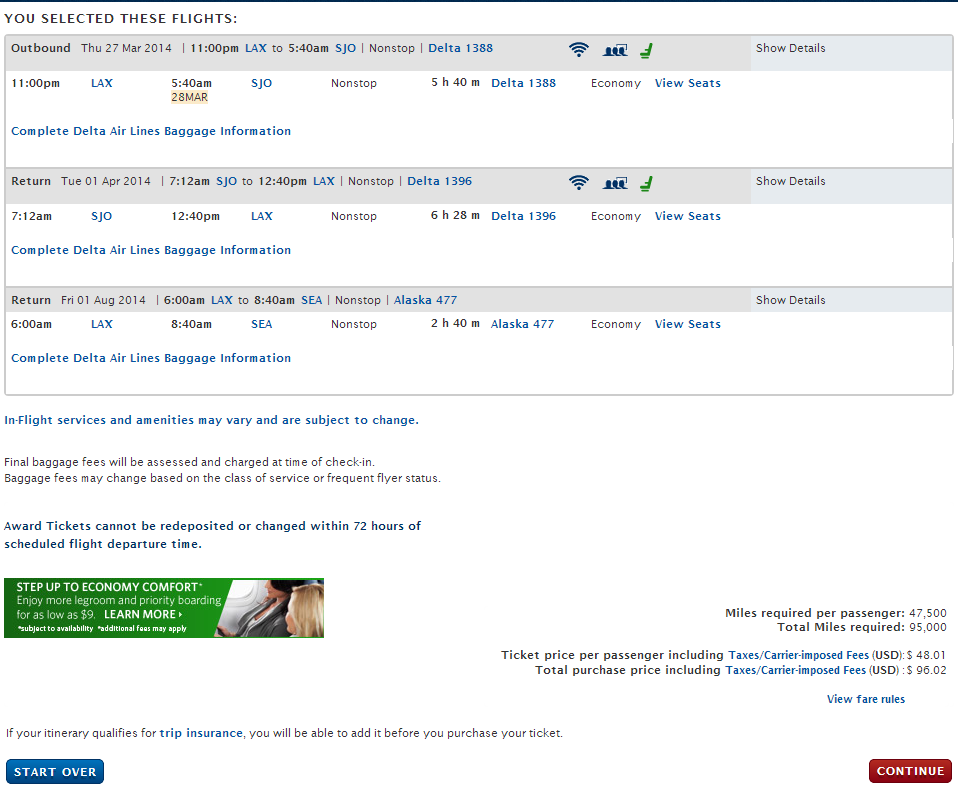 As you can see above I also threw in a free one way to Seattle, should my South Africa plans change and I'm able to make it to the Seattle Sessions.  This sounds great, 1.4 CPM redemption, nonstop flights, and a free one way. What's not to like?
A lot actually.
While I enjoy the thought of getting on a plane and getting off in either LAX or SJO–Arriving at 5am, and leaving at 7am mean really tough mornings for both our first, and last day on this (already short) trip.
The Boss Coefficient plays a role in my decision as well. My wife's T-Rate is higher than mine, and because of that I'll take things like her inability to sleep on planes into consideration.  A red-eye, even a direct flight, means 6 hours of no sleep, which is $300 per person. In addition the last night there we'd have to wake up at 4am or so to make it to the airport.  If I factor that in I have another $600 (6hrs x $50 x 2) in costs there versus a daytime flight, plus at least $300 back for the 4am wakeup.
My "For Now" decision
I've decided sleep on it. Sure I might lose the flight options with Delta–but those flights, even though nonstop, are just so inconvenient. And for a "surprise" trip, I want this to be a perfect route, one where we enjoy the trip to the fullest. I also have plenty of good Star Alliance options, and that 2,500 Hawaii add on is a nice added surprise, to the surprise trip.
I'll also start searching for another location, and one which fits into the schedule a bit better. And, if somehow my wife is reading this…pretend to be surprised on Christmas Morning. 😉
---
Everything below this line is automatically inserted into this post and is not necessarily endorsed by Milenomics: