Yesterday we talked about the Best Cash Back Card on Earth, and today we'll follow it up with a post about the Best Travel Cash Back Card. I debated writing just one post comparing the two cards, but ultimately split this into two posts so I could focus on the differences between the best Cash Back Card, and the best Travel Cash Back Card a little better.
The top travel cash back cards out there usually tout a return of somewhere between 1.5%-2.2% when your cash back is spent on travel. Many have annual fees which further eat into the profits of the card.
Today's card bests all of these returns with as much as a 3.2% return when your "points" are used to book travel. And did I mention that this card has no annual fee? What kind of behemoth could this be you ask?
Why, none other than the Fidelity Investment Rewards Cash Back Card:
Wait…What?
Yesterday when I mentioned that you don't hear enough about this card I left off one of the killer features of the card–the ability to book travel rewards with it. The card is good enough without its unadvertised travel rewards that I didn't feel the need to include them in the first post. I also thought it a bit dramatic to do a reveal of the best Travel Cash Back card only to find out it is the same card. Sneaky, I know. 😉
So, with all of this out in the open now, lets delve into using this card for flights.
Fidelity Points are Not Exactly Fidelity Points
Note:If you know more details about this please do reach out to me. What follows is the best I can grasp from the little there is about this card out there and my own personal research.
Fidelity doesn't actually administer this card–Bank of America does.  This is the reason we're able to pay this card at Wal-Mart and double dip, and also the reason this card is a great travel card. The "points" this card earns are not Fidelity points, but are instead a form of BofA Worldpoints.
Worldpoints have their own shopping portal, they're a currency of sorts that many other cards used to earn, and a few still do. Basically they're points which can convert into pennies if you deposit them into your Fidelity account. But when you use them for travel, and specifically flights, something magical happens.
Worldpoint Flight Rewards, Two Types
Buried in Pages 2 and 3 of the long disclosure of fine print you receive when approved for the Fidelity card is the information about Flight rewards: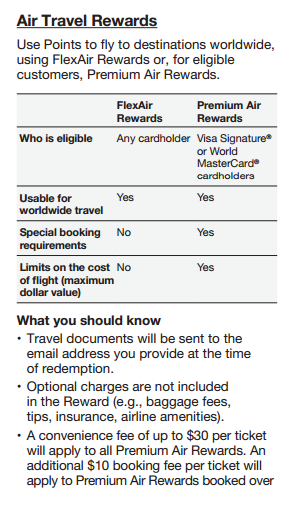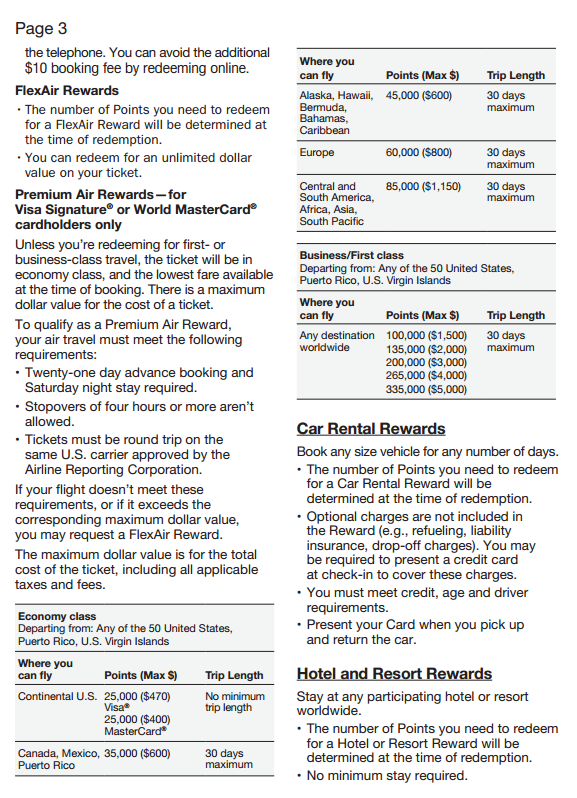 There are two types of Flight rewards, Flex Air and Premium Air Rewards.  The nameing is incredibly confusing so I'll go over the benefits of each here, and paraphrase how I've come to know how they work:
Flex Air Rewards:
Any flight, any day, any time, anywhere

$.01 per point redemption value

Can Be Booked Online with no added fees

No limit to the value of the ticket, except for your available points
Premium Air Rewards
21 day advance booking

Flight cannot have >4 hour stopover

Saturday Night Stay Required

Must be Round Trip

Maximum ticket price of $400

Must be lowest priced qualifying flight *(More on this later)
There really is no reason to use the Flex rewards, or any other travel reward with this card that is valued at $.01 per point. Doing so is no better than simply depositing the points as cash and booking a paid ticket elsewhere.
Where the card shines are the Premium Air Rewards. Premium Air Rewards are much less flexible than Flex Air Rewards–but the reason to pursue Premium Air Rewards is because the cost is fixed. Where a $350 Flex Air Award will cost 35,000 points, making that same booking as a Premium Air Reward by following the 21 day advance purchase, and such will only cost 25,000 points + $30 booking fee.
It is these Premium Air Rewards which help us to receive even more value than 1cent per point with our Fidelity Investment Rewards American Express Card, and I'll focus mostly on them for the remainder of this post.
Calculating Potential Value in Premium Air Rewards
Before we go through booking Premium Air Rewards we should first discuss the maximum value you'll be able to extract from these awards. I've compiled a table of the award types, maximum ticket price, and the effective Cash back rate for purchases on the card at each level:

It should be mentioned  that the Maximum effective rate is not really ever going to be in play. You would simultaneously need to find a fare which was exactly the maximum and also exactly the cheapest flight option to see such a rate of return on your points.  In reality there's about a 10% reduction in each of these Effective rates due to lower than maximum flight costs. Furthermore you would always have to use your points for Premium Air Rewards (never depositing them as cash) to keep your effective CB rate at or near these top percentages
There also may be times when no flights qualify for Premium Air Rewards. Finding a Sub $800 fare to Europe may be impossible–as could a sub $1150 fare to Africa.  These Premium Air Rewards should be though of as saver level awards–we're not always going to be able to book them. They're capacity controlled by the cost of airfares, and your ability to book a Saturday Night Stay as well as the lowest priced fare*.
Booking Premium Air Rewards (*and Getting Around the Lowest Priced Fare Restriction)
Booking these Premium Air Rewards is a bit tricky the first time, so I'll step through it with you here.  The first step is to log into your Fidelity Credit Card online, and select Rewards: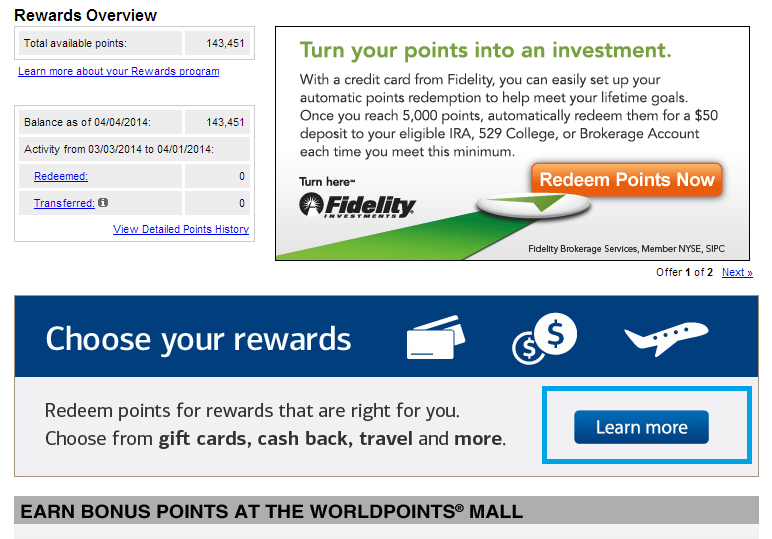 From there you'll be presented with quite a few options, from gift cards, to cash. Make sure to click Travel, and then select the following option for Air Travel on the screen that follows:

From here we're presented with a relatively standard Air search screen: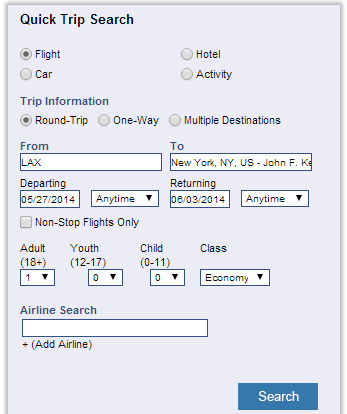 I like to search on kayak or itaMatrix before doing my booking here. I want to know the specific flight I want and verify there are sub $400 fares to be booked.
Our sample booking will be a search for a flight from LAX-JFK leaving May 27 and returning June 3rd. Once the search runs we're presented with the following results screen: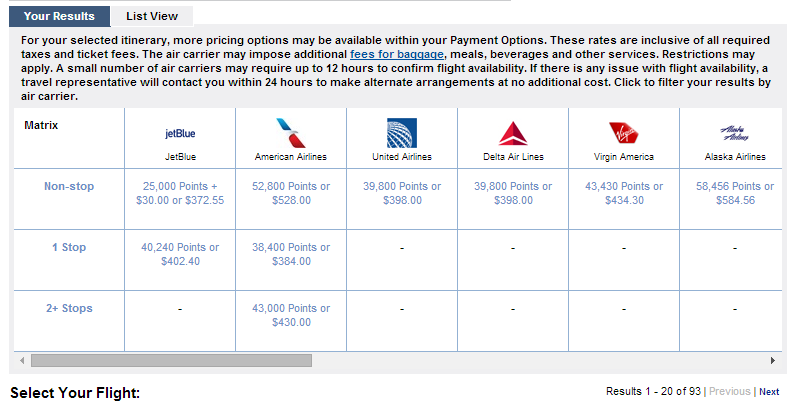 The Rules of Premium Air Rewards state that the lowest priced, 21 day advance, Sub $400 ticket will be available as a Premium Award. Looking at the above you can see that there is exactly one Premium Air Reward, even though there are more than 1 sub $400 tickets.  Now if we want the jetBlue nonstop flight we can click it, and check out and pay, but let's assume for whatever reason we want to fly on Delta or United both of which have a $398 flight. This is pricing as a Flex Award, but we don't want to pay 39,800 points for an award we can get for 25,000. Since both of these flights are under $400 they should be bookable as a Premium Award, if we can just trick the booking engine into seeing them as such.
The key to turning Flex Rewards into Premium Rewards is a more restrictive search. There isn't an exact science to this, but try one or more of the following:
Selecting "Nonstop only flights" if the search is defaulting to a 1-stop 25k Premium Award even though higher priced nonstop Sub $400 options exist.

Changing the departure time to a time later than the flight you don't want to take. 

Adding a restriction to flights of only a certain carrier
You'll need to play around with it a bit–as I did, but sure enough I was able to use the following search to return both the United and the Delta flights as Premium Air Rewards: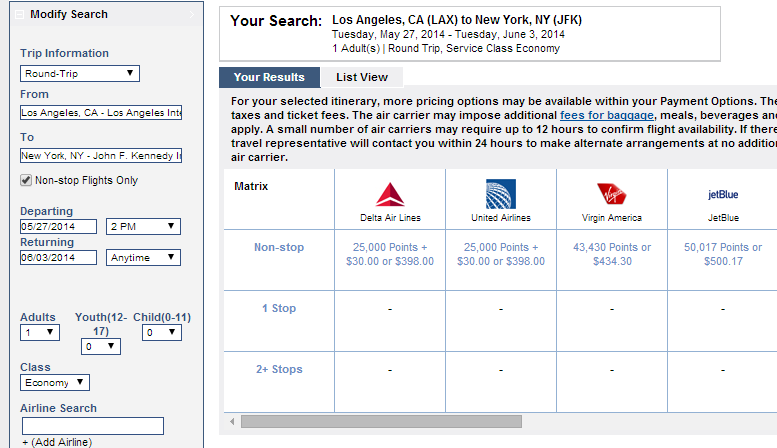 The United and Delta flights are just $2 from the maximum $400 ticket price you can redeem a Premium Award for. Redeeming 25,000 Points +$30 for a $398 fare calculates out to a value of $.01472 per point.  A redemption like this would in essence be turning your Fidelity card into a 2.94% Cash back Travel Card.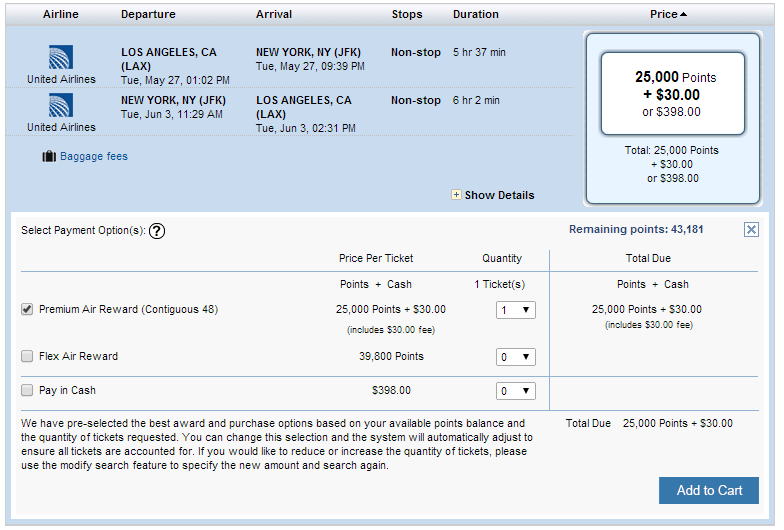 #BYOE and Premium Air Rewards
The above UA flight could be upgrade eligible. In a very Be Your Own Elite move, these flights would be a great use of a traded RPU/GPU to put you to the front of the plane on a United p.s. route.  In addition these flights book as paid seats–so you earn Elite Miles as well as Redeemable Miles on the flights.
A great use of Fidelity points are on United p.s. or AA A321 routes along with an upgrade instrument.
Update: See bk3day's comment below for a word of warning about this.
Should you Ever Do This?
I struggled with writing about this deal. The alternative, retirement account use of Fidelity points is just so much more fiscally responsible.  At the end of the day I'd hope that if you used 50,000 Fidelity points to book 2 $400 flights you'd at the very least deposit $500 into a retirement account to offset this.
Even if you don't, cash is fungible, and so long as you make and stick to a budget using these points for paid flights is surely better than using cash for the same flights.  And when no award seats are bookable with points the Fidelity card can be a great low level hedge.
Take yesterday's post and today's, Add them up, and the Fidelity Card should really be in your wallet.