Back in March I described how Marriott Bonvoy was adding extra person fees to award bookings. At the time I was seeing these fees on awards, and paid stays with the same number of guests did not include extra person fees. However, I'm now seeing extra person fees applied on paid stays in addition to award stays.
I thought this was strange because according to this article on The Points Guy, Marriott acknowledged this was a "bug" and that they'd have it fixed by the end of September, 2019. Well, it's October and they're still charging extra person fees. By "fixing it" did they mean they were going to add the fees to both paid and award stays?
Walt Disney World Swan Extra Person Fees ($25 Per Child Per Night)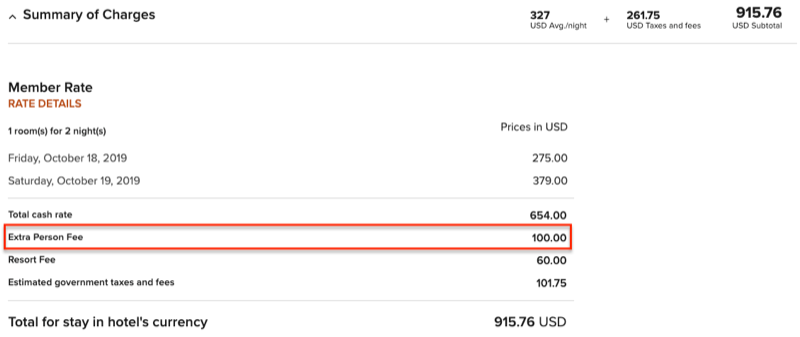 The fees at the Walt Disney World Swan are $25 per child, per night. Along with resort fees, a room that's initially quoted as $327/nt ends up costing $915.76 ($457.88/nt) for a two night stay due to $261.75 in taxes + fees. Ouch.
The fees are even higher at other properties. The Canyon Suites, a Luxury Collection Resort in Scottsdale charges $50 per child, per night.
For both of these examples, I quoted two adults and two infants (<1) in a room with two beds. The room should easily accommodate a family with very young children without extra fees.
Canyon Suites Extra Person Fees ($50 Per Child Per Night)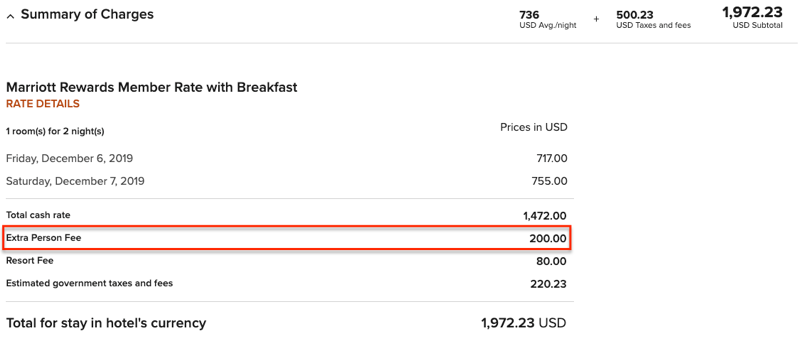 Bottom Line
We were discussing this in Episode 46 of our podcast in the "loyalty programs behaving badly" segment. Marriott Bonvoy is an easy target. We put them in the dog house along with JetBlue (whose points are worth the least when you need them most), and Chase Ultimate Rewards (whose Vacation Rentals are always SOLD OUT).
I mention this mostly to point out that Marriott Bonvoy is still playing games with this, so watch your total price closely when making a booking. And if you really want to stay at a hotel, book it for 2 people and call the hotel to ask whether they really intend to charge extra person fees. I think in most cases, the property doesn't actually intend to charge an extra person fee.
Hopefully Marriott Bonvoy can get this straightened out, but when something goes on for this long – and in fact seems to expand in prevalence – you've got to wonder whether it is intentional.
I tweeted Marriott Bonvoy asking about this. As of press time I hadn't heard back from them.