Today's Brandon Asks is from Tim…
"Can you help get our family of three from Boston to Singapore this summer using points & miles?
Departing BOS between July 24-27, returning from SIN roughly 3 weeks later.
We're open to any cabin of service, but if we're in Economy we'd like to limit it to one stop. We'd go for Business/First if there was availability and we had enough points/miles. I saw some paid fares in Economy on Cathay Pacific for $1,000 pp round-trip so that's the price to beat.
We've got 500,000 Chase Ultimate Rewards, 450,000 AA miles, and 150,000 Citi ThankYou Points."
Sam: Hi Tim, thanks for the request. I'm not sure if we can help, but we'll step through what we can find and see how we can help with this puzzler. I'm going to be playing against my West Coast bias here, for me Singapore is a TPAC flight for sure, but from BOS the flights are roughly identically long:
That means there isn't really a 'shorter route' by a significant amount. That's not great news except that it means pretty much all options are equally good (or equally bad?). We've stepped through quite a lot of these Brandon Asks posts in the past few months here.  Today we'll build upon a lot of the same advice from earlier posts and see if we can get Tim and his family from Boston to Singapore and 'beat' his $1,000 Cathay Pacific Economy fare.
I'm usually the one pushing for a full route map but I'm extremely tempted to just start searching–routes be damned here. The balances Tim has are healthy enough–because we can consider TATL and TPAC routes there's probably a ton of routes anyway that could work.  I know sometimes I'll do this when I'm searching for myself–find whatever the search engines are able to find and only if I strike out then will I start generating some 'outside the box' type solutions.
Robert: Thanks for the question, Tim. I've long been interested in flying to Asia on miles but haven't quite been able to work out an attractive scenario so this is good research for me and hopefully others on the east coast/in the Boston area.
I'm with Sam: There are so many ways to get to Singapore from Boston. We could spend a lot of time exploring options including middle eastern carriers. But if the first things that come to mind are good redemptions I'm inclined to recommend them and move on. There's merit in staying within your comfort zone from previous trips if it works well. No need to get fancy unless we have to.
The first things that come to mind for me are:
JAL Business Class through Tokyo using AA miles
Cathay Pacific Business or First through Hong Kong using AA miles
Star Alliance (Lufthansa and/or Singapore) through Frankfurt using United miles
Let's start there and see what we find.
AA is a member of the OneWorld alliance. This means you can use AA miles to fly on JAL or Cathay Pacific. However, annoyingly, you won't find these flights when searching on AA.com.  You have to call AA to search and book these awards.
To search OneWorld partner award availability online you could use British Airways or Qantas websites. But Alaska also shows JAL award space and I rather like their interface so let's start there.
Point your browser to alaskaair.com and enter your search dates: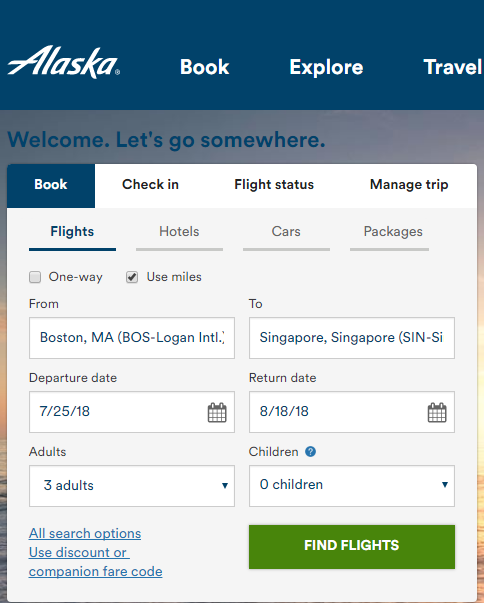 Bingo! Since it shows space for partner award in Business you should be able to book the outbound using your AA miles: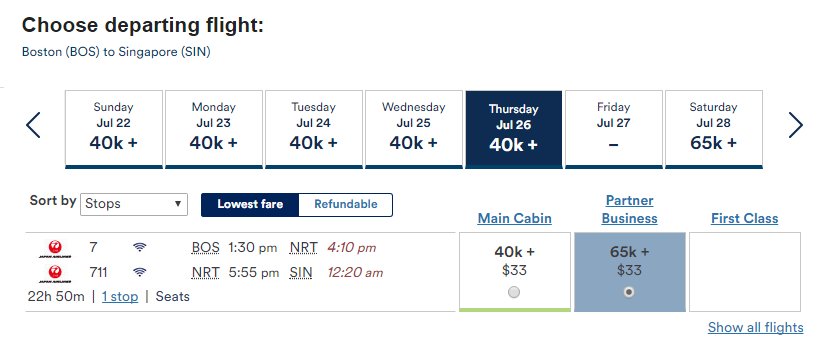 Sam: I really like that flight, leaves Boston at a reasonable time and the layover is short but not too short.  23 hours isn't an easy trip by any measure, but if you remember back to the Brandon Asks: Peru post last week we were looking at equally flight times to fly from Texas to Peru because there were so many short flights which didn't align well.
I defaulted to Star Alliance (United, ANA, Singapore, etc) for this search, but the above JAL flight is far better than what I found searching on United: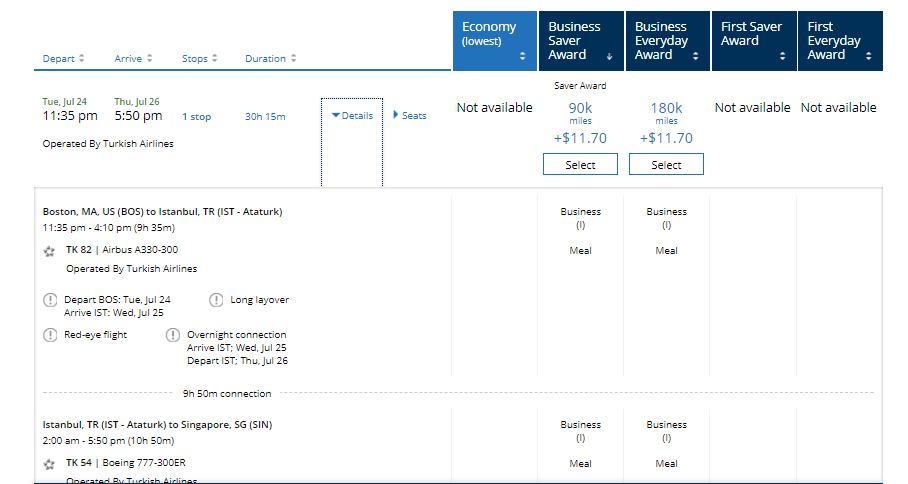 BOS-IST-SIN is TATL, and if you only had miles that could book Star Alliance I guess this is a good option, but it is 8 hours longer and has a long layover. Maybe the flight times of day are better, but the cost isn't–90,000 UA miles.
Speaking of Cost (in miles) I wanted us to comment on the cost of Robert's JAL option above. You'll notice that in the above Alaska Search it is listed as costing 65,000 miles. This is only true if you book it with Alaska Miles. Since Tim doesn't have any AS miles he'll have to look at booking it with AA miles. And because the Miles you use dictate the rules for the booking we'll need to step into the price AA would charge for this trip.
Robert: To calculate how many AA miles it should cost (when you're booking over the phone with AA) we need to consult their award chart.
To figure out AA's award chart we need to determine which region the country we're flying to is within. Singapore is considered to be within Asia Region 2:

That being the case, AA should charge 70,000 per-person each way from the US to Singapore: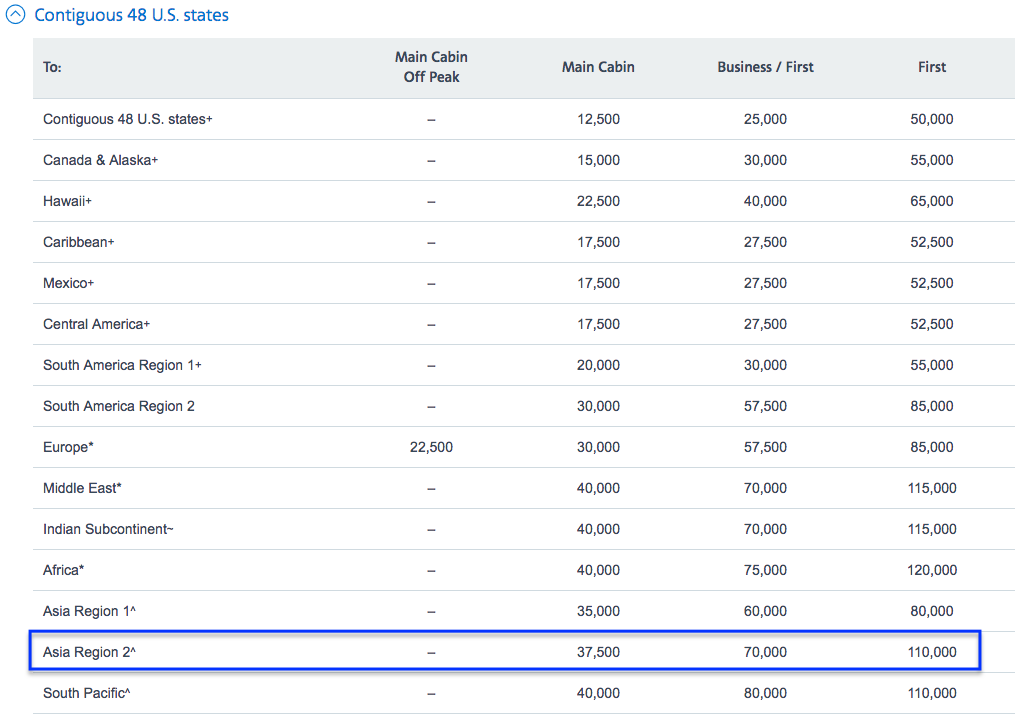 Sam: Right, so we've got the price for that outbound figured out, and Tim might want to call and hold it, or even just book it right now. That's because AA will allow you to hold these seats for FREE! for 5 days.  After you ticket this you then have a 24-47 hour window where Tim can cancel without any penalty. That's almost 1 full week where Tim can check other options and make up his mind.

And if Tim decides to shave a day or two off the trip here or there he might even be able make those changes after he's through the hold/cancellation window, provided he does so at least 3 weeks before the date for free. He'll need to keep the origin and destination the same and he can't change carriers either.
Getting Home
For the return I actually cheated a little here Robert. I used a search site I've written about before, AwardNexus.  I wanted to use multiple search dates and alliances at once. Award Nexus is great in that respect–you can search Oneworld, Star Alliance and even Skyteam, add +/- days and see the results all on one page.
For my search I wanted to just do a Star Alliance and Oneworld search, around August 15th or 16th. My search looks like this:

A Note on Award Nexus: These searches are not fast, or not nearly as fast as a native search engine would be. The above is a fairly easy search and took the engine 3+ Minutes to return results. You need to wait until the search is totally complete, so go grab a cup of coffee while it runs. My results came back with some good options:

I was really excited to see some options on what would be nearly the perfect date for Tim. Those Cathay Pacific flights are also TPAC, but the connections are nice and the total time is good as well.
I want to verify I can see these myself on a partner search engine, so I'll load up Qantas.com (I prefer it over BritishAirways.com because it has a Calendar view). My search is really basic here: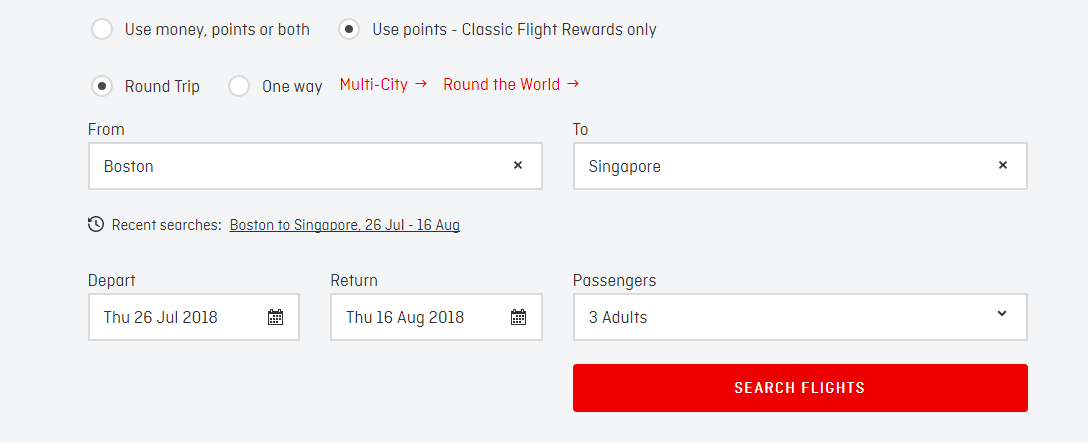 And the results are listed on the calendar: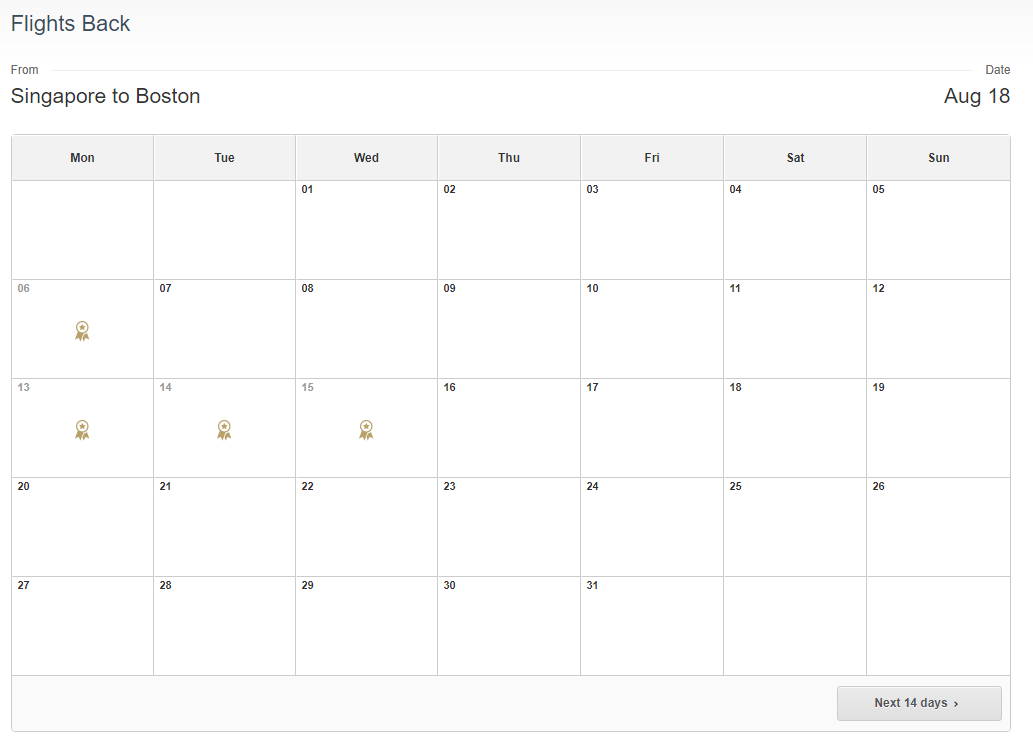 Clicking on the Aug 15th option loads a host of different flights, including the one I'd ultimately recommend: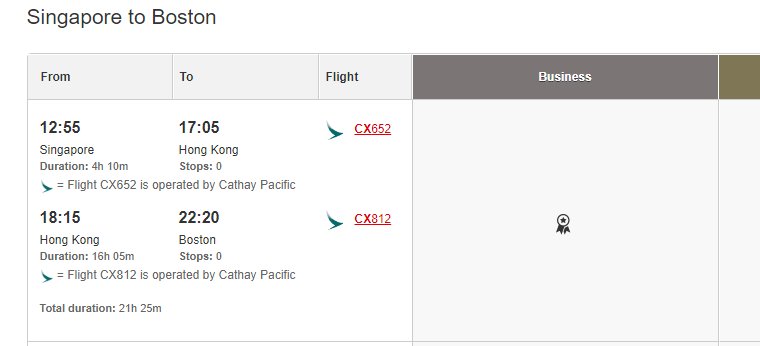 And Tim should be good to book those over the phone with AA as well.  That'd double the price Robert listed above to 140,00 per person, 420,000 miles total plus some assorted fees.
Robert: These are some great flights. I can see now why Tim always wants to trade me AA miles for URs when we're chatting points & miles. I think he's crazy because URs are so much more flexible and [usually] better for getting to Europe. But I can see where he's coming from because AA miles are great for Asia.
And Alaska miles are too. I thought Alaska searched Cathay space online too, but I guess not.
My three big takeaways for this one are:
AA miles are great for getting to Asia thanks to their partners JAL and Cathay Pacific
Alaska miles are great for these too (but they don't show Cathay Pacific space online)
You have to call AA to book partner awards with JAL and Cathay Pacific (they don't show online)
It's kind of wild how none of this involved Singapore Airlines. One problem with flying Singapore metal out of Boston is that you have to get to JFK or some other airport they serve in the US. That's not a big deal if you have to position yourself anyway, but if you live in Boston and have access to flights like these it's hard to beat.
Sam: I'm pretty shocked at how relatively easy this one was to piece together. I really thought I'd be exploiting the Lufthansa space you wrote about a few days ago Robert, but we're actually doing the entire thing as an AA booking for Tim.
I actually spoke with Robert about pulling this post after we wrote it–it seemed too unrealistic, ideal dates, cabins, and enough miles without any transfers. Fortunately Robert talked me down, and I agree there are still things to be learned from 'easy' bookings. Or maybe this one wasn't easy–maybe we just got lucky. And luck is a big component of bookings, that's for sure.
Robert: I checked with Tim on the flights we recommended. He talked to his wife to confirm the travel dates worked for her. He called AA to book the flights, but they were swamped due to people calling with weather related changes. He utilized their call back feature and got a friendly, competent agent.
He told the agent his travel dates and destination and said he wanted to fly Business Class. She found the partner airline flights without needing to be fed the flight numbers. It was ticketed as two one-ways since the partner airlines were different.
Tim and his family are set to travel in Singapore in comfort this summer! Time to sign up for some more AA co-branded credit cards.
What do you think? Any angles we missed? Join the conversation by leaving a comment below. And drop us an email or hit us up on Twitter @Milenomics if you'd got a puzzler we can tackle.